Live Cell Market Size & Share
The live cell imaging market size stood at USD 2,829.9 million in 2023, and it is expected to grow at a CAGR of 10.4% during 2024–2030, to reach USD 5,634.3 million by 2030.
The study of live cells is an impactful approach to knowing the dynamics of cellular processes and events. Therefore, the adoption of the live cell imaging technology has increased in diverse fields, such as drug discovery, medical research, stem cell biology, and cellular environment studies. Moreover, the growth of the market is attributed to the rising prevalence of chronic diseases, especially cancer, and the surging adoption of high-content screening (HCS) techniques in drug discovery.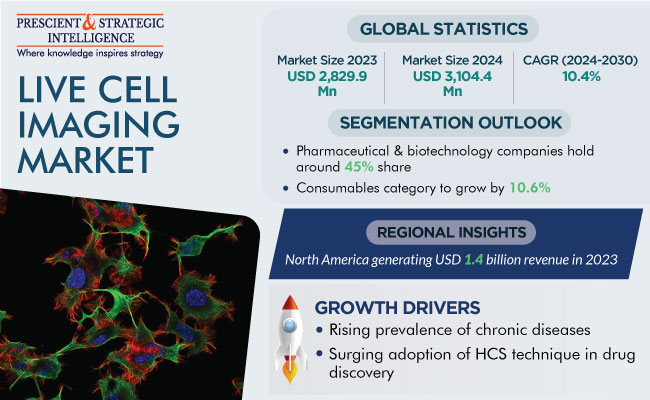 Moreover, live cell imaging supported in the development of effective COVID-19 vaccines. The rising application of the associated technologies in research on intracellular functions, for the identification of viruses and their impact on the host, drives the market. Additionally, the favorable government initiatives and investments for drug discovery and biological research are expected to boost the market.
Growing Need to Visualize Interactions between Cell Populations Drives Market
Pharmaceutical and biotechnology companies have adopted several advanced methodologies to overcome the challenges in saving time and money during drug safety and toxicity screening, one of which is HCS via cell-based assays. The method is faster and more accurate and offers a higher success rate than traditional methods. This kind of imaging allows for the clear monitoring of the cell mechanisms involved in drug activity, such as cell death rate, mitochondrial dysfunction, and DNA damage.
The images captured in any way, whether as a timelapse or pictures, contain a lot of information for study. Appropriate fluorescent tracers, antibodies, and other consumables are used to distinguish the visual appearance of different components in cell clusters, which helps in studying the dynamics and kinetics of the cell.
Moreover, the integration of information technology platforms into high-content cell imaging modalities results in more-precise and faster toxicity testing. Additionally, the usage of imaging technology to capture live cells with HCS is beneficial for time-based kinetics studies, general sample analysis in cancer research, cell growth analysis, virology studies, and many other applications.
Surging Incidence of Chronic Diseases Drives Live Cell Imaging Technology Demand
Globally, the rising prevalence of chronic diseases is one of the major healthcare burdens, which affects high-income as well as low- and middle-income countries. The incidence of major chronic diseases, such as coronary artery disease, diabetes, chronic obstructive pulmonary disease (COPD), asthma, arthritis, hepatitis, and cancer, has increased significantly with the changing lifestyles.
According to the WHO, approximately 41 million people die each year due to chronic diseases, accounting for 71% of the deaths worldwide. Among these, 9.3 million deaths in 2021 were caused by cancer alone. The WHO further states that around 70% of the deaths from cancer occur in low- and middle-income countries, thereby increasing the demand for cancer pain management drugs in these nations. As a result, the fast pace of drug discovery and development plays a vital role in the industry advance, as most biopharma companies are focused on coming up with first-in-class products for the treatment of such diseases. Here, live cell imaging has a major application in the analysis of the toxicity and effectiveness of the drug.
Moreover, the inadequate health insurance coverage for chronic diseases, such as cancer, COPD, and stroke, in many countries has created a financial burden on patients and made it difficult for them to avail of the costly treatments. This has increased the demand for cost-effective drugs and APIs amongst healthcare systems and patients in many developed and developing countries. Therefore, the rise in drug research and development activities due to the increase in the incidence of chronic diseases drives the market growth.
Live Cell Imaging Market Report Coverage

| | |
| --- | --- |
| Report Attribute | Details |
| Market Size in 2023 | USD 2,829.9 Million |
| Market Size in 2024 | USD 3,104.4 Million |
| Revenue Forecast in 2030 | USD 5,634.3 Million |
| Growth Rate | 10.4% CAGR |
| Historical Years | 2017-2023 |
| Forecast Years | 2024-2030 |
| Report Scope | Market Trends, Drivers, and Restraints; Revenue Estimation and Forecast; Segmentation Analysis; Impact of COVID-19; Companies' Strategic Developments; Market Share Analysis of Key Players; Company Profiling |
| Segments Covered | By Offering; By Application; By Technology; By End User; By Region |
Explore more about this report - Request free sample pages
Growing Pharmaceutical and Biotechnology R&D Sector Propels Global Market
The burgeoning biopharma industry has brought about an unprecedented demand for live cell imaging. Large biopharma companies are performing R&D for better biologics, where the imaging of the cells plays a vital role in the study of the therapeutic action of the drug on cellular activity.
According to a government agency, the pharmaceutical industry invested USD 46,144.0 million in 2020 in Europe for researching, developing, and bringing new medicines to patients. The increase in the demand for pharmaceutical drugs and biologics promotes the application of such imaging solutions for R&D. This will support the development and testing of novel therapies, product portfolio expansions, and clinical testing for safety and marketing. Hence, the increasing investment in product research and development will propel the growth of the market.
Moreover, the demand for clinical research services is increasing due to the adoption of the outsourcing strategy by pharmaceutical organizations to mitigate the accompanying risks in drug development with CDMOs' low development costs and high expertise. Moreover, the increasing number of collaborations with small and clinical-stage pharma enterprises, which account for a significant portion of the pharmaceutical drug pipeline, enhances the demand for such imaging instruments.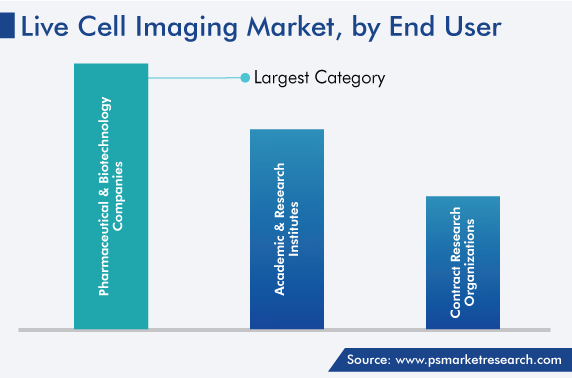 North America Is Highest Revenue Generator in Global Market
North America dominated the global market, with a share of 50%, in 2023. The dominance of the region can be attributed to the increasing prevalence of acute and chronic diseases and the surging R&D expenditure of pharma and biotech companies.
Chronic diseases, such as cancer, heart disease, and diabetes, were the leading causes of death in the U.S., and they cost more than USD 4.1 trillion in 2021 to healthcare systems. Additionally, around 45% of the U.S.'s population has at least one chronic ailment, and by 2025, around 165 million Americans will be suffering from more than one. The heavy financial burden associated with the treatment of such conditions has created an urge among patients as well as healthcare systems to seek alternatives to the high-cost branded drugs. With the rising demand for cheaper yet effective drugs, pharma companies are investing in the region and research organizations are working aggressively to satisfy this demand, which would support the adoption of live cell imaging and other advanced technologies.
Additionally, the favorable government regulations for and investments in research are driving this growth in the region. For instance, the Canadian government announced an investment of CAD 1,500 million in March 2023, for over three years, to support access to and affordability of effective drugs for rare diseases. Additionally, more than CAD 30 million have been poured by the Canadian Institutes of Health Research to drive advancements in rare disease research and expand opportunities for clinical trials in the country.
Moreover, the market players in the region are launching advanced systems and software for imaging living cells. For instance, in January 2023, Axion BioSystems launched OmniPro 12 with integrated robotics and a multiplate design, which is usable with any standard incubator.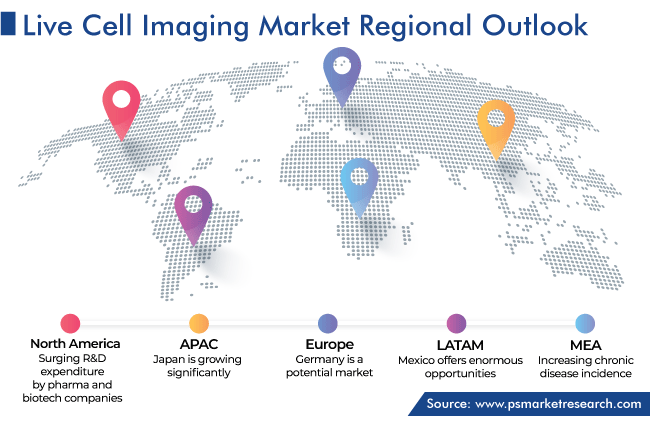 Consumables Category Is Expected To Grow Fastest during Forecast Period
The consumables category is expected to grow with a CAGR of 10.6% during the forecast period. The growth is due to the rising research and development in the biotechnology sector, which creates a massive requirement for reagents, kits, and other consumables for long-term and fast live cell imaging and analysis. Such consumables and reagents support in fetching meaningful information, as they preserve cell health long enough for scientists to extract whatever insights they need. Additionally, advanced reagents help generate rich information from a single cell, using fluorescent reagent combinations in cell cultures. Therefore, since consumables need to be purchased repeatedly, the category will continue to grow.
Live Cell Imaging Companies:
DH Life Sciences LLC
Carl Zeiss AG
Nikon Instruments Inc.
Evident Corporation
PerkinElmer Inc.
GE HealthCare Technologies Inc.
Bruker Corporation
Thermo Fisher Scientific Inc.
Sartorius AG
Becton, Dickinson and Company
Market Size Breakdown by Segment
This fully customizable report gives a detailed analysis of the live cell imaging market from 2017 to 2030, based on all the relevant segments and geographies.
Based on Offering
Instruments
Consumables
Software
Services
Based on Application
Cell Biology
Stem Cells
Developmental Biology
Drug Discovery
Based on Technology
Time-Lapse Microscopy
Fluorescence Resonance Energy Transfer (FRET)
Fluorescence Recovery after Photobleaching (FRAP)
High-Content Screening (HCS)
Based on End User
Pharmaceutical & Biotechnology Companies
Academic & Research Institutes
Contract Research Organizations
Geographical Analysis
North America
Europe

Germany
U.K.
France
Italy
Spain

Asia-Pacific

Japan
China
India
South Korea
Australia

Latin America
Middle East and Africa

Saudi Arabia
South Africa
U.A.E.