Market Overview
The legionella testing market generated USD 299.0 million revenue in 2022, and it is projected to witness a CAGR of 8.0% during 2022–2030, reaching USD 554.0 million by 2030. The biggest factor driving the market is the increasing prevalence of Pontiac fever, Legionnaire's disease, and pneumonia.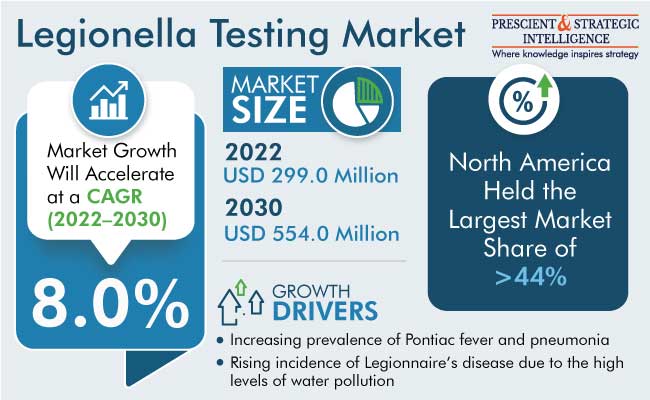 Legionnaires' disease, also called legionella pneumonia, is a serious type of pneumonia caused by the legionella bacteria. It spreads from small droplets of water that contain the bacteria, or when, mistakenly, water goes into the lungs while drinking. Around 1.4 million children whose age is below 5 years die every year because of pneumonia. Moreover, every 39 seconds, a child dies from this common disease.
Legionella pneumophila is generally found in lakes, rivers, creeks, hot springs, and other waterbodies. Urinary antigen, direct fluorescent disease, polymerase chain reaction, and culture media testing kits help check the presence of the associated antigen in the urine, blood, and sputum.
The market is expected to experience significant growth due to the increase in the geriatric population, because older people are more prone to infection by this bacterium due to their decreased immunity, as well as the fact that they suffer from diseases such as diabetes, hypertension, chronic obstructive pulmonary disease, and chronic kidney disease.
Tests Based on PCR Technology Hold Largest Share in Market
The PCR category held the largest share in 2022. PCR is the most-common method used for detecting legionella bacteria as it shows the results in one day and is highly accurate, specific, and sensitive. Moreover, PCR may be superior to urinary antigen testing in the detection of this pathogen. Moreover, a positive PCR for the specific sequence found in the 5S rRNA of legionella indicates the presence of its DNA. Additionally, PCR is the most-sensitive and specific method developed for Legionella pneumophila testing.
Therefore, companies are offering rapid PCR methods to detect legionella. For instance, in January 2023, EMSL Analytical Inc. launched rapid PCR and conventional culturing methods to detect legionella in the environment, to prevent the spread of Legionnaires' disease.
In a similar way, in July 2021, Phigenics announced the launch of a new detection tool, Phigenics Validation Test, which combines the PCR and culture methods to quickly detect all types of legionella bacteria in waterbodies within 72 hours. This product has the ability to detect potentially infective, viable but non-culturable (VBNC) cells that are not recognized using the ISO 11731 spread plates.
The UAT category will account for a significant growth rate during 2022–2030. UAT is widely used in the lab for the detection of Legionella pneumophila and several other respiratory infections, such as Streptococcus pneumoniae and Histoplasma capsulatum. Urine antigen assays for legionella detect it by capturing the antibodies specific to L. pneumophila serogroup 1, which is the cause of most of the legionella infections, with a clinical specificity and sensitivity of 99% and 74%, respectively. The biggest advantage of UAT is that it produces results within 15 minutes, is easy to perform, and costs relatively low.
The urine antigen test and lower respiratory secretion culture on selective media are the primary diagnostic procedures for Legionnaires' disease. Serological assays are typically not advised since they can be nonspecific. The best method is to simultaneously collect urine for the UAT and sputum for the culture. Although sputum should ideally be obtained before starting antibiotics, antibiotic therapy should not be postponed. In certain instances, the urine antigen test can still identify legionella infections days to weeks following therapy.
Legionella Testing Market Report Coverage

| | |
| --- | --- |
| Report Attribute | Details |
| Historical Years | 2017-2022 |
| Forecast Years | 2023-2030 |
| Market Size in 2022 | USD 299.0 Million |
| Revenue Forecast in 2030 | USD 554.0 Million |
| Growth Rate | 8.0% CAGR |
| Report Scope | Market Trends, Drivers, and Restraints; Revenue Estimation and Forecast; Segmentation Analysis; Impact of COVID-19; Companies' Strategic Developments; Market Share Analysis of Key Players; Company Profiling |
| Segments Covered | By Type; By Application; By End User; By Region |
Explore more about this report - Request free sample pages
Legionella Testing Is also Done during Water Treatment
Legionella and its related species are commonly found in hot springs, creeks, rivers, lakes, and other waterbodies. L. longbeachae could be found in potting mixes, while the most-common freshwater species, L. pneumophila, is found in aquatic environments globally. However, artificial waterbodies, which have an environment conducive to the growth and dissemination of the microorganism, are the biggest source of the disease. The bacteria survive in the water at a temperature of 20 to 50 degrees Celsius, with the most-optimum temperature being 35 degrees Celsius.
uRisk is a legionella risk assessment and water hygiene company that offers solutions to control the spread and manage the risk of Legionnaires' disease, including pathogen testing, water tank cleaning, chlorination, water quality monitoring, and an initial ACOP l8 risk assessment. It provides a portable DIY kit for the self-testing of the water supply, as an initial water safety measure.
Many more companies are launching new products to detect the presence of the pathogen in the environment and humans. For instance, in May 2022, ChemREADY, a wastewater treatment chemical provider, announced the launch of its legionella product and services line, to control the spread of this water-borne infection.
In the same way, in December 2022, IWC Innovation, a water safety company, shared best practices for mitigating water safety hazards, including legionella. The practices are part of the company's water management program, which it recently updated.
Diagnostic Centers Are Largest End Users
Based on end user, the diagnostic centers category is expected to hold the largest share, of more than 41%, in legionella testing market. This is because of the rising awareness of the early diagnosis of the disease, which is increasing in prevalence.
Apart from diagnostic centers, the demand for the associated products among water treatment agencies is expected to grow at a rapid rate, because of the burgeoning need for onsite testing methods, itself on account of the stringent guidelines on the inspection of water before it is supplied to households.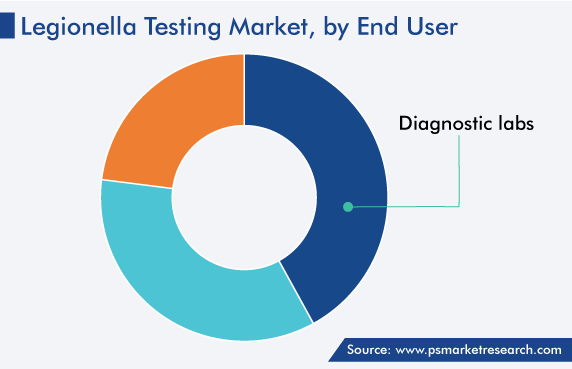 North America Accounted for Largest Share
The North American continent accounted for the largest revenue share, of 44%, in 2022, due to the increasing number of patients with legionella infection and the development of the healthcare system in this region. An estimated 8,000–18,000 people in the U.S. are admitted to hospitals each year with Legionnaire's disease.
In addition, in December 2022, the South Carolina Department of Health and Environmental Control announced investigated Legionnaire's disease cases in Darlington County. There have been 13 cases of the disease identified as part of the outbreak so far.
Similarly, the legionella bacteria was identified in water samples collected from 30 homes in October 2022, the New Jersey Department of Health announced. The samples were collected from houses in Trenton, Ewing, and parts of Lawrence and Hopewell Township served by Trenton Water Works.
Additionally, the acquisitions by the market players are expected to fuel the market growth in this region. For instance, in December 2021, Pace Analytical Services LLC, a testing and analytic services provider part of Pace Science and Technology Company, announced that it has acquired Special Pathogens Laboratory, a provider of legionella detection, testing, remediation, and prevention solutions.
Canada also held a significant share in 2022 because of the collaborations among the key solution providers that focus on the Canadian market. For instance, in August 2022, a Canada-based company, named Genomadix Inc., announced that it has entered into an agreement with Mayo Clinic to enhance its point-of-care portable PCR-based diagnostics system, named CubeTM, which gives results in around one hour.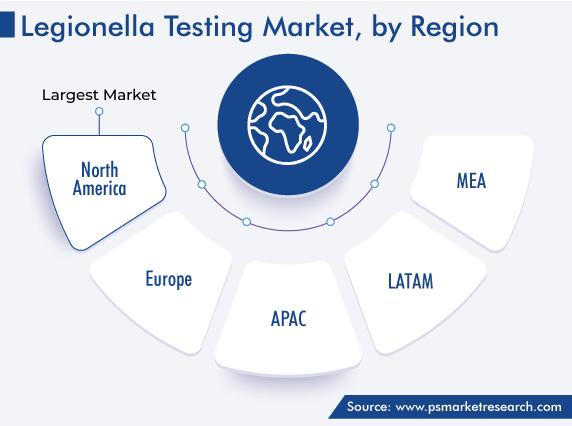 Europe Accounted for Second-Largest Revenue Share
Europe accounts for the second-largest share, and it will grow at a CAGR of 8.1% during this decade, due to the approvals/accreditation of testing kits and governments' awareness programs, both of which drive the demand for the associated products. For instance, in November 2022, SPIE UK announced that it has received the ISO/IEC 17020 accreditation from the United Kingdom Accreditation Service (UKAS) for its legionella risk management practices.
Top Providers of Legionella Testing Solutions Are:
Quidel Corporation
ChemREADY
Abbott Laboratories
Merck KGaA
Phigenics LLC
IDEXX Corporation
Bio-Rad Laboratories
Market Size Breakdown by Segment
The study uncovers the biggest trends and opportunities in the legionella testing market, along with offering segmentation analysis at the granular level for the period 2017 to 2030.
Based on Test Type
Culture Media
Urine Antigen Testing
PCR

Motorized devices
Non-Motorized devices

Direct Fluorescent Antibody
Based on Application
Water Testing

Microbial Culture
DFA Stain
PCR

IVD Testing

Blood Culture and Sputum Tests
Urinary Antigen Test
DFA Stain
PCR
Based on End User
Hospitals and Clinics
Diagnostic Labs
Water Treatment Industries
Geographical Analysis
North America
Europe

Germany
U.K.
France
Italy
Spain

Asia-Pacific

Japan
China
India
South Korea
Australia

Latin America
Middle East and Africa

Saudi Arabia
South Africa
U.A.E.