Market Overview
The wastewater treatment plants market was valued at an estimated $117.2 billion in 2021, and it is expected to advance at a CAGR of 5.8% during 2021–2030. The major factors credited for the growth of the market include the limited availability of freshwater across the globe and stringent environmental regulations implemented by governments.
Global freshwater use has increased by six times over the past 100 years. Moreover, agriculture accounts for 69% of the global water withdrawal, mainly for irrigation. However, the availability of freshwater for human use has been decreasing over the past many years. Thus, the treatment of wastewater, for its re-utilization for various activities, such as manufacturing and agriculture, is the need of the hour.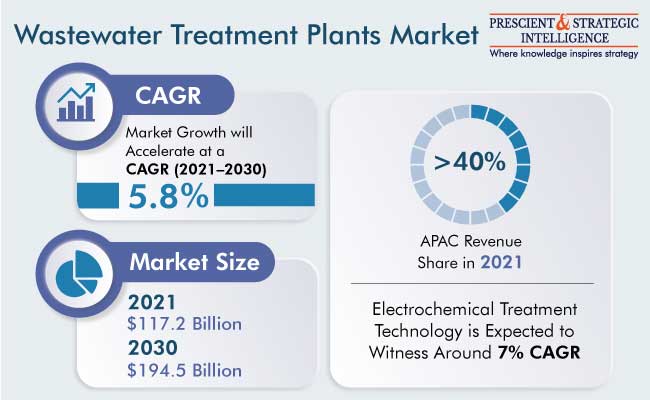 To address the issue of the scarcity of water for human use, numerous international frameworks on wastewater management have been adopted. There are a number of general principles under international water law that are applied to the management of watercourses transcending international borders. There are principles of preventive action and precautionary principles, which help protect watercourses from pollution across international boundaries. Moreover, national governments also implement regulations regarding the discharge of wastewater into waterbodies. For instance, the U.S. has specific effluent treatment and discharge guidelines for various industries, such as battery manufacturing, cement manufacturing, coal mining, and dairy processing, under the Clean Water Act.
However, during the COVID-19 pandemic, the beginning of the construction of new wastewater treatment plants and those already under construction in various countries were put on hold. Moreover, to maintain social distancing, the entire workforce of treatment plants was not engaged at a given point, thus resulting in the negative impact on the market.
Effluent Wastewater Treatment Plants Hold Largest Share
The revenue from effluent wastewater treatment plants is more than 50% of the total market. This is because of the huge volume of wastewater generated from industries. According to the projections in the United Nations World Water Development Report 2021, industrial water withdrawals are expected to double by 2030. Additionally, in most countries, as per government regulations, the wastewater generated from industries has to be treated before it can be released into waterbodies.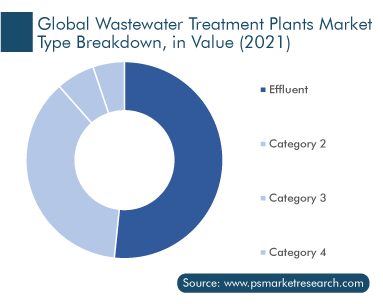 Electrochemical Treatment Technology To Witness Fastest Growth in Adoption
Electrochemical technology is used to treat industrial wastewater, so as to recover valuable products, such as chemicals, metals, nitrogen, and salts. Electrochemical treatment is a method in which chemical oxidants are produced in situ through redox reactions on the surface of an electrodes. This can be done through various techniques, such as electrochemical oxidation and reduction, electrochemical coagulation, electrodialysis, and microbial electrochemical technology.
Electrochemical treatment plants for drinking water, brackish water, or process water have flow rates from a few cubic meters up to 20,000 cubic meters per day. In wastewater treatment procedures, electrochemical methods are commonly used for low-to-medium wastewater flow rates, of up to approximately 500 cubic meters per day.
Advantages such as the discharge of less residual impurities compared to conventional methods and a highly automated process allowing for remote operation and monitoring will be the driving forces for this category during the forecast period.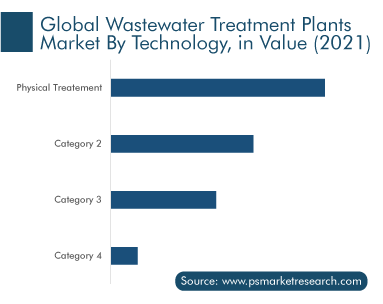 Decentralized Treatment Systems To Gain Momentum
Currently, centralized treatment plants dominate the market, with a share of more than 80%. The revenue from decentralized treatment plants is expected to increase significantly, at a CAGR of approximately 6%, during the forecast period.
Decentralized treatment systems are easy to install and portable, and they treat the wastewater generated from individual houses, hotels, and apartments. Additionally, the decentralized system is economical for communities as it does not require large capital, unlike centralized treatment systems, and has minimal operational and maintenance costs.
Wastewater Treatment Plants Market Report Coverage
| | |
| --- | --- |
| Report Attribute | Details |
| Historical Years | 2017–2021 |
| Forecast Years | 2022–2030 |
| Market Size in 2021 | $117.2 Billion (Estimated) |
| Revenue Forecast in 2030 | $194.5 billion |
| Growth Rate | 5.8% CAGR |
| Report Scope | Market Trends, Drivers, and Restraints; Revenue Estimation and Forecast; Segmentation Analysis; Impact of COVID-19; Companies' Strategic Developments; Market Share Analysis of Key Players; Company Profiling |
| Segments Covered | By Type; By Technology; By Treatment System; By Application; By Region |
Industrial Wastewater Treatment Largest Application Area
Industries generate a large amount of wastewater, which needs to be treated before discharging it into lakes and rivers. The number of companies reporting water usage reduction targets to the Carbon Disclosure Project (CDP) (Formerly,) has doubled in the past four years; however, there is an increase of 50% in the number of companies reporting higher water withdrawals, due to the expanding production activities, especially in Asia and LATAM. Additionally, the growing environmental concerns and those related to the health of people living close to industries and the stringent government regulations for wastewater discharge by industries are vehemently promoting the setup of wastewater treatment plants in the sector.
Moreover, more-effective technologies are being developed for industrial wastewater treatment. According to a study, the number of patents increased consistently during 1973–2020, with China ranking first in the number of patent publications. The upcoming technologies include treat-to-discharge, membrane-based fuel cells, and membrane bioreactor (MBR).
APAC Dominates Market and Will Witness Highest Growth Rate during Forecast Period
The APAC region dominates the market, generating more than 40% of the revenue in 2021, and it is expected to witness the greatest growth, of around 7%, during the forecast period among all regions. Currently, China generates the highest revenue in the region, followed by India. The major factor attributing to the market growth is the expanding power, mining, oil & gas, pulp, chemicals, and other sectors. The increase in the demand for potable water results in the rising focus on wastewater treatment, as these industries consume a huge amount of water and generate voluminous effluents.
Additionally, China represents 21% of the global population; however, it has access to only 6% of the world's freshwater resources. In 2020, the country discharged 55.7 billion cubic meters of wastewater. Thus, China massively invests in effluent treatment facilities so as to cater to the rising demand for water for residential as well as industrial use. In fact, 39,000 new wastewater treatment facilities were set up in the People's Republic in 2020.
Business Opportunities
Biogas production in wastewater treatment plants is one of the upcoming concepts that owners are utilizing to attain maximum energy efficiency. Thus, owners are upgrading their existing plants and incorporating biogas production systems. For instance, a wastewater treatment facility in Bulgaria's capital city, Sofia recently added a digester, a tank for the extraction of biogas from waste sludge, of 7,000 cubic meter capacity, for sludge fermentation, which would increase green energy production by 25%.
The deployment of IoT sensors for improving the wastewater treatment technology, analyzing the water quality, and achieving energy consumption reduction is also being considered. For instance, Organica's facilities use Microsoft Azure and Power BI for monitoring water quality remotely.
Key Strategic Developments of Market Players
In recent years, major players in the market have been actively building new wastewater treatment plants. For instance:
In April 2022, Suez, through a joint venture with Jiangsu Sino French Water Company Limited, received a build-and-operate contract for an industrial wastewater treatment plant in Changshu. The treatment plant is expected to be commissioned in 2024.
In March 2022, Veolia Environment announced plans to build a $19.8-million (EUR 18 million) wastewater treatment plant in Kraljevo, the central part of Serbia. Construction is expected to begin in the next 12 months, while the project deadline is three-and-a-half years.
Key Players in Wastewater Treatment Plants Market Are:
Suez
Veolia
Fluence Corporation
Kubota Corporation
Mitsubishi Chemical Aqua Solutions
Evoqua Water Technologies
Ecofluid
Organica Water
Hera Group
Bioxica
Market Size Breakdown by Segment
The report offers comprehensive market segmentation analysis along with market estimation for the period 2017–2030.
Based on Type
Effluent
Sewage
Agricultural
Leachate
Based on Technology
Physical
Biological
Chemical
Electrochemical
Based on Treatment System
Centralized
Decentralized
Based on Application
Geographical Analysis
North America
Europe

Germany
France
U.K.
Italy

Asia-Pacific (APAC)

China
India
Japan
South Korea

Latin America (LATAM)
Middle East and Africa (MEA)