Market Overview
In 2014, global lecithin market held a value of $787.7 million, which is projected to grow with a CAGR of 5.4%, during the forecast period. Among all the regional markets, in terms of volume, Europe accounted for the largest volume in 2014. Further, on the basis of source, soy lecithin, held the largest size, and has the ability to provide good emulsifying properties to food products.
The global lecithin market has been witnessing a significant growth in recent past, due to increasing awareness on health, and growing adoption of convenience and low-fat foods by various age groups. Further, several industries, including animal feed, health and nutrition, food, and cosmetics industry, largely use lecithin as an emulsifier agent.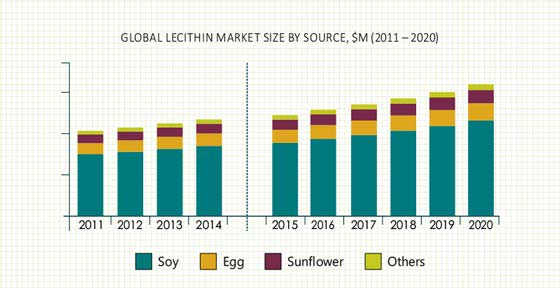 On the basis of source, the lecithin market categorized into egg, sunflower, soy, and others. During the historical period, soy held the largest market size, due to its ability to act as a natural emulsifier, which is extracted from soybean oil. Further, it comprises 3 forms of phospholipids: phosphatidylethanolamine (PE), phosphatidylinositol (PI), and phosphatidylcholine (PC).
Market Dynamics
Growing per capita income, importance for healthy food products, coupled product's multifunctional and flexible nature, and growing health concerns act as the key drivers for the lecithin market. These all factors impact the demand of low-fat food, and in result, generate demand for lecithin at the global level. Growing demand for such kind food is expected to has significant impact on the lecithin market over the coming upcoming years.
The presence of various substitutes, including mono- and di-glycosides, poly glycerol polyricinoleate, poly glycerol esters of fatty acids, sucrose esters, and sorbitan esters, results in lower usage of lecithin in the food industry. Furthermore, growing prices of its raw materials, such as egg, soybean, and sunflower, and the growing demand for good-quality lecithin from food industry at low prices are also other restraints in the lecithin market.
Competitive Landscape
Globally, the major market players in the lecithin market are Sternchemie GmbH & Co. KG, Ruchi Soya Industries Ltd., Lipoid GmbH, Archer Daniels Midland Company, E. I. du Pont de Nemours and Company, Aceitera General Deheza S.A., VAV Life Sciences Pvt. Ltd., Lasenor Emul S.L., Kewpie Corporation, and Cargill Incorporated.
Key Questions Answered:
What is the current and future scenario of the global lecithin market?
What are the major factors driving the global lecithin market?
What are the upcoming opportunities for the players in the global lecithin market?
Which major source type of lecithin is expected to dominate the market during the forecast period?
Which region is expected to witness the fastest growth during study period?
Who are the major players in the global lecithin market?
What are the key strategies adopted by major players in the global lecithin market?