The global lead-acid battery market was valued at $56.9 billion in 2017, and it is predicted to display a CAGR of 3.7% during the forecast period (2018–2023), reaching $70.7 billion by 2023.
Among all regions, Asia-Pacific (APAC) is expected to witness the fastest growth in the lead-acid battery market, during the forecast period. This can be mainly attributed to the swift growth of the automotive sector and deployment of 4G telecom towers across regional countries in the coming years, which will lead to a high demand for uninterruptible power supply (UPS), thereby increasing the sale of lead-acid batteries.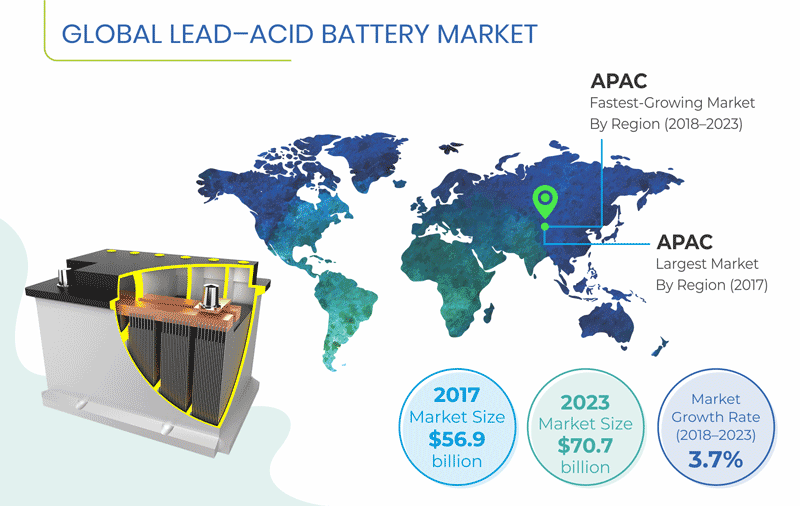 Fundamentals Governing Lead-Acid Battery Market
The major trend being witnessed in the lead–acid battery market is the technological advancements in such energy storage devices. Such batteries are used for a large number of applications, and they remain in a high demand owing to their compatibility with a wide variety of consumer electronics. Since conventional lead–acid batteries have limitations, in terms of meeting the performance standards of technologically advanced products, companies have started manufacturing high-performance variants. Ultra Battery is a hybrid energy storage device, which has been developed by the Commonwealth Scientific and Industrial Research Organization (CSIRO) of Australia.
Electric vehicles (EV) and hybrid electric vehicles (HEV) are in high demand, as they enable clean and efficient transportation. Several EV manufacturers, such as Ford Motor Company, Nissan Motor Corporation, and Tesla Inc., are planning to launch new models in the coming years. The lead–acid battery is widely used as the primary power source in EVs, owing to their high specific energy and energy density. Therefore, the increasing demand for EVs is expected to boost the lead-acid battery market growth.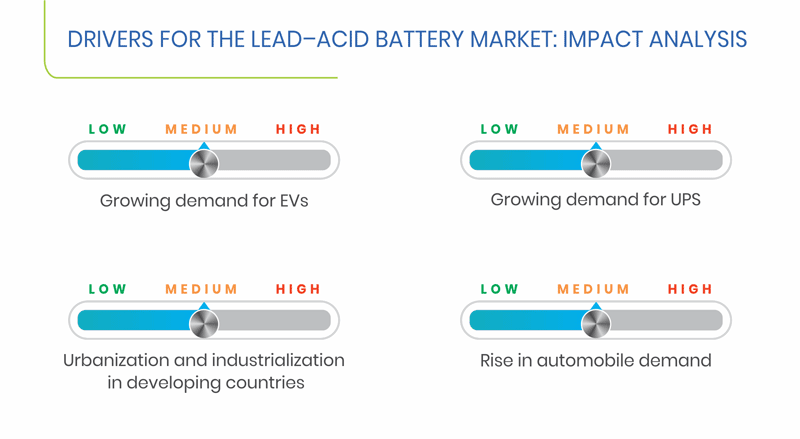 The growing inclination toward renewable sources of energy is expected to provide lucrative growth opportunities to the lead-acid battery market. All European Union (EU) countries have adopted national renewable energy action plans, thus resulting in an increasing number of offshore and onshore renewable energy installations in Germany, Italy, Sweden, and the UK. These renewable energy systems require batteries, especially lead–acid variants, for the storage of solar energy.
Lead–Acid Battery Market Segmentation Analysis
The flooded category held larger the value share in the global lead-acid battery market, in 2017, based on construction. This can be attributed to the cost-effective solution for entry-level start-stop systems and increasing demand in marine applications, on account of the higher power output of flooded batteries.
The starting, lighting, and ignition(SLI) category accounted for the largest revenue share in the lead-acid battery market, among all types, in 2017. This is ascribed to the low cost, high durability and reliability, low maintenance requirements of SLI batteries, which is why they are preferred in the automotive industry.
The oil and gas category is expected to exhibit the fastest growth, in terms of revenue, over the forecast period, among all applications. This can be ascribed to the surging adoption of energy storage devices and increasing use of UPSs in the oil and gas sector, due to the increase in exploration and production (E&P) activities.
Global Scenario of Lead–Acid Battery Market
APAC was the largest lead–acid battery market, during the historical period (2013–2017), and it is expected to maintain the trend during the forecast period. This can be mainly attributed to the rising income levels in countries such as China and India, which has helped in the growth of the automotive industry in the region. The sale of automobiles directly impacts the demand for lead–acid batteries.
Besides, APAC is also expected to witness the fastest growth in the forecast period, mainly on account of the swift adoption of energy storage systems and increasing use of UPSs in industries such as oil and gas, manufacturing, chemical, and healthcare.
Considering the future industry scenario, China is expected to lead the APAC lead-acid battery market, generating revenue worth $15.3 billion in 2023.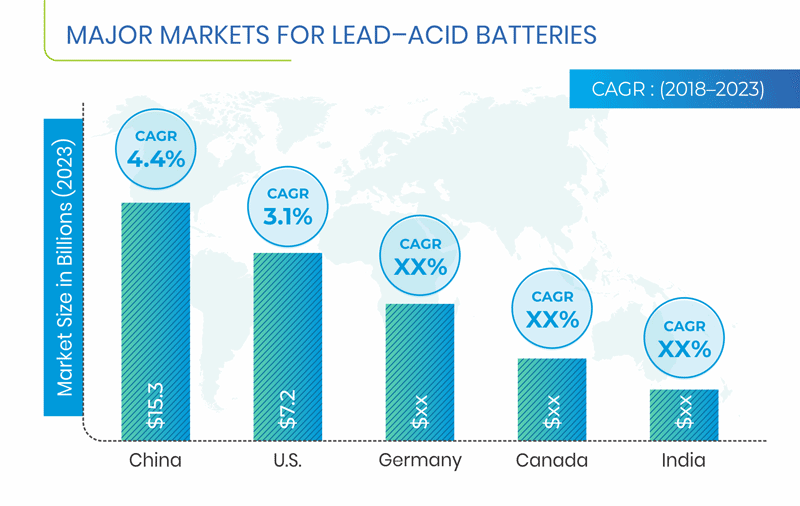 Competitive Landscape of Lead–Acid Battery Market
The lead-acid battery market is consolidated in nature, characterized by the presence of established companies, such as Johnson Controls International plc, GS Yuasa Corporation, Exide Technologies, and EnergySys Limited.
Some other important players operating in the market are Fujian Quanzhou Dahua Battery Co. Ltd., B.B. Battery Co. Ltd., Yokohama Industries Berhad, Hitachi Chemical Energy Technology Co. Ltd., C&D Technologies Inc., and Amara Raja Corporation.
Recent Strategic Developments of Major Lead–Acid Battery Market Players
In recent years, the major players in the lead-acid battery market have taken several strategic measures, such as product launches and geographical expansions, to gain a competitive edge in the industry. For instance, in October 2017, Panasonic Corporation launched lead–acid batteries for EVs, at its former television screen plant, in Japan. Panasonic Corporation, the exclusive battery cell supplier for Tesla Inc.'s mass-market Model 3, is reinventing itself as a provider of advanced auto parts to reduce the dependence on smartphones and other lower-margin consumer products, which face a stiff price competition. With this launch, the company aims to expand its lead–acid battery product line.
Moreover, in April 2018, AC Delco Corporation expanded its service center network in Dubai, for the Middle East and African region, where it is widening its customer base and service offerings.
Market Size Breakdown by Segment
The Lead-Acid Battery Market report offers comprehensive market segmentation analysis along with market estimation for the period 2013–2023.
Based on Construction
Flooded
Valve-Regulated Lead–acid (VRLA)
Based on Type
Standby
Motive
Starting, Lighting, and Ignition (SLI)
Based on Application
Automotive

Non-electric vehicles
Electric vehicles (EVs)
Transport vehicles
Forklifts

Utilities
Oil and Gas
Construction
Telecommunication
Marine
Uninterrupted Power Supply (UPS)
Leisure
Geographical Analysis
North America
Europe

Germany
U.K.
France
Netherlands
Norway
Sweden

Asia-Pacific (APAC)

China
Japan
India
South Korea
Australia

Latin America (LATAM)
Middle East and Africa (MEA)

South Africa
Saudi Arabia