Market Overview
The global advanced lead–acid battery market size stood at USD 24.2 billion in 2022, and it is expected to propel at a compound annual growth rate of 7.3% during 2022–2030, to reach USD 42.6 billion by 2030.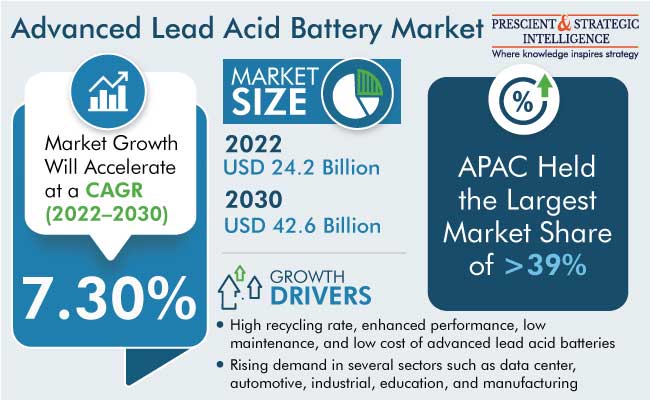 This is because these batteries offer high recycling capabilities, high performance, and cost-effective energy storage, as compared to lithium-ion batteries. In addition, the industry is also boosted because of the extensive demand for these batteries from data centers, whose number is rising rapidly.
Moreover, lead–acid batteries are extensively used as an energy storage solution and these are also widely recycled consumer products in the world. For instance, in March 2022, almost 99% of lead batteries are recycled in the U.S., and almost 130 million lead batteries are recycled every year in the country.
Lead–Acid Battery Has a Higher Recycling Rate
The advanced lead–acid batteries are easy to decompose as compared to other alternative battery storage solutions, and these have a good recycling rate. Globally, almost 86% of the total production of these batteries are used in motor vehicles and the requirement for these vehicles is always growing, due to which government and manufacturing companies of batteries give recycling options to use the batteries' part to make new ones. In addition, because of the high recycling rate, these types of batteries are always available in the market at a low cost, which consistently drives their demand.
Exponential Growth in Data Generation
Data centers require high-quality and uninterrupted high-power supply every time because even little disturbances and inconsistencies in power can create a critical scenario. Industry experts suggest that most of the companies with more than 10 employees collect some form of digitized data, and the larger ones utilize data for improving their marketing, transferring it internationally as well. Hence, the growth in data generation is expected to propel the demand for battery storage in data centers.
Moreover, several advanced technologies are being deployed to ensure optimal efficiency and performance of data centers, such as automation, AI, IoT, and the latest versions of uninterruptible power system (UPS) batteries. Valve-regulated lead–acid (VRLA) batteries are the first choice of almost every data center, due to their low cost and high recycling capabilities.
In 2020, 64.2 zettabytes of data were generated, a 314% hike from 2015. Moreover, in September 2022, the Indian data center capacity was 870 MW, which is powered by almost 138 data centers and is estimated to cross over 1,700 MW by 2025. As the volume of data across the globe is growing extensively, the demand for data centers and data storage solutions is also increasing, and simultaneously the requirement for lead–acid batteries is rising.
Technological Advancements Boost the Need for Smart Power Solutions
Traditionally, conventional batteries were the key energy storage solution for a large number of applications, as they were compatible with a wide range of consumer electronics. However, with the commercialization of electric vehicles and advanced energy storage solutions to feed power grids, the demand for dynamic energy storage solutions is increasing. Additionally, such batteries have high load current and take less time to charge, up to five times faster than conventional batteries, and also provide a high output.
Since conventional batteries have limitations in terms of meeting the performance standards of advanced technological products, companies engaged in the manufacturing of lead–acid batteries have started shifting their focus toward the development of advanced-performance batteries. Also, these are ideal for use in EVs, electrical grids, renewable energy projects, and hybrid power systems, and have proved beneficial in overcoming the limitations of conventional batteries. Thus, these factors boost the market growth.
Propelling Demand for Electric Vehicles Drives the Industry
Electric vehicles, such as plug-in hybrid electric vehicles (PHEV), hybrid electric vehicles (HEV), and pure battery electric vehicles (BEV), are in high demand, as they enable clean and efficient transportation. In addition, regulatory governmental norms for limiting the global temperature and reducing greenhouse gas emissions are further augmenting the need for these vehicles.
Furthermore, several EV manufacturers, such as Ford Motor Company, Nissan Motor Corporation, and Tesla Inc., are making advanced electric car models. Lead–acid batteries are widely used as a power-generating source in EVs, owing to their high specific energy and energy density. Altogether, the above-mentioned factors indicate that the increasing demand for electric vehicles is expected to boost the lead–acid battery market.
Burgeoning Need for UPS Systems
The surging need for UPS systems is acting as a driver for the lead–acid battery market. UPS systems play a crucial role in distributing uninterrupted electricity supply and protecting data loss, equipment, and load surges. Additionally, owing to the rapid urbanization and industrialization in developing countries across the globe, the requirement for electronic devices and electricity is increasing, which, in turn, is propelling the need for UPS systems.
Furthermore, several sectors including industrial, manufacturing, healthcare, research institutions, educational institutions, chemicals, and oil and gas further add to the demand for lead–acid batteries, as all these sectors require uninterrupted electricity supply for the proper functioning of machinery. Due to these factors, the need for such batteries is expected to be high and it will attribute to the market growth.
Advanced Lead Acid Battery Market Report Coverage

| | |
| --- | --- |
| Report Attribute | Details |
| Historical Years | 2017-2022 |
| Forecast Years | 2023-2030 |
| Market Size in 2022 | USD 24.2 Billion |
| Revenue Forecast in 2030 | USD 42.6 Billion |
| Growth Rate | 7.3% CAGR |
| Report Scope | Market Trends, Drivers, and Restraints; Revenue Estimation and Forecast; Segmentation Analysis; Impact of COVID-19; Companies' Strategic Developments; Market Share Analysis of Key Players; Company Profiling |
| Segments Covered | By Type; By Construction Method; By End-Use Industry; By Region |
Explore more about this report - Request free sample pages
Motive Category Holds a Larger Revenue Share
Based on type, the motive category accounted for a larger revenue share, of more than 58%, in 2022, and it is also projected to maintain the same trend throughout the analysis period. This is primarily attributed to the extensive use of motive advanced batteries in the automotive sector because of their high discharge and charge rates. A motive battery provides power to a motor that drives an electric vehicle, such as a forklift truck or golf cart, and powers the accessories of EVs such as headlights. These are also widely adopted in non-electric vehicles such as transport vehicles.
In addition, motive lead–acid batteries are also known as traction power batteries. Further, these are referred to as industrial lead–acid batteries, which provide a steady current for a longer duration.
Whereas, the stationary category is projected to grow at a higher CAGR, of around 8.1%, over the next few years. The growth can be mainly ascribed to the increasing demand for smoothly integrated solar PV solutions, which need battery banks with high capacity. Additionally, stationary batteries are majorly adopted as a standby power supply in the hospital, energy, and other industries. Also, rapid urbanization and government concerns toward solar PV solutions, in which batteries are the main equipment for storage of the generated power, are the key factors driving the growth of the industry.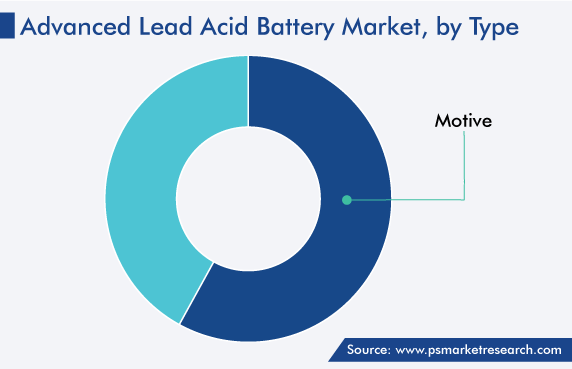 VRLA Battery Holds the Largest Share
The VRLA battery category accounted for the largest revenue share, of 66%, in 2022, and it is also projected to grow at the highest CAGR, of 8.2%, in the coming years. This type of battery is also known as the sealed lead–acid (SLA) or maintenance-free battery. VRLA battery is the enhanced version of a semi-concentric sulfuric acid electrolyte battery and does not require any regular addition of water to the cells, which is why, it is mostly preferred in the automotive and industrial sectors. These are also used in applications where a large amount of power storage is needed at a low cost.
European Market To Grow at a Significant Rate
The European market is expected to grow significantly during the forecast period. This can be due to the high demand and production of vehicles and the presence of the well-established automotive industry in the region. With the increase in automobile production, the need for lead–acid batteries is also rising. For instance, electric cars accounted for around 17% of the automobile sales in 2021 in the region. Also, many leading manufacturers in the region are undergoing product developments to develop advanced batteries and cater to the growing demand.
For instance, in Germany, the number of electric vehicles on road is estimated to exceed 2 million by the end of 2023. With the increase in demand for such automobiles, the requirement for such batteries will be high, as consumers are shifting to more cost-effective and environment-friendly vehicles.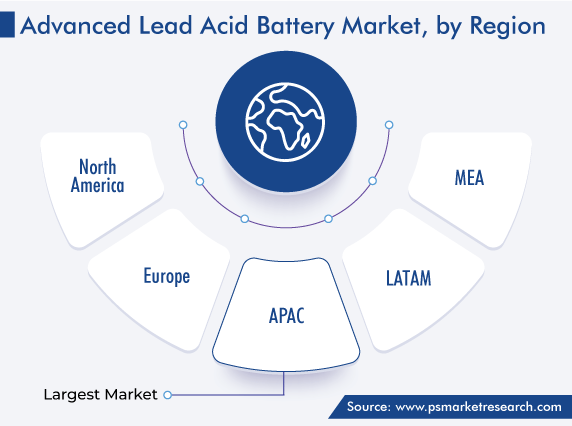 Some of the Top Advanced Lead–Acid Battery Manufacturers Are:
EnerSys
Exide Industries Ltd.
GS Yuasa International Ltd.
Clarios
Leoch International Technology Limited Inc.
East Penn Manufacturing Co.
Crown Battery
Furukawa Battery Co. Ltd.
Amara Raja
HOPPECKE Batteries Inc.
Market Size Breakdown by Segment
The report analyzes the impact of the major drivers and restraints on the advanced lead–acid battery market, to offer accurate market estimations for 2017–2030.
Based on Type
Based on Construction Method
Valve Regulated Lead Acid (VRLA) Battery
Flooded Battery
Based on End-Use Industry
Automotive and Transportation
Energy and Power
Industrial
Commercial & Residential
Geographical Analysis
North America
Europe

Germany
U.K.
France
Italy
Spain

Asia-Pacific

Japan
China
India
South Korea
Australia

Latin America
Middle East and Africa

Saudi Arabia
South Africa
U.A.E.