Kaolin Market Size & Share
The global kaolin market size is estimated at USD 4,734.3 million in 2023 and projected to reach USD 6,557.9 million by 2030, advancing at a CAGR of 4.9% during 2024–2030. Kaolin is a soft clay, mostly made from kaolinite mineral, and used in the manufacturing of porcelain, rubber, paper, plastics, and paints & coatings. The extraction and mining cost of kaolin is relatively low, adding to its general affordability. It serves as a flexible component with multiple uses in a variety of consumer goods, production processes, and cost-effective additives. Moreover, due to its antimicrobial and insecticidal properties, it is used in agriculture as a pesticide.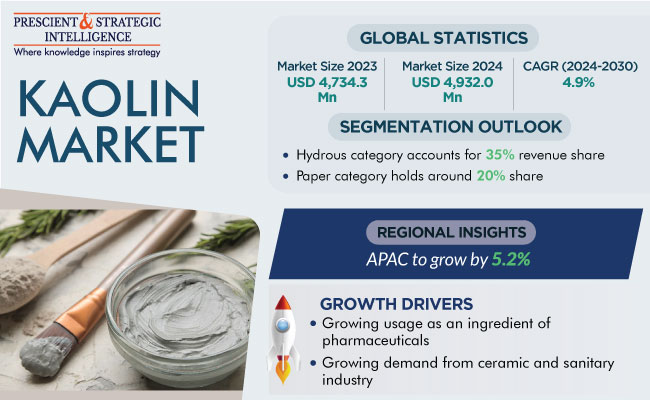 In paints & coatings, kaolin is used to increase durability, gloss, and scratch resistance. Moreover, it imparts rapid dispersion, better suspension, superior water and corrosion resistance, and reduced viscosity to these materials. Thus, the increasing demand for paints & coatings from the construction industry is projected to drive the market for kaolin in the years to come.
Paper Dominates Market
Based on application, paper dominates the market, and it is projected to grow at a CAGR of 5.3% over the forecast period. Kaolin is used widely in the paper industry as a coating ingredient, as it offers whiteness and enriches the finished look of the paper product.
Another common use for this chemical during the production of paper is filling. It is used as a filler to increase the length of the fiber and the printability of paper, by enhancing ink absorption, decreasing tinting tendency and pigment holdout, and increasing roughness. Besides, other benefits offered by it, such as gloss, brightness, smoothness, and opacity, enhance the aesthetics of paper.
With the rise of online shopping, paper use in the packaging industry is increasing. Kaolin is sustainable and environment-friendly and provides durability to the packaging for e-commerce transportation. Moreover, despite the rising preference for digital platforms for viewing news, print media still hold its significance in the world, specifically in periodicals, books, and high-quality brochures. Since kaolin, a paper coating, is printable and enhances the appearance of paper, its consumption continues to rise amidst the rampant digitization.
Furthermore, paper coated with this material provides the advantage of a decreased particle size, thereby increasing the strength. The growth of the paper industry in developing regions is thus expected to drive the market due to the rising demand from the packaging and printing industries.
Growing Usage as an Ingredient of Pharmaceuticals
For a long time, kaolin has been used in the field of medicine as it is low in toxicity and high in purity. According to the U.S. EPA, kaolin- and kaolin–pectin-based formulations and livestock treatments made from these compounds can be used to treat small animals for blood loss and diarrhea, as they absorb moisture and toxins and bind with harmful substances. Propolis, which is a resin consisting of antimicrobial and therapeutic properties, is extracted with the help of kaolin in the apiculture industry.
Kaolin is also widely used as an essential component of surgical pads, mouthwashes, toothpastes, and other medical goods. It is used in mouthwashes as it provides a defensive covering within the mouth. Moreover, it works as a hemostatic agent in surgical pads and gauzes, while in clinical laboratory tests, it is used to measure activated clotting times. Additionally, for the prevention of thrombosis, it is vastly used as a blood coagulant activator, to reduce inflammation. It is also used as a filler, binder, detergent, and diluent in pharmaceutical powders, capsules, and tablets, to enhance their physical properties.
Growing Demand from Ceramic and Sanitary Industry Boosts Market
The use of kaolin in ceramic products, such as tableware, sanitary ware, and tiles, is set to contribute in the growth of the ceramic and sanitary application category during the forecast period. Kaolin's use in ceramic manufacturing has gained prominence due to its fine particle size, absorption, chemical inertness, high fusion temperature, and suitability as a refractory material. These qualities make it a suitable mineral to produce porcelain and bone China, while its brightness, grit, fixed color, and strength increase its usage in household utensils, such as cups and plates.
Kaolin Market Report Coverage

| | |
| --- | --- |
| Report Attribute | Details |
| Market Size in 2023 | USD 4,734.3 Million |
| Market Size in 2024 | USD 4,932.0 Million |
| Revenue Forecast in 2030 | USD 6,557.9 Million |
| Growth Rate | 4.9% CAGR |
| Historical Years | 2017-2023 |
| Forecast Years | 2024-2030 |
| Report Scope | Market Trends, Drivers, and Restraints; Revenue Estimation and Forecast; Segmentation Analysis; Impact of COVID-19; Companies' Strategic Developments; Market Share Analysis of Key Players; Company Profiling |
| Segments Covered | By Application; By Grade; By Region |
Explore more about this report - Request free sample pages
Booming Use in Skincare Products
Kaolin has also been used in the cosmetics industry for a long time, specifically in deodorants, skincare products, and baby powders. It is also used in face masks and cataplasm as it reduces edema, aching, and inflammation. Moreover, it is used in ointments, topical creams, and powders designed for skincare purposes, for its mild and soothing properties, which make it suitable for sensitive skin. Moreover, it is used as a drying agent and emollient in skincare products. Therefore, the increasing demand for cosmetics, with people's rising appearance consciousness and disposable income, presents potential growth opportunities for market players.
Rising Demand for Kaolin for Production of Plastics
Kaolin is used as an infrared absorber in PET and polyethylene films, enabling the use of an additive for laser-mark molded packaging. Additionally, meta kaolinite can improve the resistivity of PVC cables by removing harmful ions from the polymer matrix. Moreover, the hydroxyl groups on the calcined kaolin surface enhance polyamide's heat resistance and impact strength during coupling procedures.
In the same way, in fiberglass, it is used as a filler to strengthen interwoven fibers. It also makes it achievable to integrate fibers into goods that require the plastic to be strong, including cars, aerospace components, boats, tanks, sports & recreational goods, pipes, insulation, circuit boards, building materials, and air filters. The kaolin concentration used as a binder affects the chemical makeup of the fiber and the textile structure of the reinforcing system.
Hydrous Is Widest-Selling Grade
Within the grade segment, the hydrous category is the largest, with a market share of 35% in 2030. The process of manufacturing is time-consuming and involves crushing, sorting, slurring, grinding, centrifugation, shifting to obtain the desired purity, residue, particle size, and brightness; drying, and magnetic treatment. However, a reduction in impurities and increase in brightness are achieved through these processes, which contributes to the market growth. Hydrous kaolin is manufactured by this process as it holds onto water at a level of around 12–14% inside the clay. This process is a chief step in converting unrefined, raw kaolin into the refined final product.
As construction activities are increasing throughout the world, the need for ceramics is rising, thus boosting the consumption of hydrous kaolin. Over the past few years, the use of high-grade hydrous kaolin in ceramics has progressively expanded because of the chemical's exceptional suspending qualities.
Another grade of kaolin, calcined, is made from the hydrous variant as a raw material via heat treatment. As the calcining process removes 14% of the bound water of hydration in crude clay, the resulting product is called anhydrous. It is used widely in ceramic glazes and for adjusting the plasticity of the slips and shrinkages used on leather hardware. Calcined kaolin can also be used in low-expansion bodies, investment casting, thermal insulation bodies, permeable ceramic compositions, and refractory castable and furnishings.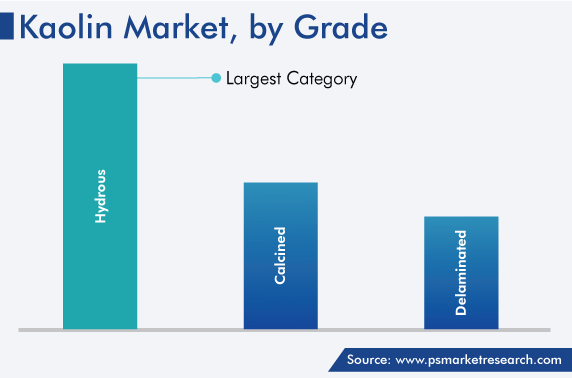 Asia-Pacific Accounts for Largest Market Share
Globally, APAC is the largest market, and it will advance at the highest CAGR, of 5.2%, during the forecast period. This is attributed to the rapid industrialization and economic growth, both of which are driving construction activities and people's incomes. India, China, Vietnam, Malaysia, and South Korea are the primary contributors in the growth of the market, due to the increasing consumption of cement, refractories, ceramics, and paper.
Europe is projected to be the second-largest region in the forecast period, driven by the increasing demand from the glass, paper, rubber, and plastic industries. Since COVID-19, a lot of consumers have shifted to packed food & beverages, thus resulting in a need for high-quality packaging material. Furthermore, in Europe, Germany holds the largest market, whereas the U.K. is the fastest-growing market.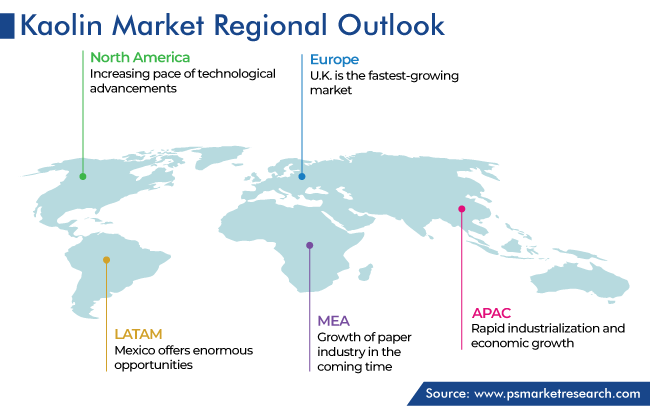 North America is projected to have a significant share in the global market too, owing to the increasing pace of technological advancements and rising disposable income. The efforts of the U.S. administration for the usage of green energy is also set to fuel the market advance due to the use of ceramic-based fused materials in the solar power industry. Additionally, the rising demand for this chemical from the packaging and paper industries propels the market.
Some Key Competitors in Kaolin Market Are:
Imerys S.A.
Ashapura Minechem Limited
EICL Limited
BASF SE
Thiele Kaolin Company
SCR-Sibelco N.V.
LASSELSBERGER GmbH
Quarzwerke GmbH
Thiele Kaolin Company
I-Minerals lnc.
20 Microns Limited
Market Size Breakdown by Segment
This report offers deep insights into the kaolin market, with size estimation for 2017 to 2030, the major drivers, restraints, trends and opportunities, and competitor analysis.
Based on Application
Paper
Ceramics
Paint & Coatings
Fiberglass
Plastic
Rubber
Cosmetics
Pharmaceuticals
Based on Grade
Hydrous
Calcined
Delaminated
Surface-Modified & Unprocessed
Geographical Analysis
North America
Europe

Germany
U.K.
France
Italy
Spain

Asia-Pacific

Japan
China
India
South Korea
Australia

Latin America
Middle East and Africa

Saudi Arabia
South Africa
U.A.E.