Market Overview
The isostearic acid market revenue is USD 296.7 million (E) in 2023, and it will propel at 6.7% compound annual growth rate during 2024–2030, to reach USD 463.2 million by 2030.
Isostearic acid, chemically represented as C18H36O2, is extensively used in the coatings, food & beverages, cosmetics, pharmaceuticals, and other sectors. Hence, the growing demand for personal care and cosmetic products, particularly in the European and APAC regions, is projected to have a positive effect on the market.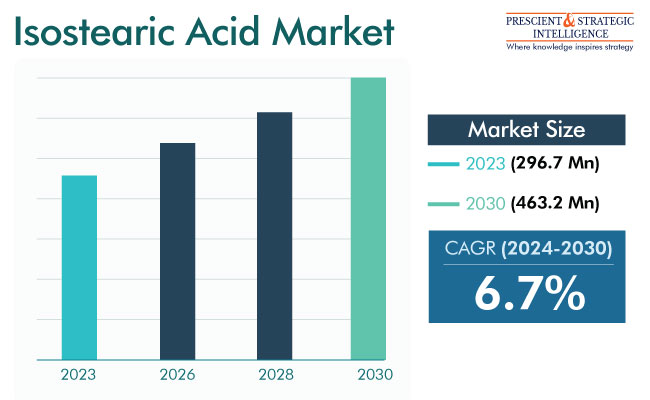 The chemical is primarily produced when tall oil fatty acids are subjected to clay-catalyzed oligomerization. These ingredients are primarily utilized in the making of oleic acid, from which isostearic acid is ultimately made. This procedure, which needs up to 10 bars of pressure at high temperatures between 190 and 250 °C, involves reacting TOFA with a small amount of water in a stainless-steel reactor.
A growing supply of workable raw materials, primarily oilseeds, will surge the supply of this chemical. It is mainly made from oleic acid, a type of unsaturated acid. The key raw materials for oleic acid include soybean oil, rapeseed oil, sunflower oil, safflower oil, beef tallow, and palm oil tall oil. As ingredients for personal care items, a number of chemical esters, including monostearate, isostearate, glycerol, and isopropyl isostearate, are made from C18H36O2. Thus, it is a key ingredient of personal care items, such as moisturizers, hair dyes, lipsticks, and sun protection creams.
Among personal care items, skincare products are bought the most extensively. Populace expansion, along with the rising per capita income of middle-class people in developing nations of APAC and Latin America, is projected to boost the demand for personal care items. This will, in turn, drive the requirement for isostearic acid for manufacturing intermediates for such products.
Isostearic Acid Market Report Coverage

| | |
| --- | --- |
| Report Attribute | Details |
| Market Size in 2023 | USD 296.7 Million (E) |
| Revenue Forecast in 2030 | USD 463.2 Million |
| Growth Rate | 6.7% CAGR |
| Historical Years | 2017-2023 |
| Forecast Years | 2024-2030 |
| Report Scope | Market Trends, Drivers, and Restraints; Revenue Estimation and Forecast; Segmentation Analysis; Impact of COVID-19; Companies' Strategic Developments; Market Share Analysis of Key Players; Company Profiling |
Explore more about this report - Request free sample pages
Chemical Esters Application Category Is Leading Market
The chemical esters category is leading the application segment of the industry, and it is also projected to remain dominant in the future. Chemical esters have applications in plasticizers and pigment adhesion promoters due to their enhanced dispersion, quick absorption, and low residue formation. These reasons contribute to making chemical esters an important intermediate material in industrial and personal care applications.
Therefore, isostearic acid is widely utilized in sun protection creams, cosmetics, liquid soaps, and baby care and haircare products. Its oxidation and odor stability contribute toward its use in personal care items requiring a longer shelf life.
Chemical esters and certain polyhydric alcohols, including propylene glycol and glycerol, are also used as emulsifiers in concoctions of oils in water. Ice milk's dryness and breakdown stability are also enhanced by this chemical. In the same way, synthetic greases can be made from pentaerythritol tetraisostearate, which is another chemical ester.
The growing reliance on renewable materials, credited to the reducing fossil fuel availability, is projected to boost isostearic acid's requirement for greases and lubricants. Isostearic acid is also a possible gasoline detergent and pour point depressant, which is required in cold climes.
Isostearic Acid Producers:
KOKYU ALCOHOL KOGYO CO. LTD.
Oleon NV
Nissan Chemical Corporation
Emery Oleochemicals
Jarchem Innovative Ingredients LLC
KLK EMMERICH GmbH
Santa Cruz Biotechnology Inc.
Vantage Specialty Chemicals
Foreverest Resources Ltd.
SysKem Chemie GmbH
KRATON CORPORATION
Europe Is Generating Highest Revenue
The European region is leading the industry, credited to the growing cosmetics requirement, along with the rising consumption of biobased lubricants. In this regard, the strict environmental regulations to reduce the level of greenhouse gases in the environment will positively impact the industry. Hydraulic oil produced from organic sources is used across numerous applications in Europe, such as chainsaws, which are a key implement in the logging sector. The market for cosmetic products in Europe will reach well above USD 130 billion in the next 2–3 years.
Asia-Pacific is also growing significantly in the industry, powered by the rising demand for personal care products, mainly in developing nations such as China, India, and Indonesia. This is itself due to the growing per capita disposable income of the middle class, coupled with the rising population in China and India. Further, the increasing knowledge of customers regarding health issues raises the use of organic materials, including bio-based isostearic acid, in personal care products.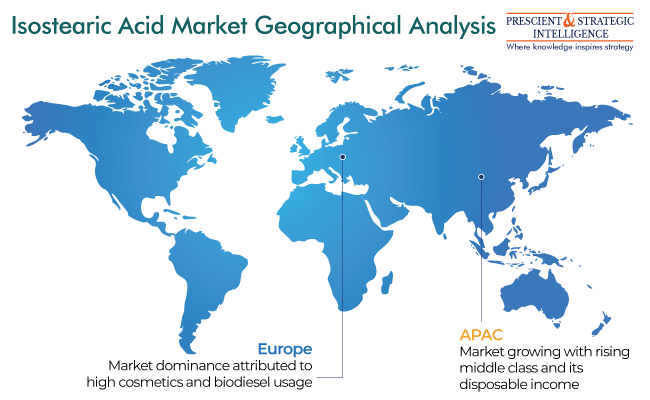 In the same way, the need for isosteric acid in North America will be boosted by the increasing biofuel usage, coupled with the stringent guidelines to decrease carbon emissions. North America has been the leading consumer of bio-lubricants, which are used for industrial, automotive, and metalworking applications, especially in process oils and greases.