Market Overview
The global industrial cleaning chemicals market generated revenue of USD 46,212.9 million in 2023, which will reach USD 62,756.9 million by 2030, advancing at 4.6% CAGR between 2024 and 2030. It is attributed to the increasing incidence of viral and bacterial diseases all around the globe, rising awareness of hygiene, government initiatives for cleaner cities, and surging demand for these agents in healthcare settings and food processing plants. At all these places, disinfectants & sanitizers are being increasingly utilized for this purpose.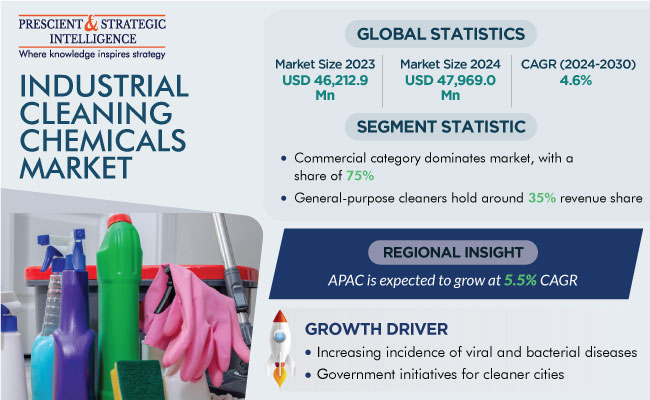 In addition, the COVID-19 pandemic has heightened the importance of personnel safety and hygiene, thus leading to a surge in the demand for cleaning chemicals in industrial spaces. Further, the growing FMCG market worldwide has augmented the consumption of these agents in the retail & food service sector, while the growing industrialization level in developing countries has increased the emphasis on cleanliness and high standards of institutional hygiene.
Cleaning chemicals are utilized in a wide range of industrial settings to effectively remove chemical deposits, oil & grease, germs, and dirt from various surfaces, including factory floors as well as machines.
This way, effective cleaning plays a crucial role in enhancing the efficiency and development potential of various sectors, such as manufacturing, commercial offices, healthcare & hospitals, and retail & food services. These industries have always had to prioritize cleanliness due to their direct client interaction, a focus area that has received even more attention since the pandemic. High levels of hygiene in the general manufacturing, food processing, and automotive industries not only ensure workers' safety but also lead to high-quality products and augmented productivity.
Moreover, government entities are actively promoting the use of synthetic cleansers to maintain the required standards of hygiene, contaminant elimination, and product and worker safety. Notably, the usage of these products has witnessed substantial growth in the food and healthcare industries in emerging economies.
Surfactant Category Held Largest Share due to Wide Range of Applications
The production of cleaning chemicals requires ingredients such as chelating agents, chlor-alkali, solvents, surfactants, phosphates, and pH regulators. Among these, surfactants accounted for the largest market revenue share in 2023, of over 25%. This is primarily because they are an essential active ingredient of these products, enabling the effective removal of several types of contaminants by reducing the surface tension or the interfacial tension between substances such as liquids, gases, and the solids. Surfactants play a crucial role because of their properties of emulsificationtheir antibacterial qualities and highly effective action against hydrophobic dirt have made them the preferred choice for cleaning purposes in industries.
Biocides also held a significant share in the market, as they are widely used in the healthcare, food & beverage, oil & gas, HVAC, and water treatment sectors for maintaining cleanliness, hygiene, and safety. These agents play a vital role in these industries by providing prevention from contamination, enabling microbial and pest control, and preserving food & products to ensure a long shelf life and help meet the severe hygiene standards.
Another prominent ingredient is solvents, which are widely utilized in the production of chemical cleaners because they have the capacity to dissolve oils and greases and compatibility with water. The demand for solvent-based cleaning agents is expected to increase quickly during the projected period, mainly in India, China, Vietnam, and Brazil, because of their expanding manufacturing and service sector.
However, these ingredients are primarily derived from petrochemicals, and lately, there has been a trend of bio-based ingredients, mainly bio-ethanol derived from agricultural materials, such as corn and sugarcane. This is because biological ingredients are less toxic and less harmful to nature as well as humans.
Moreover, chlor-alkali ingredients are witnessing market growth due to their strong disinfecting and cleaning action and compliance with environmental protection regulations. The expanding healthcare, food processing, manufacturing, and hospitality industries are raising the demand for chlor-alkali-ingredient-based products.
Industrial Cleaning Chemicals Market Report Coverage

| | |
| --- | --- |
| Report Attribute | Details |
| Market Size in 2023 | USD 46,212.9 Million |
| Market Size in 2024 | USD 47,969.0 Million |
| Revenue Forecast in 2030 | USD 62,756.9 Million |
| Growth Rate | 4.6% CAGR |
| Historical Years | 2017-2023 |
| Forecast Years | 2024-2030 |
| Report Scope | Market Trends, Drivers, and Restraints; Revenue Estimation and Forecast; Segmentation Analysis; Impact of COVID-19; Companies' Strategic Developments; Market Share Analysis of Key Players; Company Profiling |
| Segments Covered | By Ingredient Type; By Product Type; By Application; By Region |
Explore more about this report - Request free sample pages
General-Purpose Cleaners Are Largest Category
By product type, general-purpose cleaners hold the largest market share, owing to the increasing awareness of hygiene. This drives the usage of these products in corporate offices for sanitation. Additionally, they are used for maintaining the cleanliness of medical equipment or devices, floors, sanitaryware, glass surfaces, and many more areas, to ensure basic hygiene at work and healthcare premises. Moreover, the affordability and effectiveness of general-purpose cleaners make them popular.
Moreover, the category is expected to exhibit the highest CAGR during the forecast period, as a wide range of such cleaners, tailored to meet various customer needs, are available globally. These products find applications in various spaces, including homes, business premises, public areas, and government buildings.
Disinfectants & sanitizers also held a significant share in the market. According to the WHO, around 6.7 million people had died till December 2022 due to the COVID-19 pandemic all around the globe, highlighting the critical need for effective disinfectants and sanitizers to combat the spread of the virus and maintain public health and safety. The unprecedented scale of the pandemic has underscored the importance of these products in preventing infections and reducing transmission rates.
The demand for the vehicle wash products is also significantly contributing in the progress of the global market. This is attributed to the rapidly rising sales of all kinds of vehicles around the world, especially in emerging economies, and the increasing investments by an expanding automotive industry. Since vehicles have become a symbol of people's wealth and social status, keeping them clean and dirt-free is a key focus area for numerous owners.
Additionally, in Russia, the U.S., the U.A.E., and several European nations, driving dirty vehicles carries heavy fines, as soiled windshields can reduce people's ability to see the road. This rising awareness of regular vehicle washing, coupled with the growing automotive industry, propels the market in these geographies.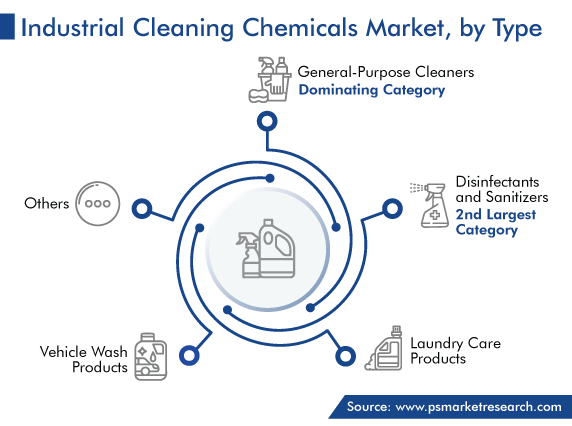 Commercial Applications Accounted for Larger Share
By application, the commercial category dominated the market, with a share of 75%, in 2023, and it is expected to remain the larger throughout the forecast period. The increasing demand for cleaning chemicals from commercial and hospitality establishments, driven by the high importance of hygiene at restaurants and hotels and the focus on providing international-standard food services, drives the market growth.
In this regard, the increasing disposable income worldwide, expanding tourism sector, and improving workplace hygiene & sanitation standards are driving the market. In many developing economies, the rise in the awareness of sanitation, due to the impact of the COVID-19 pandemic, had also driven the demand for cleaning chemicals in commercial spaces.
Within the commercial category, the healthcare subcategory is significantly contributing to the market. It is due to the increasing number of hospitals and clinics, as well as the government regulations for patient and staff safety, for instance, those of India's NABH. This is driving the demand for industrial cleaning chemicals in hospitals, clinics, medical education institutions, and drugstores.
The manufacturing category is also expected to witness a high growth rate during the forecast period. Cleaning chemicals play a crucial role not only in maintaining factories but also cleaning and degreasing metal equipment and tools, to ensure proper functioning. The manufacturing sector includes a range of industries, such as food & beverage processing, automotive, basic metals, petrochemicals & chemicals, heavy machinery, oil & gas, power & energy, and aerospace & defense.
Within the manufacturing category, the food & beverage processing subcategory makes a significant contribution to the market's growth. This industry focuses highly on hygiene, regulatory compliance, and operational efficiency. For this, food residue, greases, oils. and other contaminants need to be removed from equipment or machine surfaces, to ensure proper functioning and prevent cross-contamination within the premises.
Hence, the increasing demand for cleaning chemicals from food & beverage processing manufacturers, to minimize the presence of contaminants in the facilities and uphold the product quality, will drive their usage of these agents.
North America is estimated to have valued for Largest Share
Geographically, North America held the largest share, of 40%, in the industrial cleaning chemical markets in 2023. It is because of the presence of the highly developed U.S. and Canada, which are home to numerous hospitals, research institutes, and world-class business hubs, and commercial offices.
Additionally, the increasing awareness among the population regarding the importance of a healthier environment in commercial spaces and food processing & packaging plants, as well as other workplaces, drives the sale of these products. Moreover, the presence of key players in the region plays a key role in the growth of the market.
Moreover, in LATAM, the food & beverage processing industry is a significant end user, and this sector is expected to experience significant growth in Mexico. This expansion is fueled by the growing trend of packaged food due to the higher living standards and disposable income. Because of similar reasons, the demand for automobiles has been on the rise, thus positively impacting the consumption of industrial cleaning chemicals. Further, with a strengthening focus on car care and maintenance, the demand for vehicle washing products has also increased in the region.
APAC is expected to be the fastest-growing regional market during the forecast period. This is due to the increasing demand for them at hospitals and the food & retail, construction, and automotive sectors. Because of the low labor costs, easy access to raw materials, adoption of cutting-edge technologies, and affordable land, the region has developed into a magnet for foreign investments in the industrial sector.
Some Key Manufacturers of Industrial Cleaning Chemicals Are:
BASF SE
The Clorox Company
Clariant AG
The Dow Chemical Company
Ecolab Inc.
Evonik Industries AG
Henkel AG & Co. KGaA
Pilot Chemical Company
Procter & Gamble Company
Solvay SA
Stepan Company
3M Company
Market Size Breakdown by Segment
The report analyzes the impact of the major drivers and restraints on the industrial cleaning chemicals market, to offer accurate market estimations for 2017–2030.
Based on Ingredient Type
Surfactants
Solvents
Chelating Agents
pH Regulators
Solubilizers/Hydrotropes
Enzymes
Based on Product Type
General-Purpose Cleaners
Disinfectants and Sanitizers
Laundry Care Products
Vehicle Wash Products
Others
Based on Application
Commercial

Food service
Retail
Healthcare
Laundry care
Institutional buildings

Manufacturing

Food & beverage processing
Metal manufacturing & fabrication
Electronic components
Geographical Analysis
North America
Europe

Germany
U.K.
France
Italy
Spain

Asia-Pacific

Japan
China
India
South Korea
Australia

Latin America
Middle East and Africa

Saudi Arabia
South Africa
U.A.E.