Market Overview
The industrial burner market size stood at USD 6,215 million in 2022, and it is expected to advance at a compound annual growth rate of 5.5% during 2022–2030, to reach USD 9,501 million by 2030. This is primarily ascribed to the growing industrial sector and rapid technological advancements; the surging demand for electricity generation and adoption of standard safety protocols; the rising production of automobiles; and the increasing mining activities.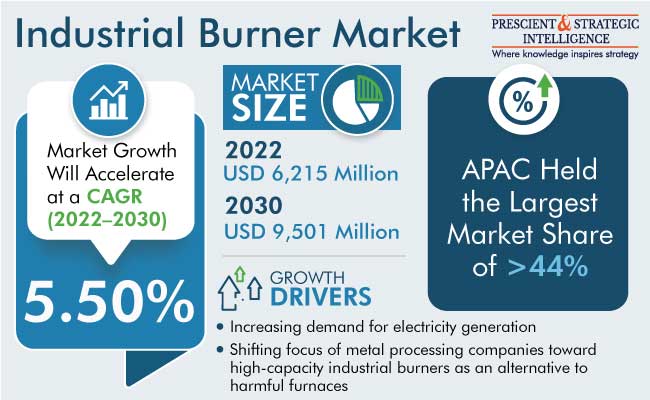 These systems are used for various applications such as ovens, boilers, heating liquids, air heating, welding, glass blowing, and recycling. They possess various advantages including less pollution, low noise, longevity, and safety in operations, which, in turn, fuel their demand. They are also designed to treat materials in an enclosed system at very high temperatures.
Due to their advantages, various companies are launching new products with advanced technologies. For instance, in July 2021, Tenova launched burners for heat treatment furnaces, which use around 100% hydrogen and these keep NOx emissions largely below the strictest parameters.
Increasing Use of Burner Management System Boosts the Market Growth
The demand for industrial burners will increase with the rising usage of burner management systems (BMSs) in a variety of industries. BMS is used to control multiple furnace parts of a boiler, including it can be started, operated, and shut down safely. A large number of industries are rapidly adopting such systems to improve plant operations providing secure and dependable operations, which guarantee greater safety, save maintenance costs, and create a safer working environment for plant workers. Thus, these factors are propelling the industry growth.
The increasing development of the industrial sector all over the world is expected to further drive the applications of BMSs in boiler processes. Government regulations are also rising and various legislations supporting the installation of safety systems have significantly increased the installation of BMSs in existing as well as novel fired equipment. Thus, the demand for such systems across a wide range of end-use industries, such as chemicals, oil & gas, and power generation, is substantially increasing.
Moreover, various companies have started adopting BMSs because of the rising focus on manufacturing systems to ensure the system availability, safety, easy maintenance, and enhanced operations; the introduction of advanced safety systems; the increasing investments in R&D activities; and they are facing a large number of litigations for workplace accidents. The rising awareness about the benefits associated with the installation of advanced management systems, including damage detection through immediate diagnostic failure identification and enhancement in monitoring the status, is also predicted to influence the market positively.
With the increasing use of such systems, the market is also growing at a good pace. The introduction of advanced management systems monitors multiple aspects of boiler control, including fuel usage, stack temperature, hours of use, and boiler efficiency. It also includes alarm management features and operator displays, which help in simplifying unit operations and minimizing start-up time. The advanced operator messaging features and diagnostics in such advanced systems enable companies to minimize critical troubleshooting time.
Industrial Burner Market Report Coverage

| | |
| --- | --- |
| Report Attribute | Details |
| Historical Years | 2017-2022 |
| Forecast Years | 2023-2030 |
| Market Size in 2022 | USD 6,215 Million |
| Revenue Forecast in 2030 | USD 9,501 Million |
| Growth Rate | 5.5% CAGR |
| Report Scope | Market Trends, Drivers, and Restraints; Revenue Estimation and Forecast; Segmentation Analysis; Impact of COVID-19; Companies' Strategic Developments; Market Share Analysis of Key Players; Company Profiling |
| Segments Covered | By Type; By Operating Temperature; By Automation; By Fuel Type; By End User; By Region |
Explore more about this report - Request free sample pages
High-Velocity Burners Hold the Major Share
Based on type, the high velocity category held a major share in 2022, owing to the greater efficiency of high-velocity burners at less cost. These burners also offer rapid and uniform heat distribution, minimize the emission of greenhouse gases, and are effective in drying out moisture from refractory materials. During the requirement of a high rate of recirculation of combustion products, these are used, as they provide a high degree of heat penetration while working in a furnace.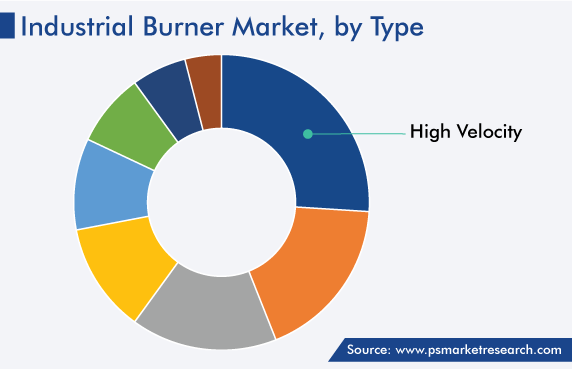 High Operating Temperature Burners Are Widely Used
High operating temperature (> 1,400 °F) burners are widely used because they are used in forging various metals and provide heat treatment in various applications such as food & beverages, glass, chemicals, ceramics, textiles, and many more.
Whereas, the low temperature (< 1,400 °F) category is growing at a considerable rate, owing to the wide range of designs, control zones, and operating temperatures of around 1400 °F, for continuous or batch furnaces, and a heat recovery system was designed where maximum temperature transfer and high efficiency are required.
Power Generation Category To Grow at the Highest CAGR
The power generation category is expected to grow at the highest CAGR, of 6.4%, during the forecast period, owing to the rising demand for electricity generation. The increased industrial production, growing income, and rapidly enhancing services sector are the factors driving the demand for energy. According to the International Energy Agency (IEA), in 2022, the global electricity demand was around 22,500 TWh and by 2030, it is expected to increase to 25,000 TWh.
In order to produce more power, high-pressure steam is required. For this, burners are used in coal-fired, turbine-based, steam-power, and diesel-fired applications. Moreover, industrial burners are an important component of industrial boilers, whose demand is increasing significantly, as boilers are used more frequently in power generation facilities.
In addition, the chemical category is expected to show significant growth in the coming years. This can be ascribed to the heavily rely on chemical process industries on combustion to provide thermal energy for various processes such as fluid heating, heat transfer, endothermic chemical reactions, metal melting, steam production, and distillation. Also, burners require low maintenance and are cost-effective, which, in turn, fuels the market in the chemical category.
Demand for Dual-Fuel Burners To Show Considerable Growth
The demand for dual-fuel burners is expected to witness considerable growth in the forecast period because these offer precise temperature control and in combination with secondary fuel allow the use of cheap fuel sources. They have higher efficiency and are known for their features such as compact design, ease of operation, improved performance, and durability. Also, these have optimum flexibility because they provide two types of nozzles for two types of fuels. Thus, they are mostly used for melting furnaces, heat treating, and galvanizing units.
In addition, the gas category is projected to hold a significant share of the industry. This is attributed to its features such as longer service life, high-tensile strength, reliability, optimum performance, and durability, and the rising use of gas-heating equipment for various applications across several industries, including boilers, furnaces, bakeries and ovens, automobile workshops, metal industries, etc. Gas burners are also able to maintain the turndown ratio between high and low fires of 10:1 efficiently with ease of control and repeatability.
By Automation, Monoblock Dominates the Industry
The monoblock category dominates the market, owing to its high-power efficiency and large capacity. In addition, it has a more compact design with less weight, which increases its use for small boiler rooms or limited areas. In this, the electrical panel consists of whole power and control circuits and is integrated into a dual-block type. As studied, the monoblock type has a smaller size, which makes it appropriate for batch production and hence the delivery time will decrease subsequently. In addition, it can be manufactured with the help of casting processes, followed by CNC machining or other high-precision-making techniques.
Moreover, it has been evaluated that there is less noise pollution in the monoblock category as compared to the duoblock category, due to the ventilation and combustion unification. Also, it is constructed by modular principle and possesses higher flame stability against pressure fluctuations in the combustion chamber.
APAC Is Largest Revenue Generator
APAC has the leading position in the industrial burner market, and it will hold the same position till 2030, with a value of USD 4,276 million. This is attributed to the growing industrialization; rising petrochemical and mining activities; and governments of several developing countries implementing stringent regulations and various strategies for minimizing carbon emissions. In APAC, the Chinese market holds the leading position, and it will grow at a CAGR of more than 7% during the forecast period. This is attributed to the low cost of land, labor, and raw materials for the development of burners in the country.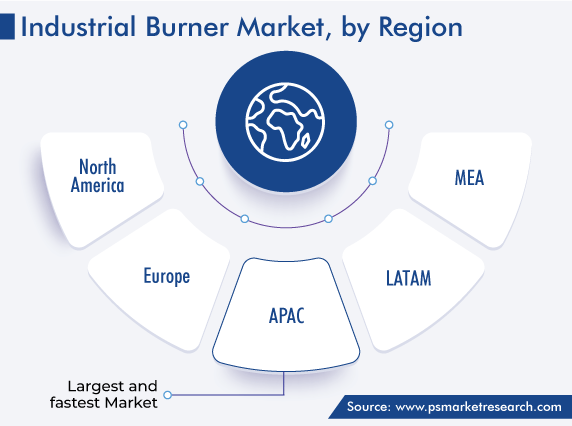 Key Players in the Industrial Burner Market Are:
ANDRITZ GROUP
Honeywell International Inc.
Limpsfield Combustion Engineering Co. Ltd.
ALZETA Corporation
Selas Heat Technology Company
Weishaupt Corporation
Oilon Group Oy
CIB UNIGAS S.p.A.
EBICO
Ariston Group N.V.
Market Size Breakdown by Segment
This fully customizable report gives a detailed analysis of the industrial burner industry from 2017 to 2030, based on all the relevant segments and geographies.
Based on Type
Regenerative
High Velocity
Thermal Radiation
Radiant
Customized
Flat flame
Line
Based on Operating Temperature
Based on Automation
Based on Fuel Type
Based on End User
Paper & Pulp
Food & Beverages
Power Generation
Chemicals
Metals & Mining
Automotive
Geographical Analysis
North America
Europe

Germany
U.K.
France
Italy
Spain

Asia-Pacific

Japan
China
India
South Korea
Australia

Latin America
Middle East and Africa

Saudi Arabia
South Africa
U.A.E.