India Aerosol Market Overview
The Indian aerosol market generated $526.28 million revenue in 2019, and it is expected to witness a CAGR of 6.0% during the forecast period (2020–2030). Key factors responsible for the growth of the market are the rising demand for aerosols in the automotive and manufacturing industries and supportive government initiatives for research and development (R&D) in the manufacturing industry.
During the COVID-19 pandemic, lockdowns and partial factory closures have negatively impacted the manufacturing facilities in the aerosol industry. In addition, the reduced trading activities have impacted product sales to factories. Further, as COVID-19 continues to spread around the world, governments have taken drastic steps to contain its spread and ensure employees' safety. Due to this, slow growth in the Indian aerosol market has been observed in the year 2020.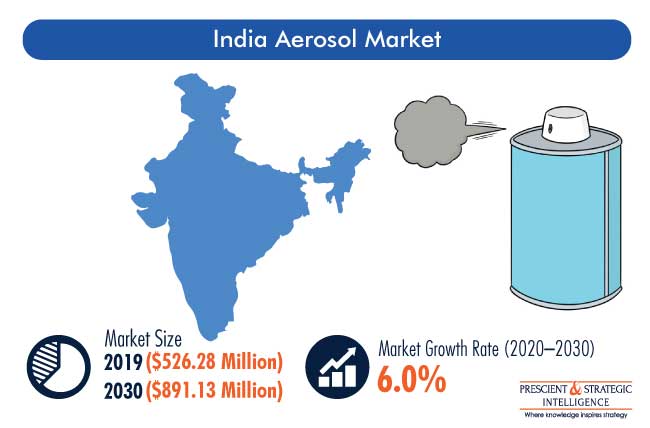 Rising Awareness Regarding Personal Care Leading To Increasing Demand for Aerosols
The personal care category held the largest share in the Indian aerosol market in 2019, and further, it is expected to witness a promising growth rate during the forecast period, based on application. This is primarily due to the rising demand for haircare products (hairsprays & styling sprays, hair mousses, hair shines, and shampoos), personal care products (deodorants & antiperspirants, foams & gels, gel toothpastes, and cream foundation), and body care products (hydrating creams, self-tanning & skin-whitening lotions, and sun protection products). Moreover, the rising awareness regarding personal hygiene care is strengthening the demand for personal care aerosol products.
Furthermore, the deodorants/antiperspirants category held the largest volume share in the Indian aerosol market, based on personal care product type, in 2019. This is mainly attributed to the growing awareness on personal hygiene and body odor problems.
The spray paints category held the largest share in the Indian aerosol market in 2019, based on industrial product type. This was primarily due to the versatility and economic viability of spray paints, which is why they are preferred for many metallic, wooden, and plastic applications. Spray paints are used to restore or re-spray automotive and aviation components and fill scratches on industrial machinery.
Similarly, air freshener products dominated the Indian aerosol market over the past few years, based on residential product type. This was mainly due to the rising demand for a fresh environment in homes and cars that is free of undesirable odors. The rising awareness on air hygiene and absence of volatile organic compounds in these aerosol-based air fresheners have pushed their usage in residential applications.
Modernization of Retail Sector To Result in Growth of Aerosol Sales via Supermarkets/Hypermarkets
Both in terms of volume and value, supermarkets/hypermarkets are expected to be the fastest-growing category during the forecast period (2020–2030), based on distribution channel. This will mainly be due to the swift modernization in the retail sector, which is driving the setting up of supermarkets and hypermarkets all over India, especially in metropolitan cities. In addition, the rising awareness regarding hygiene, due to COVID-19, has pushed the sales of cleaning & maintenance aerosols via supermarkets/hypermarkets, owing to the availability of assorted goods at reasonable prices here.
Northern India Held Top Position in Market in 2019
Geographically, the northern region held the largest share in the Indian aerosol market in 2019. This is mainly attributed to the growing demand for personal care products in Uttar Pradesh, Punjab, Haryana, Delhi, and some parts of Rajasthan. In addition, the growing consumption of air freshening, cleaning, and maintenance products in this region drove the market for aerosols in India.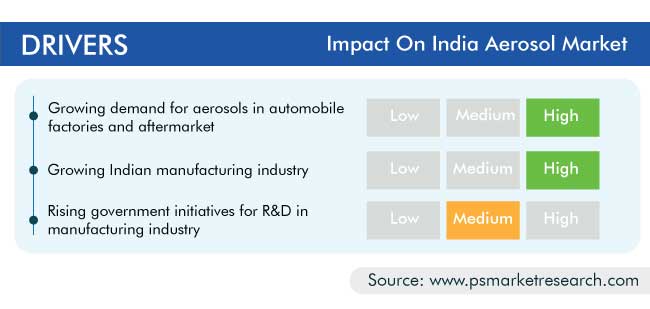 Growing Demand for Aerosols in Automobile Factories and Aftermarket Driving Market Growth
The demand for aerosols is increasing continuously with the growing production and sales of passenger cars, commercial vehicles, three-wheelers, two-wheelers, and quadracycles. According to the Society of Indian Automobile Manufacturers (SIAM), in 2018–19, the Indian automotive industry produced 30,915,420 vehicles, which was 6.3% higher than the previous year's production of 29,094,447 vehicles. Similarly, according to the India Brand Equity Foundation (IBEF), due to a rise in the young population and middle-class's income, automobiles are expected to experience a boost in demand, which, in turn, will help the Indian aerosol market grow.
Growth in Indian Manufacturing Industry another Key Market Driver
According to the IBEF, the Indian manufacturing industry is growing at a significant pace, owing to the rising demand for consumer electronic appliances, electrical equipment, and machinery. Moreover, according to the Ministry of Commerce and Industry, the Indian cosmetics and beauty products sector has been expected to witness significant growth during 2016–2021, due to the rising per capita income of people, which is allowing for a higher personal spending. This, in turn, is having a huge positive impact on the Indian aerosol market.
India Aerosol Market Report Coverage

| | |
| --- | --- |
| Report Attribute | Details |
| Historical Years | 2014-2019 |
| Forecast Years | 2020-2030 |
| Base Year (2019) Market Size | $526.28 Million |
| Forecast Period CAGR | 6.0% |
| Report Coverage | Market Trends; Revenue Estimation and Forecast; Segmentation Analysis; Impact of COVID-19; Distribution Channel Analysis; Value Chain Analysis; Competitive Benchmarking of Key Players; Companies' Strategic Developments; Company Profiling |
| Market Size by Segments | By Distribution Channel; By Application; By Region |
| Secondary Sources and References (Partial List) | Asian Aerosol Federation; Confederation of Indian Industry; European Aerosol Association; India Brand Equity Foundation; Indian Aerosol Science and Technology Association; Indian Aerosols Promotion Council; Indian Institute of Engineering Science and Technology; Indian Paint & Coating Association; Indian Paint Association; Indian Small Scale Paint Association; Ministry of Environment, Forest and Climate Change; National Aerosol Association; Paints and Coatings Skill Council; Society of Indian Automobile Manufacturers |
Explore more about this report - Request free sample pages
Market Players Are Launching New Products to Gain Competitive Edge
In recent years, players in the Indian aerosol market have been involved in product launches in order to stay ahead of their competitors. For instance:
In May 2020, 3M Company launched an anti-heat solution for the Indian Railways, namely 3M Scotchkote Polytech Exp RG700. The product comprises a solar reflective layer that decreases the heat inside an enclosure; it can be applied to different metallic and non-metallic substrates.
In November 2019, CRC Industries Inc. announced the launch of a new degreasing solution, named OZZYJUICE SW-X1, which is said to be effective in cleaning burnt-on carbon, heavy-duty greases, and diesel exhaust fluid.
Some Key Players in India Aerosol Market Are:
Pidilite Industries Limited

Twin Tech India Pvt. Ltd.

Aerol Formulations Private Limited

Indian Aerosols Pvt. Ltd.

Bans Aerosol Private Limited

Aerosol Specialities (India)

Zenith Spray And Aerosols Private Limited

PRIME AEROSOLS

S. S. Aerosols Pvt. Ltd.

Renuka Multichem
OKS Speciality Lubricants India

Stanvac-Superon Group

3M Company

CRC Industries Inc.

Wuerth India Pvt. Ltd.

RPM International Inc.

ABRO Industries Inc.

R.J. London Chemicals Industries Co. Ltd.

Aeroaids Corporation

Vanesa Group
India Aerosol Market Size Breakdown by Segments
The india aerosol market report offers comprehensive market segmentation analysis along with market estimation for the period 2014–2030.
Based on Distribution Channel
Department/convenience Stores
Supermarkets/ hypermarkets
Based on Application
Industrial

Spray Paints
Cleaning
Maintenance

Residential

Air freshener products
Anti-rodent products
Maintenance products

Furniture polishes
Treadmill lubricants

Cleaning products

Floor sanitizer sprays
Glass cleaners
Carpet cleaners
Treadmill sprays

Spray paints

Spray Paints
Personal Care

Deodorants/antiperspirants
Hairsprays
Shaving mousse & gels
Hair mousse
Geographical Analysis