Market Outlook
The blood screening market revenue stood at $2,402.3 million in 2019, and it is expected to exhibit a CAGR of 8.1% during 2020–2030. The major factors driving the growth of this market are improvements in the blood screening technology, strict regulations regarding contaminated blood, surging healthcare spending, and high prevalence of respiratory, chronic, and infectious diseases.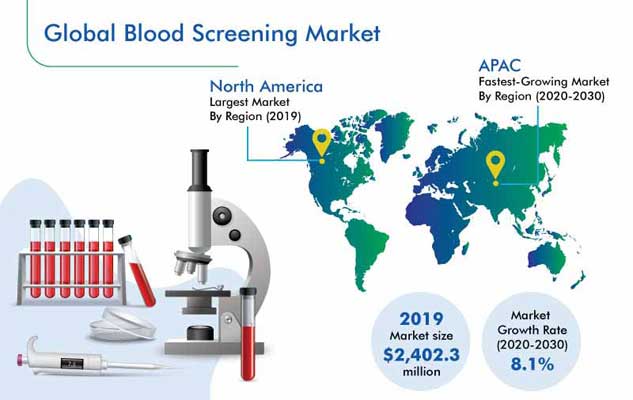 Segmentation Analysis
The reagents and kits category, under the product type segment, held the largest market share in 2019. This was due to the requirement for these products during the first stage of the blood screening procedure and easy availability of several reagents. Besides, the high preference for fast, reliable, and specific detection of transfusion-transmissible diseases (TTD) also fueled the adoption of these products.
The nucleic acid technology (NAT) category, within the technology segment of the blood screening industry, will witness the fastest growth in the foreseeable future. This is because this technology is very popular among blood banks and testing laboratories, on account of its higher sensitivity in comparison to the others.
The human immunodeficiency virus/acquired immune deficiency syndrome (HIV/AIDS) category, under the disease type segment, would generate the highest revenue in the blood screening market in 2030. People are mandatorily screened for HIV/AIDS before donating blood to someone. The increasing cases of this disease will, therefore, fuel the growth of this category in the blood screening market. According to the World Health Organization, there were 37.9 cases of HIV/AIDS worldwide in 2018.
In 2019, the blood banks category, within the end user segment of the market for blood screening solutions, accounted for the major share, due to the surging number of blood donation activities and organ transplant surgeries. Moreover, the soaring awareness regarding the dangers of contaminated blood boosted this category's growth.
North America generated the highest revenue in the market during 2014–2019, due to the high incidence of infectious and respiratory diseases in the region. For instance, North America recorded the highest COVID-19 cases (nearly 560,000) and deaths (around 22,100) till April 13, 2020.
Moreover, the introduction of new products by market players, primarily for COVID testing, such as the CoronaCheck antibody test kit by BioResponse, is also playing a vital role in the growth of the market in the region. Additionally, the rising government support regarding the usage of advanced screening products is also a key growth driver of the blood screening market in this region.
For instance, the Government of Canada encourages the adoption of NAT-based kits and assays for detecting viruses in the blood, even when the antibodies have not been produced in the infected patient and viral genetic material is low.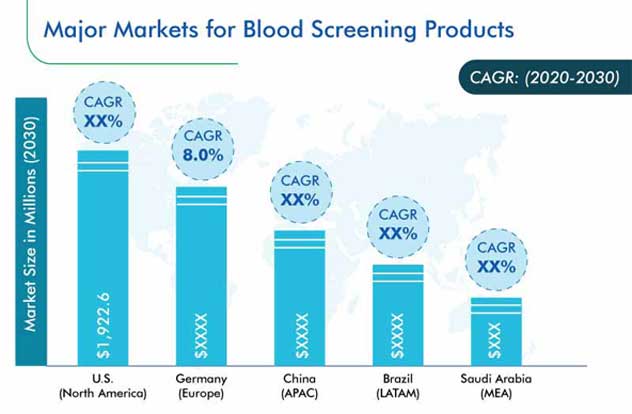 Surging Number of Mergers and Collaborations Major Market Trend
Rising number of mergers and collaborations among key players has become a prominent trend in the market. For instance, in January 2020, Illumina Inc. and F. Hoffmann-La Roche Ltd. initiated a 15-year, non-exclusive partnership to encourage the usage of distributable next-generation sequencing (NGS)-based oncology testing. Likewise, in April 2019, Ortho-Clinical Diagnostics Inc. launched its D-Dimer assay under its MicroTip partnership assay program. This program was developed by the company in collaboration with Diazyme Laboratories Inc.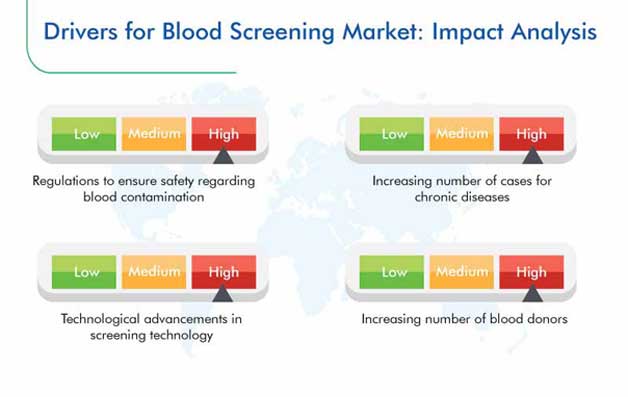 Toughening Regulations Regarding Blood Contamination Fueling Market Growth
Stringent regulations regarding blood contamination have become a key growth driver in the market for blood screening solutions. According to the WHO, in 2015, 123 nations had policies regarding coordinated blood collection, testing, processing, storage, and distribution, whereas 104 countries had specific policies regarding the safety of blood transfusion and quality of the transfused blood. Moreover, the escalating number of blood donations is amplifying the requirement for blood screening, globally.
The WHO states that a total of 117.4 million units of blood are donated every year globally. Of this, 100 million units are collected at 12,700 blood centers in 170 countries.
Market Players Launching New Products to Gain Competitive Edge
In recent years, players in the blood screening market have launched a number of new and advanced products, in order to stay ahead of their competitors.
For instance, in September 2019, F. Hoffmann-La Roche Ltd. announced that it received approval from the USFDA for the cobas Babesia test for use on the cobas 6800/8800 systems for individual blood donation testing. It is a commercially available whole blood test to screen donations and follows May 2019 FDA-updated industry guideline recommending screening and testing for Babesia to reduce the risk of transmitting the parasite through transfusions.
Similarly, in February 2019, the FDA approved Grifols S.A.'s Procleix Babesia assay, which can detect ribosomal ribonucleic acid (RNA) of four Babesia species: B. duncani, B. microti, B. venatorum, and B. divergens. The assay can detect these parasites in individual or 16 pooled lysed samples of whole blood or individual blood components.
The major global blood screening market players are Abbott Laboratories, Bio-Rad Laboratories Inc., Becton, Dickinson and Company, General Electric Company, Thermo Fisher Scientific Inc., Merck KGaA, Siemens AG, Grifols S.A., Ortho-Clinical Diagnostics Inc., DiaSorin S.p.A, J. Mitra & Co. Pvt. Ltd., Bio-Techne Corporation, Trinity Biotech plc, Gesellschaft zur Forschung, Entwicklung und Distribution von Diagnostika im Blutspendewesen mbH (GFE), F. Hoffmann-La Roche Ltd., Danaher Corporation, PerkinElmer Inc., and bioMérieux SA.
Blood Screening Market Report Coverage

| | |
| --- | --- |
| Report Attribute | Details |
| Historical Years | 2014-2019 |
| Forecast Years | 2020-2030 |
| Market Size by Segments | Product Type, Technology, Disease Type, End User |
| Market Size of Geographies | U.S., Canada, Germany, France, Italy, U.K., Spain, Netherlands, Switzerland, Japan, China, India, Australia, South Korea, Singapore, Brazil, Mexico, Saudi Arabia, South Africa |
Explore more about this report - Request free sample pages
Market Size Breakdown by Segment
The blood screening market report offers comprehensive market segmentation analysis along with market estimation for the period 2014–2030.
Based on Product Type
Reagents and Kits

Nucleic acid technology (NAT)

Enzymes and polymerases
Standards and controls
Buffers, nucleotides, and solutions
Probes and primers
Labeling and detection reagents

Enzyme-linked immunosorbent assay (ELISA)

Immunosorbents
Controls
Conjugates
Substrates
Sample diluents and wash solutions

Instruments

By platform
By purchase type

Software & Services
Based on Technology
NAT

By product type

Reagents and kits
Instruments
Software and services

By type

Transcription-mediated amplification (TMA)
Real-time polymerase chain reaction (PCR)

ELISA

By product type

Reagents and kits
Instruments
Software and services

By type

Chemiluminescent immunoassay (CLIA)
Fluorescent immunoassay (FIA)
Colorimetric immunoassay (CIA)

Rapid Testing

By product type

Reagents and kits
Instruments
Software and services

Western Blotting

By product type

Reagents and kits
Instruments
Software and services

Next-Generation Sequencing (NGS)

By product type

Reagents and kits
Instruments
Software and services
Based on Disease Type
Human Immunodeficiency Virus/Acquired-Immuno Deficiency Syndrome (HIV/AIDS)
Cancer
Diabetes Mellitus
Infectious Diseases
Hypercholesterolemia
Respiratory Diseases
Based on End User
Blood Banks
Diagnostic Centers and Pathology Labs
Hospitals
Clinics
Ambulatory Surgical Centers (ASCs)
Geographical Analysis
North America
Europe

Germany
France
Italy
U.K.
Spain
Netherlands
Switzerland

Asia-Pacific

Japan
China
India
Australia
South Korea
Singapore

Latin America
Middle East and Africa

Saudi Arabia
South Africa