Market Overview
The in situ hybridization market size stood at USD 1,742.3 million in 2023, and it is expected to grow at a CAGR of 12.8% during 2024–2030, to reach USD 4,017.3 million by 2030. This growth can be mainly attributed to the rising adoption of the in-situ hybridization (ISH) procedure for diagnosing multiple genetic disorders and cancer, growing pace of advancements in this technique, and increasing public and private funding for the R&D sector. Additionally, the growing demand for personalized medicines is expected to boost the market growth.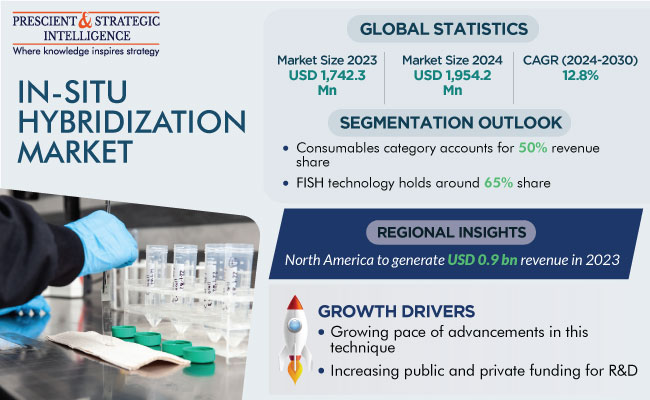 Moreover, the key players are working on a broad range of applications for this technique in the domains of pathology, molecular biology, immunology, and development biology, with the rise in the awareness of the advancements in the treatments for genetic abnormalities and cancer.
Increasing Prevalence of Genetic Disorders and Cancer Drives Market
There has been an alarming rise in the cases of cancer globally over recent years. This has resulted in an increase in the count of research studies linked with this disease and those revolving around certain genomic abnormalities, which are a possible risk factor for many kinds of carcinomas. IHC and DNA FISH are integrated by the cytogenetic ISH technology, thus completing the in-situ toolkit, which enables researchers to discover, create, and use next-generation diagnostic techniques. With direct imaging, in-situ RNA-level gene expression offers a unique perspective on the interaction between cancerous cells and the tumor microenvironment as the disease progresses. This pattern is also observed in certain genetic disorders.
Thus, the rising incidence of genetic disorders, such as sickle cell anemia, Klinefelter syndrome, and Down syndrome, is a key factor driving the adoption of ISH. According to the estimates by the United Nations, the incidence of Down syndrome is between 1 in 1,000 to 1 in 1,100 live births around the world. In addition to that, 3,000 to 5,000 children are born with this chromosomal disorder. Such a high rate of genetic disorders as well as other chronic conditions is expected to drive the need for early and efficient diagnoses, hence propelling the growth of the industry.
Consumables Category Dominates Market
Consumables are the largest product category in the market, contributing revenue of more than USD 0.8 billion in 2023, and they will also dominate the segment during the forecast period. The rising demand for consumables is due to the extensive usage of kits in research studies, because of which they are repeatedly purchased. An in-situ hybridization kit comes with the pre-hybridization solution, hybridization solution, BCIP & NBT detection reagents, SSC buffer, blocking solution, an anti-Dig antibody, and alkaline phosphatase buffer. The rise in the application of these kits for pre-hybridization, post-hybridization, and hybridization is driving the growth of the category. These kits allow users to identify specific nucleic acids in cells and tissues and hence, are being increasingly adopted in research facilities.
Moreover, the robust funding for malignancy research by private and public agencies is fueling the adoption of ISH products. This is also enabling the innovation of the technologies utilized in tissue diagnostics and in-vitro diagnostics.
In Situ Hybridization Market Report Coverage

| | |
| --- | --- |
| Report Attribute | Details |
| Market Size in 2023 | USD 1,742.3 Million |
| Market Size in 2024 | USD 1,954.2 Million |
| Revenue Forecast in 2030 | USD 4,017.3 Million |
| Growth Rate | 12.8% CAGR |
| Historical Years | 2017-2023 |
| Forecast Years | 2024-2030 |
| Report Scope | Market Trends, Drivers, and Restraints; Revenue Estimation and Forecast; Segmentation Analysis; Impact of COVID-19; Companies' Strategic Developments; Market Share Analysis of Key Players; Company Profiling |
| Segments Covered | By Product; By Technology; By Application; By End User; By Region |
Explore more about this report - Request free sample pages
FISH Technology Holds Major Share
The FISH technology held the major share in 2023, owing to the wide range of applications of this technology in diagnostics, such as characterization with the help of marker chromosomes, detection of structural and numerical chromosome defects, identification of unusual and genetic conditions, and drug abuse tracking. FISH is extensively used in clinical applications as well, including somatic cell hybrid characterization and gene mapping.
Moreover, the need for efficient diagnostic procedures to identify and treat several genetic disorders, tumors, and even high cholesterol is rising, as they have genetic involvement. This technology has the potential to be used for the diagnosis of breast cancer, along with the infectious diseases caused by viral and bacterial pathogens, including SARS-CoV-2. This technology uses the fluorophore molecule for specially binding to complementary sequences and localizing gene sequences, thus resulting in the detection of genetic irregularities and gene rearrangements. With this technique, diagnosticians can easily differentiate between the fluorescent samples attached to the chromosome with a fluorescent microscope.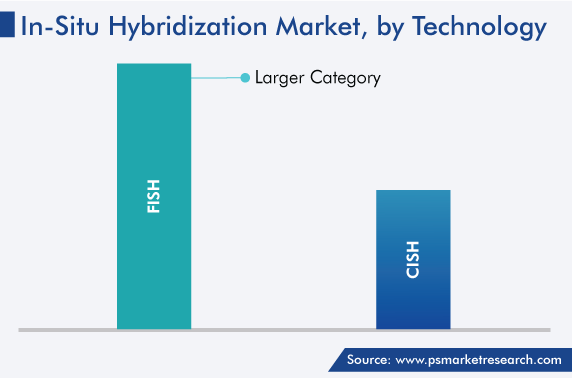 Cancer Diagnostics Accounts for Largest Revenue Share
On basis of application, the cancer diagnostics category accounted for the largest revenue share, of around 35%, in 2023. The rising incidence of breast cancer is projected to drive the demand for ISH probes for diagnosis. As per statistics by the American Cancer Society, in 2022, approximately 287,850 new invasive breast cancer and 51,400 new ductal carcinomas in situ (DCIS) cases, along with 43,250 deaths due to breast cancer, were estimated in the U.S. Additionally, according to the same source, around 297,790 new cases of invasive breast cancer and around 55,720 new cases of DCIS, along with 43,700 female deaths, were recorded in 2022. The surge in the prevalence of breast carcinomas is believed to be a consequence of the adoption of unpropitious or bad lifestyle habits, including smoking, consuming alcohol, not exercising, and eating too much junk food.
The increasing prevalence of breast malignancies is, therefore, a major driving factor for the usage of in-situ hybridization in diagnostic centers, research laboratories, and the biotechnology domain. For the purpose of identifying and studying chromosomal abnormalities in tumor cells, ISH probes provide a superior alternative. This is resulting in the extensive usage of FISH probes by pathologists and researchers for the detection of various types of malignancies, such as sarcomas, multiple myeloma, lymphoma, myelodysplastic syndrome (MDS), and some specific types of leukemia. Additionally, the technology can identify extra copies of the HER2 gene in patients having breast tumors, as the overexpression of this gene leads to the condition.
North America Held Largest Share
North America accounted for the largest revenue share, of 55%, in the global market for in-situ hybridization solutions in 2023. The North American market is expected to continue to maintain its leading position during the forecast period, primarily attributable to the rising number of cancer cases, genetic disorders, autosomal diseases, as well as infectious conditions in the region. The U.S. is the major revenue contributor in North America, majorly due to the robust government and private funding for the development of new companion diagnostics techniques.
Moreover, the increasing R&D activities, multiple product launches, and existence of all the key market players in the region are projected to propel the industry growth. For instance, in December 2022, OmicsVeu announced the launched a range of multiplex multi-omics products for spatial biology, comprising NanoVIP, a fully automated instrument with ready-to-use reagents for SuperPlex genotyping, phenotyping, & phenotyping kits; optimized protocols; mRNA, miRNA, and DNA FISH kits &d probes; and an in-situ sequencing system. A broad range of more than 220 fluorophore-tagged miRNA probes are available, which permit the generation of multiplex miRNA profiles, designed to identify low-abundance miRNAs. This helps diagnose cancer of unknown primary (CUP) and poorly differentiated tumors and their staging.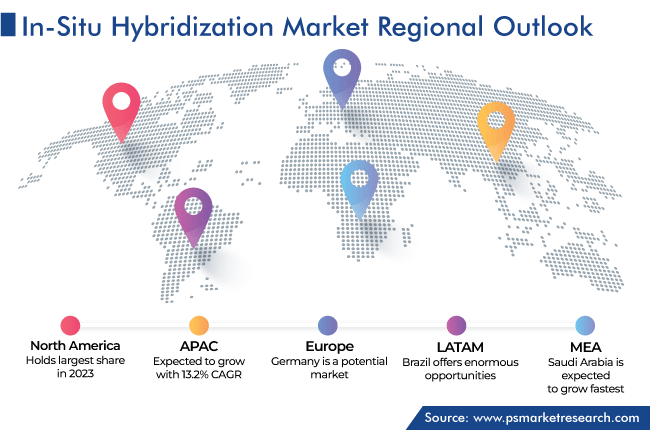 Pharmaceutical & Biotechnology Companies Category Leads Market
The pharmaceutical & biotechnology companies category dominated the market, with an around 40% share, in 2023. This is credited to the growing use of in-situ hybridization by the key clinical and pathological labs for disease diagnosis and for research studies for drug discovery and target identification by pharmaceutical and biotechnology companies.
The growing awareness of companion diagnostic assay kits and the rising number of diagnostic hubs for cancer and genetic illnesses are a few other factors projected to support the revenue growth in this category. Additionally, the need for ISH for the diagnosis of pathogenic illnesses, including the identification of coronavirus disease, is rising due to the integration of automated diagnostic kits and the use of cutting-edge procedures.
Major biotech companies, such as Agilent Technologies Inc. and Abbott Laboratories, are raising their investments in R&D activities, as well as taking part in partnerships, acquisitions, and mergers, for the development of novel in-situ hybridization techniques. For instance, in June 2022, Agilent Technologies Inc. released IVDR Class A instruments, kits, and reagents, which were previously classified as CE-IVD-marked. This launch enables the firm to maintain the supply of high-quality products to laboratories, without any disruption.
Key Players in In Situ Hybridization Market Are:
Abbott Laboratories
F. Hoffmann-La Roche Ltd.
Agilent Technologies Inc.
Biocare Medical LLC
Bio SB Inc.
Thermo Fisher Scientific
DH Life Sciences LLC
NeoGenomics Laboratories Inc.
BioGenex
Market Size Breakdown by Segment
This fully customizable report gives a detailed analysis of the in situ hybridization market from 2017 to 2030, based on all the relevant segments and geographies.
Based on Product
Consumables
Instruments
Software
Based on Technology
Fluorescent In-Situ Hybridization (FISH)
Chromogenic In-Situ Hybridization (CISH)
Based on Application
Cancer Diagnostics
Cytology
Infectious Disease Diagnostics
Neurosciences
Immunology
Based on End User
Hospitals
Diagnostic Laboratories
Academic and Research Institutes
Contract Research Organizations
Pharmaceutical and Biotechnology Companies
Geographical Analysis
North America
Europe

Germany
U.K.
France
Italy
Spain

Asia-Pacific

Japan
China
India
South Korea
Australia

Latin America
Middle East and Africa

Saudi Arabia
South Africa
U.A.E.