Human Insulin Market Overview
The global human insulin market valued $42.9 billion in 2017 and is projected to register a CAGR of 8.8% during the period 2018-2023, on account of the rising number of diabetic patients, growing geriatric population, technological advancements in insulin delivery devices, and increasing population exposure to risk factors leading to diabetes.
GLOBAL HI MARKET, BY PRODUCT, $M (2013-2023)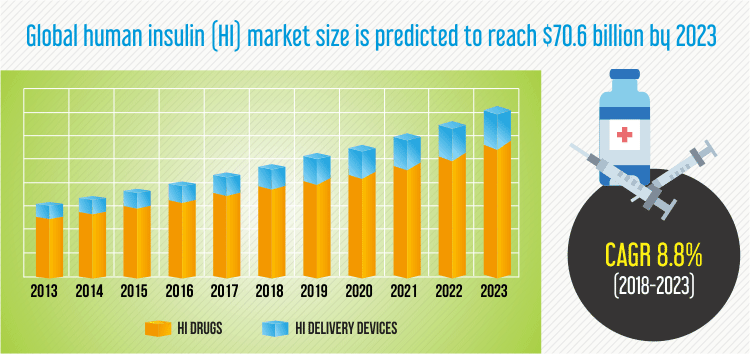 On the basis of product, the human insulin market is categorized into HI drugs and delivery devices. HI drugs held the larger share in the market in 2017, accounting for 79.5%, due to the high prevalence of diabetes, increase in research and development (R&D) activities for drug discovery and development, growth in the market demand for HI analogs, and rise in geriatric population. HI drugs are further categorized into analogs and biologics, while HI delivery devices are further categorized into syringes, pens, pen needles, pumps, and others. Of these, pens are further classified into two types: reusable and disposable.
On the basis of type, HI analogs are classified into rapid-acting, long-acting, and premixed drugs; and on the basis of brand, they are classified into Humalog, Lantus, NovoRapid/Novolog, Novomix, Levemir, Apidra, and others. Similarly, HI biologics are classified on the basis of type (as intermediate/rapid-acting, short-acting, and premixed drugs) and brand (as Humulin, Insuman, and others).
HI products are used in the management of type II diabetes, type I diabetes, and gestational diabetes and prediabetes. Of these, products for type II diabetes held the largest share in the human insulin market in 2017, with a revenue contribution of $35.1 billion. This can be mainly attributed to the increase in the prevalence of type II diabetes, globally.
Geographically, North America led the HI market in 2017, accounting for 39.2% share. Rising prevalence of diabetes, increasing R&D activities for the development of biosimilars, surging healthcare expenditure, and the presence of a large number of key players in the region are the factors driving the North American human insulin market.
HI Market Dynamics
Trend
The growing adoption of delivery devices for insulin administration can be viewed as a major trend witnessed in the HI market. Technological advancements in insulin delivery devices have prompted various market players to invest in the development of insulin delivery devices. Companies such as Novo Nordisk A/S, Eli Lilly and Company, and Sanofi are increasingly focusing on the manufacturing of insulin pens for the effective management of diabetes. For instance, in September 2016, the U.S. Food and Drug Administration (USFDA) approved Medtronic's MiniMed 670G, the first artificial pancreas hybrid closed-loop system intended to monitor blood sugar levels and automatically adjust basal insulin doses in patients with type I diabetes.
Driver
The increasing number of diabetic patients is expected to continue driving the growth of the human insulin market. The number of diabetic patients is rising at a fast pace, globally. It had risen from 108 million in 1980 to 422 million in 2014 and is expected to reach 592 million by 2035. According to the International Diabetes Federation (IDF), globally, 425 million people aged 20–79 years had diabetes in 2017, and this number is projected to reach 629 million by 2045. The surge in the number of diabetic patients is not restricted to developed countries but is also being witnessed in emerging countries. Thus, the growth in diabetes cases is expected to continue fueling the demand for HI solutions in the coming years.
Human Insulin Market Competitive Landscape
As part of business strategy, key players are launching various products in the human insulin industry to increase their market share. For instance, in March 2018, Biocon Limited received the marketing authorization approval from the European Union (EU) and the Therapeutic Goods Administration (TGA) of Australia for Semglee (biosimilar insulin glargine) prefilled disposable pen. Semglee, which is developed by Biocon Limited in collaboration with Mylan N.V., is a 100 units/mL 3 mL prefilled disposable pen for people with diabetes.
Similarly, in December 2017, Sanofi received the USFDA approval for Admelog (insulin lispro injection). Admelog is a rapid-acting insulin that helps people to manage their blood sugar levels at mealtime.
Some of the other key players operating in the global human insulin market are B. Braun Melsungen AG; Becton, Dickinson and Company; Eli Lilly and Company; Novo Nordisk A/S; Wockhardt Limited; Ypsomed AG; Medtronic PLC; and Gulf Pharmaceutical Industries (Julphar).