Market Overview
The global insulin delivery devices market size stood at $16,008.0 million in 2021, which is expected to reach $39,371.8 million in 2030, at a CAGR of 10.5% in the forecast period. The market growth can be attributed to the technological advancements in diabetes care, rise in the diabetic population, and increase in the awareness about these devices.
The number of diabetic patients is increasing at a speedy rate worldwide. According to the International Diabetes Federation (IDF), in 2019, 463.0 million people aged 20–79 years had diabetes, and this number is projected to reach 700.2 million by 2045, globally.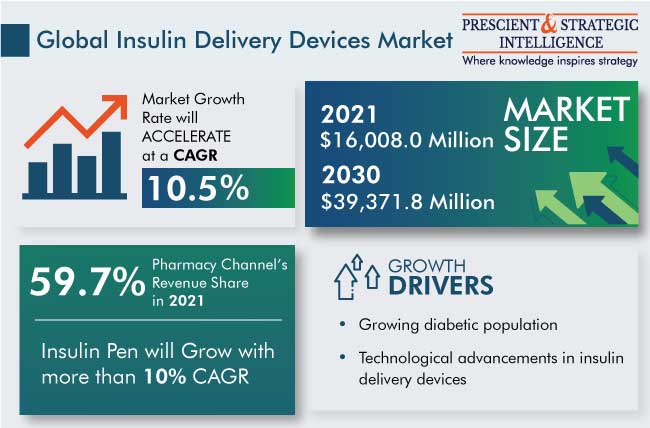 The increasing pool of patients who require daily administration of insulin has led to a shift in the preference toward patient-friendly self-administration devices, such as pens and pumps. Additionally, the rise in the number of diabetic patients is being seen not only in developed countries, but also in emerging economies. This is expected to fuel the demand for insulin delivery products, driven by the increasing awareness on new-age diabetes care devices.
Pharmacy Generate Highest Sales among All Distribution Channels
The products distributed through pharmacies generated 59.7% revenue in the insulin delivery devices market in 2021. The high sales of these devices via this channel are mainly because patients suffering from diabetes prefer to purchase these devices from pharmacies. However, the e-commerce category is expected to witness the highest CAGR, of over 10%, during the forecast period, mainly due to the fact that online pharmacies offer convenience to consumers.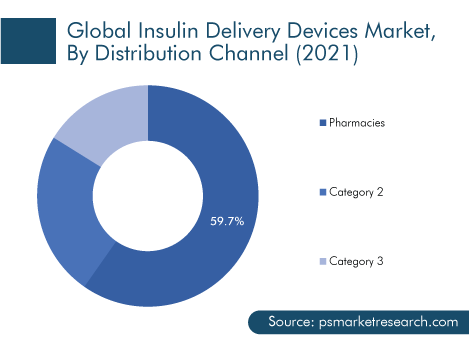 Demand for Insulin Delivery Devices Highest among at-Home Users
The home-use insulin delivery devices accounted for around 50% share in the end user segment of the market in 2021. This was due to the surging prevalence of diabetes, rising awareness about diabetes management, and increasing geriatric population. Moreover, the growing obese population has been leading to a higher number of cases of diabetes, which further supports the market growth in this category.
Insulin Pens Category To Witness Highest Growth Rate
With an over 10% CAGR, insulin pens are projected to grow the fastest in the insulin delivery devices market. This can be attributed to the increasing prevalence of diabetes and the surging focus of insulin pen manufacturers on increasing their presence in countries with a large number of diabetic patients, such as China and India. Furthermore, the technological advancements in the pens and the medical reimbursements offered in developed regions are driving the growth of the market in this category.
Among the different types of insulin pens, the market for reusable pens generated the higher revenue in 2021, and it is expected to maintain the same trend during the forecast period. This can be attributed to the user-friendly design of reusable pens, which helps minimize dosage error.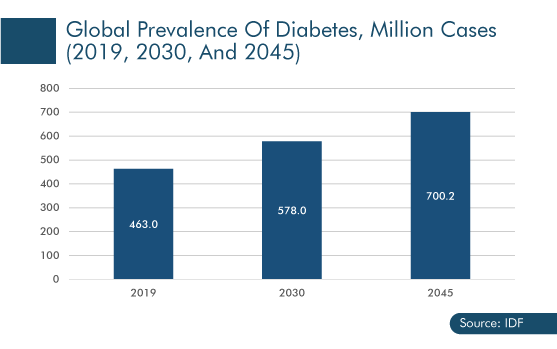 Globally, North America was the largest market for these devices, contributing around 40% revenue, in 2021. The regional market is growing mainly due to the surging prevalence of lifestyle diseases, including diabetes and obesity, rising knowledge of people on newer, more-advanced ways of diabetes management, and increasing healthcare spending. Moreover, the growing obese population has been leading to a large number of diabetes cases in the region. As per the Adult Obesity Facts by the CDC, the prevalence of obesity was 39.8% (about 93.3 million) in the U.S. in 2015–2016. Obesity and insulin resistance have been considered as independent risk factors for diabetes; thus, the rising obese population is driving the demand for these devices in the region.
Furthermore, several awareness programs with respect to this common endocrine disorder in North America are promoting diabetes care among citizens, which will further propel the market growth in the coming years. It has also been observed that the increasing prevalence of diabetes poses an economic burden and escalates the healthcare spending. For instance, as per the American Diabetes Association (ADA), the economic burden of diabetes and prediabetes is $322 billion each year, and the healthcare cost for a diabetic patient is 2.3 times higher than for someone without this condition. Thus, the need to curb the healthcare burden requires extensive care, which is expected to boost the growth of the market in the coming years.
Insulin Delivery Devices Market Report Coverage
| Report Attribute | Details |
| --- | --- |
| Historical Years | 2015–2021 |
| Forecast Years | 2022–2030 |
| Market Size in 2021 | $16,008.0 Million (Estimated) |
| Revenue Forecast in 2030 | $39,371.8 Million |
| Growth Rate | 10.5% CAGR |
| Report Scope | Market Trends, Drivers, and Restraints; Revenue Estimation and Forecast; Segmentation Analysis; Impact of COVID-19; Companies' Strategic Developments; Product Comparison of Key Players; Market Share of Key Players; Company Profiling |
| Segments Covered | By Type; By Distribution Channel; By End Use; By Region |
| Countries Covered | U.S., Canada, Germany, France, U.K., Italy, Spain, China, Japan, India, Brazil, Mexico, Saudi Arabia, South Africa, U.A.E. |
Growing Significance of Home Infusion Therapy Is Key Trend in Market
With the growing emphasis on cost-effectiveness in healthcare, there is a continuous shift of patients from expensive sites, including emergency and other hospital departments, to less-costly alternative sites, such as diabetes clinics/centers and homes, as the latter offer greater convenience. Due to the rising availability of advanced insulin delivery devices, particularly insulin pumps, home infusion therapy is rapidly gaining acceptance among diabetic patients. Infusion pumps provide an accurate dosage of insulin throughout the day; therefore, the popularity of home infusion therapy has grown significantly globally.
Technological Advancements in Insulin Delivery Devices To Drive Market Growth
Technological advancements in these devices are also leading to their increasing acceptance. Insulin pens, pumps, and inhalers offer accurate dosage of insulin, thereby helping maintain the normal level of this hormone in the body.
The usage of insulin pens is less time-consuming as compared to syringes with vials. Moreover, the advantages of these products include greater patient acceptability and minimum risk of inaccurate dosage. Similarly, the technology on which insulin pumps are based has improved due to the advancements in microelectronics, for decreasing the size; and computer software, for better control and communication. New insulin pumps offer higher safety, efficacy, and ease of usage, which further lead to greater therapeutic benefits.
Additionally, insulin inhalers are non-invasive and have a longer effect on the body as compared to injection-based systems. Due to their non-invasive nature, it is expected that diabetic patients will show a higher compliance for them. Insulin inhalers consist of insulin and aerosol dispersion systems. Afrezza is one such product brand available in the market.
Moreover, insulin patches provide a steady rate of background insulin over 24 hours. They can also provide additional insulin at mealtime, with the click of a button. It eliminates the need to carry insulin pens, syringes, and vials. Valeritas Inc.'s V-Go is one such product available in the market.
Market Players Are Introducing New Products and Approvals to Gain Competitive Edge
Insulin delivery devices market players have adopted product launches to maintain their leading position. For instance:
In May 2021, Medtronic plc received the Conformité Européenne (CE) Mark for the expanded functionality of its InPen smart insulin pen for multiple daily injections (MDI). In addition, the company announced the CE Mark for its Guardian 4 sensor, which does not require fingersticks for calibration or diabetes treatment decisions.
In September 2020, Insulet Corporation announced the commercialization of its Omnipod DASH insulin management system (Omnipod DASH System) in countries such as Sweden, Finland, Norway, Denmark, France, Belgium, Germany, Austria, Switzerland, and Israel. The company already offered the Omnipod DASH System in the U.S., the U.K., the Netherlands, and Italy.
Key Players in Global Insulin Delivery Devices Market Are:
Becton, Dickinson and Company
Medtronic plc
Tandem Diabetes Care Inc.
Biocon Ltd.
Eli Lilly and Company
Insulet Corporation
Novo Nordisk A/S
Sanofi
Ypsomed Holding AG
F. Hoffmann-La Roche Ltd.
Wockhardt Ltd.
Braun Melsungen AG
Gulf Pharmaceutical Industries
Market Size Breakdown by Segment
The report offers comprehensive market segmentation analysis along with market estimation for the period 2015–2030.
Based on Type
Insulin Pen

Reusable pens
Disposable pens

Insulin Pump

External/Tethered pumps
Patch pumps

Insulin Syringe
Based on Distribution Channel
Pharmacies
Diabetes Clinics/Centers
E-Commerce
Based on End Use
Geographical Analysis
North America
Europe

Germany
France
U.K.
Italy
Spain

Asia-Pacific (APAC)
Latin America (LATAM)
Middle East and Africa (MEA)

Saudi Arabia
South Africa
U.A.E