Market Overview
The global human growth hormone market size was $4,399.4 million in 2021, and it is expected to grow at a CAGR of 14.2% during 2021–2030. The pituitary gland produces this peptide hormone, which stimulates development in children and teenagers. Specific cellular differentiation aids in the formation of the skeletal system. The hormone affects carbohydrate metabolism, protein metabolism, and fat metabolism, in addition to increasing growth.
Furthermore, the use of associated medicines in patients deficient in it results in considerable improvements in the patient's functioning ability, mental clarity, and memory. Gigantism is caused by excessive growth hormone release, while dwarfism is caused by a lack of it. The recombinant DNA technology is used to design and produce such medications. Previously, these medicines were mostly employed as a replacement therapy in adult and pediatric patients with a growth hormone shortage.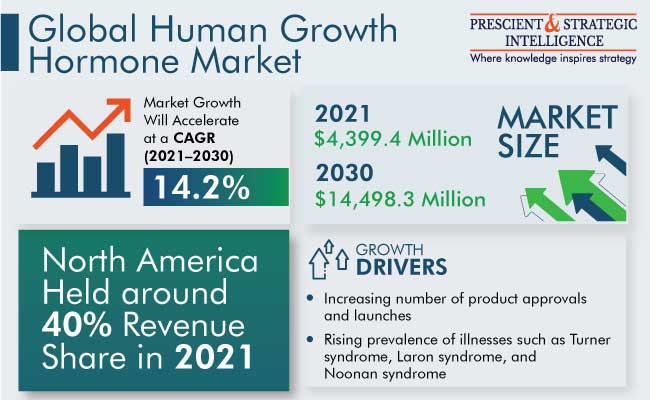 In the near future, the market will be driven by the rising cases of hormonal diseases and the solid portfolios of pharma and biopharma companies across the globe.
Moreover, the market advance is likely to be fueled by an increase in the number of board approvals and launches of breakthrough therapies. For example, In January 2021, Pfizer and OPKO Health Inc. received the FDA approval for somatrogon, prescribed for the treatment of juvenile patients with growth hormone deficiency.
The market would also be driven by the increasing prevalence of illnesses such as Turner syndrome, Laron syndrome, and Noonan syndrome. Furthermore, several companies are extensively conducting R&D to create a growth hormone that has minimal side effects and can be a long-term solution. The market is also driven by the government and private sector efforts to raise awareness of growth hormone deficiency.
High Revenue Generation Opportunities in Emerging Economies
Due to the increasing compliance for the treatments of growth-hormone-related disorders and a big untapped market in developing nations, such as India and China, the global human growth hormone market is predicted to grow.
Because of their vast populations, India and China are likely to become key opportunistic areas for the healthcare industry in the coming years. As a result, drug companies are spending extensively in these countries, which is projected to lead to an increase in growth hormone production.
The market may need to expand dramatically, which presents chances for investors who want to invest in production platforms in emerging nations to obtain scale which will ultimately enhance the sale of this drug.
Human Growth Hormone Market Report Coverage

| | |
| --- | --- |
| Report Attribute | Details |
| Historical Years | 2017-2021 |
| Forecast Years | 2022-2030 |
| Market Size in 2021 | $4,399.4 Million |
| Revenue Forecast in 2030 | $14,498.3 Million |
| Growth Rate | 14.2% CAGR |
| Report Scope | Market Trends, Drivers, and Restraints; Revenue Estimation and Forecast; Segmentation Analysis; Companies' Strategic Developments; Market Share Analysis of Key Players; Company Profiling |
| Segments Covered | By Product; By Application; By Distribution Channel; By Region |
Explore more about this report - Request free sample pages
Sale of Long-Acting Growth Hormone (LAGH) Will Boost Market Growth
LAGHs will account for a CAGR of more than 30% during 2021–2030. In many countries, daily recombinant HGH is currently approved for adults and children with a growth hormone deficiency, as it has few side-effects. Daily injections, on the other hand, can be uncomfortable and stressful for certain patients, thus leading to non-adherence and poor treatment results. This has led to the development of a number of LAGH therapies, which allow for a lower injection frequency, such as weekly, bi-weekly, or monthly. These analogs could potentially improve patient acceptance, tolerance, and treatment versatility; thus, they will be preferred in the long run.
Turner Syndrome Is Highest-Revenue-Generating Application
The Turner syndrome category accounted for the major market share, of more than 30%, in 2021. Turner syndrome is a female-specific chromosomal disease characterized by the deletion of one of the X chromosomes, either partially or completely. Symptoms include a receding or indistinct hairline and a wide neck, as well as a high blood pressure, mild eye difficulties, sagging eyelids, and an underactive thyroid gland. Turner syndrome affects about one in every 2,000–2,500 newly born females. It is estimated to influence around 70,000 females in the U.S.
Turner syndrome patients are more likely to contract the COVID-19 virus, which can cause serious sickness. They are also more likely to have congenital heart problems, such as a bicuspid aortic valve. Further, COVID-19 can cause significant consequences if there is an underlying medical issue, such as heart disease. Because Turner syndrome is linked to a slew of health difficulties, including heart disease, autoimmune illnesses, mental health issues, infertility, and hearing loss, pregnancy complications, apart from COVID-19, the demand for growth hormone treatments is rising.
Medications Are Easily Available at Hospital Pharmacies
Hospital pharmacies accounted for the major market share, of more than 45%, in 2021. This was due to the preference for synthetic or recombinant variants of this hormone and the ease with which it is available at hospital pharmacies. In addition, the rising awareness of growth hormone shortage, as well as the increasing volume of hospital visits for treatment, is predicted to propel the hospital pharmacy distribution channel sector forward.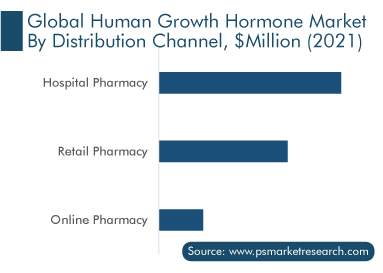 North America To Show Significant Contribution in Market Growth
North America had a market share of more than 40% in 2021. The increase in the senior/aged population, as well as the high rates of Turner syndrome, short bowel syndrome, and Noonan syndrome, can all be related to the market's expansion in North America. Other factors include favorable reimbursement policies, significant government initiatives, awareness among the population, and established healthcare ecosystem in the country.
Moreover, the region is home to several giants of the pharma and biopharma sectors, who are engaged in extensive research to create novel therapies. Additionally, the established healthcare infrastructure, major government initiatives, and expanding healthcare awareness are fueling the market in the region.
In 2021, the U.S. had the largest share of the global human growth hormone market. The high expenditure on R&D on hormonal disorders and the country's high acceptance rate for technical breakthroughs lead to its strong market contribution.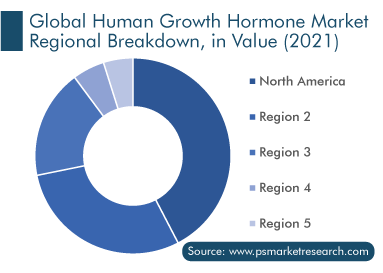 Market Players Are Involving in R&D To Gain Competitive Advantage
The market is moderately consolidated with few market players holding significant market shares. Moreover, there have been several strategic developments for more-effective and long-lasting medications. The number of pipeline pharmaceuticals is growing due to the increasing R&D for viable therapies. Hence, many companies are working on creating new and advanced drugs to combat the competition in the market.
For instance, in February 2021, Pfizer Inc. began the Phase III clinical research to assess the efficacy and safety of somatropin in a cohort of Japanese patients with Prader–Willi syndrome (PWS).
In October 2020, Erasmus Medical Center, in partnership with Pfizer, Prader-Willi Fonds, and the Foundation for Prader-Willi Research, initiated Phase III clinical trials to assess the effect of Genotropin, a growth hormone medication, on the wellbeing of 30 years or older adults with Prader–Willi syndrome.
Key Players in Human Growth Hormone Market:
Pfizer Inc.
F. Hoffmann-La Roche AG
Novo Nordisk A/S
Merck KGaA
Eli Lilly and Company
Novartis AG
Teva Pharmaceutical Industries Ltd.
Market Size Breakdown by Segment
The report offers comprehensive market segmentation analysis along with market estimation for the period 2017–2030.
Based on Product Type
Short-Acting Growth Hormones
Long-Acting Growth Hormones
Based on Application
Growth Hormone Deficiency
Prader-Willi Syndrome
Turner Syndrome
Small for Gestational Age
Based on Distribution Channel
Hospital Pharmacy
Retail Pharmacy
Online Pharmacy
Geographical Analysis
North America
Europe

U.K.
Germany
France
Spain
Italy

Asia-Pacific

China
India
Japan
South Korea
Australia
Singapore

Latin America
Middle East and Africa

Saudi Arabia
South Africa
U.A.E.