Market Outlook
The human enhancement market value was $64.8 billion in 2019, and it is predicted to rise to $271.6 billion by 2030. Furthermore, the market is predicted to grow at a CAGR of 14.7% from 2020 to 2030. The growing incidence of neurological diseases and increasing usage of exoskeletons at rehabilitation centers are the major factors driving the expansion of the market.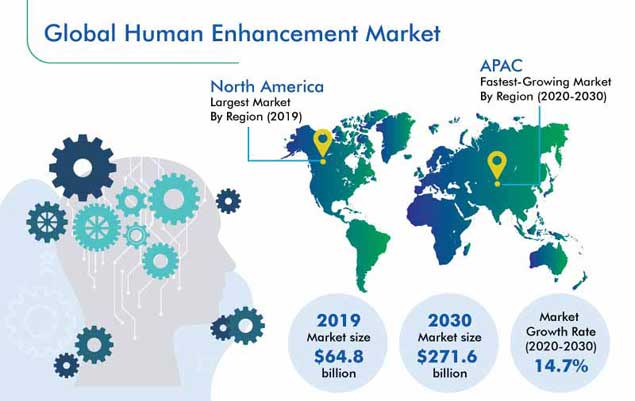 Segmentation Analysis of Human Enhancement Market
The smart devices category is predicted to demonstrate the fastest growth in the market for human enhancements in the forthcoming years, based on technology. This is credited to the increasing popularity of these consumer electronics all over the world. As per reports, 116.8 million consumer electronic devices were shipped across the world in 2018. The sales of connected wearable devices are being propelled by the growing penetration of smartphones, increasing adoption of cloud computing, rapid technological advancements, and miniaturization of the hardware.
The healthcare category led the market in 2019, under the application segment, due to the large-scale usage of wearable medical devices all over the world. Besides this, the huge healthcare expenditure in several countries has fueled the expansion of this category in the human enhancement market. As per the 2019 Healthcare at a Glance report published by the Organisation for Economic Co-operation and Development (OECD), 8.8% of the global gross domestic product (GDP) was spent on the healthcare sector in 2018, and this share will grow to 10.2% by 2030.
North America was the largest human enhancement industry from 2014 to 2019 because of the huge sales of connected wearable devices, including head-mounted displays (HMDs), wrist-worn computers, connected clothes and garments, and medical devices, in the region.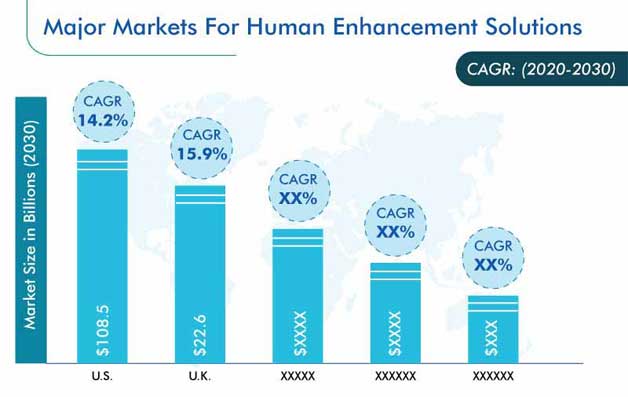 Usage of Wearable Devices for Maintaining Healthy Lifestyle Trending in Market
Over the last few years, there has been a sharp rise in the usage of wearable devices by people for maintaining a healthy lifestyle. Regular exercise, consumption of a balanced diet, avoiding alcohol and tobacco intake, and 7–8 hours of sleep every day are necessary for a healthy life. With the help of various mobile health (mHealth) apps, people can access their electronic health records (EHR) and become aware of their calorie intake and overall fitness levels. Moreover, smart wearable devices allow users to monitor their blood pressure and sleeping patterns and count the number of calories they burn in a day; the apps then recommend the necessary changes required for a healthy life. Thus, these devices are a major human enhancement market trend, which will continue in the coming years.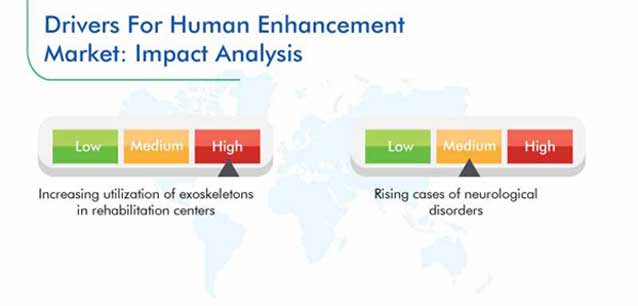 Utilization of Exoskeletons at Rehabilitation Centers Fueling Market Growth
One of the major factors driving the expansion of the market for human enhancements is the soaring usage of exoskeletons at rehabilitation centers around the world. For example, robotic exoskeleton systems are widely used in gait therapy, where they assist physically disabled people in walking, sitting, standing, and performing various other motor functions. These systems monitor the movements of patients with the help of sensors and help them regain their physical strength. For example, in the U.S., University Hospitals (UH) extensively use exoskeletons developed by Ekso Bionics Holdings Inc. for helping people suffering from multiple sclerosis, Parkinson's disease, and various other spine and brain injuries.
Mushrooming Usage of Bionic Lenses Creating Growth Opportunities for Market Players
The increasing usage of bionic lenses by the blind and the visually impaired, on account of the ability of these devices to massively improve the vision, sometimes by up to three times, is emerging as a major opportunity area for the players operating in the human enhancement market. Due to the huge potential of these devices, many companies are focusing on manufacturing them.
For instance, Ocumetics Technology Corp., which is an ophthalmic aids manufacturing company based in Canada, has recently developed a bionic lens that restores vision at all distances. By changing the natural eye lens's curvature in connection with the muscle, the bionic lens auto-regulates within the eye, thereby allowing the wearer to focus clearly on objects located at near, intermediate, and very near distances.
Human Enhancement Market Report Coverage

| | |
| --- | --- |
| Report Attribute | Details |
| Historical Years | 2014-2019 |
| Forecast Years | 2020-2030 |
| Market Size by Segments | Technology, Application |
| Market Size of Geographies | U.S., Canada, U.K., Germany, France, Russia, Switzerland, China, Japan, India, South Korea, Australia, Singapore, New Zealand, Brazil, Saudi Arabia, South Africa, U.A.E., Mexico |
Explore more about this report - Request free sample pages
Partnerships being Formed by Market Players for Mutual Prosperity
In recent times, major companies operating in the human enhancement market have formed numerous partnerships to grow mutually, by using each other's technologies and product offerings. For instance, in December 2019, SignGlasses, a U.S.-based provider of hearing technology, began a partnership with Vuzix Corporation. Under the agreement, the latter is utilizing the sign language interpretation and captioning technology developed by SignGlasses, in its Vuzix Blade smart glasses, designed for hard-of-hearing and deaf patients.
In the same vein, in October 2019, Intelliware Development Inc. and Bionik Laboratories Corp. began working together to offer technology-based healthcare services and meet hospitals' data requirements. As part of the partnership, Intelliware Development Inc. personalizes and deploys the InMotion robotic devices made by Bionik Laboratories.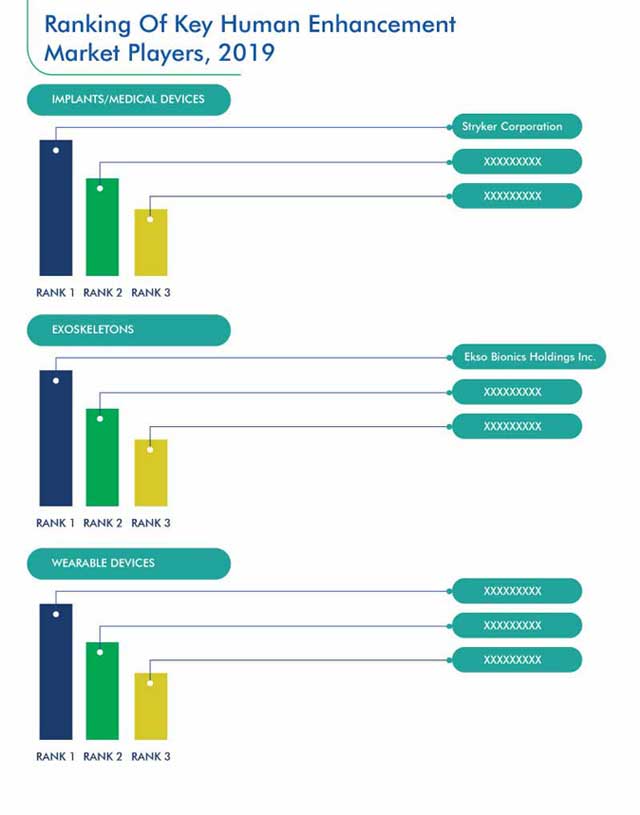 The prominent global human enhancement market players include Google LLC, Vuzix Corporation, B-Temia Inc., Magic Leap Inc., Ekso Bionics Holdings Inc., BrainGate Company, Second Sight Medical Products Inc., ReWalk Robotics Ltd., Raytheon Company, Samsung Electronics Co. Ltd., Bionik Laboratories Corp., Naked Prosthetics, eSight Corp., Solar Ear, Cochlear Ltd., Waverly Labs Inc., Microsoft Corporation, Apple Inc., Parker Hannifin Corporation, Steeper Group, Access Prosthetics, TRS Inc., Advanced Arm Dynamics Inc., Boston Scientific Corporation, Johnson & Johnson, Ortho Europe Limited, Xiaomi Corporation, Garmin Ltd., Sony Corporation, Cyberdyne Inc., Sarcos Corp., Stryker Corporation, Zimmer Biomet Holdings Inc., Fitbit Inc., Ekso Bionics Holdings Inc., Omron Corporation, and Medtronic plc.
Market Size Breakdown by Segment
The human enhancement market report offers comprehensive market segmentation analysis along with market estimation for the period 2014–2030.
Based on Technology
Exoskeletons

Body part
Form
Actuation

Electric
Hydraulic
Mechanical

Smart Devices

Smart watches and bands
Smart clothing
Fitness trackers
Others

Medical Devices

Bionic lenses
Hearing aids

Implants

Passive implants
Active/sensor implants
Brain enhancement implants
Based on Application
Healthcare
Defense
Industrial
Geographical Analysis
North America
Europe

U.K.
Germany
France
Russia
Switzerland

Asia-Pacific (APAC)

China
Japan
India
South Korea
Australia
Singapore
New Zealand

Rest of the World (RoW)

Brazil
Saudi Arabia
South Africa
U.A.E.
Mexico