Market Overview
The global hemato oncology testing market was valued at USD 2,812.7 million in 2022, which is expected to reach USD 8,594.0 million by 2030, growing at a CAGR of 15.0% during 2022–2030.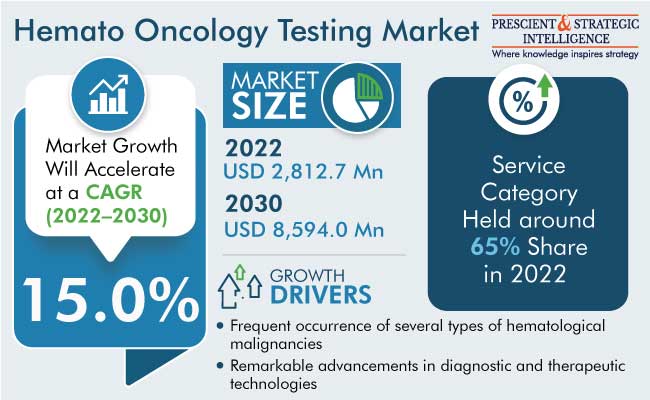 The frequent occurrence of several types of hematological malignancies, ongoing studies on the same, remarkable advancements in diagnostic and therapeutic technologies, and growing awareness on these conditions result in a positive influence on the industry. The industry's growth is essentially attributed to an increase in the diagnoses of hematological cancers, which require regular monitoring and testing during treatment as well. Over the past few years, there have been several clinical trials for hematological malignancies, and healthcare providers are now required to employ hemato oncology testing products for effective diagnoses. Hence, as additional diagnostic facilities that provide diagnostic tests start to operate, the sector will expand.
Apart from the significant prevalence of hematological cancers and an increase in the count of partnerships among the players, the growing awareness regarding the availability of technologically advanced diagnostic and therapeutic solutions, favorable reimbursement policies, and increase in the healthcare spending all help the hemato oncology sector advance.
The collaborations among various government and non-government organizations to create awareness regarding the types of malignancies and importance of early diagnosis, growing geriatric population, and increasing count of conferences on precision medicine and other effective therapeutic methods will further propel the growth of the market.
In recent years, tremendous work has been done in the research field to understand the molecular pathogenesis behind the disease, more specifically acute myeloid leukemia, which has resulted in a remarkable progress in precision medicine. This, in turn, is likely to create lucrative opportunities, with patients looking for more-effective treatments tailored to their bodies.
Soaring Cases of Blood-Related Cancers To Drive Growth of Industry
Hematological malignancy incidence has considerably spiked over time. There are a large number of individuals who are either ailing from lymphoma, multiple myeloma, or leukemia or in remission. According to the Surveillance, Epidemiology, and End Results (SEER) Program, 3.8% of all the cancer deaths in 2020 were a result of leukemia. A key driver for blood cancer incidence has been the notable spike in the geriatric population over time. The older generation is more prone to chronic illnesses and likely to develop this disease. The WHO says that between 2010 and 2021, the share of people aged 65 and above in the global population rose from 8% to 10%.
Throughout their treatment, individuals need to be continuously observed. Furthermore, it has been standard clinical practice for patients with acute lymphoblastic leukemia to monitor the presence of minimal residual diseases (MRD). Moreover, in order to prevent serious drug reactions in patients and lower the death rates, doctors choose medications that are paired with companion diagnostics.
Service Category To Maintain Its Dominance on Offering Segment
On the basis of offering, the service category dominated the market, with around 65% share, in 2022. This is because of the rising incidence of multiple myeloma, non-Hodgkin's lymphoma, and leukemia. As per a May 2022 article in Hindustan Times, every year, 1.24 million people around the world are diagnosed with cancers of the blood.
The significant rise in the awareness of the availability of more-sophisticated technologies for testing and treatment, for instance, precision medicine, is predicted to drive this market during the projection period.
Hemato Oncology Testing Market Report Coverage

| | |
| --- | --- |
| Report Attribute | Details |
| Historical Years | 2017-2022 |
| Forecast Years | 2023-2030 |
| Market Size in 2022 | USD 2,812.7 Million |
| Revenue Forecast in 2030 | USD 8,594 Million |
| Growth Rate | 15.0% CAGR |
| Report Scope | Market Trends, Drivers, and Restraints; Revenue Estimation and Forecast; Segmentation Analysis; Impact of COVID-19; Company Profiling |
| Segments Covered | By Offering; By Cancer Type; By Technology; By End User; By Region |
Explore more about this report - Request free sample pages
PCR Category To Lead in Technology Segment
PCR is expected to lead the industry, with a share of around 30%, in 2030. This can be ascribed to the advantages offered by this technology, including high accuracy, sensitivity, efficiency, ease of use, affordability, and availability and the requirement for simpler instrumentation.
In addition, personalized medicine has gained popularity as its goal is to give each patient a treatment plan that is specifically designed for them, based on the underlying cause of their illness. This boost in popularity is due to an increase in the number of tests and studies by various academic and research institutes for a wide variety of blood cancers. PCR can be helpful in designing, testing, and delivering personalized medicine.
The category that is expected to witness the fastest growth, at a CAGR of over 16%, is next-generation sequencing (NGS). This is due to the surge in the inclination of researchers toward genetic testing and the high sensitivity and specificity offered by this technique.
In the same way, immunohistochemistry (IHC) accounts for widespread usage due to its low cost, easy application, universal accessibility, reliability, quick results, and several other advantages. Moreover, it has been observed that IHC is superior to other techniques, such as real time q-PCR, because the former is able to detect the monoclonality in lymphoma, which real-time q-PCR cannot.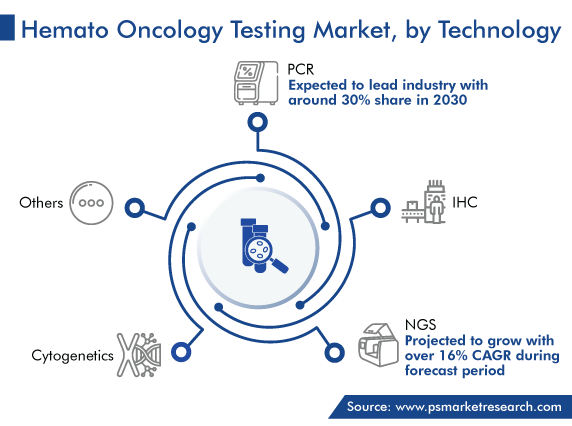 Hospitals Category Dominates Industry
On the basis of end user, hospitals, which accounted for about 40% of the total revenue in 2022, are projected to maintain their dominance on the industry over this decade. This can be attributed to the presence of trained personnel at hospitals who can perform diagnostic tests and keep track of the disease, availability of advanced laboratory settings, rise in the occurrence of blood cancers, and the wide range of diagnostic tests offered at these places.
Furthermore, academic and research institutes constitute the second-largest classification, accounting for a revenue share of around 20% in 2022. This is because of the never-ending studies to find a permanent cure for these fatal illnesses and the rapid surge in the number of academic and research institutes aiming for a further advancement in this field. For instance, in December 2022, a strategic collaboration agreement was announced between the Queen Mary University of London, Cancer Research UK, Cancer Research Horizons, and Envisagenics for R&D on hematopoietic cancer. Envisagenics combines machine learning and artificial intelligence to aid in the development of treatments for RNA splicing illnesses. As part of this collaboration, the companies will use Queen Mary University's database of de-identified multiomics data from patients with acute myeloid leukemia to apply its SpliceCore AI technology.
With such collaborations resulting in a better and more-efficient screening technique as well as the availability of enhanced diagnostic devices, the market would have a tremendous growth potential in the future.
Hemato oncology testing is widely carried out at clinical laboratories as well. This is due to the fact that a major chunk of the experimentation and studies is carried out in a laboratory, be it clinical trials of new drugs or research for diagnosis. Practical procedures are performed in clinical laboratories to check the reliability of a novel therapy. The surge in the count of clinical trials due to the ongoing studies on hematopoietic malignancies has made labs a prominent user of the kits and assays offered by the market players.
Collaboration, Launches, and Partnerships by Various Top players to Gain Competitive Edge
Over time, there has been notable growth in the frequency of collaborations and partnerships among life sciences and biotechnology companies for better hemato oncology testing techniques. These measures also enable the players to maintain their position in the industry and gain an edge over their competitors. For instance,
Sanofi and Blackstone Life Sciences announced a EUR 300 million partnership to develop a novel multiple myeloma treatment in March 2022.
In October 2022, MacroGenics and Gilead announced a collaboration to create bispecific antibodies. Acute myeloid leukemia (AML) and myelodysplastic syndromes are the two blood-related malignancies that MGD024, the new antibody, may help cure. Under the terms of the agreement, Gilead has the option to license MGD024.
North America To Lead in Blood Cancer Testing Product Sales
In 2022, North America dominated the domain, generating about 40% of the global revenue. The increasing prevalence of leukemia, lymphoma, and multiple myeloma, especially in the U.S., is majorly responsible for this. Similarly, a rise in Hodgkin's lymphoma incidence is expected to promote the industry expansion throughout the projection period.
Furthermore, the spike in co-development activities, advancements in personalized therapies, and development of novel assay tests act as the key contributors to the regional industry progress.
In the same way, the significant prevalence of multiple myeloma (MM) in the European Union will stimulate the market expansion during the forecast time frame. Already, around 20,000 deaths are recorded every year due to MM in European Union. This can itself be credited to the large aging population. According to the World Bank, between 2010 and 2021, the share of people aged 65 and above rose to 21% from 18% in the region. Because the elderly are more prone to such serious and life-threatening illnesses, they have become a key driver for the industry in the region.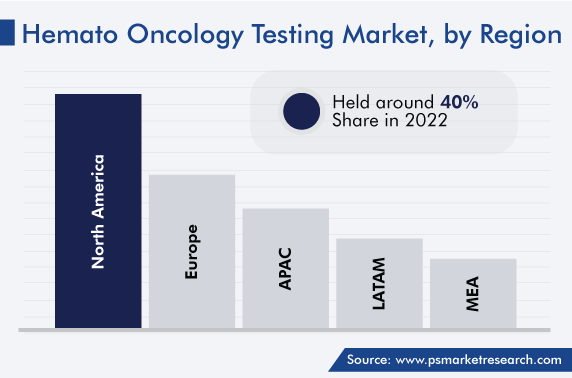 Top Players in Hemato Oncology Testing Market are:
Abbott Laboratories
F. Hoffman-La Roche AG
QIAGEN N.V.
Thermo Fisher Scientific Inc.
Bio-Rad Laboratories Inc.
Illumina Inc.
ICON plc
Integrated DNA Technologies
Invivoscribe Inc.
ARUP Laboratories
Market Size Breakdown by Segment
The study uncovers the biggest trends and opportunities in the market, along with offering segmentation analysis at the granular level for the period 2017 to 2030.
Based on Offering
Assay Kits and Reagents
Services
Based on Cancer Type
Leukemia

Acute myeloid leukemia (AML)
Acute lymphocytic leukemia (ALL)

Lymphoma

Non-Hodgkin's lymphoma
Hodgkin's lymphoma

Myeloproliferative Neoplasms

Polycythemia vera (PV)
Essential thrombocythemia (ET)
Myelofibrosis (MF)
Based on Technology
Polymerase Chain Reaction (PCR)

Real-time qPCR
Digital PCR

Immunohistochemistry (IHC)
Next-Generation Sequencing (NGS)
Cytogenetics
Based on End User
Clinical Laboratories
Hospitals
Academic and Research Institutes
Geographical Analysis
North America
Europe

Germany
U.K.
France
Italy
Spain

Asia-Pacific

Japan
China
India
South Korea
Australia

Latin America
Middle East and Africa

Saudi Arabia
South Africa
U.A.E.