Market Overview
The global heat transfer fluids market size in 2021 was $3,628.1 million, and it is expected to advance at a CAGR of 9.6% during 2021–2030, to reach $8,247.1 million by 2030. Heat transfer fluids are liquids that are utilized as a medium or carrier to transmit heat from one place to another. Low viscosity, high diffusivity and thermal conductivity, and non-corrosive nature.
The market expansion will be due to the widening usage of these liquids in chemical production and processing. Additionally, their anti-freezing properties at extremely low temperatures are accelerating their use in a variety of industries, including oil and gas, solar power, chemical, manufacturing, and biodiesel.
The demand for these fluids is expected to increase as more governments engage in the transition to clean energy, thus driving their consumption at solar power plants around the world. The rapid industrialization and urbanization, as well as an increase in oil and gas operations worldwide, are all contributing to the expansion of the global market. The growing energy transfer device usage and the stringent environmental safety standards in place are also contributing to the market's expansion.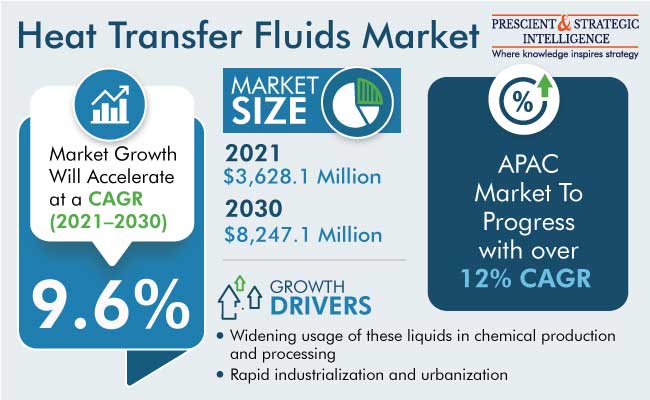 Opportunities in Market
The expanding economies of APAC and LATAM, such as China, India, Brazil, and Mexico, are presenting several prospects for heat transfer fluid manufacturers. In these regions, the end-use industries have grown significantly. For instance, China, India, and Brazil's developing solar business supports the demand for these fluids. Moreover, in APAC, consumption of these fluids is expected to be the highest at concentrated solar power plants.
Furthermore, a strong demand for such fluids from the chemical and manufacturing industries in APAC provides chances for manufacturers to expand their facilities and capitalize on the market potential. The consumer base for these industries is expanding in the emerging economies of APAC and LATAM owing to the rising disposable income.
Competitive Framework
Market players are opting for long-term engagement with dependable HTF manufacturers who can adapt to their needs and specifications. End customers also choose to purchase products from well-established players, due to their capacity to provide products in a trustworthy manner and their proven track records. Furthermore, the large capital expenditure in R&D, necessary to create unique and customized solutions, often makes it difficult for new firms and startups to enter the market and compete with well-established giants.
Market participants are also focusing on product line innovations, in response to the trend of bio-based solutions, in order to adhere to government regulations. Manufacturing firms are also collaborating with e-commerce firms to distribute their products within a certain region or globally, as these channels allow for 24-hour ordering, easy product information comprehension, and competitive pricing.
End User Analysis
Heat exchangers are used in practically every industry where energy is required for combustion, reaction, or the conversion of a specific chemical. Heat transfer fluids gather heat and move it from one place to another, in heat exchangers.
Heat transfer fluids are essential for a wide range of applications in the oil and gas industry, wherein they are used in heat exchangers to collect heat and transfer it to refineries and petrochemical facilities. They are also used in gas processing plants to regenerate amine concentration, so that it can be used for sour gas treatment. As a result, the oil and gas industry's extensive range of applications for these fluids is expected to drive the global heat transfer fluids market growth during the forecast period.
In 2021, the concentrated solar power category had a revenue share of above 15%. Concentrated solar power plants work on the principle of heat transfer via a range of fluids. The energy from the sun can also be stored in the heat transfer fluid, allowing for reliable power delivery, despite the sun's sporadic availability. These liquids are crucial in the process of gathering solar energy and transporting it to energy storage systems. After sunset or even when it is cloudy outside, this stored energy is used to generate electricity.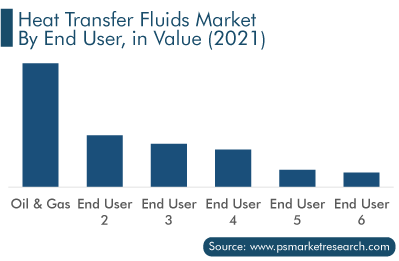 Moreover, the chemical industry uses these materials to produce a variety of goods, including paints, dyes, insecticides, and fluorine-based chemicals. These fluids are used to maintain proper manufacturing conditions throughout the extraction, solvent processing, melting, and chemical reaction processes.
The production of polyester, PET, nylon, and numerous other synthetic fibers requires substantial volumes of HTFs, as these liquids are designed to function in a wide temperature range. The best high-temperature stability is provided by refined HTFs, which, ultimately, aids in preventing the premature deterioration of fluids when exposed to high temperatures.
To generate good-quality biodiesel with an optimal yield, a biorefinery needs strong thermal stability, via precise temperature control. Consequently, these fluids are crucial for the production of high-quality biodiesel. The global heat transfer fluids market demand is, thus, expected to increase due to the growing attention being paid to biofuels, with the increasing concerns over global warming and fossil fuel reserve depletion.
Heat Transfer Fluids Market Report Coverage

| | |
| --- | --- |
| Report Attribute | Details |
| Historical Years | 2017-2021 |
| Forecast Years | 2022-2030 |
| Market Size in 2021 | $3,628.1 Million |
| Revenue Forecast in 2030 | $8,247.1 Million |
| Growth Rate | 9.6% CAGR |
| Report Scope | Market Trends, Drivers, and Restraints; Revenue Estimation and Forecast; Segmentation Analysis; Impact of COVID-19; Companies' Strategic Developments; Market Share Analysis of Key Players; Company Profiling |
| Segments Covered | By Type; By End User; By Region |
Explore more about this report - Request free sample pages
Regional Analysis
In terms of both the production and sale, North America is quickly becoming one of the most-alluring markets for HTF makers. It is a market with a high per capita income and manufacturing output. The booming CSP and biodiesel businesses in the North American region are another important element raising the potential need for HTFs.
In the same way, the demand for high-temperature HTFs has increased as a result of the rising activity in the CSP sector in Europe. One of the most-efficient methods of renewable energy generation is the CSP technology. Europe has become one of the largest users of heat-exchanging equipment due to the considerable expenditures and technological breakthroughs in a variety of businesses, which has, in turn, increased the need for these fluids.
During the projection period, APAC is set to have the highest CAGR, of more than 12%, with a substantially growing demand for all major HTFs. The region is a desirable location for the industry players to invest in due to the availability of inexpensive labor and raw materials, as well as the growing local demand.
Some important factors that would propel the industry expansion in the APAC region include the rising population, fast industrialization, and growing emphasis of developing nations, such as China and India, on their energy infrastructure. Additionally, a lot of petrochemical and chemical factories in the region are switching to high-temperature HTFs, which is increasing the revenue in the market.
Similarly, Mexico has made a number of investments in the chemical sector to enhance its chemical-based economy. The growing urbanization and industrialization rates, as well as the increasing chemical exports to nations including Brazil are projected to drive the demand for these materials.
Moreover, the future growth in the MEA region is also predicted to be swift, due to the increasing demand for HTFs from a variety of sectors, including food and beverage and petrochemical. In addition, due to its tremendous industrial development rate, this region will undergo considerable growth.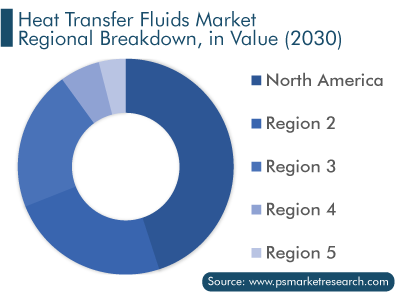 Top Heat Transfer Fluid Manufactures Are:
Honeywell International Inc.
ExxonMobil
Chevron Corporation
BASF SE
Eastman Chemical Company
The Dow Chemical Company
Hindustan Petroleum Corporation Limited
Indian Oil Corporation Limited
Huntsman International LLC
Global Heat Transfer Fluids Market Size Breakdown by Segment
The study offers a comprehensive market segmentation analysis along with market estimation for the period 2017-2030.
Based on Type
Mineral Oils
Synthetic
Aromatics & Silicone
Glycols
Based on End User
Oil & Gas
Concentrating Solar Power
Chemical Industry
Manufacturing Processes
Bio-Diesel Production
Geographical Analysis
North America
Europe

Germany
U.K.
France
Italy
Spain

Asia-Pacific

Japan
China
India
South Korea

Latin America
Middle East and Africa

Saudi Arabia
South Africa