Market Overview
The healthcare staffing market size stood at USD 40.1 billion in 2023, and it is expected to advance at a compound annual growth rate of 7.0% during 2024–2030, to reach USD 64.2 billion by 2030.
The growth can be primarily ascribed to the high working flexibility and exposure professionals receive and the increasing prevalence of chronic diseases. Moreover, the knowledge of the benefits of temporary employment, incentives related to the job, and availability of opportunities worldwide has increased.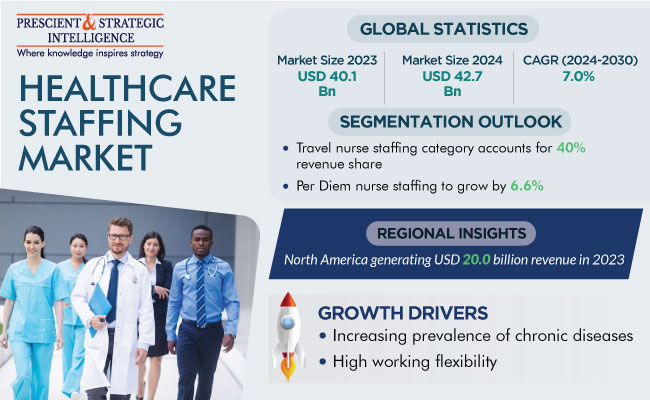 The advancing technology is presently helping in increasing the rate of employment in the field of diagnostics. Several advancements in medical devices, such as the incorporation of telehealth and medical informatics technologies, have simultaneously increased the need for a skilled labor force to handle both their non-technical and technical aspects. Moreover, the increasing number of non-government and government nursing homes, acute-care centers, long-term care centers, and health institutions is expected to fuel the growth of the market.
Based on Service Type, Travel Nurse Is Largest Category
The travel nurse category dominates the service type segment with a share of 40%, attributed to the lack of skilled nurses and the need for their round-the-clock availability and cost-effectiveness. Due to the rise in healthcare expenses during the COVID-19 pandemic, health centers were compelled to downsize their personnel. Hence, service providers decided to turn to staffing companies in order to ensure the availability of nurses, to handle the increased workloads.
Apart from leading to a faster process of recruiting pharmaceutical personnel, recruiters allow healthcare firms to choose from several candidates. During the pandemic, traveling nurses made approximately USD 10,000 a week, and after the pandemic, travel nurse occupancy increased by 500% compared to 2020.
Locum tenens staffing is expected to witness the fastest growth in the coming years, because of physicians' increasing demand for working as locum tenens. They are mainly preferred by clinics and hospitals because they are cost-effective when the permanent physicians are on vacation. In addition, because of the flexible schedule, shorter period of the assignment, diversified clinical experience, and traveling opportunities, many doctors choose to serve as locum tenens.
Clinics Are Expected To Show Significant Growth over Coming Years
Clinics are expected to show a significant CAGR, of 6.7%, over the coming years, ascribed to the presence of a large number of clinics and the increasing need for physicians. Moreover, the pandemic has led to a shortage of employees, due to which clinics are facing issues in hiring permanent, skilled professionals, which will, in turn, fuel the category's development.
Hospitals hold the largest share, based on end user, because a large number of hospitals are hiring skilled professionals as per the regulations imposed by governments for maintaining an ideal nurse-to-patient ratio. The implementation of patient-centric regulations is, thus, driving the number of staff members in health centers.
Moreover, with the improving healthcare infrastructure and the growing public health spending, the number of hospitals has increased. Additionally, the norms of governments are expected to provide employees, including nurses, with the power to decide the patient's primary treatment, with the launch of several health plans, to offer improved care. These rules help individuals make wise decisions regarding their health.
Essentially, the lack of skilled nurses and professionals in hospitals affects clinical outcomes and patient care. As per government reports, from 2021 to 2030, the employment rate in healthcare will grow by 13%, with around 1.9 million openings every year. The faster increase in employment opportunities for nurses compared to other designations is fueling the demand for nursing staff.
Healthcare Staffing Market Report Coverage

| | |
| --- | --- |
| Report Attribute | Details |
| Market Size in 2023 | USD 40.1 Billion |
| Market Size in 2024 | USD 42.7 Billion |
| Revenue Forecast in 2030 | USD 64.2 Billion |
| Growth Rate | 7.0% CAGR |
| Historical Years | 2017-2023 |
| Forecast Years | 2024-2030 |
| Report Scope | Market Trends, Drivers, and Restraints; Revenue Estimation and Forecast; Segmentation Analysis; Impact of COVID-19; Companies' Strategic Developments; Market Share Analysis of Key Players; Company Profiling |
| Segments Covered | By Service Type; By End User; By Facility Type; By Specialist; By Region |
Explore more about this report - Request free sample pages
Primary Care Holds Major Share
Primary care holds the major share, owing to the vast unmet need for addressing individuals' requirements for healthcare, which include mental, physical, and social wellbeing. It is the first level of care, and according to several government websites, around 85% of the requirements related to wellness can be met at the primary level. The primary care system offers easy accessibility, centers located within the community, and promotive, preventive, and curative care.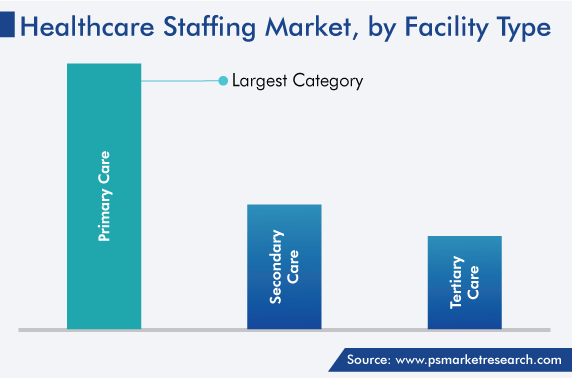 Placement of Registered Nurses and Midwives Is Growing at Considerable Rate
Registered nurses and midwives are in high demand as they can work in a wide range of specializations and at several locations across the world, through traveling nurse services. The rising need for high-quality care results in a greater number of doctors and health centers; hence, many more nurses will be required in the future. Moreover, the increasing geriatric population is driving the demand for registered nurses on the part-time and full-time bases.
Shortage of Healthcare Staff Boosts Market Growth
A shortage of staff can cause a number of issues for healthcare facilities and patients, ranging from increased workloads on the existing personnel, which leads to inefficiency and mistakes, longer waiting times for patients, and higher rates of in-hospital mortality and morbidity. The reasons behind personnel shortage include high salaries, lack of potential educators, retirement for a large number of employees each year, and growing aging population.
Per diem nursing can enable professionals to decide on a full-time position by familiarizing themselves with various locations that are new to them and those they do not have significant information about. It is stated by government reports that healthcare facilities are facing an around 85% shortage of allied professionals, which is leading to an increase in the incentives for hiring newly graduated professionals and providing them with employment.
For instance, in January 2022, TrueCare announced the launch of a digital medical staffing on demand platform, which is designed especially for health centers and medical institutions, helping them in solving the issue of employee shortage. The platform offers various job choices, such as per diem nursing, traveling nurses, and full-time positions.
North America Is Highest Revenue Contributor
North America has the leading position in the healthcare staffing market, with a value of USD 20.0 billion, attributed to the rising need for medical workers.
In North America, the U.S. holds the leading position, and it will grow with a CAGR of 7.0%, attributed to the increasing geriatric population.
The medical system of the region faces numerous challenges, one of the biggest being low patient satisfaction rates. To satisfy patients, many firms have started providing staff on a temporary basis. Moreover, for meeting different compliance demands, some organizations have figured out a few short-term fixes that help in offering the best treatment possible.
The market in the region also benefits from a robust healthcare infrastructure, huge geriatric population, favorable government regulations, and the availability of medical insurance for temporary staff. In 2021, as per government websites, healthcare spending in the U.S. grew by 2.7% and reached USD 12,914 per person. The rising spending on wellbeing will, in turn, fuel the growth of the market in the country.
The market is also growing in the region because of the existence of key players, an increase in the requirement for hospital professionals due to the financial difficulties connected with recruiting permanent employees, and a sudden rise in the older population. In a given period, people above 65 years of age visit a doctor's office almost twice as the general adult population, and the former set of people are known to remain in the hospital around three times longer.
In addition, during the pandemic, due to the increase in medical worker shortage, healthcare organizations strongly relied on recruiting personnel from nearby areas. For this, nurses and other clinical workers were compensated by the healthcare system to work extra hours with incentives on a per-hour basis. It is easy to move workers to different locations, as needed, with the help of internal float pools and flexible staffing models.
Key Players in Healthcare Staffing Market Are:
CHG Companies Inc.
Maxim Healthcare Staffing Services Inc.
Cross Country Healthcare
LocumTenens.com LLC
Syneos Health
Collarsearch
Triage LLC
Ingenovis Health Inc.
Market Size Breakdown by Segment
This fully customizable report gives a detailed analysis of the healthcare staffing industry from 2017 to 2030, based on all the relevant segments and geographies.
Based on Service Type
Travel Nurse Staffing
Allied Healthcare Staffing
Per Diem Nurse Staffing
Locum Tenens Staffing
Based on End User
Hospitals
Clinics
Ambulatory Facilities
Based on Facility Type
Primary Care
Secondary Care
Tertiary Care
Geographical Analysis
North America
Europe

U.K.
Germany
France
Italy
Spain

Asia-Pacific

China
Japan
Australia
India
South Korea

Latin America
Middle East & Africa

Saudi Arabia
South Africa
U.A.E.