Market Overview
The global healthcare environmental services market was valued at USD 13,542.1 million in 2022, which is expected to reach USD 25,008.7 million by 2030, growing at a CAGR of 8.0% during 2022–2030.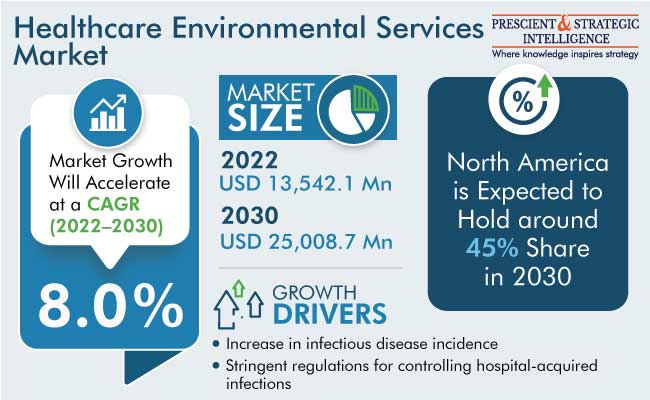 The growth of the industry is attributable to the fact that governments and regulatory agencies around the world are proposing stringent regulations for infection control. In addition, with an increase in the infectious disease incidence, hygiene and infection control procedures are receiving more attention from healthcare facilities as well. Essentially, the rising expenditure on the healthcare sector, growing number of hospitals, and large patient pool propel the industry expansion.
Moreover, there has been a significant boost in the number of surgical procedures all around the world. This is because of the rise in the prevalence of chronic conditions and sedentary lifestyles that people have acquired over the years. Therefore, in order to prevent infections within healthcare facilities, it becomes mandatory to maintain a clean and safe environment.
Moreover, in developed nations, there has been the emergence of a green cleaning trend, which will further propel the growth of this market, as this type of service offers several advantages over conventional hygiene practices, which generally have a negative consequence on human health. This is due to the presence of hazardous chemicals in cleaning agents, which can cause conditions such as dermatitis and asthma. Additionally, certain cleaning methods may cause diseases in employees as well. Therefore, the cleaning agents and methods are being made free of harmful chemicals, which would bode well for the industry in the coming years.
A healthcare organization's decision to adopt green cleaning techniques is determined by both internal and external influences, such as the hospital-acquired infection prevention policy and federal or state requirements. Hence, the technological enhancements in sanitation tools, growing emphasis on high-quality healthcare services, and burgeoning need to enhance cleaning effectiveness contribute toward the industry's growth.
Furthermore, there has been a substantial boom in the spread of communicable diseases in recent years. Be it coronavirus, monkeypox, influenza, or any other infection, this spike in their prevalence has significantly increased the burden on hospitals and associated facilities to maintain an impeccable environment, in order to avoid a further spread of these potentially life-threatening illnesses. This has impelled these facilities to outsource healthcare facility management services, which will fuel the growth of the sector.
Emergence of Disinfection Robots Leads To Exponential Service Demand Rise
The notable rise in the cases of lethal infections over the past years has cast a shadow on the usage of conventional disinfectants. The technological advancements in cleaning equipment due to such conditions have resulted in the birth of disinfection robots. They are being increasingly adopted as an easier way to instantly disinfect rooms and all kinds of surfaces in a single procedure. Moreover, hospital managements find them appealing due to their automated nature and potential price savings, with the elimination of human janitors.
In particular, the high prevalence of infectious diseases in China has led to the adoption of this technology. For instance, the UVD robots made by UVD Robots ApS, the Tru-D SmartUVC made by Lumalier, and the cleaning bots made by Shanghai-based RMiRob have been widely adopted for the simultaneous disinfection of all the surfaces and rooms at medical centers.
Substantial Boom in Hospital-Acquired Infection (HAI) Incidence To Drive Sector
Nosocomial infections that develop during a patient's hospitalization are known as hospital-acquired infections (HAIs). HAIs are not visible upon admission, but are a significant source of illness and death. These diseases include Clostridium difficile disease, infections of surgical sites, catheter-associated UTIs, hospital-acquired pneumonia, and infections due to ventilators and central lines.
Earlier, in Anglo-American nations, it was thought that contaminated surfaces barely influenced the spread of HAIs. But, the scientific evidence accumulated during various research studies conducted over time altered this perspective. Microorganisms can survive on surfaces for a long time and spread to patients when they come into contact with them directly or indirectly, such as through healthcare professionals' hands. The ongoing studies and results of the previous ones that have highlighted this issue have made healthcare systems more aware of the potential threat of infections from contaminated surfaces, which, in turn, has boosted the growth of the industry.
For instance, 5% to 20% of all the HAI cases in Europe are regarded as external infections. Moreover, these infections are typically challenging to treat, especially if the nosocomial pathogen is multi-drug-resistant. As a result, patients have longer hospital stays, long-term impairment, greater expenses, and an increased risk of morbidity and mortality, due to the antimicrobial resistance of the pathogen. Therefore, medical institutions are using contract-based healthcare environmental services as part of their infection prevention & control strategies, in order to uphold high standards for infection control on their premises, in light of the rising occurrence of HAIs.
In addition, the coronavirus pandemic has created unheard-of obstacles in hospital infection control. Throughout the period, hospitals were immensely pressurized by the rising patient numbers and their acuity levels, surging cases of comorbidities, and increasing HAI prevalence due to the extensive medical device usage, which was made worse by disinfection staff and supplies shortages.
Healthcare Environmental Services Market Report Coverage

| | |
| --- | --- |
| Report Attribute | Details |
| Historical Years | 2017-2022 |
| Forecast Years | 2023-2030 |
| Market Size in 2022 | USD 13,542.1 Million |
| Revenue Forecast in 2030 | USD 25,008.7 Million |
| Growth Rate | 8.0% CAGR |
| Report Scope | Market Trends, Drivers, and Restraints; Revenue Estimation and Forecast; Segmentation Analysis; Impact of COVID-19; Companies' Strategic Developments; Company Profiling |
| Segments Covered | By Type, By Facility Type; By Region |
Explore more about this report - Request free sample pages
Janitorial/Core Cleaning Category To Account for Larger Share
The janitorial/core cleaning category held the larger share, around 60%, in 2022, and it is expected to maintain its dominance in the coming years. The growth can be credited to the substantial demand for healthcare settings to be regularly cleaned and disinfected, because of the growth in the count of patient admissions, which has raised the risk of HAIs. These services are also in high demand because cleaning has always been a labor-intensive chore, and it is generally preferred to hire a professional to perform it.
In addition, the demand for this service is expanding due to the growing patient health and hygiene concerns, as well as the increasing prevalence of airborne illnesses. Moreover, to achieve higher efficiency and ease of management, most healthcare institutions choose to hire external service providers.
Further, over the projection period, the demand for these services is set to be driven by the booming trend of green cleaning. In this context, the growing awareness of hygiene and wellbeing among individuals, in order to ensure good health, is a key driving factor. The floors of medical institutions are mopped on a daily basis, often multiple times a day. Due to their knowledge of cleaning techniques and supplies, external janitorial service providers also frequently produce better outcomes than internal workers. External janitors have additional training in services including the routine upkeep of machinery, floor, and other fixtures, and hiring them is quite affordable. This offers profitable chances for market expansion.
The enhanced cleaning technology is set to witness the higher CAGR, over 8%, during the prediction period. This can be attributed to the fact that the effectiveness of conventional, manual cleaning and disinfection methods may not be enough, as the extent to which bacteria are eliminated can vary depending on the type of surface being cleaned. Moreover, the improper usage of wipes may not result in the proper cleaning of the surfaces, while the usage of wipes without enough antimicrobial activity may result in inadequate surface disinfection and, as a result, allow the germs to transfer from one surface to another.
On top of that, the contamination or over-dilution of disinfectant solutions is pushing the medical sector toward the novel technology. As a result, there has been a significant rise in the usage of electrostatic sprayers to disinfect areas. For instance, the CSP1 professional sprayer by Cloudstatic optimizes the use of chemical products and makes them more effective in preventing the spread of pathogens and contaminants from surfaces.
Acute-Care Facilities To Witness Fastest Growth during Forecast Period
During the projection period, the category of acute-care facilities is expected to advance at the greatest CAGR, around 10%. The rate of outsourcing environmental management services by acute-care institutions, which include different kinds of full-fledged hospitals, has increased significantly in recent years. This is because stricter infection control procedures have been implemented as a result of the increase in the HAI incidence in various healthcare settings.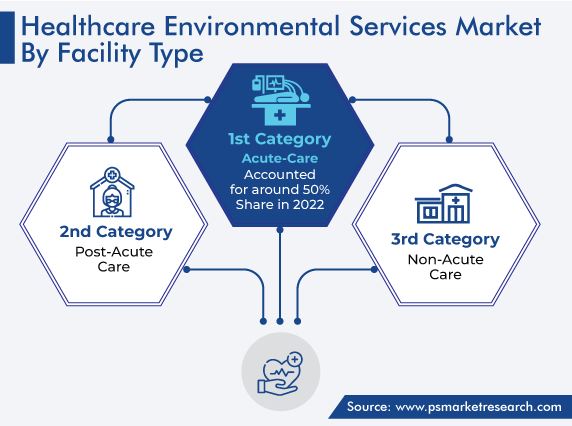 North America To Dominate Industry
North America is projected to maintain its dominance, by holding a revenue share of around 45% in 2030, globally. This is because of the presence of the top players, advanced healthcare ecosystem, advantageous reimbursement policies, and increasing emphasis on enhancing the standard of patient care in this region. Furthermore, numerous technological enhancements happen in the medical sector of this region every year, which will further contribute toward the overall success of the industry here.
Europe is predicted to account for a significant share as well, because of the notable geriatric population in this continent. As per a study, 20.8% of the EU citizens were 65 years of age or older in 2021. Older people are more susceptible to chronic as well as infectious conditions, therefore require hospitalization and surgeries, which will act as a key contributor for the industry.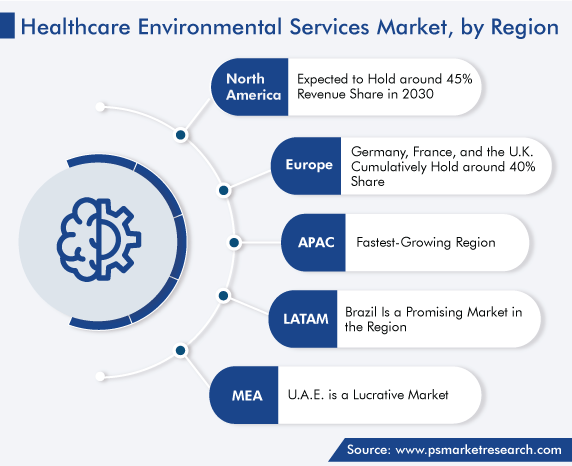 Top Healthcare Environmental Service Providing Companies Are:
Sodexo
Servicon Systems Inc.
Aramark
Hospital Housekeeping Systems
ABM Industries Inc.
Xanitos Inc.
OctoClean
AVI Foodsystems Inc.
Jani-King International Inc.
Healthcare Services Group Inc.
Market Size Breakdown by Segment
This report offers deep insights into the healthcare environmental services market, with size estimation for 2017 to 2030, the major drivers, restraints, trends and opportunities, and competitor analysis.
Based on Type
Janitorial Cleaning Services

Infection control & prevention
Specialized cleaning
Infection control & prevention consultation

Enhanced Cleaning Technology

Front-of-house cleaning and brand experience
Based on Facility Type
Acute-Care

Hospitals
Military hospitals
Children's hospitals
Ambulatory surgery centers
Academic medical institutes

Post-Acute-Care

Long-term acute facilities
Skilled nursing Facilities

Non-Acute Care

Physician office & clinics
Geographical Analysis
North America
Europe

Germany
U.K
France
Italy
Spain

Asia-Pacific

Japan
China
India
South Korea
Australia

Latin America
Middle East and Africa

Saudi Arabia
South Africa
U.A.E.