Market overview
The global gas insulated switchgear market size stood at USD 22,457.4 million in 2022, and it is expected to hit USD 36,400.7 million by 2030, advancing at a CAGR of 6.2% during 2022–2030. The market is driven by the surging demand for the electricity, rising urbanization, and increasing renewable energy-based capacity addition.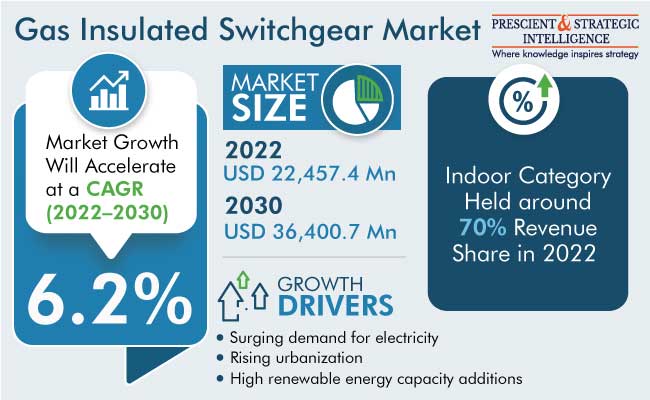 Furthermore, more energy will be required for powerhouses, offices, schools, retail malls, hospitals, etc., as population and prosperity increase. This industry also covers the energy needed for sporting venues, retail establishments, grocery stores, and cultural centers. Through 2050, it is anticipated that the demand for household and commercial energy will increase by about 15%. Moreover, between 2021 and 2050, the average global household power consumption will increase by nearly 75%, driven by the growing economies of developing countries. As the future is shaped by contemporary appliances, cutting-edge materials, and legislation, energy efficiency plays a significant role in limiting the development of energy demand in the residential and commercial sectors.
Moreover, energy demand is increased by roughly 35% as middle-class populations grow rapidly in developing countries. By 2050, energy demand in wealthy nations will be reduced by 15% as a result of improved building efficiency. As traditional fuels, such as biomass, coal, and oil, become less popular, the demand for electricity is expected to increase by 1.8% per year and account for over 50% of the global economy by 2050.
Indoor Gas Insulated Switchgear Holds Larger Share
The indoor category held the larger share, around 70%, in 2022 due to the fact that indoor switchgear is more dependable and safer, requires less space than an outside system, and more durable and easier to maintain. Due to grounded metal enclosures, the risk of electrocution is also decreased. Furthermore, it is more secure and less vulnerable to environmental factors.
Moreover, a metal-clad type of indoor gas-insulated switchgear is typical. In the system, every live component is totally encased in an earthed metal casing. Furthermore, gas-insulated switchgear with indoor enclosures is frequently used in medium-voltage applications where indoor environments are appropriate. For power stability in industrial and commercial settings where medium voltage substations are installed, the majority of indoor gas-insulated switchgear is used. As a result, a steady supply of electricity is a major element influencing the demand for indoor gas-insulated switchgear.
The outdoor category is expected to grow with over 6% during the forecast period. This substation was installed to meet high voltage needs not related to building construction. These substations are designed for voltage levels higher than 66kV. Moreover, it makes it simple to increase the installation of outside substations and visualize the equipment of the outdoor substation.
Hybrid Is Dominating Market
The hybrid category held the largest share, over 40%, in 2022. As more functions are merged, the separation between components almost reaches zero. The need for site space is greater for the AIS since clearances must be maintained between specific pieces of equipment, such as CB, CT, disconnectors, ground switches, etc. However, since CB, CT, disconnector, and ground switch components are all included in a single enclosure with hybrid switchgear, the site footprint is reduced. One can fit more comparable inlets in the same location by reducing the required area.
Moreover, high-quality preservation and maintenance are required for AIS components. On the other hand, GIS has parts that require less upkeep and maintenance. The integration of AIS and GIS virtually eliminates the need for maintenance for hybrid switchgear.
Furthermore, using this GIS technology only provides a small number of switching components. Disconnector and grounding switch are incorporated in the Pass MO circuit breaker. This boosts GIS technology reliability and virtually eliminates the need for maintenance. The apparatus rests on a single base. This makes quick, simple installation at the site feasible without (nearly) installation errors.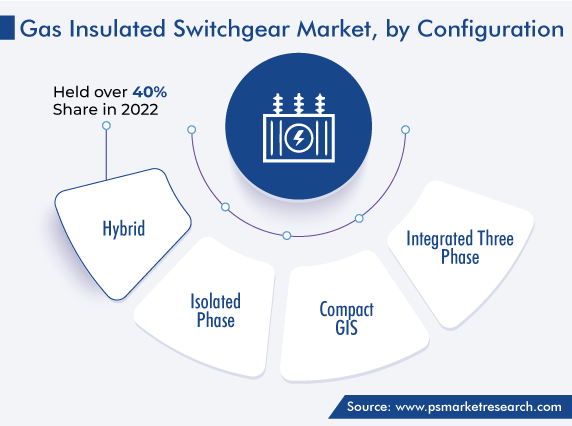 Getting Widely Adopted in Power Utility Sector
The power utility category is the largest and also expected to grow fastest during the forecast period. The transmission network has grown around the world due to the surging power requirements brought on by increasing urbanization and growing population. The transmission network will expand due to the growing population, which will escalate the number of substations. This rise in substations is predicted to increase demand for gas-insulated switchgear.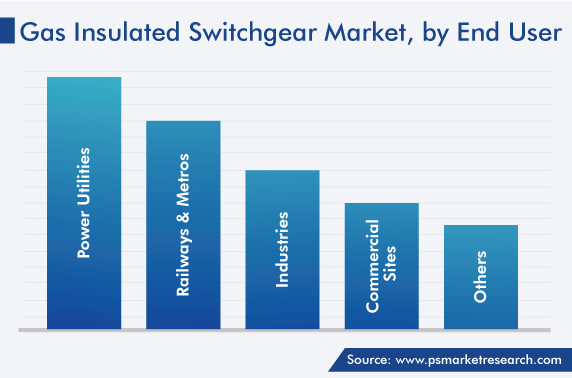 Increase In Renewable Energy-Based Capacity Addition
After the pandemic, the renewable energy-based capacity is increased in 2021, as the ability of the world to produce power from solar panels, wind turbines, and other renewable technologies continue to expand. The addition of new renewable power capacity is increased to around 290 gigawatts (GW) in 2021, exceeding the previous all-time high established in 2020, despite growing costs for key materials needed to create solar panels and wind turbines.
Global renewable electricity capacity is anticipated to increase by more than 60% from 2020 levels to over 4 800 GW by 2026, which is equal to the present total global capacity of nuclear and fossil fuels put together.
In comparison to the period between 2015 and 2020, it is predicted that renewable energy capacity would expand by 50% between 2021 and 2026. This is caused by more robust government support and more challenging clean energy goals.
Gas Insulated Switchgear Market Report Coverage

| | |
| --- | --- |
| Report Attribute | Details |
| Historical Years | 2017-2022 |
| Forecast Years | 2023-2030 |
| Market Size in 2022 | USD 22,457.4 Million |
| Revenue Forecast in 2030 | USD 36,400.7 Million |
| Growth Rate | 6.2% CAGR |
| Report Scope | Market Trends, Drivers, and Restraints; Revenue Estimation and Forecast; Segmentation Analysis; Impact of COVID-19; Companies' Strategic Developments; Market Share Analysis of Key Players; Company Profiling |
| Segments Covered | By Installation; By Insulation Type; By Voltage Rating; By Configuration; By End User; By Region |
Explore more about this report - Request free sample pages
APAC Held Largest Share
APAC held the largest share, around 40%, in 2022 due to the increasing electricity demand and surging urbanization in the region. Moreover, 2.2 billion people, or 54% of the world's metropolitan population, reside in the region. Furthermore, APAC's urban population is projected to increase by 50% by 2050, or by an additional 1.2 billion people.
In addition, APAC is home to seven of the top ten most populated cities in the world, including Dhaka, Tokyo, Shanghai, Delhi, Beijing, Mumbai, and Kolkata. Overall, 11% and 29% of Asia's urban population resides in megacities (with populations exceeding 10 million) and metropolitan areas (with numbers between 1 million and 10 million). Megacities are the driving factor of the regional and global economy, even though they only make up 11% of APAC's urban population.
North America held the second-largest share in 2022 owing to the increasing electricity demand and surging renewable energy in the region. In the U.S., a variety of energy sources and technologies are used to generate electricity. Over time, the sources and technology have changed, and some are now utilized more frequently than others.
In 2021, natural gas accounted for around 38% of the country's electricity production. Natural gas is used to generate electricity in both gas and steam turbines. Additionally, coal constituted about 22% of the energy utilized to produce electricity in the U.S. in 2021. Moreover, steam turbines are used in nearly all coal-fired power plants. A small number of coal-fired power plants transform coal into gas that is then used in gas turbines to produce electricity.
Moreover, between 1,200 and 2,000 gigawatts of renewable energy can be used in the U.S. to generate 70% to 80% of the country's electricity by 2050 while still planning reserve needs. The technologies that contribute most to resource sufficiency in the future system in Canada are hydropower, gas, and wind. Moreover, with a 42% increase from 2010 to 2020, renewable energy is the energy source that is rapidly expanding in the U.S., and utility-scale electricity production from renewable sources accounted for about 20% of the total in 2020, with hydropower (7.3%) and wind power (8.1%) accounting for the majority.
Moreover, Europe also held a significant position in the market as a result of the modernization of hydroelectric plants, increasing electricity demand, and governmental initiatives to improve grid infrastructure. Since they help balance supply and demand, energy storage systems (ESS) are essential to Germany's energy transition. In line with this, the ESS market is constantly growing. Moreover, businesses within French territory are permitted to provide services. Over the course of the forecast period, this would further accelerate the regional market's growth.
Moreover, due to increasing investments in residential and commercial infrastructure, the LATAM market is predicted to rise significantly over the future years. The growing need for renewable energy sources and advancements in solar power is propelling the market's expansion. Additionally, the market is growing due to the penetration of efficient monitoring and control systems.
Top Gas Insulated Switchgear Manufacturers Are:
ABB Group
General Electric
Siemens AG
Schneider Electric SE
Mitsubishi Electric Corporation
Eaton Corporation plc
Hitachi Ltd.
Hyundai Electric & Energy Systems Co. Ltd.
Fuji Electric Co. Ltd.
Toshiba Energy Systems & Solutions Corporation
Gas Insulated Switchgear Market Size Breakdown by Segment
This fully customizable report gives a detailed analysis of the gas insulated switchgear market from 2017 to 2030, based on all the relevant segments and geographies.
Based on Installation
Based on Insulation Type
Based on Voltage Rating
Up to 36 kV
37 to 73 kV
74 to 220 kV
Above 220 kV
Based on Configuration
Hybrid
Isolated Phase
Integrated Three Phase
Compact GIS
Based on End User
Power Utilities
Railways & Metros
Industries
Commercial Sites
Geographical Analysis
North America
Europe

France
Germany
Italy
Spain
U.K.

Asia-Pacific

China
India
Japan
South Korea
Australia

Latin America
Middle East and Africa

Saudi Arabia
South Africa