Market Overview
The global geographic information system market was valued at $8,914.4 million in 2021, and it is expected to reach $25,121 million by 2030, growing at a CAGR of 12.2% between 2021 and 2030. The growth is primarily attributed to the increasing investments, proliferating availability of spatial data and cloud technology, and surging need for such solutions in the transportation sector.
Furthermore, the increasing rate of urbanization and rising population will accelerate the overall GIS market expansion during the forecast period. Additionally, the increasing demand for forecasts of natural disasters, coupled with the proliferation of mobile devices in usage and high adoption of GIS for video games, will further positively impact the growth rate of the market during the forecast period.
Moreover, the rising adoption of this technology in the military and defense industry for location intelligence, logistical planning, and spy satellite tracking is expected to fuel the market growth in the coming years. In addition to this, it is increasingly being used in the agricultural industry for precision farming, soil mapping, and crop yield evaluation.
GIS software can effectively handle information, based on its location. Furthermore, in the retail sector, this technology may help target marketing efforts, expand sales areas, and track consumer locations, all while projecting retail purchasing patterns. One of the primary factors driving the usage of this technology in the retail sector is the added value it provides in terms of assisting firms in being more profitable and competitive.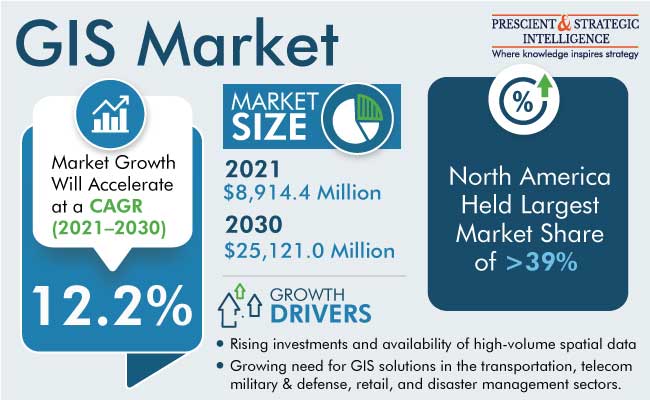 Mapping Category Is Major Revenue Contributor
The mapping category registered the largest share in 2021. The rapid urbanization in developing as well as developed countries has augmented the demand for mapping functions in urban planning applications, such as land acquisition, urban growth assessment, water quality management, environmental impact assessment, and land zone classification. Countries including China and India are recording a significant growth in their urban populations, which is resulting in the development of residential infrastructure. This is expected to provide lucrative opportunities to the market in this category during the forecast period.
The cartographic category is also expected to grow at a significant rate in the coming years. This will mainly be due to the surging utilization of geographical maps to better understand and analyze data. cartographic data aids users in data management in map production, via toolsets such as Branding, Elevation, and Magnetic provided by Esri, and in supply chain optimization, environment management, and fraud detection, such as with the solutions provided by CartoDB Inc.
GIS Solutions Are Widely Used among Government Organizations
The government sector accounted for the largest revenue share, of around 24.2%, in 2021. Community planning, urban and rural planning, and information extraction on natural calamities are some of the major applications of this technology in the government sector. Although the governments of developed countries are the major users of the technology, those of developing countries are also heavily investing in digital-data-based GIS solutions for urban and rural planning, public health improvement, and optimal natural resource utilization.
For instance, the Government of India is spending heavily on digitizing various processes under the Digital India initiative, where it, along with private-sector companies, is investing in improving the internet connectivity and location-based service infrastructure.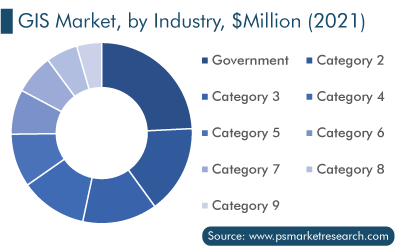 Rising Demand for GIS Solutions in Transportation Sector Boosting Market Growth
Further, applications of this technology in the transportation sector include accident analysis, highway maintenance & management, traffic modeling, and route planning. Ultimately, these solutions help in monitoring, planning, and managing the complex systems that are involved in transportation planning and management more effectively. For instance, Ola and Uber have been utilizing this technology in the form of a virtual meter in mobile applications, to detect the nearest available vehicles and automate payments based on the distance traveled. Moreover, the system helps in planning routes and analyzing the essential economic and demographic factors for planning new routes. It also helps analyze the existing routes, collect data, and inform riders about the changes in the routes.
Growing Use of GIS in Disaster Management
Over the past few years, the adoption of geographic information systems has risen in disaster management applications, including flood management, carbon management, forest fire management, and climate change monitoring. Governments of the developed countries of North America and Europe and developing countries, including China, Brazil, and India, are widely using this technology for disaster management.
This system facilitates the detection of emergency situations prior to an incident. Disasters, such as tsunamis, floods, wildfires, hurricanes, epidemics, earthquakes, and oil spills, can be shown and presented by this technology. Emergency management authorities use the available data to manage such mishaps and analyze the consequences of a possible disaster.
Integration of AI and IoT Offers Lucrative Opportunities
The integration of AI with GIS is expected to provide attractive prospects for the industry. For example, the rise of geospatial artificial intelligence (GeoAI), which uses AI to extract information from geographical big data, has benefited governments in the development of smart cities, planning of urban infrastructure, and tracking of the changes over time in a specific region.
Furthermore, the integration of IoT with the GIS system provides several opportunities to the related hardware, software, and service suppliers. As this technology is being used in corporate operations to provide consumers with highly relevant and location-specific services, high-volume real-time location data is being generated. Furthermore, the integration of these devices provides customers with accurate geographic data for analysis. Geographic data, for example, may be utilized to monitor an IoT-enabled valve from anywhere in the world.
Growing Investments in GIS solutions
Governments are increasingly investing in GIS for applications in homeland security, as well as military and aerospace. Over the past few years, several vendors have come up with advanced products to suit the requirements of governments in developing countries. In addition, in April 2021, the United Nations released its geospatial strategy for 2021–22, which aims to enable access to location information for different sectors. The vision is to facilitate investments in and usage of geospatial information management.
In addition, this strategy aims to improve integrated information flow, enable a coordinated situational awareness to deal with crises, and enhance collaboration among analytical entities and information providers, allowing them to share information more smoothly.
GIS Market Report Coverage

| | |
| --- | --- |
| Report Attribute | Details |
| Historical Years | 2017-2021 |
| Forecast Years | 2022-2030 |
| Market Size in 2021 | $8,914.4 million |
| Revenue Forecast in 2030 | $25,121 Million |
| Growth Rate | 12.2% CAGR |
| Report Scope | Market Trends, Drivers, and Restraints; Revenue Estimation and Forecast; Segmentation Analysis; Impact of COVID-19; Segmentation Analysis of Countries; Companies' Strategic Developments; Market Share Analysis of Key Players; Company Profiling |
| Segments Covered | By Component; By Function; By Data Type; By Project Size; By Industry; By Region |
Explore more about this report - Request free sample pages
North America Is Leader of Market
North America held the largest revenue share, of around 39.6%, in 2021. The public sector, including homeland security and defense, plays a major role in the growth of the market in the region. The military uses this technology to gather intelligence, manage battlefield operations, analyze terrain, and monitor possible terror activities. Moreover, the presence of major industry players, such as Esri Inc. and Hexagon AB, is driving the growth of the market in North America.
Further, the Asia-Pacific region is expected to exhibit the fastest growth during the forecast period. This can be attributed to the increasing urbanization rate and rising demand for geographic information systems among the governments of China and India to improve the infrastructure for military and homeland security applications.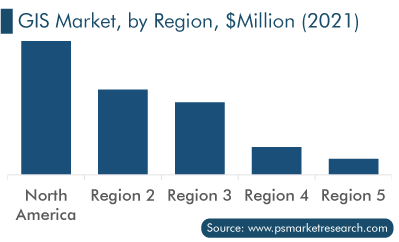 Top Geographic Information System Providers Are:
Autodesk Inc.
Esri
Bentley Systems Incorporated
Caliper Corporation
General Electric Co.
Schneider Electric SE
Computer Aided Development Corporation Ltd.
Hexagon AB
Pitney Bowes Inc.
Trimble Inc.
Global Geographic Information System Market Size Breakdown by Segment
The study offers a comprehensive market segmentation analysis along with market estimation for the period 2017-2030.
Based on Component
Hardware

Global Navigation Satellite System/Global Positioning System (GNSS/GPS) Antennas
Imaging Sensors
Total Station
Light Detection and Ranging (LiDAR)
GIS Collectors

Software

Remote sensing
Desktop
Server
Developer
Mobile

Services

Managed
Professional

Integration & Maintenance
Training & Consulting
Based on Function
Mapping
Surveying
Telematics & Navigation
Location-Based Services
Based on Data Type
Cartographic
Photographic
Digital
Tabular
Based on Project Size
Based on Industry
Government
Construction
Utilities
Telecommunications
Mining
Agriculture
Aerospace & Defense
Oil & Gas
Geographical Analysis
North America
Europe

U.K.
Germany
France
Spain
Italy

Asia-Pacific

China
India
Japan
South Korea
Australia

Latin America
Middle East and Africa

Saudi Arabia
South Africa