Market Overview
The food preservatives market size stood at USD 3,098 million in 2022, and it is expected to grow at a compound annual growth rate of 3.8% during 2022–2030, to reach USD 4,175 million by 2030.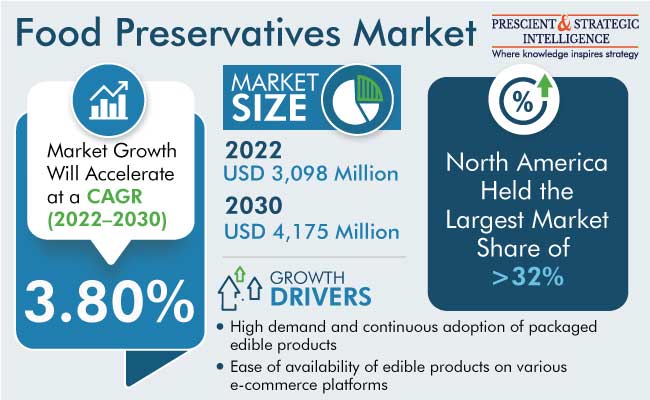 Artificial additives play a vital role in the flourishing food industry, as these are used to match the augmented consumer demand for enhanced dish appearance, taste, texture, and extended life of edibles. Among several additives, preservatives are added to food items to avoid spoilage and quick oxidation. The incorporation of such preservatives enables entire food supply chain participants to supply items across the world, as preservers ensure their quality and safety during storage, transportation, and usage.
Among various factors, the two significant factors responsible for spoilage are oxidation and microbes. Preservatives fight with bacteria, fungus, molds, and other microbes that cause spoilage, delay rancidity, and keep edibles fresh for a longer time, thereby increasing their shelf life. Also, these additives slow the changes in the color, flavor, and texture of food. Owing to such tremendous benefits and ultimately aiming for the planet's sustainability, the use of preservatives has increased enormously in this industry. An extension in the shelf life of edibles is necessarily required to meet their escalated demand coming from the growing population across the world.
Increased Popularity for Packaged Edible Products
The robust demand for packaged food items, owing to the time constraints among the increasing working population and a rise in the availability of various convenient edible products, is boosting the market. Also, a trend of 'on the go' snacks is on the rise, which consequently appeared from the changing consumers' lifestyle and food consumption patterns, due to the increase in urbanization and participation of both males and females in the white-collar labor force in developed and developing economies.
The higher the need for packed edible items, the higher will be the demand for preservatives, which is largely supporting the market. Also, a shift in consumer choices for ready-to-eat (RTE) products due to people's hectic work schedules, and a rise in the employment rate will uplift the demand for preservatives significantly in the forecast period.
Furthermore, the requirement for packaged food is increasing, due to the ease of availability of such products on e-commerce platforms. Also, the advent of new home delivery business models has substantially propelled their needs. Thus, e-commerce is expected to become a game changer for the sales of food additives in the coming years.
Heightened Adoption of Natural Preservatives
In 2022, the synthetic preservatives accounted for USD 2,014 million in 2022. These chemical preservatives are extensively used in the food industry, due to their less expensive, high usage in numerous RTE products, and substantially effective against microbes. These chemically synthesized preservatives include compounds such as sulfites, sodium benzoate, nitrites, benzoic acid, potassium sorbate, and sodium sorbate.
With a rise in health awareness, consumers have become more serious about their food choices and have started preferring edibles that comprise a minimal number of preservatives. Also, there is an upsurge in the demand and usage of bio-preservatives, such as edible oils, natamycin, salt, sugar, vinegar, rosemary extracts, chitosan, and other natural preservatives that do not negatively affect human health. The use of bio-preservatives acts as a better option among manufacturers to meet the augmented demand in a better approach.
These natural food additives are required across a wide range of applications such as meat and poultry products, bakery, confectionary goods, dairy products, and beverages. And, with the escalated consumer preferences toward the usage of natural ingredients, natural preservatives are expected to be adopted across a wide range of raw or semi-cooked products and have better prospects than artificial preservatives.
As per a research study conducted in 2021 by a government source, 1 billion tons of food gets wasted each year at the global level. The food systems reform is critical to tackling the environmental crisis, nature and biodiversity damage, pollution, and waste. Thus, preservatives are needed to reduce wastage to a large extent, which is an important way to lessen manufacturing costs and improve the quality and safety of edibles, which turns out to be a momentous contribution to ecological sustainability. Therefore, due to such ecological and health benefits, the heightened use of natural preservatives is projected to reach a significant market value by 2030 and grow with the remarkable CAGR of around 3.9% in the food preservatives market during the forecast period.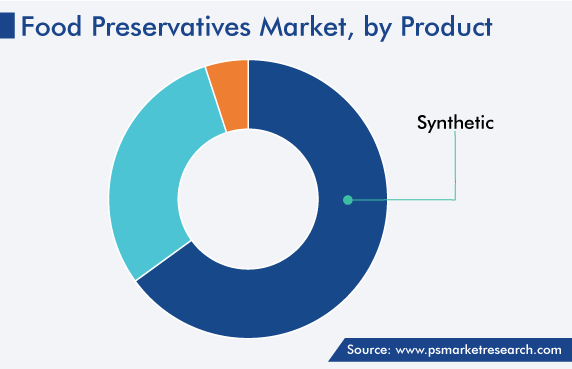 High Usage of Preservatives in Meat Products
The use of preservatives is high in meat and poultry products. Artificial additives, such as sorbate, sodium acetate, sulfite, natamycin or pimamycin, nisin, and nitrite, are used in dried meat products. Therefore, meat, poultry, and seafood products category held a considerable share of over 32% in 2022 among all other applications. Further, burgeoning meat demand is further expected to strengthen the food preservatives market. As per the data published by the U.S. government organization, meat consumption is increasing, majorly due to the growing population and the rising income levels across the country.
Also, the U.S. government organization projects that the global meat supply is expected to reach 374 million tons (Mt) by 2030, driven by flock and herd expansion in China and the Americas, coupled with improved animal productivity such as enhanced breeding and better feed formulations. Moreover, as per the report published by an international government organization in 2021, APAC accounted for around 40% of the global meat production in 2020, and China accounted for the highest meat production, followed by the Americas.
Further, the demand for poultry products is increasing in low-income countries, due to the lower poultry prices as compared to other meats, while in high-income countries, white meat is preferred, as it is convenient to cook and considered a healthier option. Therefore, the rise in the demand for poultry meat is expected to largely support the market, as meat products are increasingly preserved by the use of natural additives that work as antioxidants and antimicrobials for them.
Besides poultry and meat products, preservatives are largely used to preserve the dairy products such as cheese and yogurt. These incorporate the use of sorbate, benzoate, and natamycin, which extend their shelf life. For instance, sorbate chemical compounds are reactive and have a robust effect on the antimicrobial activity as well as the quality and safety. Natamycin is active against molds, which grow on the surface of cheese that limit the shelf life.
Further, sodium benzoate is used in products, such as salads, mixed dried fruit, and soft drinks. In addition, potassium sorbate is used in cheese, wine, and dried meats. Other chemical preservatives such as butylated hydroxyanisole (BHA) and butylated hydroxytoluene (BHT) are antioxidants that avoid fat rancidity and these are added to fried snacks and margarine.
Moreover, the growing consumer preference for frozen commodities is propelling the demand for frozen dairy products and hence boosts the requirement for preservatives in the market. Furthermore, the launches of novel dairy products like omega-3 fatty acid-enriched milk and other health-oriented dairy products including probiotic yogurts, low-fat milk, and lactose-free cheese products are boosting the usage of preservatives.
Food Preservatives Market Report Coverage

| | |
| --- | --- |
| Report Attribute | Details |
| Historical Years | 2017-2022 |
| Forecast Years | 2023-2030 |
| Market Size in 2022 | USD 3,098 Million |
| Revenue Forecast in 2030 | USD 4,175 Million |
| Growth Rate | 3.8% CAGR |
| Report Scope | Market Trends, Drivers, and Restraints; Revenue Estimation and Forecast; Segmentation Analysis; Impact of COVID-19; Companies' Strategic Developments; Market Share Analysis of Key Players; Company Profiling |
| Segments Covered | By Technology; By End User; By Region |
Explore more about this report - Request free sample pages
Rising Demand for Clean Label Solutions
The recent trend of avoiding artificial ingredients wherever possible and considering natural ingredients as a synonym for healthy nutrition is witnessed in the market. Additionally, consumers also want full transparency across both the products' lifecycle and the supply chain, from sustainable sourcing to knowing producer details, packaging of products, and production processes. Therefore, the rising trend for clean-label products as a result of the surging awareness of consumers is driving the industry.
Significant Consumer Demand Across APAC Countries
In APAC economies, with the rise in workforce participation and their tight working schedules, there is a continuous inclination toward the consumption of semi-cooked or RTE products, which is consequently strengthening the preservatives demand for such products. The demand for processed food is growing fast in the region, due to the growing population and the increasing purchasing power of people. Further, the cost affordability along with the availability of raw materials are other growth drivers for the processed food industry in India and China, which is creating lucrative opportunities for players offering preservatives.
North America accounts for a significant share in the global market. This is due to the high demand for packaged food, the existence of a persistent snacking trend, and the presence of key industry players in the region. Furthermore, packaging innovation, busy lifestyles, and expanded shelf life are the major driving forces for the high demand for RTE products.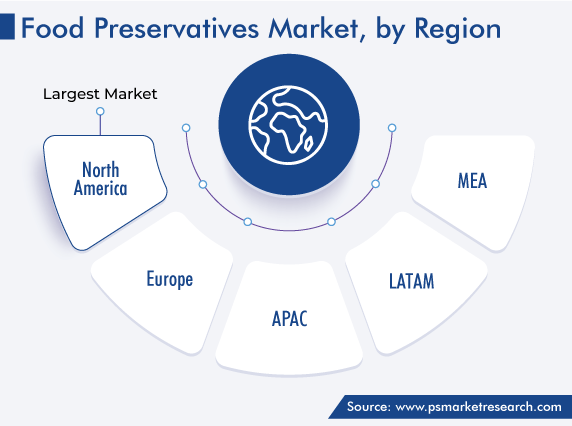 Key Food Preservatives Manufacturers Are:
Cargill Incorporated
DSM
ADM
Kerry Group Plc
Kemin Industries Inc.
Jungbunzlauer Suisse AG
Celanese Corporation
International Flavors & Fragrances Inc.
Foodchem International Corporation
BASF SE
Market Size Breakdown by Segment
The report analyzes the impact of the major drivers and restraints on the food preservatives market, to offer accurate market estimations for 2017–2030.
Based on Label
Based on Product
Based on Function
Antimicrobials
Antioxidants
Based on Application
Meat, Poultry, and Seafood Products
Beverages
Confectionery
Bakery Products
Snacks
Dairy and Frozen Products
Fats and Oils
Geographical Analysis
North America
Europe

Germany
U.K.
France
Italy
Spain

Asia-Pacific

Japan
China
India
South Korea
Australia

Latin America
Middle East and Africa

Saudi Arabia
South Africa
U.A.E.