Market Overview
The field-programmable gate array (FPGA) market generated revenue of USD 9,121.1 million in 2022, which will reach USD 23,991.2 million by 2030, advancing at 12.8% CAGR between 2023 and 2030. The increasing demand for FPGAs can be attributed to their burgeoning adoption in advanced driver assistance systems (ADAS), rising usage of the AI and IoT technologies across the globe, and soaring data center and high-performance computing (HPC) deployment. Moreover, with the growing usage of this technology, the demand for FPGA hardware verification is rising in avionics applications.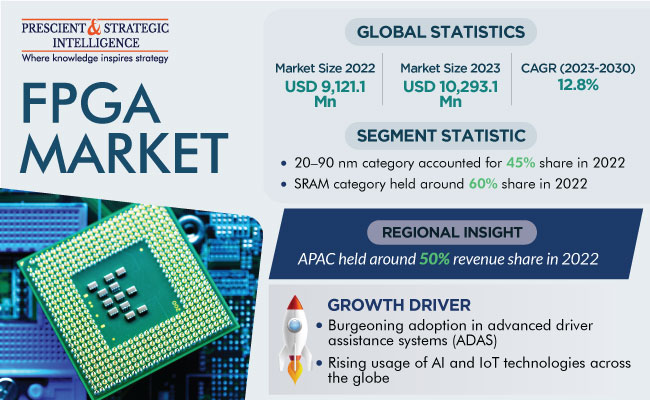 The functionality of an FPGA can be updated or changed after it is inserted into a circuit. In addition to these factors, a greater emphasis on security, inspection, and network processing is fueling the demand for field-programmable gate arrays in IoT, AI, cloud, and data center applications. The need for FPGAs is also projected to rise as a result of the rapid expansion of the consumer electronics sector.
Furthermore, for secure communication, image processing, data processing, and other uses, these ICs are widely utilized in the aerospace & aerospace sector. FPGA circuits are gaining more attention from the industrial sector since they perform effectively in challenging environments due to their ability to handle complex, real-time processing requirements and their adaptability to changing specifications.
Additionally, the versatility and flexibility to be reprogrammed and reconfigured are the key advantages of FPGAs over other processors. They are appropriate for a wide range of applications across numerous industries since they can be tailored to carry out certain tasks or apply complex algorithms.
In addition, their adaptability, performance, power efficiency, design freedom, and appropriateness for emerging technologies contribute to their burgeoning adoption. In the coming years, the FPGA market is expected to experience steady expansion as industries continue to innovate and deploy high-performance and adaptable solutions.
Usage of on the Rise in Technically Demanding Sectors
Technological advancements play a vital role in driving the growth of the FPGA market. This results in an improvement in more aspects of these instruments, such as accuracy, reliability, weight, power, size, and cost-effectiveness. These advanced variants will benefit various industries, especially defense & aerospace.
Moreover, the technology offers easy customization, which is why it is highly suited to AI, IoT, and automotive use cases. As these applications frequently call for specialized hardware, FPGAs are programmed and reprogrammed to provide customized accelerators, neural network designs, and interfaces tailored according to the needs of industries.
Additionally, the performance and applicability of the technology are continuously improving. Manufacturers are creating FPGAs with bigger memories, higher circuit densities, and higher processing speeds, which is making these semiconductor components increasingly powerful. This capacity for scaling supports the expanding requirements of IoT and automotive applications, while also enabling the execution of more-complicated algorithms and larger AI models.
Furthermore, FPGAs enable speedy design iterations and product development cycles, by providing rapid prototyping capabilities. In addition, for developing industries where invention and iteration are essential, these features are especially advantageous.
FPGA Market Report Coverage

| | |
| --- | --- |
| Report Attribute | Details |
| Historical Years | 2017-2022 |
| Forecast Years | 2023-2030 |
| Market Size in 2022 | USD 9,121.1 Million |
| Market Size in 2023 | USD 10,293.1 Million |
| Revenue Forecast in 2030 | USD 23,991.2 Million |
| Growth Rate | 12.8% CAGR |
| Report Scope | Market Trends, Drivers, and Restraints; Revenue Estimation and Forecast; Segmentation Analysis; Companies' Strategic Developments; Market Share Analysis of Key Players; Company Profiling |
| Segments Covered | By Node Size; By Configuration; By Technology; By Vertical; By Region |
Explore more about this report - Request free sample pages
Growing FPGA Demand in High-Performance Computing and Data-Intensive Applications
The high-performance computing application is expected to grow steadily during the forecast years, as FPGAs are ideal for data-intensive applications because they have high processing capabilities and can be tailored for certain workloads. Especially, for highly parallelizable applications, they can offer faster processing and lower latency to conventional CPUs or GPUs.
Moreover, their growing popularity of leads to the expanding selection of libraries, frameworks, and development tools for FPGA programming, as well as accessibility for the developer. In addition, the demand for FPGAs in HPC and data-intensive applications will keep growing as more manufacturers gain competence in these ICs.
Furthermore, a key advantage of FPGAs is that they are able to execute numerous operations at a time. This parallelism makes it possible to execute algorithms and data processing activities efficiently for HPC and data-intensive applications, including cryptography, machine learning, big data analytics, and scientific simulations.
Additionally, the demand for high-performance computing and data-intensive applications at the network edge has increased due to the rising need for routing data between storage, memory, and computation units, which can be directly attached to FPGAs, thus reducing data movement bottlenecks and delivering high bandwidth, low latency, and improved system performance.
SRAM Technology Held Largest Share
Based on technology, the static random-access memory (SRAM) category accounted for the largest share, of 60%, in the field-programmable gate array market in 2022, and it will further maintain its dominance in the future. This is because SRAM offers lots of advantages to users, such as flexibility, high performance, ease of use, and in-system reconfiguration. SRAM technology-based applications can be found in different industries, including automotive, aerospace & defense, consumer electronics, and communications & networking.
The SRAM technology is widely utilized in aerospace & defense applications for radar processing, communication systems, secure data transmission, and signal intelligence. In addition, in military settings, the field reconfigurable capability of these components is especially useful for electronic warfare, avionics, cybersecurity, and high-performance computing, which would drive the growth of this industry during the forecast period.
Additionally, this technology can be utilized in the IT & telecommunications industry, majorly in networking devices, such as routers and switches, because it offers fast data processing, packet forwarding, and protocol implementation capabilities.
Furthermore, consumer electronics products, including smartphones, tablets, digital cameras, and gaming consoles, make use of SRAM-based FPGAs. These components make it possible to integrate customized features, signal processing, and networking capabilities quickly and effectively.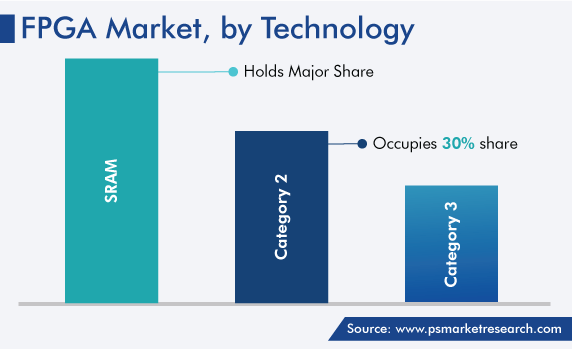 20–90-nm Variants Held Largest Share
Based on node size, the 20–90 nm category accounted for the largest share in the field-programmable gate array market in 2022, and it will further maintain its dominance in the future. This is because 20–90-nm FPGAs offer great performance, reconfiguration freedom, and low power consumption.
Moreover, customers favor them because they have offer an appreciable value, in the form of a high bandwidth and low overall system costs, which makes them ideal for general-purpose and portable applications.
Additionally, for wired and wireless communication applications, including remote radio heads, access routers, and switches, the demand for 20–90-nm FPGAs is rising.
Asia-Pacific Region Held Largest Share
The Asia-Pacific region accounted for the largest share, of 50%, in the field-programmable gate array market, and it is further expected to maintain its dominance during the forecast period. The major reason for this is the surge in the investment in the communications & networking industry in the region. This is why the need for FPGAs will rapidly boom during the forecast period in India, for which a key focus area for driving its economy is the advancement of its telecom infrastructure, including the deployment of 5G connectivity.
Moreover, manufacturing activities, bolstered by the rapid industrial automation, are densely concentrated in the Asia-Pacific region. FPGAs are widely used in automobile applications, such as engine control, infotainment systems, and ADAS. Likewise, control systems, robotics, and machine vision, which are the key requirements for industrial automation, depend on these semiconductor components.
Additionally, North America is growing steadily in the market, due to the government programs to encourage electronics & semiconductor companies to utilize more of the FPGA technology to achieve cost-efficiency. In addition, the telecommunications and defense sectors, along with the ICT sector, is growing in North America, thus driving the usage of FPGAs.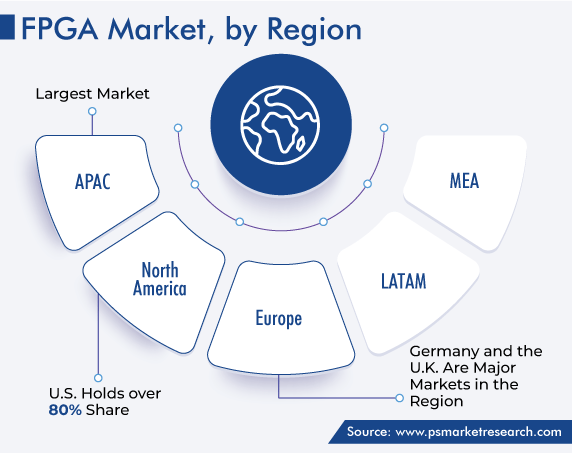 Some Key Players in FPGA Market Are:
Xilinx Inc.
Intel Corporation
Lattice Semiconductor Corporation
Microchip Technology Inc.
QuickLogic Corporation
Achronix Semiconductor Corporation
e2v
Efinix Inc.
Microsemi Corporation
Market Size Breakdown by Segment
The study uncovers the biggest trends and opportunities in the field-programmable gate array market, along with offering segmentation analysis at the granular level for the period 2017 to 2030.
Based on Configuration
Low-Range
Mid-Range
High-Range FGA
Based on Technology
Based on Node Size
Less Than 20 nm
20–90 nm
More Than 90 nm
Based on Vertical
Telecommunications
Consumer Electronics
Test, Measurement, & Emulation
Automotive
Industrial
Military & Aerospace
Data Center & Computing
Geographical Analysis
North America
Europe

Germany
U.K.
France
Italy
Spain

Asia-Pacific

Japan
China
India
South Korea
Australia

Latin America
Middle East and Africa

Saudi Arabia
South Africa
U.A.E.