Market Overview
The external defibrillator market size stood at $4,111.4 million in 2021, which is expected to reach $8,709.2 million by 2030, advancing at a CAGR of 8.7% during 2021–2030. This is due to the surging aging population and increasing cases of out-of-hospital cardiac arrest (OHCA). According to the American Heart Association's (AHA) Heart & Stroke Statistics report 2020, there are more than 356,461 OHCA cases reported each year in the U.S., with approximately 90% of them resulting in the patient's death. Furthermore, in adults, the most common place of OHCA is a home or residence (73.9%), a public environment (15.1%), or a nursing home (10.9%).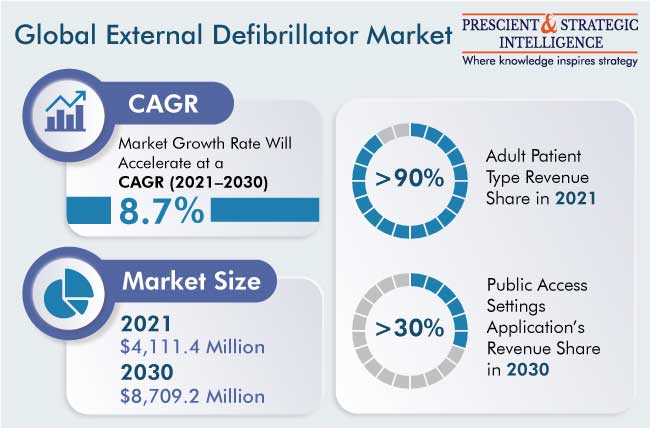 This market has a promising future, as both production and demand are expected to rise over the next decade. Regulatory policies in emerging economies, such as India and Brazil, are facilitating the market, since these countries are more adaptable and business-friendly with less stringent regulations. Defibrillator producers are focusing even more on improving their presence in emerging economies, as competition in developed countries heats up, and taking advantage of significant growth potential and sales for defibrillators in developing nations. Moreover, these economies offer lucrative opportunities to players operating in the market. Below are some highlights of developing areas driving the market:
The Indian market is expected to grow at a significant pace during the forecast period. The market is primarily driven by several measures taken by public and private organizations to raise awareness about these devices, rise in healthcare expenditure, and strategic developments among market players. Moreover, according to the India Brand Equity Foundation (IBEF), the Indian government is set to increase healthcare spending to around 3% of its GDP in 2022. This indicates that healthcare facilities are adopting technological advancements, thereby driving the external defibrillator market in the country.
The LATAM and Caribbean regions have made strides toward universal health coverage by providing affordable healthcare services to people. Thus, with the rise in healthcare expenditure and health coverage, it is likely that the demand for these devices will also increase in the future. Further, the per capita income of people in the LATAM region has improved over the years, which will boost the market growth in the coming years. For instance, as per Trading Economics, the GDP per capita in Brazil was around $8,228.79 in 2020, which was equivalent to 65% of the world's average.
Moreover, in Brazil, the cases of heart diseases are increasing. Obesity and overweight are the key factors responsible for heart diseases, CVD, CDH, HF, and stroke. Also, it is an emerging economy and has an improved healthcare system with quality care and low cost of surgeries. Thus, the Government of Brazil is promoting the adoption of defibrillators and creating awareness about life-threatening diseases.
External Defibrillators Witnessed Higher Demand Among Adult Patients
In 2021, external defibrillators used for adult patients accounted for over 90% of the revenue share. With the increasing number of adult patients in comparison to pediatric patients all over the world, the risk of CVDs is increasing. Adults are more prone toward cardiac diseases due to unhealthy lifestyles. Moreover, as age increases, the immune system of an individual started facing problems while fighting diseases. Moreover, each year, approximately 0.1% of the U.S. population experience a medical services-assessed, OHCA. The European region has a similar incidence ranging from 0.04% to 0.1% of the population.
External Defibrillator Market Report Coverage
| Report Attribute | Details |
| --- | --- |
| Historical Years | 2017–2021 |
| Forecast Years | 2022–2030 |
| Market Size in 2021 | $4,111.4 Million (Estimated) |
| Revenue Forecast in 2030 | $8,709.2 Million |
| Growth Rate | 8.7% CAGR |
| Report Scope | Market Trends, Drivers, and Restraints; Revenue Estimation and Forecast; Segmentation Analysis; Regulatory Scenario; Impact of COVID-19; Companies' Strategic Developments; Company Profiling |
| Segments Covered | By Patient Type; By End User; By Region |
| Countries Covered | U.S., Germany, France, U.K., Italy, Spain, Russia, Netherlands, Switzerland, Belgium, Sweden, Poland, Ireland, Japan, China, India, Australia, South Korea, Thailand, Brazil, Mexico, Saudi Arabia, South Africa |
Public Access Settings Are Contributing Highest Revenue
The public access settings category dominated the market in 2021, with more than 30% revenue share. The rise in the incidence of SCAs and mandate availability of automated external defibrillators in public access settings are key factors contributing to the growth of the market in this end-user category. For example, the U.S., as well as a number of European and APAC countries, has established legislation requiring the installation of these devices in public spaces. These devices have been implemented in public locations such as community centers, schools, stadiums, health clubs, recreation centers, shopping centers, transportation centers, government buildings, airlines, and offices, as a result of this.
North America Generates Highest Revenue in the Market
In 2021, North America held the majority revenue share, of around 60%, in the market. The market in North America is mainly driven by the rising healthcare spending, increasing prevalence of CVDs, surging geriatric population, and growing awareness of the benefits of external defibrillators in the event of VF and pulseless ventricular tachycardia.
For instance, the U.S. government spends a significant portion of its GDP on healthcare every year. According to the National Health Expenditure Accounts (NHEA), the country's healthcare spending increased to 9.7% (around $4.1 trillion) in 2020, from 4.3% in 2019. Furthermore, the NHEA states that the country's healthcare spending is projected to reach $6.0 trillion by 2027, and it is expected to grow at a CAGR of 5.5% during 2022–2030.
Besides, conferences, national programs, and other government initiatives for creating awareness on CVDs are expected to positively impact the market in the North American region. For instance, the 28th International Congress on Cardiology and Medical Interventions took place on October 30–31, 2020, in Vancouver, Canada.
Surging Geriatric Population Drives the Industry
The increasing population of elderly people is one of the key factors driving the global external defibrillator market. Globally, the U.S. has the third fastest-growing geriatric population, after Japan and China. According to the United Nations Department of Economics and Social Affairs, there were around 727 million persons aged 65 years or above all over the world in 2020, and this number is projected to be double by 2050, reaching more than 1.5 billion geriatric population. The share of the older population is expected to increase from 9.3% in 2020 to 16.0% by 2050. With the increase in age, elderly people tend to become susceptible to chronic diseases, majorly CVDs.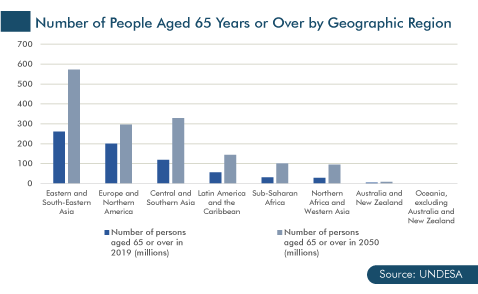 SCA is the major cause of mortality of the elderly in the U.S., owing to the high prevalence of coronary heart disease (CHD), systolic dysfunction, and congestive heart failure (CHF). Also, there is a direct co-relation between SCA and age (i.e., the incidence of SCA increases with age). Thus, with the surging number of elderly people, the demand for external defibrillators is increasing, globally.
Market Players Are Introducing New Products and Involving in Acquisitions to Gain Competitive Edge
The major trend observed in the market is that the major companies are involved in product launches and acquisitions in order to stay ahead of their competitors. For instance:
In June 2020, ZOLL Medical Corporation released the ZOLL AED 3 defibrillator, which uses CPR technology with integrated, real-time feedback to aid administer guideline-compliant CPR. With a single CPR Uni-padz electrode, this defibrillator can treat both adult and pediatric patients.
In May 2019, Cardiac Science Corporation, a provider of AEDs, related services, and accessories, was acquired by ZOLL Medical Corporation. ZOLL would be able to provide integrated, novel acute and resuscitation care to CVD patients, as a result of this acquisition
Key Players in External Defibrillator Market Are:
Koninklijke Philips N.V.
Nihon Kohden Corporation
SCHILLER AG
Stryker Corporation
Progetti S.r.l.
Defibtech LLC
Shenzhen Mindray Bio-Medical Electronics Co. Ltd.
ZOLL Medical Corporation
Mediana Co. Ltd.
BPL Medical Technologies Pvt. Ltd.
CU Medical System Inc.
Market Size Breakdown by Segment
The global external defibrillator market report offers comprehensive market segmentation analysis along with market estimation for the period 2017–2030.
Based on Patient Type
Based on End User
Hospitals, Clinics, and Cardiac Centers
Pre-Hospital Care and Emergency Medical Service (EMS) Providers
Public Access Settings
Homecare Settings
Geographical Analysis
North America
Europe

Germany
France
Italy
Spain
U.K.
Russia
Netherlands
Belgium
Ireland
Sweden
Switzerland
Poland

Asia-Pacific (APAC)

China
Japan
India
Australia
South Korea
Thailand

Latin America (LATAM)
Middle East and Africa (MEA)

Saudi Arabia
South Africa