Market Outlook
The external defibrillator market value was $3,926.5 million in 2019, and the market is predicted to grow at a CAGR of 8.5% from 2020 to 2030. The surging population of geriatric people, rapid technological advancements being made in automated external defibrillators (AEDs), and rising focus of industry players on strategic development activities are the major factors fueling this expansion.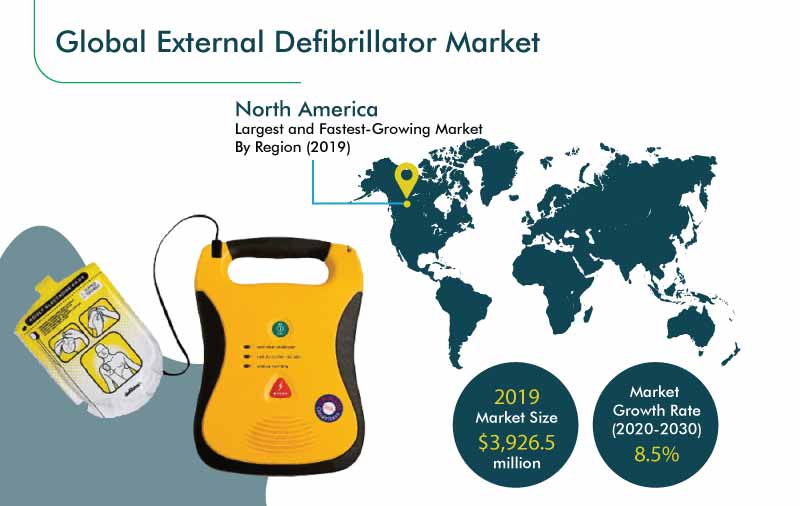 Non-Wearable External Defibrillators Holding Larger Market Share
The non-wearable category held the larger share in the type segment of the market in 2019. This was primarily because of the high prevalence of cardiac diseases and large-scale usage of external defibrillators for treating irregular heart rhythms. As per the World Health Organization (WHO), across the world, cardiovascular diseases (CVDs) are the primary cause of death, killing 17.9 million people every year. According to various reports, coronary heart disease (CHD), stroke, and heart failure, in this order, are the three major causes of CVD deaths.
Automatic Category Predicted To Exhibit Faster Growth in Market in Coming Years
The automatic category generated the higher revenue in 2019, under the technology segment. This category is also predicted to demonstrate the faster growth in the external defibrillator market in the future. This is credited to the fact that unlike manual external defibrillators, no specific technical expertise or skill is required for operating automatic external defibrillators (AEDs). Moreover, these defibrillators are increasingly being deployed in public settings, such as gyms, airports, schools, sports complexes, and shopping malls. Furthermore, several market players are producing these systems for treating people suffering from sudden cardiac arrests (SCAs).
Adult Category Predicted To Demonstrate Faster Growth in Future
The adult patient type category is predicted to demonstrate the faster growth in the market for external defibrillators in the forthcoming years. This is primarily because the incidence of SCAs is higher in adult individuals suffering from cardiovascular diseases than in pediatric people. As per the Heart Rhythm Clinic of Michigan (HRCM), in the U.S., sudden cardiac death (SCD) claims the lives of 325,000 adults every year, thereby pushing up the requirement for external defibrillators.
Public-Access Settings Generating Highest Market Revenue
Public-access settings contributed the highest revenue in 2019, under the end user segment. This category is also predicted to hold the largest market share till 2030. Among the key factors driving the advance of the external defibrillator market in this category are the growing usage of technologically advanced products, rising incidence of chronic cardiovascular diseases, increasing number of conferences and public awareness campaigns conducted by private and public organizations, and rapidly improving healthcare facilities in several countries.
North America Set To Be Fastest Growing Regional Market
From 2014 to 2019, North America was the largest market for external defibrillators. Moreover, the global demand for these devices is predicted to see the fastest growth in this region in the coming years. This will be because of the surging healthcare spending, rising incidence of CVDs, surging population of geriatric people, and growing public awareness about the various advantages of AEDs over manual external defibrillators in managing pulseless ventricular tachycardia and ventricular fibrillation (VF or V-fib).
Furthermore, regional governments are promoting the usage of external defibrillators. For example, in the U.S., the federal government spends a major portion of the country's gross domestic product (GDP) on healthcare every year. As per the National Health Expenditure Accounts (NHEA), the total healthcare expenditure in the country stood at $3.5 trillion in 2017, registering an increment of 3.9% from 2016 to 2017. The organization also estimates that healthcare spending in the country will grow at a CAGR of 5.5% from 2018 to 2027 and reach $6.0 trillion by 2027.
The COVID-19 pandemic is severely hampering the progress of the external defibrillator market. With the announcement of lockdowns and restrictions on the movement of people and goods, the manufacturing and sales of external defibrillators have fallen sharply, and the industry has experienced a massive slow down. The industry will only start exhibiting progress once the lockdowns are properly lifted and export and import activities resume across the world.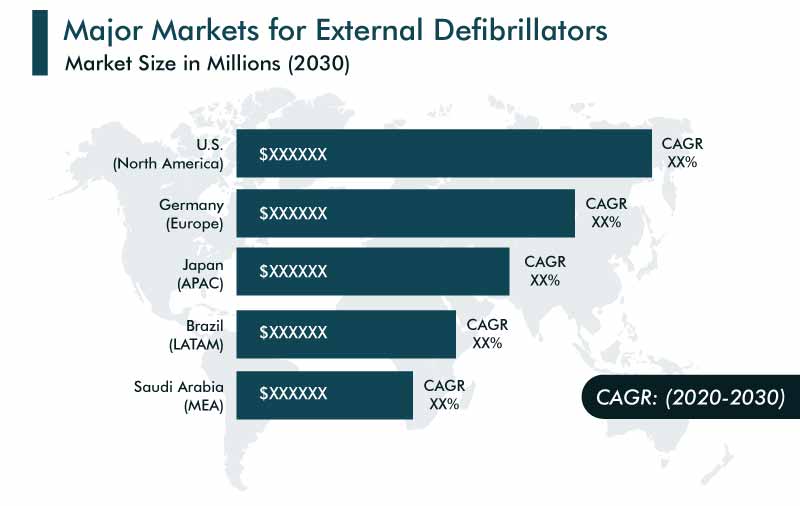 Increasing Preference for External Defibrillators over Implantable Devices Prominent Market Trend
One of the major trends in the external defibrillator industry is the growing public preference for external defibrillators over implantable devices. Although implantable cardioverter defibrillators (ICDs) are extensively used for treating patients at a high risk of recurrent or sustained arrhythmias, their popularity is quickly getting eclipsed by that of AEDs. This is because of the soaring usage of AEDs for treating older individuals who cannot bear the trauma of heart surgeries, even the minimally invasive ones.

Technological Advancements in AEDs Positively Impacting Market Growth
Several technological advancements have been made in external defibrillators over the last few decades. For example, ZOLL Medical Corporation has developed the LifeVest, which is a lightweight wearable defibrillator that can be easily worn by patients at a high risk of SCAs. This device regularly monitors the heart of the patient and delivers a shock for restoring the sinus rhythm, if it detects an abnormal heart rhythm (arrhythmia). Similarly, unlike the conventionally ICDs, modern deuces available in the external defibrillator market don't require the implantation of a separate pacemaker in patients. These technological advancements are propelling the sales of external defibrillators, as they have made these devices more user-friendly than the conventional ones.
Booming Geriatric Population Pushing Up Sales of External Defibrillators
Another important factor fueling the growth of the market is the rapidly increasing geriatric population. After Japan and China, the U.S. is home to the world's third-fastest growing geriatric population. As per the 2018 Population Reference Bureau report, the number of people in the U.S. in the age bracket of 65 years and above is predicted to grow by two times, that is, from 46 million in 2014 to more than 98 million by 2060. As geriatric people are highly vulnerable to various chronic diseases, especially CVDs, their mushrooming population is propelling the sales of external defibrillators.
| Report Attribute | Details |
| --- | --- |
| Historical Years | 2014-2019 |
| Forecast Years | 2020-2030 |
| Base Year (2019) Market Size | $3,926.5 million |
| Forecast Period CAGR | 8.5% |
| Report Coverage | Market Trends, Revenue Estimation and Forecast, Segmentation Analysis, Regional and Country Breakdown, Companies' Strategical Developments, Product Benchmarking, Company Profiling |
| Market Size by Segments | Type, Technology, Patient Type, End User, Geography |
| Market Size of Geographies | U.S., Canada, Germany, France, Italy, U.K., Spain, Russia, Netherlands, Switzerland, Belgium, Sweden, Poland, Ireland, Japan, China, India, Australia, South Korea, Thailand, Brazil, Mexico, Saudi Arabia, South Africa |
| Secondary Sources and References (Partial List) | Centers for Disease Control and Prevention (CDC), Organisation for Economic Co-operation and Development (OECD), World Health Organization (WHO), American Heart Association (AHA), United States Food and Drug Administration (USFDA), Centers for Medicare & Medicaid Services (CMS) |
Market Players Focusing on Product Approvals to Expand Consumer Base
The external defibrillator market is fragmented in nature, with the presence of market players such as Koninklijke Philips N.V., SCHILLER AG, Nihon Kohden Corporation, Defibtech LLC, Progetti S.r.l., ZOLL Medical Corporation, CU Medical System Inc., Stryker Corporation, and Cardiac Science Corporation.
In recent years, the players in the industry have engaged in strategic developments, such as product launches, in order to stay ahead of their competitors. For instance:
In September 2019, Shenzhen Mindray Bio-Medical Electronics Co. Ltd. launched the BeneHeart C Series AED, to improve resuscitation outcomes in cases of SCA. The device is equipped with the ResQNavi technology, which directs users through the rescue process, with step-by-step animation coaching and voice prompts.
In August 2019, Koninklijke Philips N.V. introduced a new HeartStart Intrepid monitor/defibrillator, to assess and treat patients in medical emergencies in pre-hospital and hospital settings. The device is equipped with the QCPR functionality that offers cardiopulmonary resuscitation (CPR) feedback and guidance for compressions and ventilations. It also offers traumatic brain injury (TBI) advisory, by leveraging vital sign evaluation, to deliver the visual guidance required to avoid serious complications in people with suspected TBI.
In April 2019, Stryker Corporation launched the LIFEPAK CR2 defibrillator in the U.S. The device is integrated with the LIFELINKcentral AED program manager that allows chest compressions to continue during electrocardiogram (ECG) analysis and increases the hands-on time, to reduce the longest pauses in CPR, which can improve the survival outcome. The device received the pre-market approval (PMA) by the U.S. Food and Drug Administration (FDA) in December 2018 and has been marketed in Europe and Canada since 2017 and in Japan since 2018.
Some of the Key Market Players in the External Defibrillator Market include:
Shenzhen Mindray Bio-Medical Electronics Co. Ltd.

ZOLL Medical Corporation

Mediana Co. Ltd.

BPL Medical Technologies Pvt. Ltd.

Opto Circuits India Ltd.

CU Medical System Inc.
External Defibrillator Market Size Breakdown by Segment
The external defibrillator market report offers comprehensive market segmentation analysis along with market estimation for the period 2014–2030.
Based on Type
Based on Technology
Automatic

Fully automatic
Semi-automatic

Manual
Based on Patient Type
Based on End User
Public Access Settings
Hospitals, Clinics, and Cardiac Centers
Pre-Hospital Care and Emergency Medical Service (EMS) Providers
Homecare Settings
Geographical Analysis
North America
Europe

Germany
France
Italy
Spain
U.K.
Russia
Netherlands
Belgium
Ireland
Sweden
Switzerland
Poland

Asia-Pacific (APAC)

China
Japan
India
Australia
South Korea
Thailand

Latin America (LATAM)
Middle East and Africa (MEA)