Defibrillator Market Overview
In 2019, the global defibrillator market size was $9,621.2 million, and it is further expected to grow at a CAGR of 7.2% during the forecast period (2020–2030). The key factors driving the defibrillator industry include the rising incidence of cardiac diseases, growing strategic development activities among key players, and advancements in the defibrillation technology.
COVID-19 is having a negative impact on the global defibrillator market. Due to this pandemic, the outlook for the industry has changed significantly, with the demand for defibrillators predicted to decrease in the short run across the globe. This will be overcome by the proper lifting of lockdowns and resumption of import and export activities, worldwide.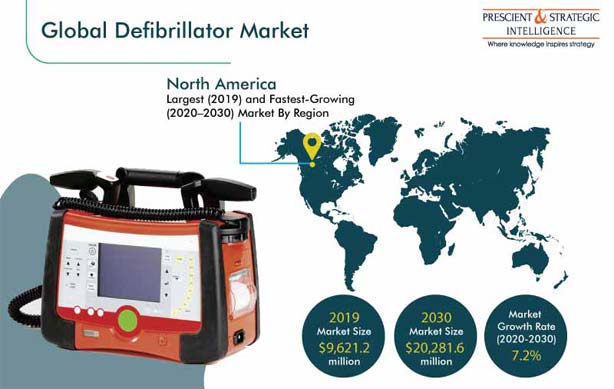 Segmentation Analysis
Implantable Cardioverter Defibrillators (ICDs) To Hold Larger Share
The ICDs bifurcation of the defibrillator market accounted for the larger size in 2019, on the basis of type. The dominance of this category is mainly ascribed to the increasing product launches and growing focus of market players to advance the defibrillation technology. For instance, in July 2020, Abbott Laboratories' Gallant ICD and cardiac resynchronization therapy defibrillator devices received approval from the United States Food and Drug Administration (USFDA). The implantable device features Bluetooth connectivity, thereby allowing data to stream to a physician, for closer observation and monitoring.
Adult Category To Retain Its Dominance in Coming Years
The adult bifurcation held the dominating share in the defibrillator market in 2019, on the basis of patient type. The bifurcation is also projected to witness faster growth, as compared to the pediatric bifurcation, in the coming years. This is mainly ascribed to the fact that the incidence of sudden cardiac arrest (SCA) in the pediatric population is comparatively lower than in the adult population. According to the statistics released by the American Heart Association (AHA), in the report Heart Disease and Stroke Statistics – 2018, the incidence of out-of-hospital cardiac arrests (OHCA) among adults was 347,322 in 2018, whereas, in pediatric patients, it was 7,037.
Direct Distribution Is Higher-Revenue-Generating Category, in Terms of Distribution Channel
The direct distribution channel dominated the defibrillator market in 2019, and the category is expected to continue to hold the larger share in the coming years. Since defibrillators are expensive life-saving devices, customers prefer buying them directly from manufacturers, instead of opting for an online purchase. This allows manufacturers to deliver their products to consumers faster, thereby building long-term relationships with customers and avoiding sharing the profits with a third-party distributor.
Public-Access Settings Category To Witness Fastest Growth during Forecast Period
Public-access settings are projected to be the fastest-growing end-user category in the defibrillator market in the coming years. The increasing adoption of technologically advanced products, surging prevalence of chronic CVDs, rising number of awareness campaigns and conferences conducted by public and private organizations, and improving healthcare infrastructure are some of the factors contributing to the market growth in this category.
Geographical Outlook
North America Is Largest and Fastest-Growing Region
During the historical period (2014–2019), North America held the largest share in the defibrillator market, due to the presence of prominent market players, investments by private and public organizations to support research and development (R&D) for defibrillators, well-established healthcare industry, and favorable reimbursement policies, due to which patients can afford expensive medical care, involving ICDs and other defibrillators.
Further, governments are promoting the use of such devices, which propels the growth of the defibrillator market. For instance, the U.S. government spends a significant portion of its gross domestic product (GDP) on healthcare every year. The National Health Expenditure Accounts (NHEA) reported that the country's healthcare expenditure grew by 3.9% from 2016, to reach $3.5 trillion in 2017. Furthermore, according to the NHEA, the country's healthcare spending is projected to increase further, to $6.0 trillion by 2027, registering a CAGR of 5.5% during 2018–2027.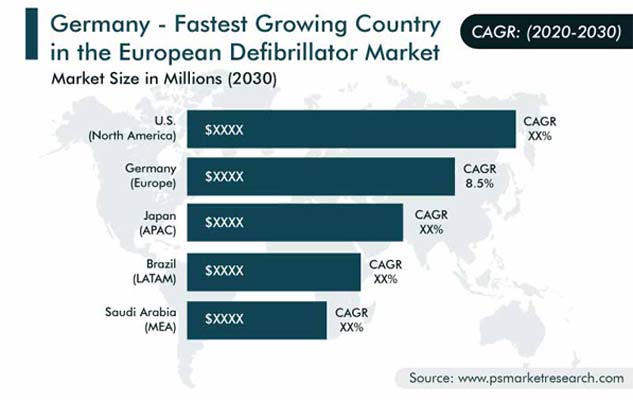 Trends & Drivers
Growing Focus on Installation of AEDs At Public Places Is Key Market Trend
With the growing awareness about the life-saving potential of automated external defibrillators (AEDs), the installation of these devices is increasing at public places, such as railway stations, schools and colleges, shopping centers, airports, malls, and leisure centers, thereby impacting the defibrillator market positively. These devices are also known as public-access defibrillators (PADs), as these can be used by anyone during an emergency.
In view of this, organizations in several countries are working toward providing emergency medical care to their people. For instance, several organizations in the U.S. are taking initiatives to install PADs in their vicinities, in the light of the growing incidence of SCA. In this regard, in February 2016, the Sudden Cardiac Arrest Foundation, a national community-benefit organization in the U.S., granted funds to several schools for the procurement of AEDs, through its "You Can Save a Life at School AED Grant" program.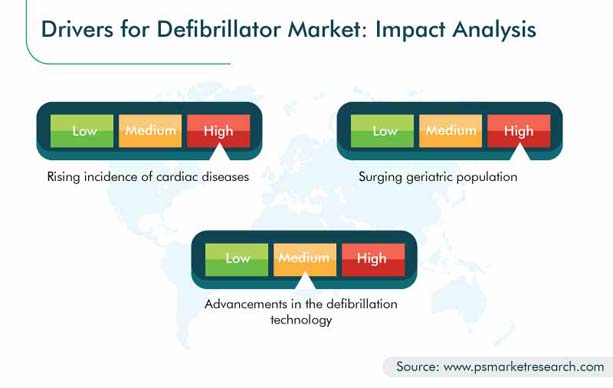 Rising Incidence of Cardiac Diseases Has High Impact on Market
Sedentary lifestyle, the growing consumption of high-calorie food, smoking habits, and rising obesity levels have led to the high prevalence of heart-related ailments in people of all age groups across the world, thereby playing a pivotal role in the growth of the defibrillator market. According to the WHO, CVDs are the major cause of death, globally. In 2016, approximately 17.9 million people died due to CVDs, representing 31% of the total deaths, globally. Of these deaths, 85% were due to heart attack and stroke.
Similarly, according to the AHA's 2017 report Heart Disease and Stroke Statistics—2017 Update, one out of every three deaths in the U.S. is caused by a CVD, thus equaling approximately 800,000 deaths every year. The majority of CVD deaths are caused by coronary heart disease (CHD), followed by stroke and heart failure.
Surging Geriatric Population To Generate High Demand for Defibrillators
With the increase in age, people become susceptible to chronic diseases, majorly CVDs, which may demand regular or emergency medical care, which is expected to have a positive impact on the defibrillator market.
According to the article "Causes and Prevention of Sudden Cardiac Death in the Elderly" published in the Nature Reviews Cardiology journal in 2013, SCA was a major cause of mortality in the elderly in the U.S., owing to the high prevalence of CHD, systolic dysfunction, and congestive heart failure (CHF). The article also stated that there is a direct co-relation between SCA and age, i.e., the incidence of SCA increases with age.
Defibrillator Market Report Coverage

| Report Attribute | Details |
| --- | --- |
| Historical Years | 2014-2019 |
| Forecast Years | 2020-2030 |
| Base Year (2019) Market Size | $9,621.2 million |
| Forecast Period (2020-2030) CAGR | 7.2% |
| Report Coverage | Market Trends, Revenue Estimation and Forecast, Segmentation Analysis, Regional and Country Breakdown, Companies' Strategic Developments, Product Benchmarking, Company Profiling |
| Market Size by Segments | Type, Patient Type, Distribution Channel, End User, Geography |
| Market Size of Geographies | U.S., Canada, Germany, France, Italy, U.K., Poland, Spain, Netherlands, Russia, Switzerland, Belgium, Japan, China, India, Australia, South Korea, Thailand, Brazil, Mexico, Saudi Arabia, South Africa |
| Secondary Sources and References (Partial List) | Centers for Disease Control and Prevention (CDC), Organisation for Economic Co-operation and Development (OECD), World Health Organization (WHO), American Heart Association (AHA), United States Food and Drug Administration (USFDA), Centers for Medicare & Medicaid Services (CMS) |
Advancements in Defibrillation Technology To Propel Market to Bright Future
Several advancements have been reported in the defibrillation technology over the past few decades. For instance, ZOLL Medical Corporation's LifeVest is a lightweight wearable defibrillator that can be worn by patients at risk of SCA. The LifeVest continuously monitors the patient's heart rhythm, and on the detection of an abnormal heart rhythm, the device delivers a shock to restore the normal heart rhythm. Besides, unlike conventional counterparts, modern ICDs have eliminated the need for implanting a separate pacemaker in patients. Such advancements in technology have positively impacted the growth of the defibrillator market.
Product Approvals Have Become Major Strategy to Expand Consumer Base
The defibrillator market is fragmented in nature, with the presence of market players such as Koninklijke Philips N.V., Boston Scientific Corporation, SCHILLER AG, Nihon Kohden Corporation, Defibtech LLC, Progetti S.r.l., ZOLL Medical Corporation, Medtronic plc, CU Medical System Inc., Stryker Corporation, and Cardiac Science Corporation.
In recent years, players in the defibrillator industry have engaged in strategic developments, such as product launches, in order to stay ahead of their competitors. For instance:
In September 2019, Shenzhen Mindray Bio-Medical Electronics Co. Ltd. launched the BeneHeart C Series AED, to improve resuscitation outcomes in cases of SCA. The device is equipped with the ResQNavi technology, which directs users through the rescue process, with step-by-step animation and voice prompts.
In August 2019, Koninklijke Philips N.V. introduced a new HeartStart Intrepid monitor/defibrillator, to assess and treat patients in medical emergencies, in pre-hospital and hospital settings. The device is equipped with the QCPR functionality that offers cardiopulmonary resuscitation (CPR) feedback and guidance for compressions and ventilations. It also offers traumatic brain injury (TBI) advisory, by leveraging vital sign evaluation, to deliver the visual guidance required to avoid serious complications in people with suspected TBI.
In April 2019, Stryker Corporation launched the LIFEPAK CR2 defibrillator in the U.S. The device is integrated with the LIFELINKcentral AED program manager that allows chest compressions to continue during electrocardiogram (ECG) analysis. It also increases the hands-on time, to reduce the longest pauses in CPR, which can improve the survival outcome. The device received the pre-market approval (PMA) by the FDA in December 2018; it has been marketed in Europe and Canada since 2017 and in Japan since 2018.

Some of the Key Players in the Defibrillator Market include:
Shenzhen Mindray Bio-Medical Electronics Co. Ltd.

ZOLL Medical Corporation

Mediana Co. Ltd.

Opto Circuits India Ltd.

Abbott Laboratories

Boston Scientific Corporation

Medtronic plc

Defibtech LLC

Cardiac Science Corporation
Defibrillator Market Size Breakdown by Segment
The defibrillator market report offers comprehensive market segmentation analysis along with market estimation for the period 2014–2030.
Based on Type
Implantable Cardioverter Defibrillators (ICDs)

Transvenous implantable cardioverter defibrillators (T-ICDs)
Subcutaneous implantable cardioverter defibrillators (S-ICDs)

External Defibrillators

Manual defibrillators
Automated defibrillators (AEDs)
Based on Patient Type
Based on Distribution Channel
Based on End User
Hospitals, Clinics, & Cardiac Centers
Pre-Hospital Care Settings
Public Access Settings
Home Care Settings
Geographical Analysis
North America
Europe

Germany
France
Italy
U.K.
Poland
Spain
Netherlands
Russia
Switzerland
Belgium

Asia-Pacific (APAC)

Japan
China
India
Australia
South Korea
Thailand

Latin America (LATAM)
Middle East and Africa (MEA)

Saudi Arabia
South Africa