In 2015, the global enteral nutrition market was valued at $12,300.0 million, and it is expected to grow at a CAGR of 5.8% during the forecast period (2016–2022). The major factors contributing to the growth of the market include the high number of premature births, increasing geriatric population, and surging incidence of cancer and central nervous system (CNS) diseases.
The key trend being observed in the enteral nutrition market is the shift toward enteral nutrition. Enteral nutrition has gained immense popularity over the years due to the improvement in compositions, techniques, and materials of such products. Moreover, enteral nutrition is associated with fewer septic and metabolic complications as compared to parenteral nutrition. Due to this, there has been a huge shift from parenteral nutrition to enteral nutrition across the globe.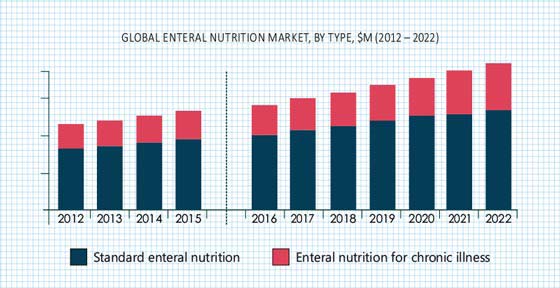 The increasing geriatric population is a key factor driving the enteral nutrition market. Due to aging, the absorption capacity of the human digestive system reduces, which makes it difficult for the body to extract all the essential nutrients from food. Moreover, as old people can have considerable nutrient deficiency, they can fall prey to several diseases. Additionally, debilitating of the bones and immobility are the common problems among the geriatric population, for which they need nutritional support. Owing to this, the geriatric population is moving toward enteral nutrition.
According to the United Nations Department of Economic and Social Affairs (UN-DESA), in 2013, there were around 841 million people aged 60 years or more, increasing from 205 million in 1950. This aging population is expected to reach more than 2 billion by 2050. Hence, with the increasing old-age population, the enteral nutrition market is expected to progress in the coming years across the globe.
Based on region, Asia-Pacific (APAC) generated the highest revenue in the enteral nutrition market, accounting for a 34.1% share, in 2015, and it is expected to register a CAGR of 7.0% in the forecast period. The major factors driving the market in the region include the growing geriatric population, increasing birth rate, and high number of malnourished people.
Some of the major players operating in the global enteral nutrition market are Abbott Laboratories, Baxter International Inc., Nestlé S.A., B. Braun Melsungen AG, Groupe Danone, Perrigo Company PLC, Fresenius Kabi AG, and Mead Johnson Nutrition Company.
Key questions answered in this report
What is the current scenario of the global enteral nutrition market?
What are the historical and present size of the categories within the market segments and their comparative future potential?
What are the major catalysts for the enteral nutrition market and their impact during the short, medium, and long terms?
What are the evolving opportunities for the players in the enteral nutrition market?
Which are the key regions from the investment perspective?
What are the key strategies being adopted by the major players to expand their market share?