Market Overview
The U.S. endoscope repair market generated $248.6 million revenue in 2020, and it is expected to grow at a CAGR of 9.3% during 2020–2030. The key factors responsible for the growth of the market include the advancements in the medical device industry, shift toward minimally invasive procedures, increasing adoption of comprehensive medical equipment maintenance contracts, and rising adoption of equipment insurance.
The U.S. endoscope repair market faced an unprecedented challenge due to the COVID-19 pandemic. When the outbreak began in 2020, social distancing policies were adopted by the federal, state, and local governments, as well as hospitals, nursing homes, and other healthcare facilities. This impacted the face-to-face interactions typically conducted by sales representatives, medical science liaisons, and other field-based employees of pharmaceutical and medical device companies. Moreover, due to the non-operational out-patient departments (OPDs) and diagnostic imaging centers, the use of endoscopes decreased during the lockdown, thus reducing the demand for repair services.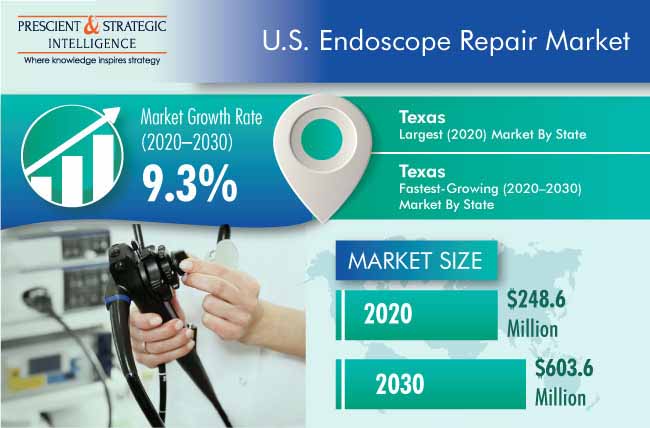 Esophagoscope Held Largest Share due to Increase in Prevalence of Gastrointestinal Diseases
The esophagoscope category held the largest share in the U.S. endoscope repair market in 2020, based on endoscope type. This is majorly attributed to the increase in the prevalence of diseases such as abnormal throat and gastroesophageal reflux disease (GERD) and the rising awareness on spotting the early signs of esophageal cancer and getting it diagnosed as soon as possible.
Independent Service Organizations (ISOs) Category To Witness Faster Growth due to Low Cost and Greater Flexibility of Services
The ISOs category is expected to witness the faster growth in the U.S. endoscope repair market during the forecast period, based on service provider. This will mainly be due to the benefits provided by ISOs, such as low cost and greater flexibility in servicing and repairing the endoscopic equipment of different original equipment manufacturers (OEMs).
Texas Leads Market due to Its High Geriatric Population
Texas is expected to lead the U.S. endoscope repair market throughout the forecast period. This can be attributed to the high geriatric population of the state, combined with the high prevalence of cancer. Furthermore, the Texas Department of Aging and Disability Services (DADS), Texas Department of State Health Services (DSHS), Employees Retirement System (ERS), and Teacher Retirement System (TRS) account for ~83% of all the healthcare spending in the state annually. Thus, the increasing healthcare spending of the state government is also a major factor for the growth of the market in Texas.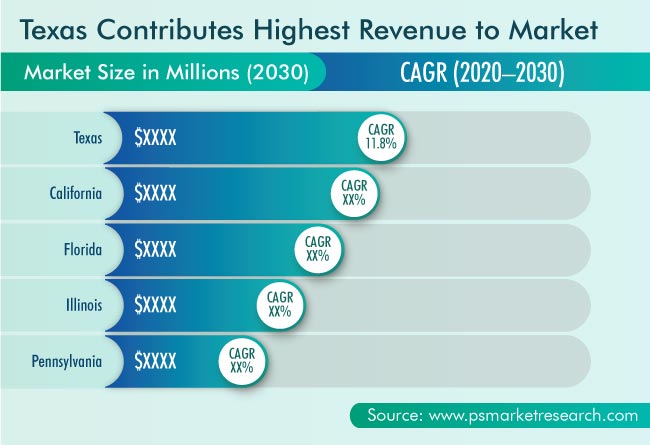 Increasing Adoption of Comprehensive Servicing Contracts Is Major Trend
End users in the U.S. endoscope repair market are becoming more inclined toward entering into comprehensive contracts with ISOs, in order to reduce the complexities and additional expenses associated with the separate services provided under agreements with different OEMs. For instance, NovaMed Corporation runs a comprehensive service management program that allows customers to consolidate the company's services into one contract. The contract offers a cost-effective alternative to OEM contracts, coupled with multi-vendor, multi-modality access. Such examples affirm that the increasing adoption of comprehensive endoscope service contracts is a notable trend in the U.S.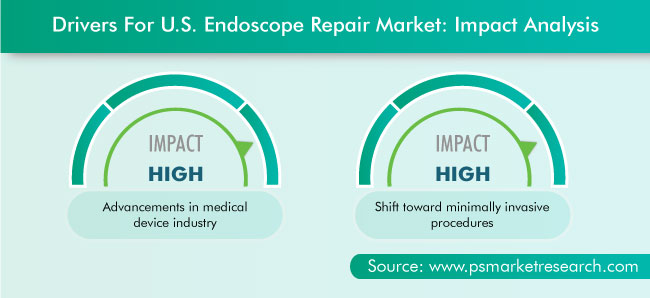 Advancements in Medical Device Industry Are Driving Market
The expanding medical device industry is one of the major drivers for the growth of the market for endoscope repair in the U.S., owing to its consistent focus on bringing new technologies to the people. Owing to this, there are a large number of technologically advanced products in use in the healthcare settings here, to provide better facilities to patients. For instance, video capsule endoscopy (VCE) is a recent endoscopy technology and a powerful diagnostic tool for diseases related to the gastrointestinal tract. VCE endoscopy can visualize the esophagus, stomach, proximal small bowel, and colon and provide functional information.
| Report Attribute | Details |
| --- | --- |
| Historical Years | 2015-2020 |
| Forecast Years | 2021-2030 |
| Base Year (2020) Market Size | $248.6 Million |
| Market Size Forecast in 2030 | $603.6 Million |
| Forecast Period CAGR | 9.3% |
| Report Coverage | Market Trends, Drivers, and Restraints; Revenue Estimation and Forecast; Segmentation Analysis; Country Breakdown; Impact of COVID-19; Companies' Strategic Developments; Company Profiling |
| Market Size by Segments | By Type; By Service Provider; By State |
| Secondary Sources and References (Partial List) | American Association for Accreditation of Ambulatory Surgery Facilities; American College of Radiology; Association for the Advancement of Medical Instrumentation; Canadian Association of Medical Radiation Technologists; Central American Medical Outreach; International Association of Healthcare Central Service Materiel Management; International Medical Equipment Collaborative; Pan American Development Foundation |
Market Players Involved in Partnerships and Acquisitions to Gain Significant Position
The U.S. endoscope repair market is marked by the presence of several key players. Some of the major players in the industry are Olympus Corporation, Stryker Corporation, STERIS, Agiliti Inc., J2S Medical, FUJIFILM Holdings Corporation, Pentax Medical Company, Total Scope Inc., Endoscopy Repair Specialist Inc., Associated Endoscopy Inc., Medical Optics, Endoscopy Support Services Inc., and HMB Endoscopy Products.
In recent years, players in the U.S. endoscope repair industry have been involved in partnerships and acquisitions in order to attain a significant position. For instance:
In July 2019, Agiliti Inc. acquired Zetta Medical Technologies LLC, a provider of medical equipment services and parts based in Lake Zurich III, Switzerland. Through this acquisition, Agiliti Inc. expanded into the full-service clinical engineering domain for high-end imaging devices.
Key Players in U.S. Endoscope Repair Market Include:
Pentax Medical Company

Total Scope Inc.

Endoscopy Repair Specialist Inc.

Associated Endoscopy Inc.

Endoscopy Support Services Inc.

HMB Endoscopy Products
Market Size Breakdown by Segment
The U.S. endoscope repair market report offers comprehensive market segmentation analysis along with market estimation for the period 2015–2030.
Based on Endoscope Type
Esophagoscope
Arthroscope
Colonoscope
Bronchoscope
Cystoscope
Laparoscope
Based on Service Provider
Independent Service Organizations (ISOs)
In-House
Original Equipment Manufacturers (OEMs)
Geographical Analysis
Texas
California
Florida
Illinois
Pennsylvania
Ohio
New York
Michigan
Georgia
Kansas