DNA Synthesizer Market Size & Share
The global DNA synthesizer market was valued at USD 266.3 million in 2023, which is expected to reach USD 686.1 million by 2030, growing at a CAGR of 14.6% during 2024–2030. This is credited to the growing prevalence of severe ailments, increasing demand for more-personalized therapies, rising adoption of gene therapy, and surging investments in research and development.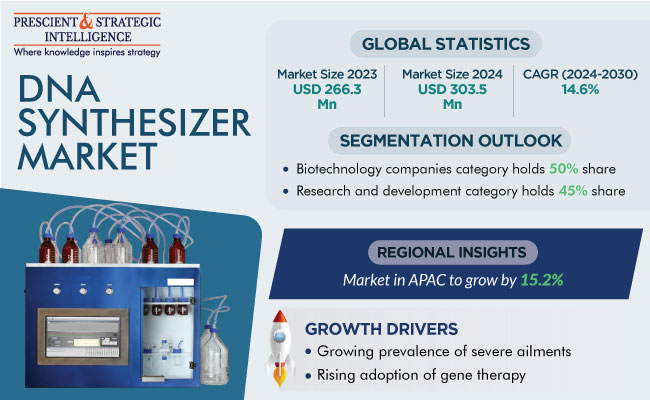 A drastic surge in the demand for synthetic deoxyribonucleic acid has been observed across several research and commercial sectors. Affiliated domains, for example, nanotechnology, biology, therapy, and data storage, are expected to showcase fast developments as DNA is delivered at low prices and at scale. Additionally, the rapid adoption of gene editing technologies, such as DNA synthesis and next-generation sequencing (NGS), is propelling the DNA synthesizer market expansion.
Synthetic DNA is extensively utilized in the fields of clinical diagnostics and therapeutics, genetic engineering, and molecular biology. The rising demand for precision medicines and the rigorous research for drug discovery are having a positive impact on the market. Additionally, synthetic DNA has a wide variety of applications not only in producing reactions in human bodies but also in the production of vaccines, practices revolving around human growth, and gene therapy. Hence, the high demand for artificial DNA is expected to fuel the expansion of the market.
Moreover, the oligonucleotide synthesis sector is increasingly focusing on greener solutions, such as the enzymatic synthesis of DNA, in order to reduce the dependence on organic solvents and chemical reagents, which might have an adverse effect on the environment because of the way they are discarded.
Additionally, such enzymatic synthesis of the deoxyribonucleic acid offers multiple benefits in regard to convenience and accessibility, therewith enhancing the speed and control over the repetition of the process. Due to this reason, many top players in the sector are undertaking strategic collaborations in order to allow for more-cutting-edge enzymatic DNA synthesis processes. For instance, in April 2022, a joint venture was initiated by U.S.-based company Codexis Inc. and Molecular Assemblies Inc. to offer enzymes for the enzymatic synthesis of the DNA. Therefore, the ever-growing count of advancements in the sector is likely to increase the demand for such synthesizers.
In addition, personalized therapies are gaining significant traction as they are based on individuals' genetic characteristics and are effective in the treatment of many immunological conditions and cancers. Therefore, the extensive utilization of deoxyribonucleic acid synthesizers for the production of personalized therapies will fuel the market growth, as will the utilization of these systems for diagnosis and targeted therapies for a wide range of diseases.
The rising extent of research for drug discovery and development is a major contributor to the market growth. Advanced techniques, such as spatial genomics, are increasingly being used during drug discovery and development. Currently, spatial techniques are utilized to understand contagious ailments; however, their application is now also increasing for understanding several critical neurological ailments and cancer. The advancement in the large-scale synthesis of artificial DNA has boosted the usage of spatial genomics significantly, which, in turn, is driving the demand for DNA synthesizers.
Rising Demand for Gene Therapies To Drive Industry
In recent years, a drastic surge has been observed in the incidence of severe chronic diseases, such as cancer, immunological disorders, and genetic disorders, across the world. Around 50,000 congenital disorders that are a result of a single gene mutation have been recognized by scientists. This is vigorously driving the adoption of gene therapy, as it possesses the potential to cure severe ailments that were previously known to be untreatable, and the results have been better than anticipated. For instance, many individuals have already regained their vision with the help of gene therapy, after suffering from congenital, gradual blindness.
Furthermore, gene therapy is quite effective in the treatment of cancer over conventional treatments, such as chemotherapy, which can result in toxicity and is less selective. This is why such therapies are increasingly being utilized for the treatment of pancreatic, liver, bladder, renal, colorectal, ovarian, brain, and lung cancer. Therefore, its ability to treat ailments previously deemed untreatable is resulting in its rising adoption, which, in turn, is increasing the demand for DNA synthesizers.
DNA Synthesizer Market Report Coverage

| | |
| --- | --- |
| Report Attribute | Details |
| Market Size in 2023 | USD 266.3 Million |
| Market Size in 2024 | USD 303.5 Million |
| Revenue Forecast in 2030 | USD 686.1 Million by 2030 |
| Growth Rate | 14.6% CAGR |
| Historical Years | 2017-2023 |
| Forecast Years | 2024-2030 |
| Report Scope | Market Trends, Drivers, and Restraints; Revenue Estimation and Forecast; Segmentation Analysis; Impact of COVID-19; Companies' Strategic Developments; Market Share Analysis of Key Players; Company Profiling |
| Segments Covered | By Scale; By Application; By End User; By Region |
Explore more about this report - Request free sample pages
Research and Development Category Dominates Application Segment
On the basis of application, the research and development category led the market, with a share of 45%, in 2023. This is attributed to the fact that deoxyribonucleic acid is the basis for biotechnology-related research. The bio-engineering sector utilizes extensive amounts of synthetic DNA for research purposes. Such DNA also aids in the production of many viral vaccines, such as for cancers and novel coronavirus, as synthetic DNA serves as the template for mRNA-based technologies. The rising use of artificial deoxyribonucleic acid for research purposes has simultaneously increased the demand for synthesizers.
The therapeutics category is projected to exhibit the highest CAGR, of 15.2%, during the forecast period. DNA synthesizers aid in the production of customized DNA molecules, which consist of a particular sequence of nucleotides. They can be used for the treatment of several ailments by replacing the damaged DNA section with the new one. Hence, the growing prevalence of diseases, which has led to the rising adoption of advanced therapies requiring the use of artificial DNA, and the growing adoption of personalized therapies boost the category's growth.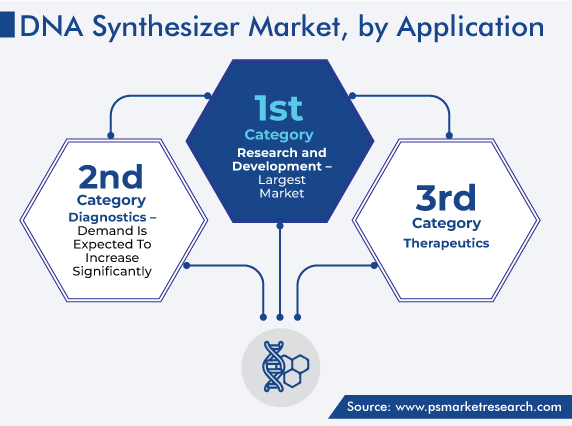 Biotechnology Companies Dominate End User Segment
On the basis of end user, biotechnology companies dominated the market, with a share of 50%, in 2023. This is ascribed to the rising biotechnology-related research, itself driven by the growing demand for biologic drugs, such as vaccines. This is because of the growing prevalence of several contagious and non-contagious diseases over the past few years.
Additionally, the technological advancements in DNA synthesizers are helping cater to the growing need of biotechnology companies for faster, efficient, and affordable production of DNA fragments. Moreover, the production of artificial DNA is a fundamental procedure utilized in the biotechnology sector.
In addition, Contract Research Organizations (CRO) to held significant share in 2022. This is because many biopharmaceutical and biotechnology firms are relying on CRO services due to increasing demand for biologics like gene therapies and others, hence contract research organizations aid many such biopharmaceutical and biotechnology firms to manage the demand for biologics thereby speeding the entire development process.
Furthermore, academic and research organizations are expected to exhibit significant growth during the forecast period. This is because the production of nucleotides supports biological studies around the world for drug discovery and genetic engineering.
Additionally, rising demand for research and innovative products is another major factor positively influencing the category's growth, on the contrary, in many academic institutions most universities are exhibiting the interest to establish their own research laboratories. Labs has become multiuse research facilities in which various developments, research comparison and multiple kinds of testing mechanisms take place.
North America Is Prime Revenue Contributor
North America dominates the market. This is attributed to the presence of established players in the sector, rising prevalence of infectious and non-infectious diseases, robust biotechnology R&D activities, and strong support for the establishment of research and development facilities in the region. In addition, the technological advancements in genomics, coupled with the introduction of advanced, personalized therapies for several incurable conditions, such as cancer, will boost the demand for DNA synthesizers.
Other major contributors to the progress of the regional market include the growing use of the NGS technology in research on diagnostics and genomes and the wide availability of research funds.
For a long time, the U.S. and Canada have been significantly involved in research activities, encouraged by funding from governments to carry out R&D in the life science sector. There has also been a substantial increase in the launch and approval of biological products, such as vaccines and gene therapies, of late due to this rise in the count of research initiatives. Essentially, the surging prevalence of chronic diseases has propelled regional governments to actively spend on life science projects so that scientists can come up with more-effective treatment solutions.
The life sciences research initiatives in the region have witnessed not only significant investments but also technological advancements, which, in turn, has boosted the number of new therapeutics that are becoming available to patients across the globe. Furthermore, the region made substantial contributions to the whole world during the coronavirus pandemic in the form of vaccines and diagnostic technologies.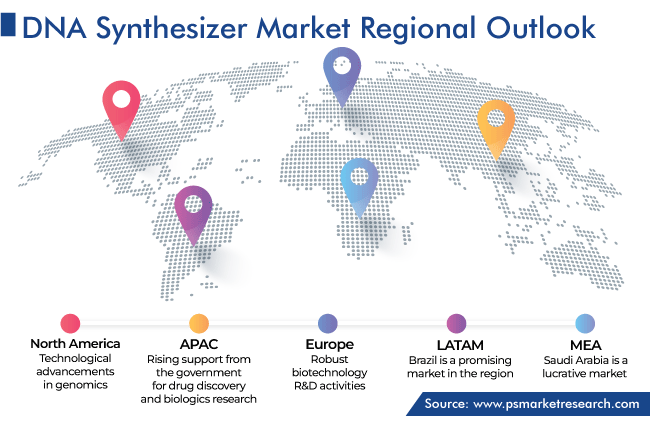 Furthermore, Europe is set to account for a significant share, because of the ongoing research activities by the well-established R&D institutions in the region. European R&D institutions are actively involved in the study of the genome and have partnered with the providers of transcriptomics and genome solutions.
Top Companies Providing DNA Synthesizers Are:
Kilobaser GmbH
CSBio
Biolytic Lab Performance Inc.
LGC Limited
Beckman Coulter Inc.
DNA Script
Market Size Breakdown by Segment
This fully customizable report gives a detailed analysis of the DNA synthesizer market from 2017 to 2030, based on all the relevant segments and geographies.
Based on Scale
Based on Application
Diagnostics
Therapeutics
Research and Development
Based on End User
Contract Research Organizations (CRO)
Biotechnology Companies
Academic and Research Organizations
Geographical Analysis
North America
Europe

Germany
U.K.
France
Italy
Spain

Asia-Pacific

Japan
China
India
South Korea
Australia

Latin America
Middle East and Africa

Saudi Arabia
South Africa
U.A.E.