Market Overview
The global digital pen market size stood at USD 2,311 million in 2022, and it will reach USD 6,410 million by 2030, advancing at a CAGR of 13.6% during 2022–2030. The market is driven by the rising disposable income, increasing use of digital pens to eliminate paperwork, and growing demand for advanced features offered by digital pens.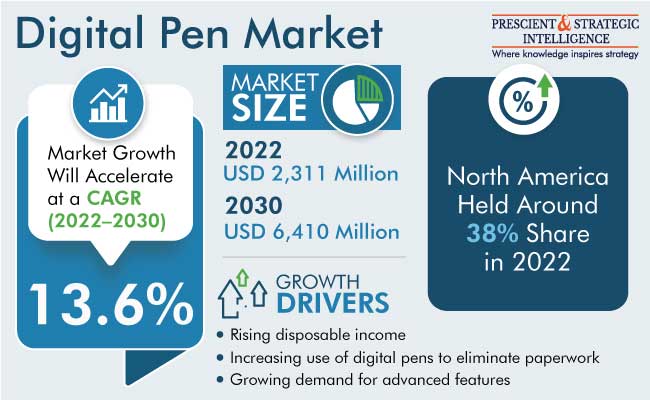 Moreover, digital devices, such as digital pens, computers, mobile devices, and other hand-held computing devices, are proving beneficial for students and teachers, as they continue to replace pens, books, and other means of learning. The application of digital devices, including digital pens, for the development of interpersonal and educational skills, has become a major trend in recent years. Furthermore, digital pens help in the digitization of handwritten notes in academic institutions.
Moreover, these are minimizing the use of notebooks in classrooms by allowing students to share and record educational content provided by teachers and use it later, whenever required. The growing usage of digital pens on interactive whiteboards by teachers is encouraging interactive learning among students in educational institutions. Moreover, many teachers are in need of a reliable and convenient tool to create an effective digital signature, this technology helps in fulfilling this demand as well.
Furthermore, the disposable income of people in emerging economies has increased significantly over the years. This has encouraged people in these economies to spend more money on digital technology solutions. Thus, such technology is increasingly being used for various purposes, such as note-taking and creating instructional content. With the surging income, people are investing more in digital tools to save manual effort in addition to time.
Active Pens Are Preferred due to Their Compatibility with Smartphones and Tablets
The active pen category held the largest share, of 46%, in 2022. These pens allow users to write directly onto the display of a computing device, including a smartphone, tablet computer, and ultra-book. The cursor is always beneath the tip; thus, they are accurate to a greater extent.
The main advantage of the active pen is its enhanced functionality. These are easy to use while also satisfying more complex requirements. They are preferred by graphic designers, digital artists, illustrators, independent writers, and educators. Additionally, it addresses the issue of paper signatures by supporting e-signatures.
These will make use of particular protocols linked to a certain operating system or a variety of gadgets. To perform on-screen operations, such as writing in a certain font or size, for instance, an active pen may incorporate buttons or let specific motions be done. The drawing experience is also improved with accurate pen-on-paper movements and fluid motions.
Multiple OS Is Highly Adopted
The multiple OS category accounted for the larger share, of more than 70%, in 2022. Moreover, digital pens with more than one operating system compatibility have been more popular among users. Furthermore, several consumers these days own more than one phone, with different operating systems, due to which the demand for digital pens with multiple operating system compatibility is rapidly increasing.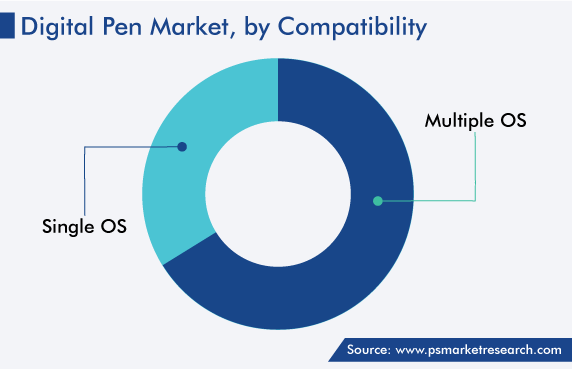 Mostly Used in Clinical Documentation
The clinical documentation category is dominating the market, holding the largest revenue. Such pens allow clinicians to use their preferred method of documentation, including dictation, voice recognition, and transcription of medical documentation, into digitized forms. It also helps in the incorporation of natural language processing and clinical language understanding, which helps in analyzing the clinical data.
In addition, in the education sector, this technique has made a strong influence on the education center. Such devices help in taking notes during lectures and reading them afterward while some allow people to scan text from a book and listen to the content using this software. Additionally, it supports teachers in annotating current lesson plans, coming up with fresh lesson plans, by using visuals and designs in their plans, as well as developing their own resources and ideas.
Digital Pens Are Mostly Adopted in Healthcare Sector
The healthcare sector held the largest share, of 25%, in 2022. A doctor may simply access the cloud storage and connect it to an electronic medical record when the pen instantaneously transfers the recorded data over Bluetooth. To ensure precise handwriting recognition, the technology makes use of artificial intelligence (AI). Moreover, prescriptions can be customized for use with the encoded paper for a variety of applications.
Also, BFSI is predicted to grow at the highest CAGR, of 14.6%, during the forecast period. In the banking sector, such devices help to reduce operational costs and improve customer services in areas such as new account creation and loan application, by reducing the response time to days or even hours. Similarly, this technique helps insurance companies to save money by minimizing their costs linked to paper processing and to increase revenue by not losing clients during extended approval processes.
Demand for Advanced Features Is Growing
Technological advancements in digital technologies and advanced features of digital pens are playing a pivotal role in the growth of the global market. The rapid development of computer technology is increasing human–computer interaction (HCI) activities. Despite the growing popularity of smartphones and tablets, there still exists a market for innovative pens that serve more than the purpose of writing. The introduction of multifunctional writing instruments with enhanced features, such as pens with tablets and smartphone-optimized pens, is driving the growth of the global market.
Digital pens have features such as time-based and patient-specific reminders, in addition to handwriting recognition, data interpretation and decision support, and audio recording features. Moreover, this technique allows data storage and data sharing, in addition to data transformation into audio-based text. Such technology requires regular charging of the battery and computer access to archive information about the pen on a regular basis, depending on the storage capacity of the pen. A digital pen integrated with sensors can detect the signs of Parkinson's disease and dementia more accurately and quickly compared to traditional techniques.
Growth Opportunity
Significant advancements in terms of product development and technology integration have been witnessed in the advanced economies of North America and Europe in recent years. Whereas, the industry is still in its nascent stage in the developing countries of APAC, Latin America, and the Middle East and Africa (MEA). To close the demand–supply gap, leading manufacturers in emerging economies are launching consumer electronics enabled by this approach.
Digital Pen Market Report Coverage

| | |
| --- | --- |
| Report Attribute | Details |
| Historical Years | 2017-2022 |
| Forecast Years | 2023-2030 |
| Market Size in 2022 | USD 2,311 Million |
| Revenue Forecast in 2030 | USD 6,410 Million |
| Growth Rate | 13.6% CAGR |
| Report Scope | Market Trends, Drivers, and Restraints; Revenue Estimation and Forecast; Segmentation Analysis; Impact of COVID-19; Companies' Strategic Developments; Market Share Analysis of Key Players; Company Profiling |
| Segments Covered | By Compatibility; By Technology; By Application; By Platform Type; By End User; By Region |
Explore more about this report - Request free sample pages
North America Held Largest Share
The North American market held the largest revenue share, of 38%, in the global digital pen market. The growing usage of digital pens in the education and healthcare sectors is supporting their industry growth in the region. Between 2020 and 2030, the employment in healthcare occupations is expected to grow by at least 16%. In addition, the increasing usage of smart devices, advancements in digital technology, and high per capita income are backing the growth of the market. The U.S. is ranked sixth globally and first in North and Central America for IT innovation and forth for technical knowledge.
The growth of the American education business has been accelerating. This technique makes it simpler for students to take notes and share them in digital format. The interface is now interactive due to the rise of digital textbooks and notes. To improve the educational environment, many schools in the U.S. and Canada are using the e-exam and e-notes system, which is subsequently driving the market growth.
Moreover, the penetration rate of tablets is increasing across different European countries, as tablets continue to replace traditional PCs. The tablet penetration rate among users is estimated to be more than 50% in the U.K. Hence, the rising usage of tablets is expected to increase the demand for digital pens for the digitization of texts and figures.
Furthermore, Western Europe has been identified as one of the most lucrative sectors for digital pens owing to its growing demand among tablet users and healthcare professionals. Moreover, the growing education sector and increasing adoption of electronic learning tools in the region have fueled the demand for digital devices, such as electronic pens, tablets, and laptops.
Moreover, APAC is expected to grow fastest with the highest CAGR during the forecast period. This owing to the increasing penetration of the internet and the growth in the number of consumer electronics users in countries, such as China and India. The improving healthcare infrastructure is resulting in the increasing demand for digital health technologies. Moreover, surging investments by electronic device manufacturing companies are contributing to the broadening of the industry. This can also be attributed to the low manufacturing cost and easy availability of skilled manpower in developing countries.
In addition, the growing application of this technology has been observed in some countries of the rest of the world. For example, in Brazil, digital pens are used in various sectors, such as industrial, education, healthcare, and security. Additionally, the increasing investments in R&D of new functionalities of digital pens are further propelling the growth of the digital pen industry in the region.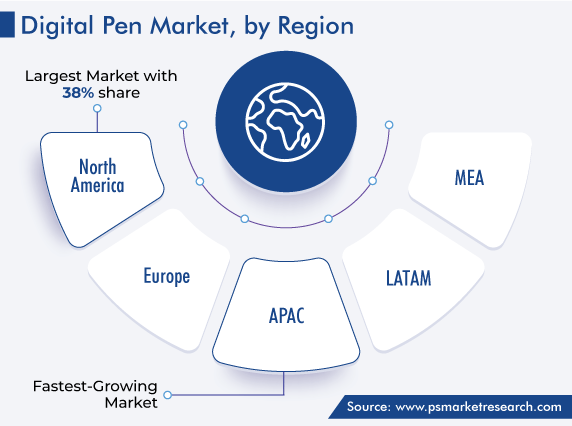 Top Digital Pen Manufacturers Are:
Apple Inc.
HP Inc.
Microsoft Corporation
Anoto group AB
Wacom Co. Ltd.
Toshiba Corporation
STAEDTLER Mars GmbH & Co. KG
Hanwang Technology Co. Ltd.
NeoLAB Convergence
Market Size Breakdown by Segment
The report analyzes the impact of the major drivers and restraints on the digital pen market, to offer accurate market estimations for 2017–2030.
Based on Compatibility
Based on Technology
Active Digital Pen
Camera-Based Digital Pen
Accelerometer-Based Digital Pen
Positional Digital Pen
Trackball-Based Digital Pen
Based on Application
Clinical Documentation
Education
Billing & Back Office
Communication
Based on Platform Type
Based on End User
Healthcare
BFSI
Manufacturing
Government
IT & Telecom
Geographical Analysis
North America
Europe

U.K.
Germany
France
Italy
Spain

Asia-Pacific

China
Japan
Australia
India
South Korea

Latin America
Middle East & Africa

Saudi Arabia
South Africa