Market Overview
The global digital identity solutions market revenue is USD 33,874.9 million (estimated) in 2023, which is expected to reach USD 117,416.1 million by 2030, growing at a CAGR of 19.6% during 2024–2030.
The biggest driver of the market is a rise in the number of cybercrime and fraudulent activities in the BFSI and healthcare. Further, ID wallets have undergone significant technological developments and a massive surge in their usage in the recent past. Additionally, AL, ML, and blockchain are being used to enhance the authentication capabilities of digital identity solutions.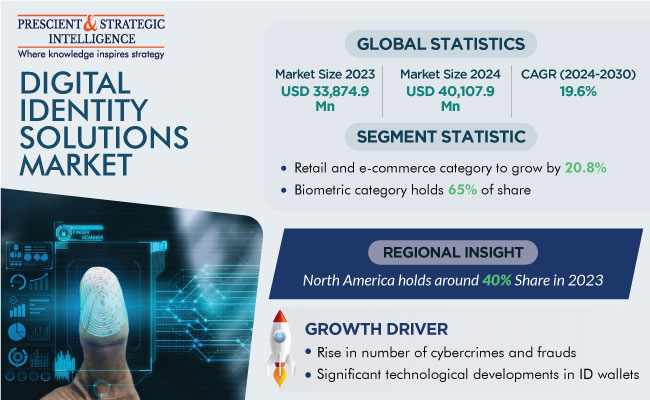 A digital identity contains the attributes and data needed to ascertain the identity of a person online. Users' names, birthdates, addresses, and other contact details are used to identify them. Based on the requirement and criticality of the application, more-foolproof information, such as fingerprints and iris scans, employment history, and social media profiles, can also be stored in a digital identity wallet.
These solutions help create trust and authenticate individuals during digital interactions. Apart from helping entities and online platforms confirm users' identities, these solutions secure transactions and protect users against unauthorized access and fraud. IAM solutions are used to create, maintain, and use these electronic personal details in multiple applications and on various kinds of hardware.
Moreover, with single sign-on (SSO) solutions, users authenticate themselves once, following which they get access to all the allowed applications and services without confirming their identities repeatedly. Such solutions allow identity details to be shared securely between organizations, which gives users access to services offered by numerous organizations with just one set of credentials.
Further, biometric authentication solutions use fingerprints, iris scans, facial features, and other biological traits to authenticate the identity of citizens, employees, and customers. This particular solution provides a high level of security and is, thus, used in unlocking smartphones or entering secure facilities. Two- and multi-factor authentication solutions require multiple forms of information from users to ascertain who they are. These forms can be a combination of passwords or something the user has, such as a smartphone or biometric data. Digital certificates have entities' identity information and are digitally signed by certificate authorities. Whenever a digital certificate is presented, the receiver can cross-check the certificate as being genuine by seeing a digital signature using a public key.
Surging Cybersecurity Threats and Growing Rate of Digital Transformation
The main drivers for the market for digital solutions are the increasing threat of cybersecurity threats due to the rampant digital transformation. The surging frequency and advancing techniques of cyberattacks, such as data breaches, identity thefts, and online frauds, create a necessary demand for strong security solutions. Organizations globally want robust authentication mechanisms and identity management systems in order to reduce the risks linked with unauthorized access and identity-related attacks. The prevailing digital transformation trend across industries is enhancing the need for such solutions. With more organizations and individuals engaging in digital interactions, the demand for secure and reliable user verification becomes important.
Moreover, with the increasing incidence of cyberattacks and frauds, governments and regulatory bodies globally are imposing strict regulations for identity verification, data protection, and user privacy. Additionally, there has been a growing popularity of new ID wallet solutions as the count of digital identification schemes is surging globally. They are protected mobile apps with the capability to store digitalized and encrypted forms of user documents. They can store government IDs, driver's licenses, vehicle registration certificates, healthcare details, and many important documents. Their greatest advantage is that individuals can have a single and safe backup for all their details.
Further, since the pandemic, there has been a tremendous change in working environments. Companies are depending majorly on work from home activities, thus creating a good scope for the players in the digital identity solutions market. The WFH model leads to the need to create a digital identity per employee. As company data is sensitive, it is important to decide who can access it, where multi-factor authentication becomes important.
Additionally, user experience has always been of paramount importance for businesses and government organizations as a way to gain and retain customers. These solutions enhance user convenience by making login processes simple and eliminating the need for multiple credentials. This is crucial in providing a seamless and secure user experience, in order to guarantee customer satisfaction and loyalty. The advancements in biometric technologies, such as fingerprint recognition, facial recognition, and iris scanning, are fueling the market advance.
Digital Identity Solutions Market Report Coverage

| | |
| --- | --- |
| Report Attribute | Details |
| Market Size in 2023 | USD 33,874.9 Million |
| Market Size in 2024 | USD 40,107.9 Million |
| Revenue Forecast in 2030 | USD 117,416.1 Million |
| Growth Rate | 19.6% CAGR |
| Historical Years | 2017-2023 |
| Forecast Years | 2024-2030 |
| Report Scope | Market Trends, Drivers, and Restraints; Revenue Estimation and Forecast; Segmentation Analysis; Impact of COVID-19; Companies' Strategic Developments; Market Share Analysis of Key Players; Company Profiling |
| Segments Covered | By Offering; By Solution Type; By Identity Type; By Organization Size; By Verticals; By Region |
Explore more about this report - Request free sample pages
Solutions Category Dominated the Market
In the offering segment, the solutions category accounts for a share of 75%, and it is expected to grow at a significant rate during the prediction period.
These solutions include different kinds of software that facilitate the management, authentication, and verification of digital identities, including SSO platforms, IAM systems, decentralized identity frameworks, and biometric technologies. They offer private and government entities with complete control over and security of their digital identity infrastructure.
Identity verification solutions are the most popular of all, owing to the increasing volume of online payments, which are mandated to proceed only following user authentication. The fast growth in the usage of e-commerce, digital banking, and other online services has led to a massive increase in the volume of online transactions. Organizations most importantly need to verify the identities of customers to prevent frauds, reduce risks, and align their operations with the regulations. Moreover, the increasing occurrence of data breaches, identity thefts, and other cybercrimes has heightened the awareness of user verification.
Further, technological innovations have led to the emergence of more-organized and accurate identity verification solutions. AI algorithms, machine learning models, and biometric technologies have enhanced the accuracy and speed of these processes, which, in turn, is contributing to the market growth.
Biometric Category Holds Larger Market Share
Under the identity type segment, the biometric category accounts for the largest market share, of 65%, a trend that will sustain throughout this decade.
This is owing to the exceptional security provided by biometric parameters of individuals. Initially, passwords were used to a large extent for identity verification, but they are prone to be forgotten, shared, or hacked. Biometrics are unique to each person and cannot be easily imitated. They are also more convenient as capturing them is faster and easier than typing a password. For instance, the face unlock feature in devices let users access phones faster than when using a password. Fingerprint scanners are also widely used in smartphones and offices, as well to record attendance. Moreover, iris scanning is the most-secure form of biometric authentication, which is why it is used by governments to access secure facilities and sensitive locations.
Additionally, these solutions can be scaled to a great number of users, without hindering security. People are becoming more comfortable with these authentications as the usage of biometrics surges in smartphones and businesses. The dominance of the biometrics category will be maintained with the burgeoning demand for secure and convenient authentication solutions.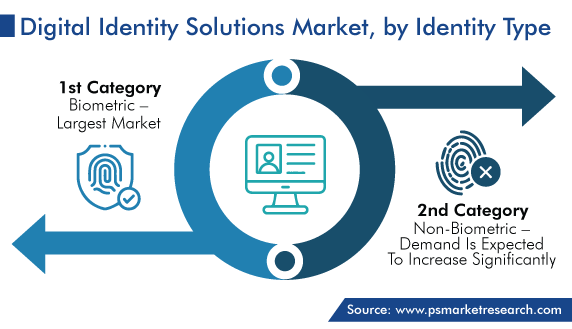 North America Dominates Market
North America generates around 40% of the digital identity solutions market revenue, and it is expected to remain the largest market in the years to come.
The region is home to a large number of major market players, which focus strongly on innovation, to cater to the rising demand for advanced and highly secure digital identity solutions. Additionally, the developed IT infrastructure allows businesses and individuals to use DISs to protect their data and assets. Their adoption in the region is also driven by a growing count of identity thefts, which has impelled governments to enact robust regulations on the creation, maintenance, storage, usage, and authentication of digital identities.
Moreover, the rising necessity of technologically advanced user authentication solutions to improve security and compliance drives investments in this domain. The growing mobile device penetration is another key driver for the market in this region because of the increasing usage of an array of security features in smartphones, such as multi-factor authentication and biometric authentication.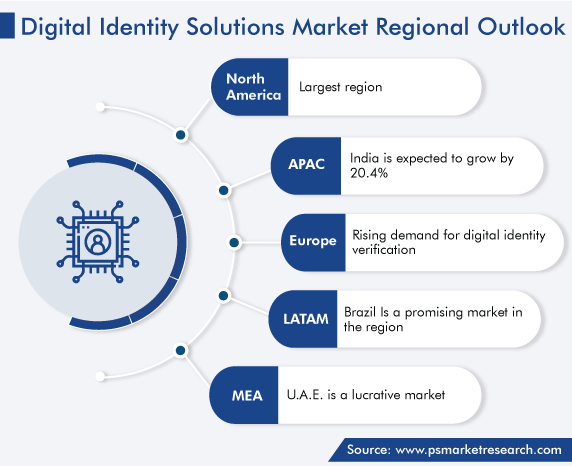 Top Companies Providing Digital Identity Solutions Are:
ImageWare Systems Inc.
ForgeRock Inc.
Daon Inc.
Tessi
Jumio
iProov
Samsung SDS
Thales Group
Vintegris S.L.U.
Refinitiv Limited and Refinitiv US LLC
NEC Corporation
Market Size Breakdown by Segment
This fully customizable report gives a detailed analysis of the market from 2017 to 2030, based on all the relevant segments and geographies.
Based on Offering
Solutions
Hardware
Software
Based on Solution Type
Identity Verification
Authentication
Single-Factor Authentication
Multi-Factor Authentication
Based on Identity Type
Based on Organization Type
Based on Vertical
BFSI
Retail and eCommerce
Government and Defense
Healthcare
IT and ITeS
Telecommunications
Energy and Utilities
Geographical Analysis
North America
Europe

U.K.
Germany
France
Italy
Spain

Asia-Pacific

China
Japan
Australia
India
South Korea

Latin America
Middle East & Africa

Saudi Arabia
South Africa
U.A.E.