Market Overview
The global digital biomarkers market size in 2021 was $1,850.8 million, and it is expected to advance at a CAGR of 31.6% during 2021–2030, to reach $21,986.2 million by 2030. The high prevalence of chronic diseases, as well as the technological improvements in digital healthcare systems, is driving the market expansion. During the COVID-19 pandemic, the integration of AI in wearable devices, emergence of mHealth apps, and growth in the trend of remote patient monitoring and telemedicine devices all contributed to the growth of the market.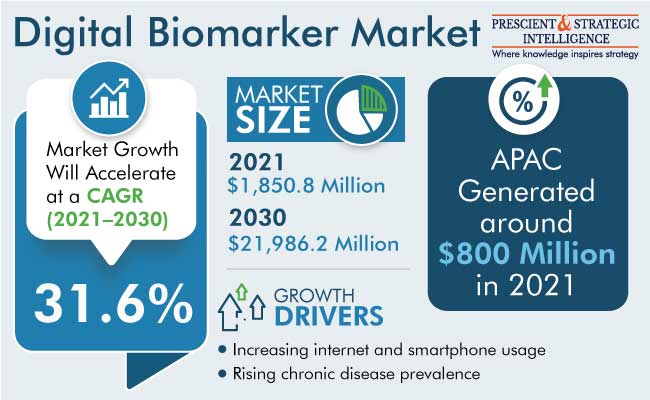 Digital Biomarkers: The Future of Precision Medicine
Digital biomarkers are the foundation of precision medicine because they provide concrete evidence of patient outcomes. In addition, the healthcare system is evolving toward a value-based delivery paradigm, which has spurred the development of innovative technologies, such as digital biomarkers. The primary goal of developing such technology is to improve tailored care delivery through a better analysis of patients' healthcare information.
Wearables Are Widely Used as Data Collection Tools
The data collection tool category accounted more than 90% share in 2021. These tools aid in data gathering and the extraction of novel digital biomarkers that are more precise, patient-centric, clinically useful, and more objective than those extracted via conventional research approaches, such as subjective rating scales and patient diaries.
Wearables, which include fitness bands and smartwatches, accounted for the largest share in 2021 in the data collection category. Wearables by ActiGraph, Fitbit, Garmin, and a variety of other brands have been used successfully in clinical studies spanning several fields of medicine, such as oncology, cardiovascular diseases, diabetes, rehabilitation, and mental health, to assess step count, activity intensity, heart rate, sleep-related outcomes, blood oxygen level, and sweating intensity.
Wearable devices are increasingly being employed as a key data source to develop highly personalized and adaptable patient treatment plans, thus allowing for the implementation of prompt therapeutic interventions based on minor changes in health patterns.
Digital Biomarkers Market Report Coverage

| | |
| --- | --- |
| Report Attribute | Details |
| Historical Years | 2017-2021 |
| Forecast Years | 2022-2030 |
| Market Size in 2021 | $1,850.8 Million |
| Revenue Forecast in 2030 | $21,986.2 Million |
| Growth Rate | 31.6% CAGR |
| Report Scope | Market Trends, Drivers, and Restraints; Revenue Estimation and Forecast; Segmentation Analysis; Impact of COVID-19; Companies' Strategic Developments; Company Profiling |
| Segments Covered | By Component; By Type; By Application; By End User; By Region |
Explore more about this report - Request free sample pages
Digital Biomarkers Are Being Used to Prevent Cardiovascular Diseases
The cardiovascular application has significantly grown in terms of revenue, holding a market share of more than 20% in 2021. This is simply due to a rise in the prevalence of cardiovascular disorders in the global population. According to a government source, they account for around 32% of the global mortality, with 17.9 million people dying each year.
The rising prevalence of cardiovascular illnesses as a result of numerous causes, such as high tobacco consumption, bad eating habits, and excessive alcoholism, is likely to fuel the expansion of this category in the future. Digital biomarkers capture patient data and improve patient care and treatment outcomes.
In the same way, because of the expanding prevalence of cognitive and behavioral problems, as well as the growing pace of technological improvements in the digital biomarker environment, psychiatric disorders (mood and behavior) have seen an accelerated expansion in the usage of this concept. Thus, this category is expected to register a CAGR of more than 30% during the forecast period.
Mood disorders affect the entirety of the world's population, thus resulting in a massive functional and economic burden. As a result, it is critical to diagnose and monitor mood and behavioral symptoms at an early stage, in order to detect clinical deterioration in a timely manner. Current psychiatric assessment approaches are time-consuming and resource-intensive and require a trained clinician to evaluate various parameters.
In this regard, digital biomarkers can greatly facilitate a scalable, time-sensitive, and cost-effective assessment of mood and behavior. For this purpose, measurements can be taken with the help of actigraphy (a technique that collects the user's gross activity level), which can be useful in detecting mood-related disorders, because these disorders are frequently characterized by a significant increase or decrease in energy levels, in addition to behavioral symptoms.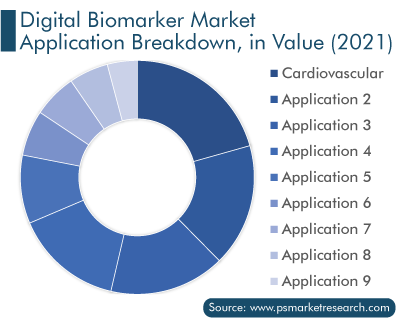 APAC Is Largest Contributor to Market
APAC dominated the market in 2021, in terms of revenue, and it is expected to sustain its dominance during the forecast period. In recent years, the increasing government spending on the development of advanced healthcare infrastructure has significantly boosted the adoption of digital biomarkers in the APAC region. The proliferation of digital technologies and their increasing adoption in the APAC healthcare sector are essentially driving the market growth. Furthermore, the presence of a large population, rising prevalence of chronic diseases, and rampant aging are expected to exponentially increase the demand for digital biomarkers in the near future.
The market in China is rapidly expanding as a result of the increasing acceptance of mobile phones, internet connectivity, and digital health technologies, which have opened up new pathways for improving non-transmissible disease care delivery and population health management. Furthermore, mental health problems are widespread in China, and the country's mental health facilities lack the resources to provide high-quality care to those in need. Thus, aided by the growing Chinese economy and the rapidly rising adoption of digital health technologies, the digital mental health approach provides an effective solution to this shortage.
In addition, with the rapid development of the internet technology, the parental influence in mHealth to consult with medical professionals appears to be widespread in China. More parents with hectic schedules are turning to mHealth, and, as a result, healthcare professionals are increasingly advising their patients to use digital health technologies or mobile health apps to track their children's vital signs effectively. Chinese patients are also more likely to act on their own health information.
North America is the most-lucrative region in the digital biomarkers market. The growing healthcare spending, combined with the rising consumer demand for efficient, effective, and advanced solutions, is assisting in the market's development. Moreover, the high adoption of digital technologies in North America has significantly fueled the market growth in recent years, and it is expected to continue to do so throughout the forecast period.
The adoption of this concept in Europe is also growing at a steady pace, on account of the rising healthcare IT expenditure, high awareness of advanced technological solutions and the readiness to adopt them, favorable government initiatives, emergence of startups, growing smartphone penetration, lucrative funding options, and advancements in internet technology. Furthermore, globalization, the growing geriatric population, increasing incidence of chronic disorders, changing lifestyles, and rising demand for value-based care are driving the European digital biomarkers market growth.
Moreover, governments in LATAM and MEA have launched a number of digital health initiatives, including educational projects and training programs, aimed at increasing the pool of digital healthcare resources and boosting the adoption of this approach among the populace.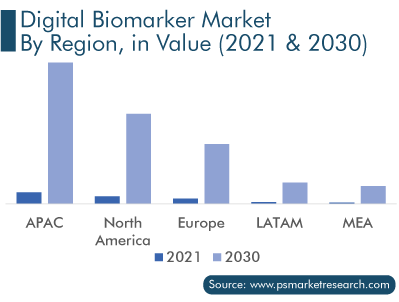 Market Players' Recent Strategic Activities
The rapid market expansion is attributed to a number of healthcare services, including mHealth, remote patient management, enhanced diagnostics, and digitally integrated health systems. Market participants have been compelled to establish novel product development methods as a result of the expanding trend of digitalization in healthcare systems. They are also concentrating on collaboration and partnership strategies, product portfolio enhancements, and business expansion. For instance,
In February 2022, Altoida Inc., an AI company that primarily focuses on neurodegenerative disease diagnostics, signed two partnerships, with GN Group and Click Therapeutics. These partnerships will help the company expand its neurological solutions portfolio, especially for mild cognitive impairment.
In February 2022, Withings Inc. purchased the 8fit and Impeto Medical businesses to expand its range of mHealth apps.
Top Players in Digital Biomarkers Market Are:
ActiGraph LLC
AliveCor Inc.
Amgen Inc.
BIOGEN INC.
AiCure LLC
Akili Interactive Labs Inc.
Cambridge Cognition Limited
Dassault Systèmes
IXICO plc
Quanterix Corporation
Digital Biomarkers Market Size Breakdown by Segment
The study offers a comprehensive market segmentation analysis along with market estimation for the period 2017-2030.
Based on Component
Data Collection Tools

Wearables
Implantables
Mobile apps

Data Integration Software
Based on Type
Clinical Trials
Clinical Settings
Based on Application
Gastrointestinal Diseases
Sleep & Movement Disorders
Cardiovascular Diseases
Psychiatric Disorders
Chronic Pain
Neurodegenerative Diseases
Diabetes
Respiratory Diseases
Based on End User
Biopharmaceutical Companies
Payers
Providers
Geographical Analysis
North America
Europe

Germany
U.K.
France
Italy
Spain

Asia-Pacific

Japan
China
India
South Korea
Australia

Latin America
Middle East and Africa

Saudi Arabia
South Africa
U.A.E.