Market Overview
The global automated external defibrillator market size was $1,677.3 million in 2021, and it is expected to reach $3,520.5 million by 2030, with a CAGR of 8.6% during 2021–2030. The advancements in the AED technology, increasing number of strategic developments among key players, and rising incidence of cardiac diseases are the major factors driving the growth of the market. For instance, ZOLL Medical Corporation's LifeVest is a lightweight defibrillator that can be worn by patients who are at a risk of sudden cardiac arrest (SCA).
LifeVest continuously monitors the patient's heart, and in case of the detection of an abnormal heart rhythm, delivers a shock to restore the normal heart rhythm. Unlike conventional counterparts, modern implantable cardioverter defibrillators (ICDs) have eliminated the need for implanting a separate pacemaker in patients. Such advancements in technology have positively impacted the growth of the market.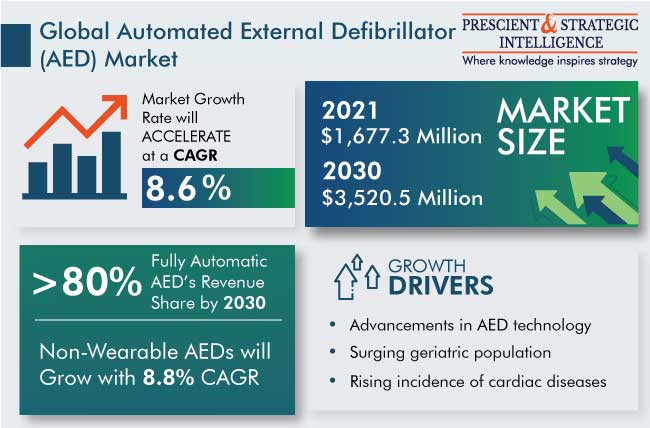 Moreover, the increasing population of elderly people is another factor driving the market. According to the United Nations Department of Economic and Social Affairs, there were around 727 million persons aged 65 years or above all over the world in 2020, and this number is projected to double by 2050, reaching more than 1.5 billion. The share of the older population is expected to increase from 9.3% in 2020 to 16.0% by 2050. With the increase in age, people tend to become susceptible to chronic diseases, majorly CVDs.
Moreover, the growing focus on the installation of AEDs in public places is playing a pivotal role in the growth of the market. With the surging awareness about the life-saving potential of the device, its installation is increasing in public places, such as railway stations, schools and colleges, shopping centers, airports, malls, and leisure centers. These devices are also known as public access defibrillators (PADs) as they can be used by anyone during an emergency. Several countries are taking initiatives to install PADs in public settings, in light of the growing number of SCA cases. For instance,
In November 2021, the U.K. government passed the Automated External Defibrillators (Public Access) bill, which would ensure the installation of AEDs in public buildings, such as sports facilities and educational institutions.
Moreover, Coles Group, an Australian retailer, partnered with the Heart Foundation in June 2019 to install AEDs in all of its supermarkets across Australia, to provide rapid aid to customers and team members suffering from SCA.
Additionally, several government initiatives are in force for providing adequate training on AEDs. For example, Springfield LifeSave is a joint initiative by the American Red Cross (ARC), the American Heart Association (AHA), Ozarks Technical Community College, the Safety Council of the Ozarks, and CoxHealth. It focuses on imparting training to 45,000 people about compression-only CPR, doubling the number of AEDs in the community, and raising awareness about SCA.
AEDs Used on Adults Remain in Highest Demand
In 2021, AEDs used on adult patients accounted for the majority of the revenue share, of 95.6%, in the automated external defibrillator market. This is attributed to the more-rapidly increasing number of adult patients in comparison to pediatric patients all over the world. For instance, as per the World Bank, there were around 75 million adult patients (in the age group of 15 years and over) and 25 million pediatric patients (in the age group of 0–14 years) all over the world. Moreover, according to the WHO (2021), around 30% of all global deaths occur due to CVDs, which account for 17.9 million lives lost each year.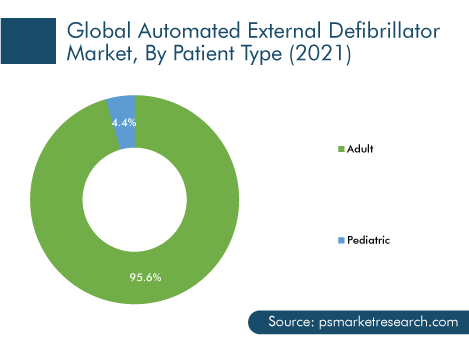 Fully Automatic AEDs Highly Preferred for SCA
By 2030, fully automatic devices are expected to generate more than 80% revenue in the market. This bifurcation is also expected to grow with the higher CAGR during the forecast period. The growth of this category is driven by the ease of using fully automatic AEDs over semi-automatic devices. Moreover, the fully automatic devices are designed to reduce the extended delays associated with pushing the shock button in a semi-automatic device.
Non-Wearable AEDs Are Expected To Flourish with Higher Growth Rate
The market for non-wearable AEDs is projected to grow with a CAGR of 8.8% during the forecast period. Non-wearable devices have reported an increase in their demand due to their portable nature and ease of use. Moreover, the increasing number of SCA cases and sustained push by governments and NGOs for installing AEDs in public spaces are increasing the demand for such non-wearable devices.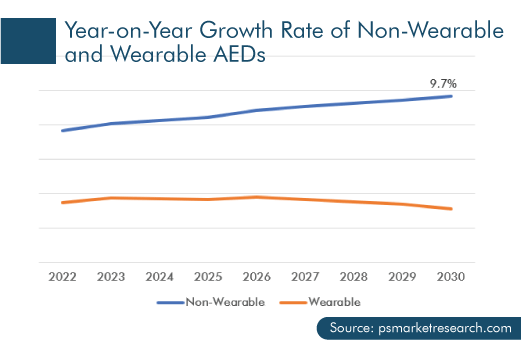 Demand for AEDs is Highest among Pre-Hospital Care and Emergency Medical Service (EMS) Providers
Pre-hospital care and EMS providers are expected to continue holding the largest share in the market in the coming years. The rising incidence of SCA and mandated availability of these devices at all pre-hospital-care and emergency settings are the key factors increasing the demand for these systems.
Automated External Defibrillator Market Report Coverage
| Report Attribute | Details |
| --- | --- |
| Historical Years | 2017–2021 |
| Forecast Years | 2022–2030 |
| Market Size in 2021 | $1,677.3 Million (Estimated) |
| Revenue Forecast in 2030 | $3,520.5 Million |
| Growth Rate | 8.6% CAGR |
| Report Scope | Market Trends, Drivers, and Restraints; Revenue Estimation and Forecast; Segmentation Analysis; Country Breakdown; Impact of COVID-19; Companies' Strategic Developments; Company Profiling |
| Segments Covered | By Type; By Technology; By Patient Type; By End User; By Region |
| Countries Covered | U.S.; Canada; Germany; France; U.K.; Italy; Spain; Russia; Netherlands; Switzerland; Belgium; Sweden; Poland; Ireland Japan; China; India; Australia; South Korea; Singapore; Thailand; Brazil; Mexico; Saudi Arabia; South Africa |
Driven by Government Support, North America Leads Global Automated External Defibrillator Market
North America was the largest market for AEDs during the historical period and accounted for around 60% share in the global market in 2021. This is mainly attributed to the improved healthcare infrastructure, presence of established players, and surge in the geriatric population in the region. Besides, the rising prevalence of CVDs and increasing number of AED installations have contributed to the market growth in North America.
Moreover, the U.S. government spends a significant portion of its GDP on healthcare every year. According to the National Health Expenditure Accounts (NHEA), the country's healthcare spending increased by 9.7% (around $4.1 trillion) in 2020 compared to 4.3% in 2019. Besides, conferences, national programs, and other government initiatives for creating awareness on CVDs are expected to positively impact the market in the North American region. For instance, the 28th International Congress on Cardiology and Medical Interventions took place on October 30–31, 2020, in Vancouver, Canada.
Market Players Are Introducing New Products and Involving in Acquisitions to Gain Competitive Edge
Acquisitions and product launches are among the strongest strategic developments in the automated external defibrillator market. For instance,
In February 2021, Koninklijke Philips N.V. completed the acquisition of BioTelemetry Inc., a U.S.-based provider of remote cardiac diagnostics and monitoring solutions. This acquisition would transform the delivery of care along the health continuum, with integrated solutions.
In July 2020, Koninklijke Philips N.V. launched its remote monitoring and defibrillation solution (Tempus ALS) for pre-hospital settings in the U.S. It is an end-to-end system that expands the pre-hospital scope of care.
Key Players in Global Automated External Defibrillator Market Are:
Koninklijke Philips N.V.
BIOTRONIK SE & Co. KG
Nihon Kohden Corporation
SCHILLER AG
Stryker Corporation
Shenzhen Mindray Bio-Medical Electronics Co. Ltd.
ZOLL Medical Corporation
Mediana Co. Ltd.
CU Medical System Inc.
Market Size Breakdown by Segment
The global automated external defibrillator market report offers comprehensive market segmentation analysis along with market estimation for the period 2017–2030.
Based on Type
Based on Technology
Semi-Automatic
Fully Automatic
Based on Patient Type
Based on End User
Hospitals, Clinics, and Cardiac Centers
Pre-Hospital Care and Emergency Medical Service (EMS) Providers
Public Access Settings
Homecare Settings
Geographical Analysis
Europe

Germany
France
Italy
Spain
U.K.
Russia
Netherlands
Belgium
Ireland
Sweden
Switzerland
Poland

Asia-Pacific (APAC)

China
Japan
India
Australia
South Korea
Singapore
Thailand

Latin America (LATAM)
Middle East and Africa (MEA)

Saudi Arabia
South Africa