Market Overview
The construction lubricants market generated revenue of USD 8,812.8 million in 2022, which will reach USD 11,940.9 million by 2030, advancing at 3.9% CAGR between 2023 and 2030. The market is advancing due to an increase in the adoption of process automation solutions in the construction industry and the gradual expansion in the demand for construction equipment. Additionally, the usage of e-commerce to expand customer reach and the creation of zinc-free lubricants would drive the market.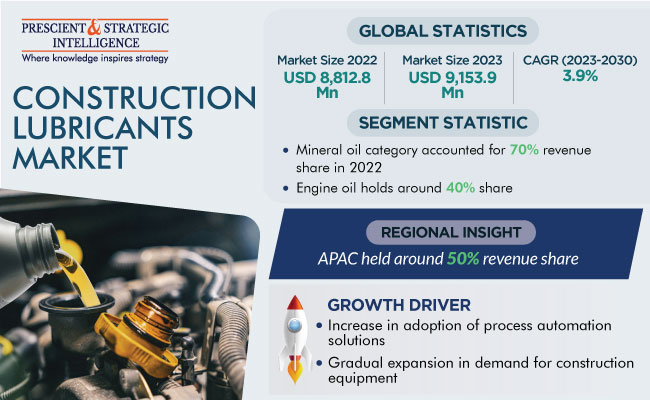 Moreover, the increasing need for cost savings and worker and equipment safety in the construction sector leads to heavy investments in automated and more-reliable equipment. Moreover, minimizing downtime is important for timely project completion and making a profit. The lifespan of the machinery can be increased and the need for maintenance and repairs decreased with proper lubrication.
Additionally, the productivity and efficiency of the equipment are becoming increasingly important for infrastructure and real estate organizations. By reducing wear and tear, minimizing friction, and improving equipment performance, lubricants play an important role in the delivery of projects on time. In addition to this, companies are becoming more aware of the significance of high-quality lubricants in completing these goals as they struggle for increased operational efficiency.
Advancements in Construction Lubrication Key Driving Factor for the Market
Certain technical developments in the construction industry result in higher lubricant consumption. Chemical companies will adjust by creating specialized lubricants, such as wire lope lubricants, tunnel boring machine lubricants, and thread sealants, that address the changing requirements of compact machines and provide improved performance, durability, and sustainability, as the construction industry continues to expand and adopt new technology.
Growing Adoption of Automation in the Construction Industry
As the automation level in construction continues to advance, the mechanical components of related equipment will be subjected to constant motion and increased loads, emphasizing the crucial need for robust lubrication. Additionally, due to the rising labor costs and stringency of safety regulations, the number of humans at construction sites is being reduced with the usage of automated construction equipment, thus driving the consumption of lubricants on a daily basis.
Technologies that increase lubrication efficiency and reduce the need for manual interventions include centralized lubrication systems, autonomous lubrication systems, and real-time monitoring of lubrication status. Lubricating agents designed for automated construction processes use these optimized systems, which will contribute to the market growth during the forecast period.
Moreover, real estate companies are using equipment with more-elaborate mechanics and precise parts, thus creating a demand for lubricants that can withstand heavy loads and chilling temperatures and offer outstanding resistance to wear and friction. Therefore, since the efficient operation of complex construction machines depends critically on lubricants, the market will continue to advance.
Construction Lubricants Market Report Coverage

| | |
| --- | --- |
| Report Attribute | Details |
| Historical Years | 2017-2022 |
| Forecast Years | 2023-2030 |
| Market Size in 2022 | USD 8,812.8 Million |
| Market Size in 2023 | USD 9,153.9 Million |
| Revenue Forecast in 2030 | USD 11,940.9 Million |
| Growth Rate | 3.9% CAGR |
| Report Scope | Market Trends, Drivers, and Restraints; Revenue Estimation and Forecast; Segmentation Analysis; Companies' Strategic Developments; Market Share Analysis of Key Players; Company Profiling |
| Segments Covered | By Base Oil; By Type; By Equipment; By Region |
Explore more about this report - Request free sample pages
Mineral Oil Category Holds Larger Share in Market
Based on base oil, the mineral oil category accounted for the larger share, of 70%, in the construction lubricants market in 2022, and it will further maintain its dominance in the future. This is due to the low cost and wide accessibility of lubricating agents made from mineral oils. In construction equipment, many types of lubricants are used, such as hydraulic fluids and gear oils, most of which contain mineral oils.
Owing to their superior performance attributes, such as stronger oxidative stability, increased viscosity index, and higher flash points, the usage of mineral oils as the base oil in construction lubricants is predicted to expand in the coming years. Mineral oils also offer superior protection against wear and tear.
Therefore, numerous pieces of construction machinery, such as excavators, bulldozers, cranes, and loaders, are lubricated with mineral oils. Moreover, these raw materials are adaptable to various building applications since they can be customized to specific viscosity and additive requirements. They can be applied to a variety of construction machinery components, such as bearings, gearboxes, hydraulic systems, and engines.
Minerals oils remain favored in the construction lubricants market due to their affordability, availability, and versatility, despite the recent rise in the demand for other oils. They also have high lubricating qualities, and they can effectively guard against friction, corrosion, and damage that occurs on equipment surfaces, thus resulting in uninterrupted operations. However, they are derived from non-renewable fossil fuels and thus, have a significant environmental impact.
In contrast, alternative lubricants and oils, such as bio-based or synthetic oils, are now being preferred for their reduced carbon emissions, renewable sourcing, and improved environmental performance. These alternatives can still provide excellent protection against wear and tear, improve the energy efficiency of machinery, and minimize the overall environmental effects associated with construction
Hydraulic Fluid Expected to Grow Fastest
Based on type, the hydraulic fluid category is expected to grow fastest in the future. This is owing to the surge in construction activities, where hydraulic fluids are heavily utilized in excavators, loaders, and bulldozers. In these machines, the job of hydraulic fluids is to transfer power and regulate the movement of hydraulic cylinders.
Essentially, the expanding construction sector, rising demand for highly productive construction machinery, and developments in hydraulic technology are the key factors driving the demand for hydraulic fluids. The efficient operation and upkeep of hydraulic systems depend on these fluids. The rising need for construction equipment around the world leads to an increase in the demand for premium hydraulic fluids.
Additionally, the development of ecologically friendly hydraulic fluids due to the growing environmental consciousness will drive the market. Eco-friendly hydraulic fluids are a desirable alternative for construction organizations trying to lower their carbon footprint so they can increase sustainability and reduce the environmental effect of their operations.
Furthermore, different formulae of hydraulic fluids are available to satisfy varied requirements. They can be designed to function in harsh conditions, such as high pressures or temperatures. There are even fluids made for cold climes, such as Northern Europe, the northern part of the U.S., and much of Canada, that are fit for low-temperature uses. Hence, the adaptability of hydraulic fluids to different working conditions drives their consumption.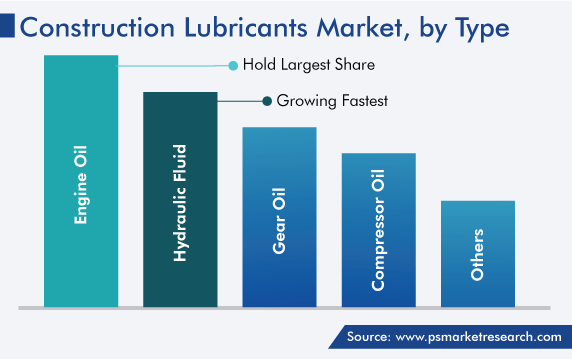 Asia-Pacific Region Held Largest Share in Market
Asia-Pacific held the largest share in the market, of around 50%, in 2022, and it is further expected to maintain its dominance during the forecast period. This is due to an increase in construction activity, with the rising investment, a growing population, and China, Japan, and India's expanding need for residential, industrial, civic, and commercial infrastructure.
The need for construction equipment and lubricants in the region is rising as a result of the growing government investments in infrastructure development projects, such as roads, railways, airports, and ports. In addition, there are plenty of construction equipment manufacturers and dealers in the region, which results in the increasing demand for lubricants.
Additionally, the market will grow as people become more aware of the advantages of using high-quality, sustainable, and environment-friendly lubricants for equipment.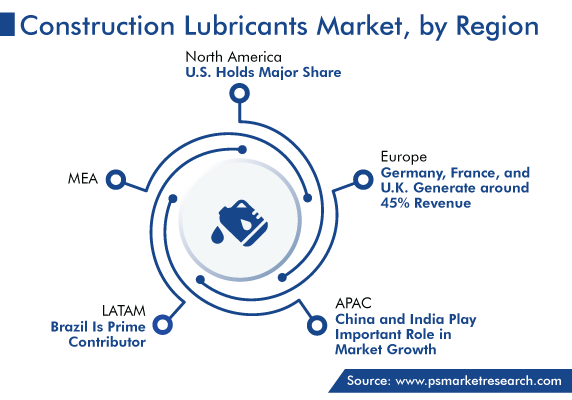 Key Construction Lubricant Manufacturers Are:
Shell PLC
Exxon Mobil Corporation
Chevron Corporation
TotalEnergies SE
BP plc
FUCHS Petrolub SE
Idemitsu Kosan Co. Ltd.
Sinopec Lubricant Company
Phillips 66 Lubricants
Valvoline Inc.
PetroChina Company Limited
Indian Oil Corporation Limited
Quaker Chemical Corporation
Lubrizol Corporation
Market Size Breakdown by Segment
The study uncovers the biggest trends and opportunities in the construction lubricants market, along with offering segmentation analysis at the granular level for the period 2017 to 2030.
Based on Base Oil
Synthetic Oil
Mineral Oil
Based on Type
Hydraulic Fluid
Engine Oil
Gear Oil
Compressor Oil
Based on Equipment
Earthmoving Equipment
Material Handling Equipment
Heavy Construction Vehicles
Geographical Analysis
North America
Europe

Germany
U.K.
France
Italy
Spain

Asia-Pacific

Japan
China
India
South Korea
Australia

Latin America
Middle East and Africa

Saudi Arabia
South Africa
U.A.E.