Market Overview
The companion animal diagnostics market size stood at USD 2,424 million in 2022, and it is expected to grow at a compound annual growth rate of 9.40% during 2022–2030, to reach USD 4,974 million by 2030. This is due to the increasing number of animals being adopted as pets globally and the surging appeal of pet owners to consider pets as family members leading to the global trend of pet parenting. In regions like North America and Europe, pets are being adopted as a companion for older people. Moreover, with the rising awareness of pets' health and the improving quality of treatments and therapies for animals, the demand for pet diagnostics is expanding at a significant rate.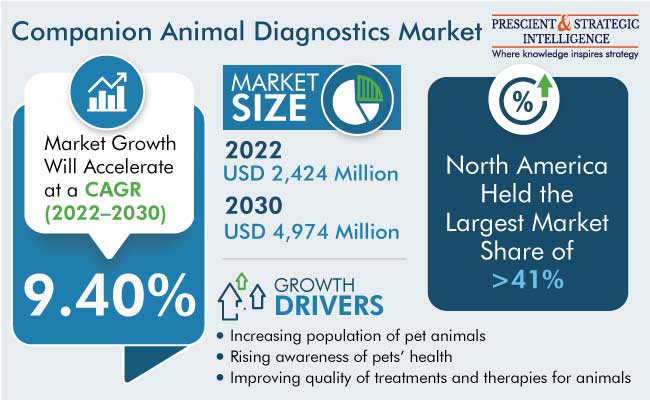 In addition, the longer lifespan of companion animals is also one of the key factors driving the market. According to the Federation of European Companion Animal Veterinary Associations, the life expectancy of pets is changing and they are living longer and healthier lives than a decade before. With aging, there is an increase in new and unique health needs. Risks of health problems like liver disease, cancer, senility, and joint disease increase with age. To counter these risks, the need for animal diagnostics is rising.
Furthermore, with the surge in the adoption of advanced technologies like big data and machine learning, and portable instruments for point-of-care (POC) services, the diagnostic records of millions of animals can be analyzed to identify the beginning of chronic illnesses and animal diagnostics is improving. Also, the rising awareness among pet owners toward their pet health has resulted in a regular diagnosis of glucose levels, thus increasing the demand for glucose monitors.
There are various organizations around the world that are working toward animal health and welfare. They are promoting and setting health standards for animals, which are to be followed. For instance, the World Organization for Animal Health (WOAH) provides guidance on a wide range of aspects related to disease prevention and control, animal welfare, and veterinary public health. It also aims to make animal health services better to deal with the existing challenges. Additionally, there are various tools that are being used by these organizations to evaluate the performance of veterinary services against the WOAH international standards. With increasing standards for animal healthcare, the demand for diagnostics is rising as well.
"One health" is also one of the approaches, which summarizes that human, animal, and plant health is interdependent and bound to improve the health of the ecosystems in which they exist. This approach guarantees control of priority zoonotic diseases such as rabies, avian flu, viral hemorrhagic fevers such as Ebola, and numerous cross-cutting issues such as antimicrobial resistance, food safety, climate change, and weak healthcare infrastructure. These can only be done with the support of proper diagnostic systems in the world. Therefore, investments in diagnostics will increase in the coming future.
Prevalence of Animal-Transmitted Diseases
Although many animals like cats and dogs are human companions for more than 10,000 years, they still can be a source of infectious diseases due to various zoonotic pathogens. There are a lot of zoonoses, which are emerging and re-emerging, such as rabies, cowpox, noroviruses, rotaviruses, and influenza, which can sicken pets and then be transmitted to humans. Cutaneous contamination with methicillin-resistant Staphylococcus aureus or aerosolization of bacteria can cause tuberculosis or kennel cough, which is also an emerging pathogen.
According to the Centers for Disease Control and Prevention, 6 out of every 10 known infectious diseases in people can be spread from animals, and 3 out of every 4 new or emerging infectious diseases in people come from animals. Due to these factors, the market for companion animal diagnostics is increasing.
Rising Animal Health Expenditure and Increasing Demand for Insurance
Pet insurance is also one of the factors due to which the diagnostics market for companion animals is increasing. With the growing animal health expenditure, pet owners are shifting toward a comprehensive insurance plan for their pets, which covers many diseases or injuries as well as surgeries, hospitalization, or death, due to illnesses. Thus, consumers prefer these types of "comprehensive" insurance plans for their pets.
According to the North American Pet Health Insurance Association (NAPHIA), the pet insurance industry in the region increased to USD 2.837 billion in 2021 from USD 2.175 billion in 2020, with a 30.5% y-o-y growth. The number of pets insured was over 4.41 million in 2021 as compared to 3.45 million in 2020, with an increase of 27.7%. Due to this increase, many players are showing their willingness to enter this market. For instance, Lemonade has launched products related to pet insurance on its website.
Companion Animal Diagnostics Market Report Coverage

| | |
| --- | --- |
| Report Attribute | Details |
| Historical Years | 2017-2022 |
| Forecast Years | 2023-2030 |
| Market Size in 2022 | USD 2,424 Million |
| Revenue Forecast in 2030 | USD 4,974 Million |
| Growth Rate | 9.40% CAGR |
| Report Scope | Market Trends, Drivers, and Restraints; Revenue Estimation and Forecast; Segmentation Analysis; Impact of COVID-19; Companies' Strategic Developments; Market Share Analysis of Key Players; Company Profiling |
| Segments Covered | By Technology; By End User; By Animal; By Application; By Region |
Explore more about this report - Request free sample pages
Clinical Biochemistry Holds the Largest Share
In the technology segment, the clinical biochemistry category accounted for the largest revenue share in 2022. Diseases and disorders that can be evaluated with the help of this technology include liver dysfunction, diabetes, renal failure, hypocalcemia or hypoglycemia, and hypoadrenocorticism or hypokalemia. The basic tests included in this method include total protein, albumin, urea, creatinine, alanine transaminase (ALT), alkaline phosphatase (ALP), glutamate dehydrogenase (GDH), gamma-glutamyl transferase (GGT), creatine kinase (CK), and aspartate transaminase (AST). These are the most important tests for evaluating old pets, diarrhea or toxin exposure, pets with vomiting, health before anesthesia, and pets receiving long-term medications.
On the other hand, the immunodiagnostics category is expected to witness the fastest growth during the forecast period. This can be ascribed to the surging adoption of diagnostic products based on immunodiagnostic technology and advanced diagnostics immunoassay tests. These tests provide higher accuracy and are highly preferred by veterinary practitioners. Also, with the increasing usage of automated immunoassay instruments, the market in this category is projected to rise significantly.
Dog Category Dominates the Industry
In the animal segment, the market is categorized into dog, cat, and others. Among these, the dog category held the largest share in 2022. This is due to the increasing population and adoption rate of dogs and the rising cases of zoonotic diseases in the world, which lead to the surging demand for veterinary visits and diagnostics for dogs. In 2023, the worldwide population of dogs is estimated to be around 900 million out of which around 470 million are pet dogs. With this huge and still increasing number, the need for diagnostics facilities for dogs will also rise, and thus, this will directly impact the industry in a positive manner.
Cat is the second-largest category in the animal type globally and the largest in Europe due to the larger number of pet cats than dogs in the region. For instance, according to the European Pet Food Industry Federation (FEDIAF), there are 113 million pet cats in Europe as compared to 92 million pet dogs.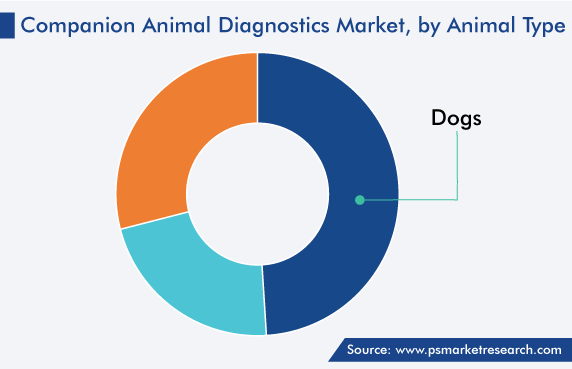 Clinical Pathology Accounts for the Largest Share
Clinical pathology is the biggest category in the application segment. This is due to the increasing cases of chronic diseases in companion animals. Clinical pathology is one of the first steps for detecting these diseases in pets. Therefore, due to the emerging and re-emerging diseases in animals, the category dominates the market and it is expected to maintain the same trend during the forecasted period as well.
For instance, according to the National Center for Biotechnology Information, the start of molecular pathology will create opportunities for pathologists not only in diagnosis but also to accurately predict and prevent diseases, and to participate in treatment, which will help the category to lead the industry in the future.
North America Leads the Industry
North America is the largest market for animal diagnostics, accounting for a revenue share of 41% in 2022, and it is also projected to witness the fastest growth in the forecasted period. This is due to the growing population of companion animals, especially in the U.S.; the surging pet insurance; and the rising health expenditure on pets in the region. For instance, according to the American Pet Products Association (APPA), in the U.S., around 70% of households owned a pet, as of 2021.
In addition, the APAC companion animal diagnostics market will also grow significantly in the coming years and provide opportunities for players, due to the rising prevalence of various zoonotic diseases, the increasing awareness about animal health, and the surging income levels. Many initiatives are being taken by governments of developing countries for fighting disease outbreaks in animals. Also, players expanding in the region are going to witness profitable gains and will strengthen their position in the industry in the long run.
Key Companion Animal Diagnostic Players Are:
Zoetis Inc
Idexx Laboratories Inc.
Heska Corporation
Thermo Fisher Scientific Inc.
Biomerieux SA
Virbac
Neogen Corporation
FUJIFILM Holdings Corporation
Indical Bioscience Gmbh
Randox Laboratories Ltd.
Innovative Diagnostics (IDVET)
Market Size Breakdown by Segment
This report offers deep insights into the companion animal diagnostics market, with size estimation for 2017 to 2030, the major drivers, restraints, trends and opportunities, and competitor analysis.
Based on Technology
Immunodiagnostics
Clinical Biochemistry
Hematology
Urinalysis
Molecular Diagnostics
Based on Animal Type
Based on Application
Clinical Pathology
Bacteriology
Virology
Parasitology
Geographical Analysis
North America
Europe

Germany
U.K.
France
Italy
Spain

Asia-Pacific

Japan
China
India
South Korea
Australia

Latin America
Middle East and Africa

Saudi Arabia
South Africa