Market Overview
The global animal healthcare market was valued at USD 40.2 billion in 2022, and the market size is predicted to reach USD 84.9 billion by 2030, advancing at a CAGR of 9.8% during 2022–2030. The market is driven by the increasing consumption of milk and meat, rising adoption of companion animals, and surging prevalence of food-borne zoonotic diseases.
In Germany, the veterinary administration and the law both protect animal health. The German government also collaborates with the veterinary authorities of other EU member states since the transmission of animal diseases across the border is a significant issue. Additionally, pet adoption in Germany has skyrocketed as a result of the pandemic, with individuals looking for methods to combat loneliness and boredom, thus driving the demand for cats, dogs, and other animals. When compared to 2019, the number of dogs adopted as pets in the nation climbed by a dramatic 20% in 2020. Overall, in 2020, the number of pets in German households has climbed by almost one million, to nearly 35 million.
The usage of IoT for animal health monitoring is one of the key trends in the market. IoT is a system of interrelated and internet-connected objects communicating over wireless networks. Nowadays, farmers are using various kinds of mobile sensors attached to the bodies of farm animals for monitoring their health, in order to increase their productivity. The sensors are integrated into the wearables to gather information about animal behavior, injuries, fertility, lactation, body temperature, sweat constituents, pH of the blood, urine, and other fluids and organs, and pathogens inside their body.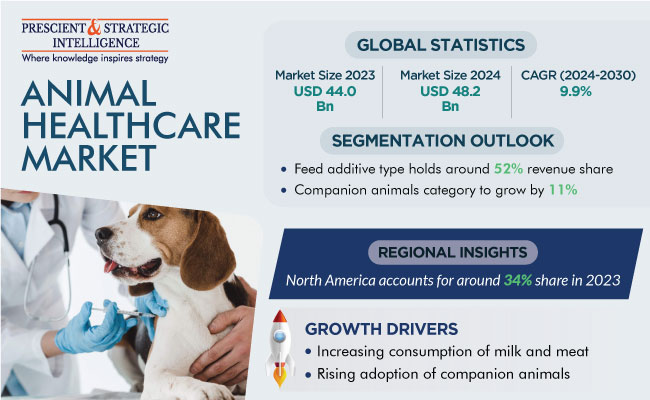 Further, sensors affixed to the bodies of farm animals help determine their exact location, hence allowing for preventing potential thefts. With the rising number of farm animals, the demand for their health monitoring is rising globally, to improve farmers' productivity and revenue. According to the Food and Agriculture Organization (FAO), livestock accounts for approximately 40% of the value of the global agricultural output.
Feed Additives Holds Significant Share
The feed additives category held around 25% revenue share in 2022. The increase in the consumption of animal-derived products, along with the rise in feed production, is the key factor driving the growth of the feed additives market.
Beef is a highly consumed meat in the U.S., averaging 67 pounds per person per year. The overall demand for animal-derived food products is expected to grow by 60% by 2050, while the production of animal proteins is expected to grow by around 1.7% per year between 2010 and 2050. Hence, the demand for feed additives is expected to be high owing to the growing demand for nutrient-rich meat products, globally.
Parasiticides are also in demand, holding a revenue share of around 40% in animal pharmaceuticals market in 2022. Among the various types of parasiticides, ectoparasiticides account for the highest consumption. The rising incidence of food-borne zoonotic diseases across the world is propelling the demand for parasiticides among those engaged in animal husbandry. Scientists have estimated that more than 6 out of every 10 known infectious diseases and 3 out of every 4 new or emerging infectious diseases in people are spread from animals. Every year, thousands of Americans become sick due to the spread of harmful parasites from animals.
Solution Demand for Companion Animals To Grow Faster
The companion animals category is predicted to grow at the higher CAGR, over 7%, during the forecast period. This is primarily due to the increasing number of pets and rising spending on their health. All around the world, including in developing nations, cat and dog ownership has been rising gradually.
More than half the global population is estimated to have a pet at home. Families in the U.S., EU, and China alone have over half a billion dogs and cats. In the U.S., 70% of the households owned a pet as of 2021, compared to 68% in 2016. Additionally, dogs are the most-common pet worldwide, present in one in every three houses, while over a quarter of the pet owners have a cat.
During the lockdown in the U.K., almost two million people adopted a pet, while during the worst of the pandemic in Australia, over a million individuals adopted one. Additionally, the growth in the number of pets is particularly pronounced in nations where the middle class is growing. This is influencing attitudes and driving the emergence of a new pet culture centered on pets kept solely for companionship and their enhanced humanization.
Increasing Prevalence of Food-Borne Zoonotic Diseases
Some of the transmissible diseases, such as bird flu and tuberculosis, in vertebrates can be transferred indirectly or directly to humans. If consumers digest worms through undercooked or raw, infected fish, they can become infected with anisakiasis, a human zoonotic disease caused by certain species of nematodes. In animals, such zoonotic diseases are spread due to the consumption of food or water contaminated with pathogenic microorganisms, such as campylobacter, brucellosis, listeria, anisakiasis, and salmonella.
The frequency of brucellosis (a bacterial infection), which causes stillbirths or miscarriages in animals, is increasing in the U.S. and other countries. This bacterial infection generally affects goats and livestock animals, such as cows and sheep. Moreover, in all, more than 300,000 cases of food-borne zoonotic diseases are registered every year in the European Union. The increasing prevalence of these diseases has raised concerns among farm owners and pet owners over animal health. Hence, for their management, animal pharmaceuticals are widely used across the world, which further depicts an increase in the demand for animal healthcare products.
With the surging animal population and rising incidence of diseases in it, a variety of animal pharmaceuticals are being developed. In the present scenario, pharma firms can leverage the opportunities being generated by a host of emerging diseases that transfer between animals and people and also those only affect the former. Diseases such as the Nipah virus (NiV) infection, melioidosis, bluetongue virus, porcine reproductive and respiratory syndrome, and many other diseases are spread from animals to people.
Hence, drug manufacturers have lucrative opportunities for the development of medicines that reduce the spread of diseases from animals to humans. Healthcare companies are, therefore, spending huge amounts in R&D for determining the cause of diseases and developing drugs for killing these pathogens.
Animal Healthcare Market Report Coverage

| | |
| --- | --- |
| Report Attribute | Details |
| Historical Years | 2017-2022 |
| Forecast Years | 2023-2030 |
| Market Size in 2022 | USD 40.2 Billion |
| Revenue Forecast in 2030 | USD 84.9 Billion |
| Growth Rate | 9.8% CAGR |
| Report Scope | Market Trends, Drivers, and Restraints; Revenue Estimation and Forecast; Segmentation Analysis; Impact of COVID-19; Companies' Strategic Developments; Market Share Analysis of Key Players; Company Profiling |
| Segments Covered | By Product; By Animal Type; By Distribution Channel; By Region |
Explore more about this report - Request free sample pages
North America Held Largest Share
North America held the largest share, around 35%, in 2022. The demand for feed additives is increasing due to the rising consumption of animal products. The U.S. is the world's largest beef producer and second-largest beef exporter. To supply nutritive animal-sourced food, the demand for feed additives is increasing in the region.
Apart from red meat, the demand for eggs and dairy items, such as butter and cheese, is rising in the region. Meat has long played a central role in the American diet, in the form of burgers, steaks, bacon, chicken breasts, and many more ingredients. Without taking into account seafood, fish, and personal food waste, the average American eats about 274 pounds of meat annually. Since 1961, the amount of meat consumed nationwide has increased by 40%.
The large proportion of meat in the American diet is a result of a number of variables. It has historically been linked with a higher status and considered the diet of the wealthy. Moreover, in the U.S., its consumption is increasing along with the middle class. As a result of the widespread perception that consuming a lot of meat is a sign of a "genuine" man, meat has also long been connected with the ideas of masculinity.
These cultural narratives have been used by local meat businesses to advance their goal of maximizing public consumption. The meat lobby is also well-known for its strength; it frequently exerts pressure on government organizations to tip the scales in its favor. Federal dietary recommendations have been successfully shaped by this lobbying, to encourage prolonged meat consumption in the region, while obstructing suggestions to reduce it. Additionally, it has artificially kept meat prices low, which has encouraged people to continue consuming significant portions every day.
Moreover, the APAC region, the fastest-growing market globally, is predicted to witness a CAGR of more than 10% during the forecast period. This is attributed to the increasing demand for good-quality pork from China, rising milk production in India, and surging investments by governments in R&D.
This year, China is estimated to have produced about 57 million tons of pork. Moreover, because the domestic supply has not been able to keep up with consumption, the country is importing an increasing amount of pig meat. This year, domestic pig production is expected to be 1.5% more than last year.
Moreover, 4.2 million dairy cows and 0.7 million suckler cows are among the approximately 12.9 million cattle in Germany, which has the second-biggest population of cattle and the largest herd of dairy cattle in the European Union. German cattle production has a long history and is well-organized, and the breeding industry has a wealth of knowledge. This covers farm-based artificial insemination, milk production, and slaughter. The high standards of milk and dairy cow performance and quality testing serve as the foundations for both sustainable breeding programs and efficient farm management. In herd books, about 2.6 million cattle are listed, and 3.5 million cows are listed for milk production.
Top Animal Healthcare Providers Are:
Zoetis Inc.
Merck & Co. Inc.
C.H. Boehringer Sohn AG & Co. KG
Bayer AG
Virbac Corporation
Ceva Santé Animale
Elanco Animal Health Inc.
Vetoquinol S.A.
Heska Corporation
Market Size Breakdown by Segment
The study uncovers the biggest trends and opportunities in the market, along with offering segmentation analysis at the granular level for the period 2017 to 2030.
Based on Product
Feed Additives
Vaccines
Pharmaceuticals

Parasiticides
Anti-infectives
Anti-inflammatories

Veterinary Equipment
Based on Animal Type
Based on Distribution Channel
Retail
E-Commerce
Veterinary Hospitals & Clinics
Geographical Analysis
North America
Europe

France
Germany
Italy
Spain
U.K.

Asia-Pacific

China
India
Japan
South Korea
Australia

Latin America
Middle East and Africa

Saudi Arabia
South Africa