Clinical Trial Supplies Market Size & Share
The global clinical trial supplies market was valued at USD 4,001.1 million in 2023, and the market size is predicted to reach USD 7,763.9 million by 2030, advancing at a CAGR of 10.1% during 2024–2030. The key factors driving the growth of the market are the increasing demand for more-advanced treatments, such as personalized medicines; increasing R&D expenditure of biopharmaceutical and pharmaceutical companies, and rising prevalence of diseases, which essentially leads to the development of new drugs.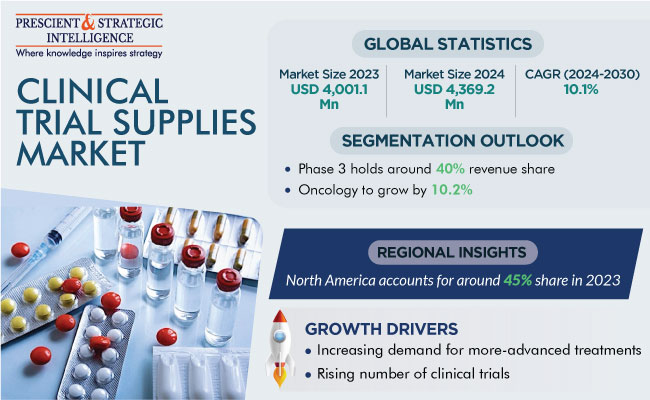 Clinical trials are studies that examine new tests or treatments for their effect on human health outcomes. These studies can help determine which medical treatments are most suitable for certain diseases. The most-appropriate data for healthcare decisions is provided by a clinical trial. In addition to that, a clinical trial is usually the last stage of drug development and may be carried out by a researcher, CRO, or pharma company itself, for a specific disease.
The essential aspects and significant parts of the overall expenses for biotechnology and pharma companies are research and development. These activities allow for the development of new molecules with a significant medical and commercial potential for various therapeutic applications. The investment in R&D differs as per their requirement and the nature of the drug under discovery, which is itself a time-consuming process. In 2023, the pharmaceutical sector spent around USD 1.5 trillion on R&D activities, which was 20 times more than it spent in 1999. The R&D expenditure also includes the spending during the different phases of clinical trials.
Moreover, the personalized medicine market will grow with a healthy CAGR, of around 10%, in the coming years. Healthcare professionals are actively focusing on personalized treatments as they allow them to offer better therapeutic options according to patients' health requirements. This increases the number of clinical trials, which further spurs the demand for the related supplies around the globe.
Such clinical trials are mainly conducted in developing countries, such as India and China. These countries offer ease of business and the lower production cost advantage over developed nations. Moreover, the presence of a large number of clinical trial supplies manufacturing companies with extensive product offerings helps pharmaceutical and biotechnology companies in completing their clinical trials efficiently.
This shows that the outsourcing of clinical trials to contract research organizations is increasing, which has also increased the demand for various supplies.
Rising Number of Clinical Trials Globally
In recent years, the number of clinical trials has increased significantly. In 2023, around 0.4 million clinical studies were registered with the U.S. government. The rising number of clinical trials is directly proportional to the demand for the required supplies. The increase in R&D spending has helped boost the innovative drug development process, thus increasing the number of trials carried out.
In addition, Japan is the second-largest pharmaceutical market and accounts for about 12% of the medicine sales worldwide. Thus, its clinical trial supplies market revenue is increasing rapidly as researchers are conducting an extensive number of drug and medical device investigational studies. Apart from that, Japan has a sizeable population, of approximately 125 million, which creates a high demand for various types of advanced therapeutics.
Additionally, Japan is well-known for its advanced medical technologies, which boost the accuracy and effectiveness of clinical trials. For instance, digital biomarkers help drug developers better understand the mechanism of diseases and the response of patients to treatments. Additionally, the Government of Japan has made a conscious effort to support clinical researchers, by providing funds for drug R&D, including clinical trials.
Similarly, in 2020, France participated in 325 of the 3,000 clinical trials conducted worldwide, accounting for 12% of the global share. This statistic put the country back in the top three in Europe, behind Germany and Spain. Moreover, France remains second in oncology, with a 20% participation in global trials.
Phase 3 Dominates Market
The phase 3 trial category held the largest share, of around 40%, in 2023. This can be ascribed to the high cost of this phase of trials. Phase III requires a larger patient population compared to phase 1 and phase 2, which is one of the major reasons for the high cost of phrase III trials.
Moreover, the phase 1 clinical trial category is likely to grow the fastest in the market. This is due to the growing R&D pipelines of pharmaceutical companies, which leads to a rise in the count of trials in the first phase.
Clinical Trial Supplies Market Report Coverage

| | |
| --- | --- |
| Report Attribute | Details |
| Market Size in 2023 | USD 4,001.1 Million |
| Market Size in 2024 | USD 4,369.2 Million |
| Revenue Forecast in 2030 | USD 7,763.9 Million |
| Growth Rate | 10.1% CAGR |
| Historical Years | 2017-2023 |
| Forecast Years | 2024-2030 |
| Report Scope | Market Trends, Drivers, and Restraints; Revenue Estimation and Forecast; Segmentation Analysis; Impact of COVID-19; Companies' Strategic Developments; Market Share Analysis of Key Players; Company Profiling |
| Segments Covered | By Phase; By Therapeutic Application; By Service; By End User; By Region |
Explore more about this report - Request free sample pages
Oncology Category To Grow Significantly in Forecast Period
Oncology is the largest therapeutic category in the market, due to a large number of cancer drugs in the R&D pipeline, itself owing to the increasing prevalence of different types of cancer. Cancer kills over 10 million people each year, and with the changing lifestyles and other factors, its prognosis in patients continues to become more complex. This is driving the usage of enhanced technologies and data-driven approaches in oncology drug R&D.
Thus, the spending on the purchase of cancer drugs is expected to rise to USD 250 billion by 2024. In 2023, around 1.8 million cases of cancer were diagnosed in the U.S. Some of the most-common cancers are lung cancer, liver cancer, prostate cancer, melanoma, bladder cancer, non-Hodgkin's lymphoma, leukemia, pancreatic cancer, and breast cancer. Amongst these, lung cancer is one of the most common and a leading cause of death.
Moreover, in Germany, cardiovascular diseases are one of the main causes of death. Around 53% of the adult population in the country suffers from cardiac arrhythmias, high blood pressure, or another CVD. The rising prevalence of cardiovascular diseases across the world significantly increases the demand for therapeutics, thus resulting in the growth of the market in the cardiovascular category.
Logistics and Services Dominate Market
The logistics and services category held the largest share, of 25%, in 2023. This service ensures that the supplies required to carry out the clinical trials are ordered, manufactured, and transported efficiently, in order to avoid any disruption.
These services are in high demand among pharma & biotechnology companies and CROs, as the number of clinical trials is increasing worldwide. The adoption of supply chain management mobile apps is also booming nowadays, which is likely to be a driving factor for the market.
Pharma and Biotech Companies To Hold Largest Share
On the basis of end user, the pharmaceutical and biotechnology companies category held the largest share in 2023, because of the increasing occurrence of chronic diseases, which has led to the growth of pharmaceutical R&D pipelines. Nearly 50,000 pharma & biotech companies are present across the globe, and all of them are engaged in developing therapeutic agents, which is increasing the number of clinical trials.
Since disease occurrence all over the world is increasing at a faster pace than before, especially of heart disease, cancer, chronic lower respiratory diseases, obesity, Alzheimer's, and diabetes, pharma & life sciences companies are investing actively in drug R&D.
As a result, Thermo Fisher Scientific has expanded its range of services provided to pharmaceutical and biotech companies, via the acquisition of PPD Inc. PPD is a key provider of drug development services to pharma & biotech companies, which is why this move will help Thermo Fisher expand its reach globally in the high-growth clinical research services industry.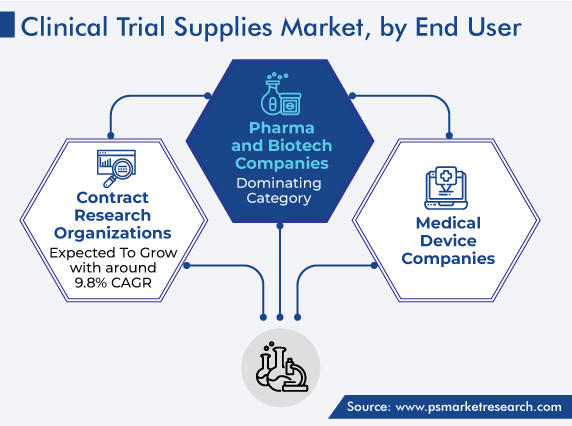 North America Held Largest Share
Geographically, North America held the largest clinical trial supplies market share, of 45%, in 2023, due to the rising number of clinical trials with the strengthening focus on the development of better and safer medicines. The increasing prevalence of all kinds of diseases, growing number of pharma and biotechnology companies, and favorable government legislations for pharma R&D essentially lead to the rise in the demand for the various supplies required during the clinical studies of investigational drugs.
A number of major pharmaceutical companies, such as Pfizer Inc., Bristol Myers Squibb, Novartis AG, Sanofi, and Hoffmann-La Roche Ltd., are headquartered or functional in the U.S. Moreover, as per government data, around 22,000 drugs are in their R&D pipelines; therefore, the rise in the R&D activities is expected to fuel the growth of the market.
APAC is projected to witness the fastest growth over the forecast years, driven by the expanding R&D pipelines in China, India, and Australia. Essentially, the availability of a large pool of patients to participate in clinical trials ultimately raises the demand for drug development. Additionally, there has been a rise in the number of contract research organizations conducting clinical-phase research lately.
In-house clinical research is expensive and requires more resources and time, which is one of the main reasons pharma companies are outsourcing this phase of research and development. Additionally, outsourcing is an essential part of the biopharmaceutical sector, especially in the clinical phase of R&D.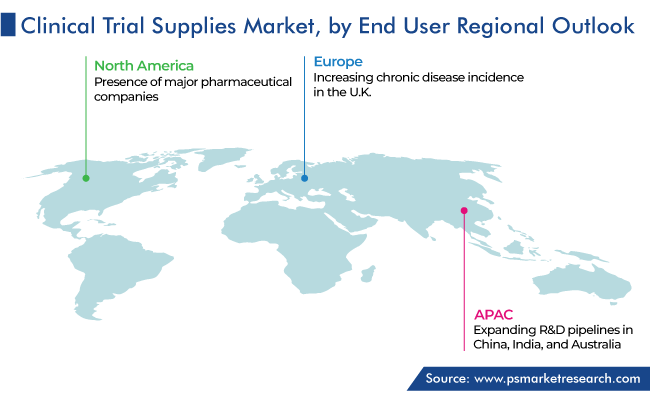 Moreover, Europe holds a significant share of the clinical trial supplies market, majorly due to the growth in the government funding to promote drug development. Additionally, in the U.K., chronic disease incidence continues to mount, with about 8 million people suffering from such health conditions in 2023. The increasing burden of chronic diseases is projected to propel the demand for clinical trials, thus boosting the market advance. For instances, in 2022, Novartis AG spent around USD 13 billion on R&D.
Key Players in Clinical Trial Supplies Market Are
Thermo Fisher Scientific Inc.
Marken
Catalent Inc.
Parexel International
Almac Group Limited
Biocair International Limited
Sharp Services LLC
Movianto International BV
PCI Pharma Services
Eurofins Scientific
Market Size Breakdown by Segment
This report offers deep insights into the clinical trial supplies market, with size estimation for 2017 to 2030, the major drivers, restraints, trends and opportunities, and competitor analysis.
Based on Phase
Phase 1
Phase 2
Phase 3
Phase 4
Based on Therapeutic Application
Oncology
CNS
Mental Disorders
Cardiovascular Diseases
Infectious Diseases
Metabolic Disorders
Immunology
Dermatology
Respiratory Diseases
Based on Service
Logistics and Services
Storage and Retention
Packaging, Labeling, and Binding
Manufacturing
Comparator Sourcing
Based on End User
Pharma and Biotech Companies
Contract Research Organizations
Medical Device Companies
Geographical Analysis
North America
Europe

Germany
U.K.
France
Italy
Spain

Asia-Pacific

Japan
China
India
South Korea
Australia

Latin America
Middle East and Africa

Saudi Arabia
South Africa
U.A.E.