Market Overview
The global cleanroom doors market is expected to advance from USD 1,985.6 Million (E) in 2023 to USD 2,845.6 Million in 2030, at 5.5% CAGR between 2024 and 2030.
The progress of this industry can be attributed to technological enhancements, surging need for door replacement, and mounting need for them from the life sciences sector. Doors are a key element of cleanrooms because they play an important role in preserving the environment and cleanliness standards inside.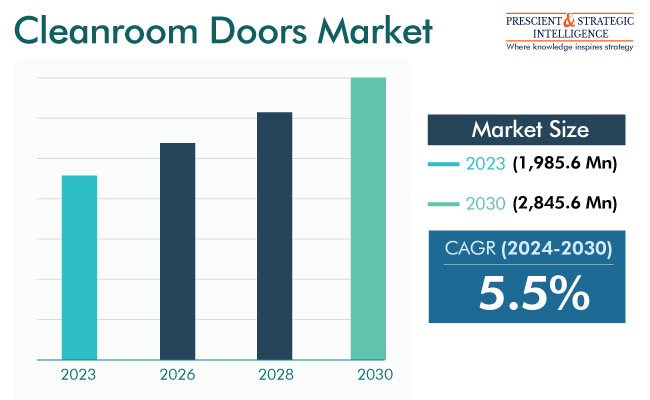 Cleanroom doors are designed to reduce the spread of dust, particulate matter, and various other pollutants from one area to another. They are generally manufactured to possess smooth surfaces, offer an airtight seal when closed, and be easy to clean.
The utilization of cleanrooms has become important across different sectors all over the world. For instance, pharmaceutical goods need to be produced in surroundings that are completely free from particulates and microorganisms, so that the final products are safe for consumption by humans and animals.
Cleanrooms are furnished to offer a nearly contaminant-free surrounding, by lowering the level of chemical particles, dust, aerosolized particles, and microorganisms. Further, it is also essential for medical product manufacturers to comply with the laws regarding product safety, which makes cleanrooms necessary.
Surging Need for Automated Cleanroom Doors Is Key Market Trend/h2>
A major trend being observed in the cleanroom doors market is the mounting need for automated doors. Automated cleanroom doors can assist in enhancing efficiency by decreasing the duration required for closing or opening doors. This is particularly essential in cleanrooms with higher traffic because they can assist in enhancing workflow and lessening jams.
These doors can also enhance safety, as they can eliminate the need for personnel to open them by pushing or pulling them manually and taking pollutants inside the cleanroom. This is particularly essential in an environment where the goods being assembled or produced are dangerous or too sensitive, which is the case with pharmaceuticals.
Moreover, these doors also offer improved security, as they can prevent unauthorized access inside the rooms. This is mainly essential in cleanrooms where confidential or sensitive data is being stored. Furthermore, the arrival of motors and contactless sensors is resulting in the decreasing cost and simpler installation of automated cleanroom doors, making them easily obtainable and more useful, respectively.
Cleanroom Doors Market Report Coverage

| | |
| --- | --- |
| Report Attribute | Details |
| Market Size in 2023 | USD 1,985.6 Million (E) |
| Revenue Forecast in 2030 | USD 2,845.6 Million |
| Growth Rate | 5.5% CAGR |
| Historical Years | 2017-2023 |
| Forecast Years | 2024-2030 |
| Report Scope | Market Trends, Drivers, and Restraints; Revenue Estimation and Forecast; Segmentation Analysis; Impact of COVID-19; Companies' Strategic Developments; Market Share Analysis of Key Players; Company Profiling |
Explore more about this report - Request free sample pages
Increasing Consciousness of Hygiene & Safety To Boost Market
The increasing consciousness regarding hygiene & safety in industrial and clinical spaces is the strongest driver for the market. The surging count of foodborne disease outbreaks has heightened the consciousness of people regarding the significance of cleanliness in the food sector. This has resulted in a surge in the requirement for cleanrooms at food processing plants because they assist in preventing the transmission of pathogens to the food from outside.
Similarly, the increasing worries regarding the transmission of bacteria and viruses in healthcare settings have resulted in the mounting need for cleanrooms. Hospital-acquired infections have been a serious concern in the healthcare industry, with a study claiming the inpatient mortality rate due to nosocomial COVID-19 to be as high as 42%.
Advancements in Cleanroom Technology
The improvements in cleanroom door technology have led to better productivity and functionality. Companies are adding features such as automatic closing and opening, intelligent incorporation with the main facility mainframe, enhanced materials with better durability and cleanliness, and touchless sensors. Such enhancements interest consumers searching for more-user-friendly and enhanced solutions, especially with the increasing investment in end-use industries.
Swinging Doors Category Is Leading Type Segment
Based on type, the swinging doors category is leading the cleanroom doors market. This is because of the relatively lower prices of these variants, as well as their extensive utilization in the medical device and pharmaceutical sectors.
Furthermore, the advancements in technology have resulted in the acceptance of rollup and sliding doors at the facilities of biotech and pharma companies. These doors are more helpful in sustaining the desired cleanliness level in medical device factories, pharmaceutical facilities, and hospitals, by maintaining the air pressure differential. Additionally, they take up less space, which makes them popular in research laboratories.
Biotechnology, Pharmaceutical, and Medical Device Industries Are Largest End Users
The biotechnology, pharmaceutical, and medical device industries category, based on end user, accounts for the largest share of the cleanroom doors market. The production of pharmaceuticals, biopharmaceuticals, and vaccines, as well as of medical devices, is done in cleanroom environments. Here, these doors play an important role in sustaining those environments. These places require doors that are easy to install and operate, as well as effective in sustaining high levels of hygiene and cleanliness.
The global pharmaceutical market already values USD 1.2 trillion, and by 2030, this number is expected to cross USD 2 trillion. The market is driven by the increasing access to care and rising incidence of all kinds of diseases. Additionally, pharmaceutical production is rapidly shifting to developing countries, where the quality standards are increasing with the implementation of stringent hygiene regulations. Thus, with more pharmaceutical plants being set up amidst the stringent regulations for drug safety, the demand for all kinds of cleanroom equipment is rising.
North America Is Leading Industry
North America is leading the cleanroom doors industry, owing to the strict regulations of the government for pharmaceutical safety, rapid acceptance of technologically improved products, and existence of many major players.
The life science sector in this continent, particularly the U.S., has to comply with extremely stringent product development and manufacturing guidelines. Medical device, biotechnology, and pharmaceutical businesses must comply with the rules established by the FDA and other government agencies, which results in the significant acceptance of cleanroom doors in the continent.
Additionally, the cleanroom doors market in APAC is likely to advance at the highest rate over the forecast period. This would be because of the surging incidence of infectious illnesses, rapid growth of the pharmaceutical and medical device sectors, and government initiatives to enhance the healthcare infrastructure in the continent. In addition, the high prevalence of hospital-acquired infections in this continent is resulting in stricter regulations concerning cleanrooms in hospitals. Healthcare centers in this continent are thus utilizing technically progressed, as well as automated door systems in cleanrooms.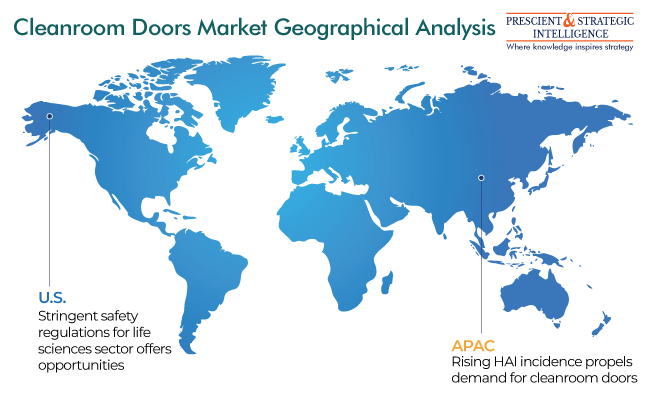 Major Companies in the Cleanroom Doors Market Include:
Dortek
GMP Technical Solutions Pvt. Ltd.
Terra Universal. Inc.
Nicomac Srl
ASI Doors, Inc.
EFAFLEX
Rite-Hite Holding Corporation
Chase Industries Inc.
Avians Innovations Technology Private Limited
Scott Doors Limited
Isoflex Systems Pvt. Ltd.
Metaflex Doors India Pvt. Ltd.