Market Overview
The global cleanroom consumables market revenue in 2021 was $9,462.25 million, and it is expected to advance at a CAGR of 5.22% during 2021–2030, to reach $14,957.72 million by 2030. The expansion in the sale of these consumables is fueled by the increasing demand for electronic gadgets, as a result of the technical advancements in artificial intelligence. The development of better and enhanced medications has, similarly, raised the demand for such consumables in the healthcare sector. Further, the changing consumer lifestyles are driving the demand for packaged food products with a longer shelf life and sterility that also provide convenience.
The ongoing COVID-19 pandemic has influenced the market positively due to the rising necessity to maintain a contamination-free environment while collecting samples and testing for suspected COVID-19 cases. The rising R&D activities to produce vaccines against COVID-19 have further prompted pharmaceutical and biopharmaceutical businesses to invest heavily in the creation of a contamination-free environment at their facilities.
The market has a significant number of buyers, including the electronics, nanotechnology, pharmaceutical, and biotechnology industries. Buyers are abundant due to the importance of cleanroom consumables, which is resulting in the increasing demand for these products. The industry also has a large number of raw material providers, such as the producers of rubber, cellulose, alcohol, and polymers, which reduces their bargaining strength.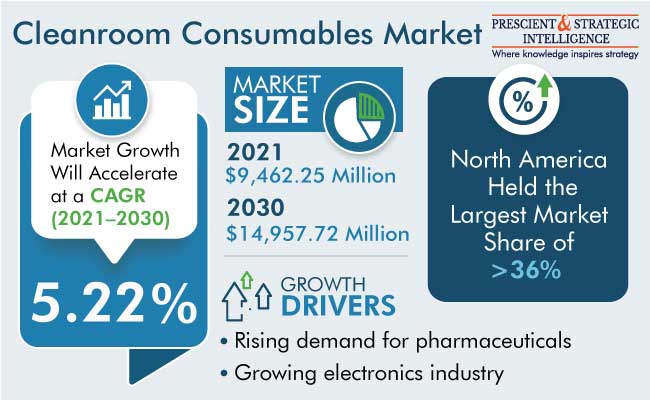 The market is fragmented, and the players are concentrating their efforts on expanding their consumer base in overseas countries and augmenting their profits, via a range of strategic collaborations. Moreover, with the technical improvements in the products, small and mid-size businesses are expanding their presence by gaining new contracts and entering new industries.
Gloves Are Majorly Used Cleanroom Consumables
The gloves category had a significant cleanroom consumables market size in 2021. Gloves are anatomically engineered to fit on fingers and be worn over hands while working in a cleanroom. These wearables provide comfort, flexibility, strength, durability, and appreciable electrostatic discharge (ESD) performance. They are also chemically robust, can withstand little wear and tear, and emit less particulate matter. For instance, surgical gloves are utilized during various surgeries and other medical procedures to maintain hygiene.
The apparel category is expected to witness the highest CAGR, of more than 6%, during the forecast period. This gear serves as a barrier between the user and the cleanroom components. Coveralls, face masks, boot covers, shoe covers, bouffant caps, lab coats, surgical gowns, hoods, and sleeve protectors are that different types of apparel that are used to keep users safe from whatever amount of contaminants might be present inside the cleanroom and to prevent the transfer of contaminants from the wearer's body to the cleanroom as well. The apparel is generally made lint-free and non-shedding and worn in a controlled atmosphere. Such apparel is subject to stringent regulations, which prohibit certain materials from being used to produce such products, in order to ensure the prevention of the transmission of contaminants between the cleanroom and the wearer.
In the same way, the cleaning products used inside such facilities are made of specialty materials, to remove pollutants from the cleanroom, such as dirt, dust, stains, and chemical spills. Cleaning products are also used to help remove unwanted microbial contaminants from a surface. Mops, buckets, wringers, squeegees, validation swabs, and cleaning chemicals are among the cleaning products.
Additionally, a wiper is used inside the cleanroom to remove surface pollutants from the working area. Wipers come in a variety of sizes, textures, and materials to meet the needs of the user. They are made from many materials, such as polyester, polypropylene, cellulose, cotton, and nylon. To be suitable for cleanrooms, these wipers must not emit fibers, particles, or ions.
Adhesive mats are dust and dirt absorption pads that can be used at the entrance and walkways. Adhesive mats are made of a number of polyethylene sheets placed on top of each other, with an adhesive between the layers. After use, the uppermost layers are removed to reveal the fresh layer composed of adhesive, for capturing the contaminants, such as dirt from the feet. These mats are most commonly used in the automobile, healthcare, biotech, pharmaceutical, and electronics industries.
Further, an array of stationery is used to record, compile, and store data, while working in a cleanroom. Papers, sticky notepads, binders, clipboards, and labels are part of the stationery. To keep workplace contamination levels low and maintain the aseptic conditions that are necessary to prevent infection, these consumables are made of special and accredited materials.
Cleanroom Consumables Market Report Coverage

| | |
| --- | --- |
| Report Attribute | Details |
| Historical Years | 2017-2021 |
| Forecast Years | 2022-2030 |
| Market Size in 2021 | $9,462.25 Million |
| Revenue Forecast in 2030 | $14,957.72 Million |
| Growth Rate | 5.22% CAGR |
| Report Scope | Market Trends, Drivers, and Restraints; Revenue Estimation and Forecast; Segmentation Analysis; Impact of COVID-19; Companies' Strategic Developments; Market Share Analysis of Key Players; Company Profiling |
| Segments Covered | By Type; By End User; By Region |
Explore more about this report - Request free sample pages
Pharmaceutical & Biotechnology Companies Majorly Use Cleanroom Consumables
The pharmaceutical & biotechnology companies category held the largest cleanroom consumables market share, of more than 32%, in 2021, and it is expected to remain dominant during the forecast period. These supplies are needed in this industry to maintain aseptic conditions during the production of high-quality products. It is necessary to create a variety of pharmaceutical products, such as active pharmaceutical ingredients (API), formulations, injections, and ointments, in a space free of germs and particulate matter. Therefore, as the technology and regulations advance, the number of end users is increasing.
Similar to these products, a range of biotechnology products, including hormones, cytokines, and monoclonal antibodies (mAbs), are utilized therapeutically, which makes it crucial to determine their quality. Additionally, the speedy development of injectable formulations, increasing emphasis on ensuring the quality of healthcare products, and growth in this sector around the world are all contributing to the revenue generation in this category.
In the same way, the increasing demand for electronic gadgets has made the electronics industry a significant shareholder in the market. The expansion of this industry is being driven by an increase in the demand for integrated circuits, sensors, and other electronic components for emerging technologies, such as cloud computing, IoT, and AI. In order to manufacture advanced, contaminant-free components, the electronics industry uses cleanrooms. Many items, including semiconductors, hard drives, printed circuit boards (PCB), and liquid crystal displays (LCD), require minimally contaminated environments for manufacturing.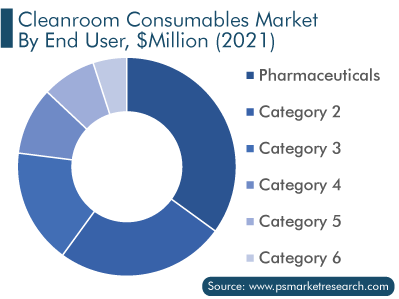 Moreover, cleanroom supplies are used by the medical device sector to prevent the contamination of the sensitive parts of medical equipment. Many medical devices, including those put to external usage, as well as those meant for implantation, must be produced in clean, regulated environments with few pollutants, which is why these consumables are important for medical device companies.
The laboratories in academic institutions, research institutions, hospitals, and private clinics also use cleanroom supplies. R&D on several critical products and concepts is carried out by academic and research institutions, which necessitates operational conditions with minimal contamination. They also have sophisticated instruments, including mass spectrometers, electron microscopes, and gas chromatograms, that are susceptible to contamination from dust and other particles; thus, consumables are used in laboratories.
Regional Analysis
The European market is expected to grow due to a rise in the need for cleanroom consumables in the biotechnology, pharmaceutical, healthcare, and medical device industries. The industry for consumables is also expanding in the region due to the technical developments in the electronics and nanotechnology sectors. Additionally, an increasing number of businesses in the food & beverage and aerospace & defense industries are utilizing such products, thus driving the cleanroom technology market in Europe.
North America dominated the market for cleanroom consumables, with a revenue share of more than 36%, in 2021. This was due to the region's well-established healthcare infrastructure, existence of a large number of pharmaceutical and medical device businesses, increase in the burden of non-communicable diseases, and growth in the public knowledge of cosmeceuticals and nutraceuticals. Furthermore, the strict guidelines that need to be followed for the approval of healthcare products in the U.S. lead to the increasing demand for such products.
Moreover, in APAC, the cleanroom consumables market sale is expected to grow drastically, on account of the increasing Investments in the healthcare sector. The main drivers for the pharmaceutical industry's growth in APAC, which also contributes to the high sale of cleanroom consumables, are the rising burden of non-communicable diseases, growing geriatric population, and increasing generic drug production as a result of patent expirations.
The market for cleanroom consumables in MEA and LATAM is expanding as well due to the increasing use of these products in the pharmaceutical, biotechnology, medical device, and food industries. Aseptic conditions, extreme purity, and adherence to GMPs are necessary for the production of high-quality medications for export. As a result, the demand for consumables, such as clothing, gloves, adhesive mats, disinfectants, and shoes, would rise.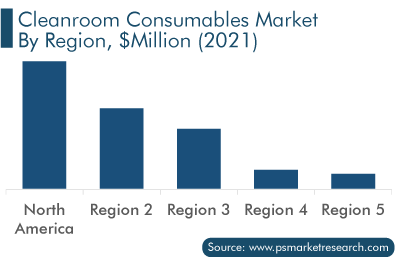 Top Cleanroom Consumables Manufactures Are:
Micronova Manufacturing Inc.
Kimberly-Clark Corporation
DuPont de Nemours Inc.
Berkshire Corporation
Valutek Inc.
Texwipe
Ansell Group
KM ACT CORP.
Contec Inc.
Market Size Breakdown by Segment
The study offers a comprehensive market segmentation analysis along with market estimation for the period 2017-2030.
Based on Type
Apparel
Cleaning Products
Stationary
Wipers
Gloves
Adhesive Mats
Based on End User
Pharmaceuticals
Biotechnology Industry
Medical Device Industry
Electronic Industry
Laboratories
Geographical Analysis
North America
Europe

Germany
France
U.K.
Italy
Spain

Asia-Pacific

China
India
Japan
South Korea
Australia

Latin America
Middle East and Africa

Saudi Arabia
South Africa