Asia-Pacific (APAC) Chiller Market Overview
The Asia-Pacific (APAC) chiller market is estimated to value at $3.6 billion in 2018, and is predicted to register a CAGR of 5.4% during 2019-2024. Growing popularity of absorption chiller in response to higher adoption of solar energy was one of the major trends being exhibited in the market.
Based on chiller type, the market is segmented into centrifugal, screw, scroll, absorption, and reciprocating; wherein screw chiller market is estimated to contribute to the largest revenue share in 2018. Application areas such as hospitals, small factories, retail stores, and hotels are registering the adoption of water-cooled screw chillers which are cost effective as well as environment friendly. In APAC, China registered the highest consumption of these chillers in 2018, where the government is focusing on cutting down HCFC refrigerants, to a more environment friendly HFC based refrigerant, R-134a. On account of this, several companies engaged in the production of chillers that are focusing on developing R-134a refrigerant based chillers.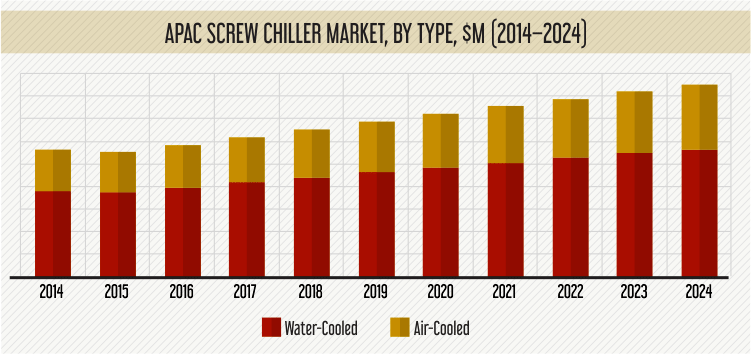 Based on end-user, the market is categorized into industrial, commercial, and residential; wherein commercial end-user category is estimated to hold the largest market share in 2018, buoyed by growing demand from transportation and hospitality sectors. Moreover, though residential application for chillers are extremely rare due to low TR requirements of residential end-user application; however, during the forecast period, residential category is poised to register a growth rate of 6.2%, buoyed by growth in district cooling, driven by collective demand for cooling from apartment buildings and luxury homes. During 2013-2017, China's residential construction industry recorded a growth rate of over 15%, underpinned by rising urbanization.
Asia-Pacific Chiller Market Dynamics
Driver
Increasing infrastructure spending in APAC countries such as China and India is supporting the growth of Asia-Pacific chiller market. In India, there are several infrastructural projects such as metro rail, and airports that are in the pipeline. For instance, in 15 Indian cities, there are more than 413 mi of metro rail projects that are under various stages of implementation. Further, in 2017, the Government of India is planning to construct around 100 new airports including expansions in the next 15 years; of these, 70 would be constructed at new locations in India.
In addition, aviation industry is registering rapid growth in China, year-over-year (YoY). According to the International Air Transport Association, China would be the world's largest aviation market by 2022. As per Civil Aviation Administration of China (CAAC), China built 27 new airports between 2014 to 2017. Further, in 2017, China is planning to construct 74 new civil airports by 2020. Chillers are installed at metro stations and airports to keep temperature cool.
Opportunity
Growing demand for energy efficient cooling systems, including chillers would create opportunities for market players in APAC region, during forecast period. The demand for these systems is expected to derive mainly from developing countries such as China and India, which are focusing on developing energy efficiency programs to conserve energy. For instance, in 2017, the Government of India, and Asian Development Bank signed a $200 million loan agreement aimed to expand the market for energy efficient technologies and reduce greenhouse gas emission.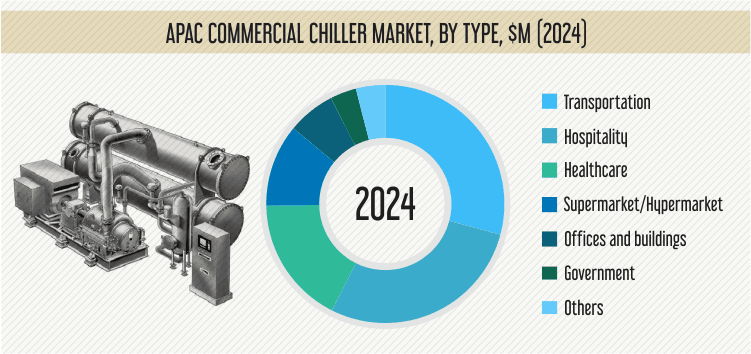 Trend
Absorption chiller is trending in Asia-Pacific chiller market, buoyed by increasing demand for cost effective cooling systems. In absorption chiller, as the cooling process is driven by the condensation and evaporation of water, it consumes less electricity. In this chiller type, energy comes from waste heat, such as steam from industrial processes or heat generated from solar panels. In addition, absorption chiller offers vibration free operation along with and low operational and maintenance cost. Furthermore, as absorption chiller emits less pollutants, and toxic gases, it is also eco-friendly as compared to the other cooling systems.
Restraints
Alternative cooling technologies like variable refrigerant flow (VRF) is likely to hinder the growth of Asia-Pacific chiller market. VRF systems are capable of providing simultaneous heating and cooling during the same mode of operation. In addition, VRF systems are easy to install, and need fewer connections, thus installation cost of VRF systems are low. Further, as VRF systems transfer energy from cooling zones to heating zones of the building, these systems are more energy efficient than systems that use air or water.
Value Chain Analysis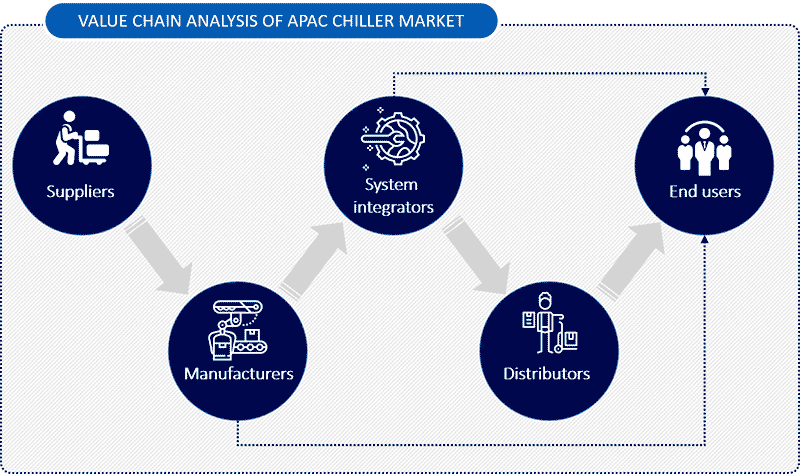 Asia-Pacific Chiller Market Competitive Landscape
There is high presence of competition in the Asia-Pacific chiller market; primarily due to the presence of large number of global and regional players. Daikin Industries Ltd., Johnson Controls International PLC, United Technologies Corporation, Midea Group Co. Ltd., and Ingersoll-Rand plc are the leading players in the market. Companies like Johnson Controls International PLC, is focusing on one of the fastest growing chiller categories that is centrifugal compressor. Recently in 2018, the company introduced YORK YZ magnetic bearing centrifugal chiller. The company claims it to be the most energy efficient low-global warming potential (GWP) line of centrifugal chillers with energy savings of up to 35% annually. It operates at a minimum temperature of 40°F with condenser water.
Some of the major players in the Asia-Pacific chiller market includes Johnson Controls International PLC, Ingersoll-Rand plc, United Technologies Corporation, Daikin Industries Ltd., Mitsubishi Electric Corporation, Smardt Chiller Group Inc., Multistack LLC, Thermax Limited, Thermal Care Inc., and Midea Group Co. Ltd.