Market overview
The global cell & gene therapy manufacturing services market was valued at USD 5,151 million in 2022, and it is expected to reach USD 20,164 million by 2030, advancing at a CAGR of 18.60% during 2022–2030. This is due to the high incidence of cancer and other target diseases, increased pharmaceutical R&D spending, and a large number of therapy development activities.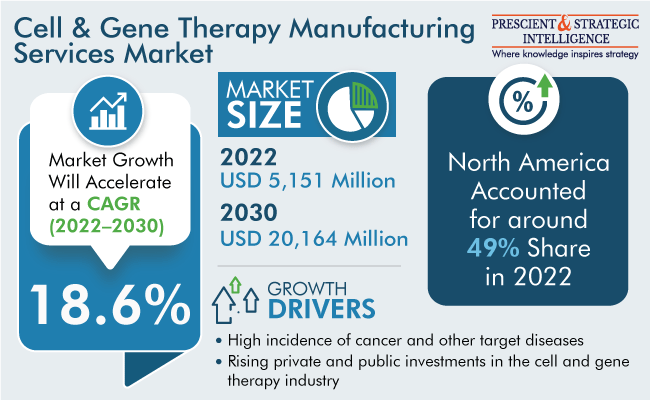 There is a prominent role of contract manufacturing organizations (CMOs) in this market, and it is also one of the key trends. Cell & gene therapy manufacturers are actively engaging in outsourcing the manufacturing of vectors and gene therapy products, providing them with economic benefits. Some of the advantages of outsourcing vector and gene therapy manufacturing include an increase in productivity, business efficiency, time-to-market, and quality gains. For instance, in 2022, ENCell, a CMO, and Polypus, a solutions provider of advanced biologic and cell and gene therapy production, partnered for optimizing a range of manufacturing technologies of viral vectors.
Cell Therapy Is Dominating the Industry
Cell therapy held a larger revenue share, of around 62%, in 2022. This is because cell-based therapy is widely used for the clinical investigation of cardiovascular diseases, due to rigorous pre-clinical studies of cell biology, phenotypic efficacy, mechanism of action, and immunology.
Standard immunologic dogma accounts that any foreign tissue is expected to cause an immune reaction. This impression is evident in hematopoietic transplantation and solid organ, in which hostile immunosuppression is the key to safeguarding allografts from rejection. As the cell-based therapy field evolves, several cell types such as MSCs have adequate ability to suppress or/and evade the immune system to the level that they are applied as allografts without the need for concomitant immunosuppression.
Moreover, allogenic therapy leads to great functionality of cells. Allogenic T-cells are available readily, compared to a manufacturing time of around a month for a custom, patient-specific product. This is advantageous, since irrecoverable disease progression may occur while awaiting autologous cell therapy manufacture.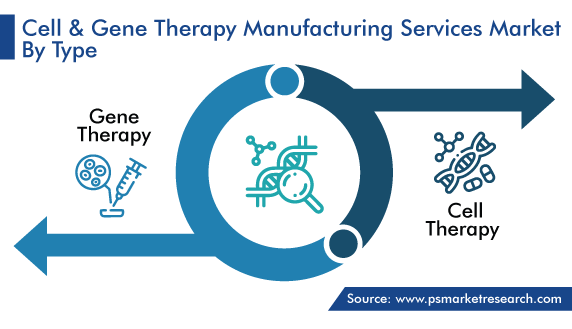 Rising Cases of Oncology Disease
The oncology disease category held the largest revenue share in 2022. With a regular increase in the cases of cancer and other rare diseases, the demand for cell & gene therapies is increasing globally. This is because these therapies are able to cure genetic diseases and have several advantages, such as cancer gene therapy does not require long-term transgene expression. Thus, the increasing burden of cancer is pushing pharmaceutical and biotechnology companies to develop novel gene therapies for its treatment. For instance, in 2021, in the U.S., there were around 2 million new cancer cases. In 2022, there were around 2.0 million new cancer cases diagnosed and over 0.6 million cancer deaths in the country.
Clinical Manufacturing Is in High Demand
Based on application, the clinical manufacturing category held a larger revenue share, of more than 58%, in 2022, in the global cell & gene therapy manufacturing services market. In 2022, the FDA approved five new cell and gene therapies, and various therapies are in pipeline and to be launched in the coming years. By 2024, more than 20 cell therapies and more than 30 gene therapies are expected to be launched, including around 30 AAV therapies. Also, companies are focusing on developing new therapies for the treatment of diseases, such as cancer, cardiovascular diseases, auto-immune disease, and infectious diseases, which, in turn, drives the demand for clinical manufacturing services.
Increasing Therapy Development Activities
The rising participation of public and private research organizations in gene therapy research is boosting the growth of the gene therapy sector, globally. Although the development of the gene therapy process is complex and requires many new techniques, with the development of technologies over decades, the resurgence in the development of gene therapies has advanced significantly, through the optimization of the type of vectors, the introduction of new techniques, such as induced pluripotent stem cells in combination with current models of gene editing, and even by trials in germ cells.
Moreover, researchers and manufacturers are increasingly focusing on the development of new experimental vectors, increased treatment efficiency, improved specificity of delivery systems, and a greater understanding of the inflammatory response, which will balance the improvement of safety with the expansion of techniques in clinical applications. Therefore, with the rising research activities, the industry is expected to address unmet medical needs for the treatment of rare diseases.
Cell & Gene Therapy Manufacturing Services Market Report Coverage

| | |
| --- | --- |
| Report Attribute | Details |
| Historical Years | 2017-2022 |
| Forecast Years | 2023-2033 |
| Market Size in 2022 | USD 5,151 Million |
| Revenue Forecast in 2030 | USD 20,164 Million |
| Growth Rate | 18.60% CAGR |
| Report Scope | Market Trends, Drivers, and Restraints; Revenue Estimation and Forecast; Segmentation Analysis; Impact of COVID-19; Companies' Strategic Developments; Market Share Analysis of Key Players; Company Profiling |
| Segments Covered | By Therapy Type; By Indication; By Application; By End User; By Mode; By Work Flow; By Region |
Explore more about this report - Request free sample pages
North America Holds the Largest Share
North America leads the market, accounting for a revenue share of around 49% in 2022. This is due to the increasing number of product launches, the surging incidence of cancer cases, the growing focus on the treatment of rare diseases, the rising number of clinical trials, and the presence of major industry players in the region.
Moreover, technological advancements in the region are increasing the demand for gene therapies. The developments of novel platforms for the precise targeting of small molecules, gene and stem cell therapies, gene modification, and gene rectification technologies offer new prospects for therapies and cures for rare and genetic diseases. One of the most significant innovations is the discovery of the potential of RNA, which was historically underestimated.
In addition, gene editing technologies can be utilized in the identification of novel targets for a whole host of therapeutic areas through genomic screens. Moreover, companies are further focusing on enhancing the development process of cell & gene therapies, which is expected to drive the market growth in the region.
Furthermore, the U.S. demographics for the aged population of 65 years and above increased to over 50 million in 2021. Thus, the growing aging population with chronic diseases at an exponential pace has boosted the growth of the industry. Also, with the rising demand for CDMO facilities, companies are investing in the region. For instance, Fujifilm is investing USD 2 billion to expand its CDMO capabilities in the U.S.
Moreover, chronic diseases, such as cancer, heart disease, and diabetes, were the leading causes of death in the U.S. and cost more than USD 4.0 trillion in 2021 to healthcare systems. Also, around 45% of the U.S. population has at least one chronic ailment, and by 2025, around 165 million Americans will be suffering from more than one chronic disease. The huge burden of cost regarding the treatment of a large number of chronic cases has created an urge from patients as well as healthcare systems to seek alternatives to the high-cost branded drugs.
Furthermore, Europe held a significant share of the market. In the region, around one-third of the total population of 15 years and above are suffering from at least two chronic ailments. The occurrence of more than one chronic illness has become common in Europe. This trend is attributed to unhealthy diets, increasing smoking habits, and surging alcohol consumption. The European government is amending the rules and focusing on providing healthy food by implementing regulations on food quality testing, as the prevalence of obesity is at its peak in regional countries.
Moreover, smoking is another big concern claiming one life every six seconds in Europe, as tobacco use is high in the region. For instance, more than 17% of adults and more than 14% of the young generation (15–26-year age group) are using tobacco in Europe. Similarly, the region has recorded an increase in alcohol consumption, which is a high-risk factor for deaths in adults and young people who are drinking heavily. Thus, these factors drive the demand for therapy manufacturing services in the region.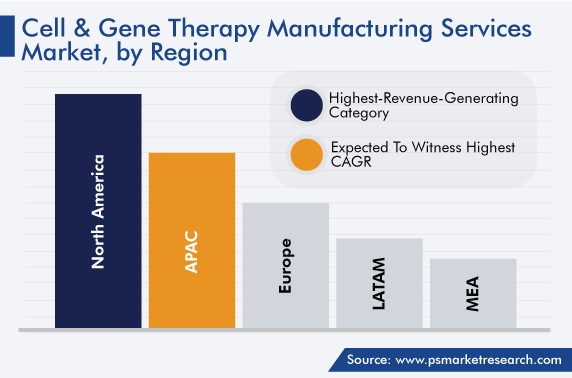 Top Cell & Gene Therapy Manufacturing Service Providers Are:
Lonza Group Ltd.
Catalent Inc.
Thermo Fisher Scientific
Charles River Laboratories International Inc.
WuXi AppTec
Merck KGaA
Takara Bio Inc.
Nikon CeLL Innovation Co. Ltd.
FUJIFILM Diosynth Biotechnologies U.S.A. Inc.
Oxford Biomedica plc
Market Size Breakdown by Segment
This fully customizable report gives a detailed analysis of the cell and gene therapy manufacturing services industry from 2017 to 2030, based on all the relevant segments and geographies.
Based on Therapy Type
Cell Therapy
Gene Therapy
Based on Indication
Oncology Disease
Cardiovascular Disease
Orthopedic Disease
Ophthalmology Disease
Central Nervous System Disease
Infectious Disease
Based on Application
Clinical Manufacturing
Commercial Manufacturing
Based on End User
Pharmaceutical & Biotechnology Companies
Academic & Research Institutes
Based on Mode
Based on Workflow
Cell Processing
Cell Banking
Process Development
Fill & Finish Operations
Analytical And Quality Testing
Raw Material Testing
Vector Production
Geographical Analysis
North America
Europe

France
Germany
Italy
Spain
U.K.

Asia-Pacific

China
India
Japan
South Korea
Australia

Latin America
Middle East and Africa

Saudi Arabia
South Africa