Market Outlook
The carrier screening market size was $1,303.6 million in 2019, and the market is expected to progress at a CAGR of 10.9% from 2020 to 2030. This growth is attributed to the surging incidence of genetic diseases, increasing availability and affordability of tests, and soaring number of advanced product launches.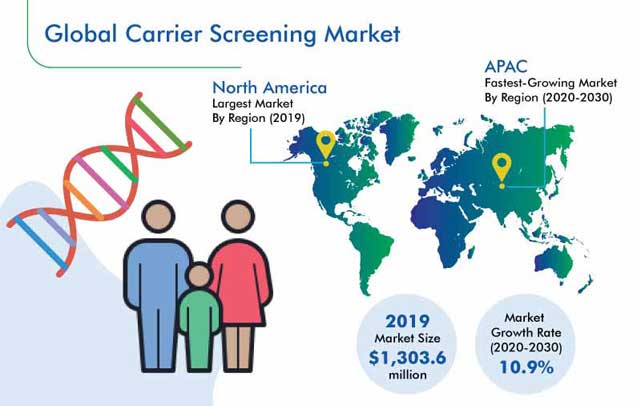 Segmentation Analysis
The expanded carrier screening category, under the type segment, generated the highest revenue in the market for carrier screening services in 2019, owing to the large-scale usage of next-generation sequencing (NSG) and various other high-throughput technologies for carrier screening across the world. Moreover, the expanded approach to carrier screening makes it possible to test for multiple diseases at once.
During 2014–2019, the cystic fibrosis category, within the application segment, accounted for the largest share in the carrier screening industry. This was the outcome of the surging prevalence of cystic fibrosis in North America and Europe. Moreover, the growing public awareness about this disease and the significance of its early diagnosis is pushing up the requirement for genetic testing for this health condition.
In the coming years, the deoxyribonucleic acid (DNA) sequencing category, under segmentation by technology, will exhibit the fastest growth in the carrier screening market. This is ascribed to the cost-effectiveness of the technology and the fact that it doesn't require expertise in the domain of bioinformatics. In recent years, several user-friendly tools have been integrated into DNA sequencing to simplify the screening process.
In the market for carrier screening services, the hospitals category, under the end user segment, will register the fastest growth in the near future. This will be due to the abundant use of genetic disease testing kits by experienced professionals in such healthcare settings. Moreover, a surging number of policies and insurance companies are providing reimbursements for these tests, which is, in turn, driving the advancement of this category in the future.
North America was the largest contributor in the market in 2019, and it is predicted to dominate the market in the future as well. This can be credited to the high rate of tests being conducted to determine whether an individual is at risk or a carrier of any genetic disorder. Other drivers for this market are its advanced healthcare infrastructure and existence of several established market players.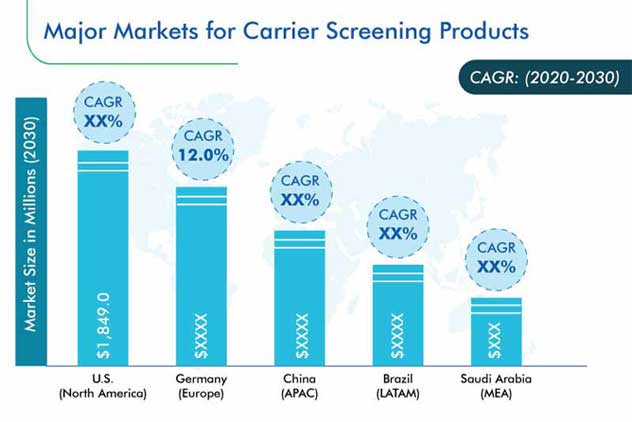 Increasing Number of Acquisitions Is Major Market Trend
Large biotechnology firms all over the world are increasingly focusing on acquiring companies that provide solutions for the tests. For example, in January 2020, Blueprint Genetics, a specialist in genetic testing solutions, was acquired by Quest Diagnostics Inc. Through this acquisition, Quest Diagnostics Inc. aims to gain expertise in rare and genetic diseases, research and development (R&D) of pharmaceutical drugs, and methods to improve patient care.
Similarly, in January 2019, the market for carrier screening witnessed the acquisition of Baby Genes Inc., a provider of carrier screening services, by ArcherDX Inc., a company operating in the domain of molecular technology. As per this agreement, Baby genes Inc. will operate as a fully owned subsidiary of ArcherDX, but market its existing portfolio of carrier and neonatal screening genetic testing services under its own brand.
Surging Incidence of Genetic Diseases Boosting Market Growth
The growing prevalence of genetic disorders all over the world is fueling the demand for carrier screening tests, which is, in turn, propelling the expansion of the carrier screening market. This is because the risk and severity of these disorders depend on the carrier status of parents and their ancestors. To identify the risk of such illnesses, particularly cystic fibrosis, spinal muscular atrophy (SMA), and fragile X syndrome, at an early stage, the American College of Obstetricians and Gynecologists recommends the testing of all pregnant women and those considering motherhood in the near future.
Parents are opting for genetic testing before considering subsequent steps, such as preimplantation genetic diagnosis (PGD) and in vitro fertilization, due to the increasing concerns for the future generation because genetic diseases account for a high infant mortality rate and congenital abnormality rate.
| Report Attribute | Details |
| --- | --- |
| Historical Years | 2014-2019 |
| Forecast Years | 2020-2030 |
| Market Size by Segments | Type, Application, Technology, End User |
| Market Size of Geographies | U.S., Canada, Germany, France, U.K., Italy, Spain, Netherlands, Russia, Norway, China, Japan, India, Australia, South Korea, Singapore, Brazil, Mexico, Saudi Arabia, South Africa |
| Market Players | Invitae Corporation, Illumina Inc., Thermo Fisher Scientific Inc., Otogenetics Corporation, Myriad Genetics Inc., Luminex Corporation, Gene By Gene Ltd., MedGenome Inc., Natera Inc., Laboratory Corporation of America Holdings, Mount Sinai Genomics Inc. |
Product and Service Launches Are Shaping Market Competition
In recent years, carrier screening market players have launched an array of products and services, in order to strengthen their position in the industry.
For instance, in February 2020, a new NGS-based test kit was launched by Thermo Fisher Scientific Inc., to enable researchers in the reproductive health field to better analyze a wide range of key genetic markers, with an end-to-end workflow. The consolidation of a multi-platform expanded carrier screening approach into a single solution, which helps the company expand its portfolio of reproductive health research services, is the key feature of the Ion Torrent CarrierSeq ECS Kit developed for the Ion GeneStudio S5 System.
In the same vein, in August 2018, Sema4 unveiled an enhanced version of its expanded carrier screen and the Noninvasive Prenatal Select tests for the field of reproductive health. Driven by an informatics approach, these two products are an extension of the company's portfolio.
The major players in the global carrier screening market are Invitae Corporation, Illumina Inc., Thermo Fisher Scientific Inc., Otogenetics Corporation, Myriad Genetics Inc., Luminex Corporation, Gene By Gene Ltd., MedGenome Inc., Natera Inc., Laboratory Corporation of America Holdings, and Mount Sinai Genomics Inc.
Market Size Breakdown by Segment
The carrier screening market report offers comprehensive market segmentation analysis along with market estimation for the period 2014–2030.
Based on Type
Expanded Carrier Screening
Targeted Carrier Screening
Based on Application
Cystic Fibrosis
Thalassemia
Spinal Muscular Atrophy (SMA)
Sickle Cell Disease (SCD)
Fragile X Syndrome
Based on Technology
DNA Sequencing
Polymerase Chain Reaction (PCR)
Microarray
Based on End User
Hospitals
Laboratories
Clinics
Geographical Analysis
North America
Europe

Germany
France
U.K.
Italy
Spain
Netherlands
Russia
Norway

Asia-Pacific (APAC)

China
Japan
India
Australia
South Korea
Singapore

Latin America (LATAM)
Middle East and Africa (MEA)

Saudi Arabia
South Africa