Market Overview
The cardiac safety services market size stood at USD 750 million in 2022, and it is expected to grow at a compound annual growth rate of 11.5% during 2022–2030, to reach USD 1,792 million by 2030. This is because these services assist in supporting and designing clinical trials and other research studies required to monitor cardiac health and are focused on monitoring a complete cardiac protection profile across different phases of clinical experimentation.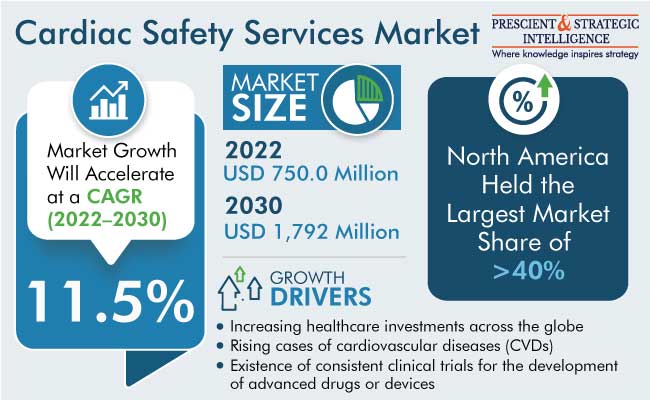 Moreover, the increasing number of drug launches and clinical trials, the growing healthcare expenditure, the surging investments by pharmaceutical companies, the advent of advanced and high-tech healthcare products, and strategic initiatives by leading players across the world are driving the market growth. Further, the rising aging population and sedimentary lifestyle among millennials are boosting the demand for healthcare solutions, such as cardiac safety.
Heart healthcare solutions were highly demanded during the COVID-19 pandemic, as the disease exerted a high load on the existing healthcare industry. The virus most commonly affected the respiratory system and it is also observed that it led to all types of serious heart ailments. The lung damage triggered by the virus prevents oxygen-rich blood to reach the heart muscle, which, in turn, damages its tissue. It disrupts the electrical signals, which help the heart to beat properly, which reduces the pumping ability or may lead to irregular rhythms, also known as arrhythmia, or make an existing arrhythmia worse.
For instance, as per an article published in October 2022 in BMJ Journals, a study was conducted, which exhibited that people admitted with COVID-19 had a high risk of occurrence of cardiovascular diseases (CVDs), including heart failure, stroke, myocardial infarction, venous thromboembolism, and atrial fibrillation, among others. Therefore, the pandemic had a substantial positive impact on the market.
Rising Health Awareness
With the growing ill heart health, associated with a sedimentary lifestyle and unhealthy eating habits, various health education programs and campaigns have been started to improve awareness about heart diseases. These programs are aimed at educating people to control the risk factors such as unhealthy diet, tobacco use, and physical inactivity, so that around 80% of premature deaths from such diseases could be avoided. Also, World Heart Day is celebrated on September 29, which is the biggest platform to make people aware of CVDs.
Industry Players Adopting Various Strategic Development Measures To Improve Their Position
With the rise in cases of heart disease, leading industry players have been involved in various strategic developments, such as agreements, partnerships, acquisitions, and product launches, to intensify their footprints in this market. For instance, AliveCor, an ECG technology and solution provider acquired CardioLabs, an independent diagnostic testing facility (IDTF), in June 2021, to boost its cardiological facilities or services for patients who are advised monitoring systems by healthcare specialists.
Similarly, in February 2018, Phase I QT Center of Excellence was launched by ERT. This enables therapeutic companies to decide whether go or not to go further with the drug development process. It also helps sponsors to gain reliable information about heart care profiles of their developed compounds at the earliest in the process.
Likewise, Wellmetrix is confirming the expansion of an at-home, non-invasive multiplex test. This can be paired with any smartphone to implement sophisticated analytics and track the effect of exercise, diet, hydration, supplementation, sleep, and other inputs to offer an inclusive, highly customized picture of personal health and wellness.
Cardiac Safety Services Market Report Coverage

| | |
| --- | --- |
| Report Attribute | Details |
| Historical Years | 2017-2022 |
| Forecast Years | 2023-2030 |
| Market Size in 2022 | USD 750 Million |
| Revenue Forecast in 2030 | USD 1,792 Million |
| Growth Rate | 11.5% CAGR |
| Report Scope | Market Trends, Drivers, and Restraints; Revenue Estimation and Forecast; Segmentation Analysis; Impact of COVID-19; Companies' Strategic Developments; Market Share Analysis of Key Players; Company Profiling |
| Segments Covered | By Type; By Service Type; By End User; By Region |
Explore more about this report - Request free sample pages
Rise in the Prevalence of Cardiovascular Diseases
The increasing prevalence of chronic diseases is one of the key driving forces for the expansion of the cardiac safety services market. CVDs are the leading cause of death and account for around 20 million deaths each year globally. CVD includes various types of disorders such as heart coronary disease, rheumatic disease, cerebrovascular disease, and other conditions. The reason for such diseases and stroke includes unhealthy behavioral practices such as physical inactivity, unhealthy diet, tobacco use, and high alcohol consumption. The negative effects of such behavioral practices may cause elevated blood pressure, high blood lipids, raised blood glucose, overweight, and obesity.
Apart from an inactive lifestyle and intake of unhealthy diets, the deposition of fats in arteries over many years leads to life-threatening diseases. The reason is the stiffness in large arteries that exerts pressure on the heart to efficiently supply blood but it pumps less efficiently. Hence, the growing complications of CVDs with old age are projected to increase the adoption of ECG/Holter measurement services in the forecast period. Also, with a rise in the aged population, the demand for CVD care is expected to increase.
Integrated Type of Services Generated Larger Revenue
The integrated category held a larger revenue share, of around 62%, in the cardiac safety services market in 2022. This is because it is provided as a package of services to biopharmaceutical and pharmaceutical companies. These core lab services offer a set of heart health facilities that are required from start to the finish of a procedure, such as imaging solutions, TQT studies, and profile QT studies. These services are also used in monitoring several physiological parameters to aid in the real-time assessment of the heart rate of patients. As a result, they help enhance and advance clinical trials for pharmaceutical and biopharmaceutical development cycles.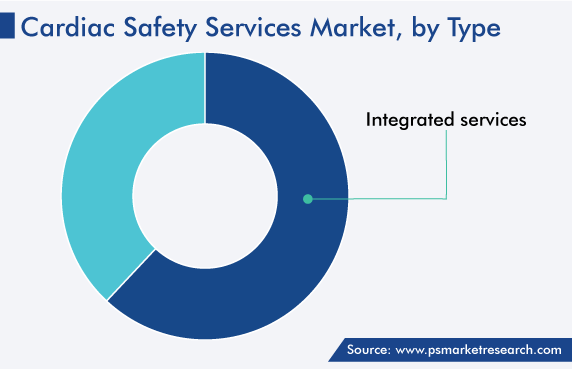 Increase in Pharmaceutical R&D Activities
The R&D process in the pharma industry is associated with the series of activities targeted to determine and deliver effective medical drugs, devices/equipment, or therapies. The whole process involves pre-clinical research clinical trials, clinical tests of prescription drugs in trials, and additional clinical trials to check the efficacy of side effects of newly introduced drugs, which are vital for determining and developing novel effective drugs to treat diseases. As per an article published in November 2022, sacubitril/valsartan (Entresto) and vabradine (Corlanor) were introduced to reduce the number of hospital visits and deaths caused by heart failure.
Moreover, clinical trials are the utmost operative medium to confirm the safety and effectiveness of therapeutic drugs before bringing them to market. For instance, cardiac health evaluation is an essential part before any medical product goes into the market. Thus, these factors boost the demand for cardiac safety devices and services.
North America Is the Market Leader
With the rise in the incidence of the aging population worldwide, the demand for heart safety facilities has increased in both developed and developing nations. However, these services are more dominantly accepted in North America, owing to the increased number of clinical trials and the introduction of innovative cardiac safety products by giant players. Further, the market is driven by the availability of technologically advanced products, a rise in disposable income, and high healthcare expenditure in the region.
Moreover, the regional market held the largest revenue share, of around 40%, in 2022. This is due to the surging number of geriatric patients who are more prone to develop any kind of cardiovascular life-threatening disease at a later stage. For instance, as per the data updated by a U.S. government organization in October 2022, it was estimated that around 800,000 people in the country have a heart attack every year. Amongst these, around 600,000 people were assessed as patients of a first attack. Hence, the rising cases of cardiac health problems are expected to drive the regional market growth.
The European market was had significant revenue in 2022, and it is expected to grow at a CAGR of around 11.4% during the forecast period. This is mainly attributed to the developed healthcare infrastructure and high healthcare investment. For instance, western European countries, such as Germany, France, the U.K., and Switzerland, have a developed healthcare sector, owing to which new technology and diagnostic procedures are more frequently used in this part of the region. Further, the rapidly increasing percentage of an aging population and the increasing life expectancy in central and eastern European countries are driving the demand for healthcare solutions.
Furthermore, in Europe, CVD causes more than three million deaths every year and accounts for around 37% of all deaths. It has been observed that death rates from both stroke and ischemic heart disease (IHD) are generally higher in eastern and central Europe than in other parts of the region. Therefore, the rise in CVD cases is further expected to bolster the need for heart care services in the future.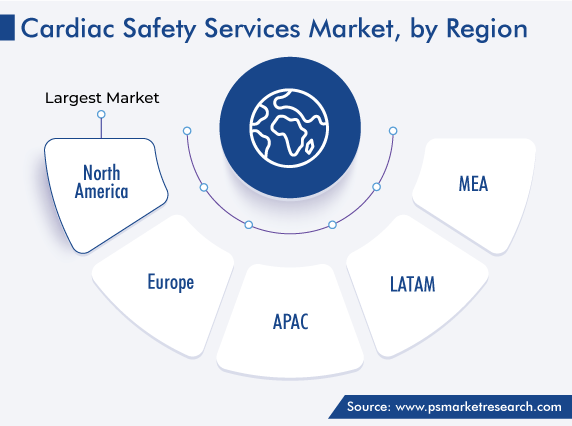 Key Cardiac Safety Service Providers Are:
Koninklijke Philips N.V.
Laboratory Corporation of America Holdings
IQVIA
Medpace Inc.
Ncardia
Certara
Eurofins Scientific SE
SGS SA
Banook Group
Celerion
Market Size Breakdown by Segment
This report offers deep insights into the cardiac safety services market, with size estimation for 2017 to 2030, the major drivers, restraints, trends and opportunities, and competitor analysis.
Based on Type
Integrated services
Standalone services
Based on Type of Service
ECG/Hotler measurement service
Blood pressure measurement services
Cardiovascular imaging
Thorough QT studies
Based on End User
Pharmaceutical and biopharmaceutical companies
Contract research organizations
Academic and research institutes
Geographical Analysis
North America
Europe

Germany
U.K.
France
Italy
Spain

Asia-Pacific

Japan
China
India
South Korea
Australia

Latin America
Middle East and Africa

Saudi Arabia
South Africa
U.A.E.