Cancer Profiling Market Overview
Global cancer profiling market size was valued at $25.8 billion in 2016, and is projected to grow at 19.0% CAGR during the forecast period. The market is bifurcated on the basis of technology including, NGS, IHC, QPCR hybridization ISH and microarray. NGS is expected to witness the fastest growth in the future, as it can rapidly sequence whole genomes and zoom in to sequence target regions.
GLOBAL CANCER/TUMOR PROFILING MARKET BY TECHNIQUE $M 2013-2023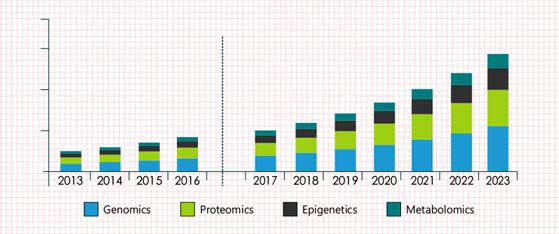 The various techniques used in the cancer profiling market include genomics, proteomics, epigenetics and metabolomics. Genomics study involves the sequencing and analyses of the complete genomes, and is done to determine whether any gene in the complete genome is normal or not and when a gene is found to be abnormal, thus leading to growth in genomics. The technique is also expected to register the fastest growth, growing at a CAGR of 19.7% during the forecast period.
Based on application, the cancer profiling market is categorized into personalized medicine, diagnostics, biomarker discovery, prognostics, others. Due to increased patient benefits from personalized treatment, the healthcare providers are opting for it for the treatment of cancer. For instance, according to Pharmaceutical Research and Manufacturers of America (PhRMA), targeted therapies have been in use for lung cancer, leukemia, melanoma, cystic fibrosis, and various other diseases, after the year 2000 and around 38% use of personalized medicine has been seen in hematology/oncology.
Globally, North America was the largest revenue contributor in the cancer profiling market, in 2016 due to increasing research and funding for cancer, rising technological adoption for treatment of cancer and presence of leading players in the region. According to the American Cancer Society, around 13% of the total cases of cancer, diagnosed in 2017 in adults and elderly population worldwide, is estimated to be a rare kind of cancer. Cancers such as breast cancer have registered a significant growth during 2004-2013. This has substantially increased the demand in the cancer profiling market for the diagnosis of various cancers.
Cancer Profiling Market Dynamics
Growth Drivers
Various factors increasing the demand for the cancer profiling market include, rising utility of biomarkers in tumor profiling, increasing number of new cancer cases, expanding demand for next generation sequencing for cancer profiling, and rise in the availability of funding for cancer research.
In October 2017, the American Cancer Society (ACS), approved funding for 78 research and training grants totalling $39.8 million in the second of two grant cycles. The grants will fund investigators in 57 institutions across the U.S.; with 63 being the new grants while 15 are renewals of previous grants. As of August 2017, around 159 grants worth $28.6 million have been provided for the research of breast cancer by the ACS. The American Association for Cancer Research (AARC), has granted $331.0 million to approximately 606 recipients in 13 countries around the world for cancer research from 1993-2016, which indicates the development in cancer research.
According to estimates from the International Agency for Research on Cancer (IARC), in 2012 there were 14.1 million new cancer cases and 8.2 million cancer deaths worldwide. By 2030, the global burden is expected to grow to 21.7 million new cancer cases and 13 million cancer deaths simply due to the growth and aging of the population. This increase in cancer cases is due to the changing lifestyle and eating habits, smoking, tobacco consumption, and radiation exposure leading to the demand for products in the cancer profiling market globally.
Opportunities
The players in the cancer profiling market players have immense opportunities to grow due to increasing use of point-of-care diagnostic tests and rising demand for personalized medicine. OncoGenesis, has developed a CerMark cervical cancer screen, that can characterize cervical cancers and quantify these biomarkers in relatively non-invasive cervical cytology. These novel biomarkers are embedded in the CerMark cervical cancer screen and the system can be used both in the laboratory research and point-of-care applications. The device includes a pipeline of diagnostic tests and a portable hardware device. The development of such diagnostic kits creates opportunities for the players to invest in cancer profiling market.
Cancer Profiling Market Competitive Landscape
The key players in the cancer profiling market are collaborating with other firms to expand their market share. In September 2017, Indivumed, GmbH and Helomics Corp. entered into a partnership to analyze human cancer biospecimens and annotated clinical data from consenting patients around the world.
Following that in September 2017, Genomic Health, Inc. entered into an agreement with Biocartis Group NV, a molecular diagnostics company. The agreement was aimed at developing an in vitro diagnostic (IVD) version of the Oncotype DX Breast Recurrence Score test on Biocartis' Idylla platform. This test can be performed locally by laboratory partners and in hospitals around the world.
Some of the other key players operating in the cancer profiling market include Illumina, Inc., NeoGenomics Inc., Caris Life Sciences, Inc., Oxford Gene Technology, HTG Molecular Diagnostics, Inc., RiboMed Biotechnologies, Inc., QIAGEN N.V. and NanoString Technologies, Inc.