Cancer/Tumor Profiling Market Overview
The global cancer/tumor profiling market size was $25.8 billion in 2016, and it is expected to grow at a CAGR of 19.0% in the forecast period (2017–2023). On the basis of technology, the market is divided into five categories: quantitative polymerase chain reaction (QPCR), next-generation sequencing (NGS), in-situ hybridization (ISH), immunohistochemistry (IHC), and microarray. Among these, NGS is projected to witness the highest CAGR due to the fact that it allows rapid sequencing of genomes and zooming in at sequence target regions.
GLOBAL CANCER/TUMOR PROFILING MARKET, BY TECHNIQUE, $M (2013-2023)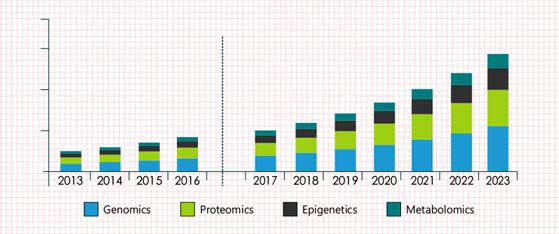 In terms of technique, the cancer/tumor profiling market is categorized into genomics, proteomics, epigenetics, and metabolomics. Out of these, genomics is predicted to have the highest CAGR (19.7%) during the forecast period. The technique is used for the characterization of genes; it determines whether any gene in the complete genome is normal or abnormal. The abnormality of genes causes mutation, which helps cancer cells survive.
When application is considered, the cancer/tumor profiling market is divided into diagnostics, personalized medicine, prognostics, biomarker discovery, and others. Among these, personalized medicine is being opted more for treating cancer. For example, Pharmaceutical Research and Manufacturers of America (PhRMA) stated that for various types of cancers, including leukemia, melanoma, lung cancer, and cystic fibrosis, targeted therapies have been used after the year 2000. A 38.0% rise in the use of personalized medicine is being seen in the field of hematology/oncology.
The largest revenue contributor to the cancer/tumor profiling market was North America in 2016; it was due to the rising technological advancements in the treatment of cancer, increase in research and funding activities, and the presence of leading players in the market. According to the American Cancer Society, around 13.0% of cancer cases recorded in 2017 in the elderly and adults were rare types. A significant growth in relatively common cancers, such as breast cancer, was also witnessed during 2004–2013. There has been a surge in the demand for cancer profiling due to this in order to diagnose different types of tumors.
Cancer/Tumor Profiling Market Dynamics
Growth Drivers
A number of factors contribute to the growth of the cancer/tumor profiling market: increasing number of rare cancer cases, rising utility of biomarkers in tumor profiling, surge in the funding for cancer research, and the expanding demand for next-generation sequencing for cancer profiling.
Different biomarkers are being developed by the players in the cancer/tumor profiling market to detect the presence of cancer cells in the body. For instance, Caris Life Sciences has developed biomarkers based on the IHC, ISH, and NGS technologies for detecting the levels of protein expression, translocations and fusions, analyzing gene deletion and amplifications, and rapid examination and broad detection of DNA mutation, respectively. Biomarkers developed on the basis of fragment analysis help in the detection of changes in RNA or DNA, which further indicates the presence or absence of genetic markers. For precise detection of cancer-causing agents, there has been an increase in the use of biomarkers for cancer profiling.
Another driver for the cancer/tumor profiling market is the increase in the demand for NGS for tumor profiling. Using the NGS technology the players in the market are developing cancer profiling kits. For instance, Illumina Inc. made the announcement about its Extended RAS panel, an USFDA-approved kit, intended to help clinicians identify which patients qualify for the treatment of metastatic colorectal cancer with Vectibix (panitumumab), June 2017.
Restraints
One of the major factors hindering the growth of the cancer/tumor profiling market is the high capital investment requirement and low benefit ratio for biomarkers. Biomarker development requires large manpower because it needs precision and expertise. Apart from this, large capital also needs to be invested in it. Although different cancer research organizations, such as National Institutes of Health (NIH) and Alzheimer's Drug Discovery Foundation (ADDF), provide funding for biomarker research, it sometimes proves insufficient considering the technical nature of biomarker development.
Opportunities
The rising demand for personalized medicine gives players an opportunity to invest in the cancer/tumor profiling market. Healthcare providers are opting more for personalized medicine for the treatment of cancer, due to its increased benefits. For example, a report published by IMS Institute for Healthcare Informatics (now IQVIA Institute of Human Data Science) stated that a fourfold rise in personalized medical treatment options had been witnessed by cancer patients. The use of personalized medicine increased from 11.0% to 46.0% during a span of 10 years (2003–2013).
Cancer/Tumor Profiling Market Competitive Landscape
The key players in the global cancer/tumor profiling market are launching new products to increase their profits. For instance, MDNA Life Sciences Inc. launched its liquid biopsy Prostate Mitomic Test in May 2017 in the U.S., together with Helomics Corp. The test uses the unique biological characteristics of mitochondrial DNA, and it is exclusively available at Helomics' clinical laboratories. In April 2017, Helomics Corp. also launched its Dynamic Clinical Health Insight Platform (D-CHIP), which can be used to study the detailed information related to cancer patients' genomes, proteins, DNA, and RNA so that pharmaceutical and diagnostic companies can come up with more-effective biomarkers.
Some of the other key players in the cancer/tumor profiling market are Caris Life Sciences Inc., Oxford Gene Technology, Illumina Inc., NeoGenomics Inc., RiboMed Biotechnologies Inc., QIAGEN N.V., NanoString Technologies Inc., and HTG Molecular Diagnostics Inc.