The global call center AI market generated revenue of $914.5 million in 2018, is projected to surpass $2,990.1 million by 2024, witnessing a CAGR of 22.6%, during the forecast period. This is mainly attributed to factors such as increasing large volume of data, rise in demand for enhanced customer support services in call centers, growing customer engagement through multiple platforms including social media, email, website, and increasing use of AI-powered chatbots to manage work operations effectively and efficiently.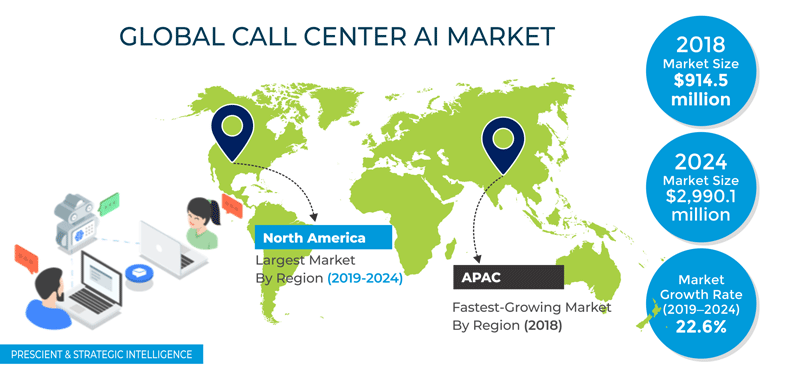 Fundamentals Governing Call Center AI Market
The rise in adoption of AI enabled chatbots is a key trend exhibited in the market. They make use of existing information such as frequently asked questions (FAQs) and the organization knowledge base to offer better customer service. Chatbots substantially cut down the waiting time for customers as their response time is extremely fast. They can provide support to multiple customers at a time unlike a human agent, who would be limited in his/her ability to do so. For instance, in China, WeChat uses a mixture of AI chatbots along with human agents across its customer service channels to serve more than 1 billion active users.
The usage of AI in call centers for enhanced customer support services is one of the major driving forces in the global call center AI market. The industries including retail, BFSI, healthcare, and telecom, are focusing on adoption of AI solutions for their call center related services. For instance, in August 2018, U.K. based retailer, Marks and Spencer plc, announced that the company is planning to displace 100 switchboard employees with an AI system, wherein the workers would be re-assigned to customer facing duties. The AI system, which has been provided by the company, Twilio Inc., handle calls for 640 stores from 13 contact center hubs in the U.K. The system allows in routing voice calls to appropriate departments with over 90% accuracy and analyzing 12 million customer interactions annually in real-time.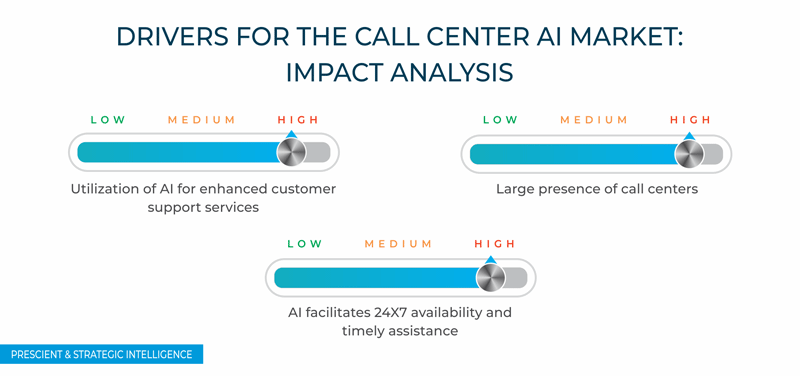 Call Center AI Market Segmentation Analysis
Based on component, solutions category held the larger share in the market in 2018. Moreover, among solutions, chatbots category held the largest share in the call center AI market. This is primarily due to high demand for chatbots in every industry including media & entertainment, retail & e-commerce, telecom, BFSI, and telecom, reduction in training cost of agents, improved customer service, personalized experience for the customer, and resolve customer queries quickly in comparison to customer service agents.
Based on technology, automatic speech recognition (ASR) category held the largest share in the market in 2018. With the support of ASR, customer database would be created with accurate insights, which help the company in predicting customer behavior and achieve customer satisfaction. Moreover, the software allows to accurately capture every piece of information for analysis, and map the performance of agents.
On the basis of industry, BFSI category is projected to register fastest growth during the forecast period. This would be due to growing requirement for omnichannel experience for customers, increased customer satisfaction, and reduction in training cost of banks and financial institutions.
Global Scenario of Call Center AI Market
Globally, North America was the largest market for call center AI solutions and is expected to maintain the trend during the forecast period as well. This is majorly attributed to rising number of investments related to adoption of AI, increasing preference for automated work operations in call centers, advancements in voice recognition technology, presence of established players in the region, providing personalized experience to the customers, increase in productivity of agents, and in order to have a competitive edge over its competitors. Additionally, the U.S. is expected to lead the North America call center AI market, generating revenue of $1,009.1 million by 2024.
During the forecast period, the global call center AI market is expected to register fastest growth in APAC, majorly due to factors such as rising innovation and technological advancements in call center solutions, improvement in employee productivity, growing customer expectations, and presence of large number of call centers in the region. China is anticipated to lead the APAC call center AI market over the forecast period, on account of factors including rising need for transformation in call center work operations, increasing investments in technologies such as speech analytics and voice recognition, and reduction in operational expenses for the companies.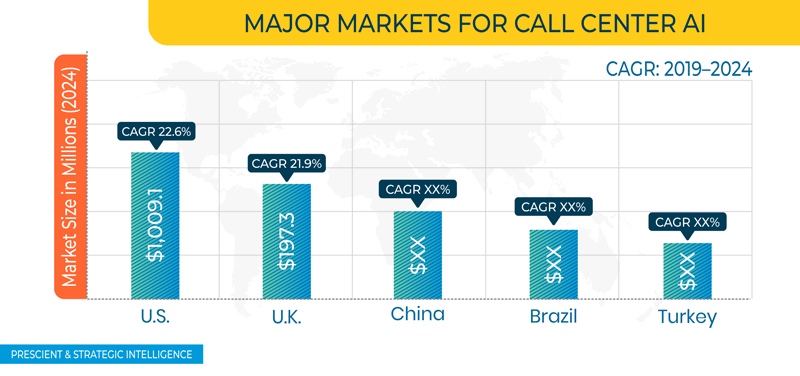 Competitive Landscape of Call Center AI Market
The call center AI market is fragmented in nature, owing to the presence of players such as Microsoft Corporation, International Business Machines Corporation, Google LLC, Amazon Web Services Inc., and Oracle Corporation. The market also comprises of other important players such as Avaya Inc., NICE inContact, Talkdesk Inc., Cogito Corporation, SmartAction LLC, Five9 Inc., Twilio Inc., and Zendesk Inc., Haptik Inc., Twilio Inc., and Avaamo Inc.
Recent Strategic Developments of Major Call Center AI Market Players
In recent years, major players in the market have taken several strategic measures including partnerships, acquisitions, product launches, and agreements to gain a competitive edge in the industry. For instance, in April 2019, U.S. based bank, Regions Financial Corporation, has partnered with International Business Machines Corporation to deploy AI solutions in its contact centers in order to improve customer service experience and help bankers in their routine operations. The bank has utilized Watson Assistant which enable bankers to resolve customer queries faster and also provide guidance on customer queries.
In July 2019, a U.K. based insurance company, British United Provident Association Limited (Bupa) adopted AI in its contact centers in the U.K. The company has introduced an automated ID service, which uses machine learning and speech recognition, which enable to verify the caller identity, respond to customer queries, and learn from past transactions. Since its launch, 85% of callers prefer to choose the automated option and interact with agents effectively.
Key Questions Addressed in the Report
What is the current scenario of the call center AI market?
What are the emerging technologies for the development of call center AI solutions?
What is the historical and the present size of the market segments and their future potential?
What are the major catalysts for the market and their impact during the short, medium, and long terms?
What are the evolving opportunities for the players in the market?
Which are the key geographies from the investment perspective?
What are the key strategies adopted by the major players to expand their market share?