Market Overview
The global breast lesion localization market was valued at USD 410.4 million in 2023, which is expected to reach USD 653.1 million by 2030, growing at a CAGR of 7.0% during 2024–2030. This is attributed to the expanding breast cancer screening programs and better reimbursement conditions. Moreover, breast cancer is the most common disease in females and its prevalence is rising rapidly. For instance, according to data published by the International Agency for Research on Cancer (IARC), breast cancer has now surpassed lung cancer as the most frequently diagnosed cancer worldwide.
Lifestyle changes play a huge role in the development of such cancer, as these may lead to worsening the condition due to unhealthy dietary preferences and lack of physical activity. Also, higher blood insulin levels are found in overweight women. Several malignancies, particularly breast cancer, have been linked to elevated insulin levels.
Additionally, alcohol consumption, excess weight, birth control use, menopausal hormone replacement therapy, and augmentation mammoplasty can also result in the development of mammary cancer. Epidemiologic research has consistently shown that drinking more alcohol increases the risk of breast carcinoma. Light drinkers have a marginally higher risk of this malignancy than non-drinkers, according to data compiled from 118 separate research. The risk is increased more among heavy and moderate drinkers.
Moreover, the market is also expected to grow faster due to the improving better healthcare infrastructure and amenities and the rising awareness of breast cancer screening. For instance, the Breast Screen Australia program, a national breast cancer screening program in Australia, offers free mammography testing every two years to women between the age of 50 and 74. Also, early diagnosis is becoming more popular in developing nations like China and India. Furthermore, breast lesion localization techniques are predicted to become more popular as a result of an increase in government and non-government payment schemes for mammary cancer diagnoses, biopsies, and other relevant medical procedures.
Additionally, an enhanced localization strategy may enable radiologists and surgeons to perform breast procedures with greater accuracy, simplicity, and convenience. New technological developments have produced non-wire, non-radioactive substitutes, like magnetic seeds. For instance, the Magseed product by Endomagnetics Ltd. is implanted in the distressed breast before the operation and utilizes a probe to show a surgeon exactly where the malignant tissue is located.
Rising Incidence of Breast Cancer Drives the Industry
The adoption of breast lesion localization devices will increase in the near future, due to the rising incidence of mammary cancer. The lymph nodes beneath the arms are the most typical first identifiable site of breast cancer spread; nevertheless, there are certain lesions in these nodes that cannot be felt by touch. Moreover, the malignancy may also spread to other parts of the body.
Utilizing appropriate screening techniques to look at the asymptomatic population, which has an average cancer risk, is necessary for early cancer identification, particularly for breast carcinoma. It is crucial that doctors, other medical professionals, and the general public have a better grasp of the early warning signs and symptoms of cancer. The sector will flourish as a result of better healthcare policies in developing nations.
For example, more than 90% of breast cancer patients in high-income nations survive for at least five years following diagnosis, compared to 66% in India and 40% in South Africa. This is because, in high-income nations, early identification and treatment have been effective in lowering the risk of breast carcinoma.
Breast Lesion Localization Market Report Coverage

| | |
| --- | --- |
| Report Attribute | Details |
| Market Size in 2023 | USD 410.4 Million |
| Market Size in 2024 | USD 435.8 Million |
| Revenue Forecast in 2030 | USD 653.1 Million |
| Growth Rate | 7.0% CAGR |
| Historical Years | 2017-2023 |
| Forecast Years | 2024-2030 |
| Report Scope | Market Trends, Drivers, and Restraints; Revenue Estimation and Forecast; Segmentation Analysis; Impact of COVID-19; Companies' Strategic Developments; Market Share Analysis of Key Players; Company Profiling |
| Segments Covered | By Type; By Usage; By End User; By Region |
Explore more about this report - Request free sample pages
Wire Guided Category Leads the Type Segment
The wire guided category dominated the market, with a share of 40%, in 2023. This is due to its low cost, ease of use, and the availability of a large variety of wire localization devices that can be connected to radiology imaging systems using guided wire. Furthermore, it is expected that the advantages of the wire localization method, such as its affordability, accuracy, and effectiveness, in comparison to other breast lesion localization procedures, will improve the method's uptake.
Moreover, the increasing incidence of breast malignancy, the rising number of breast operations, and the surging use of the wire localization method in diagnostic and therapeutic areas are driving the need for early detection and efficient treatment, which is expected to further drive the market growth in this category.
Whereas, the magnetic tracers category is projected to witness the fastest growth, advancing at a CAGR of 7.2%, during the forecast period. This can be credited to their increased effectiveness via novel mechanisms, which are employed to find non-palpable early-stage cancer.
On the other hand, over the course of the projected period, the radioisotope category is predicted to experience significant growth. This can be because it is one of the most recent methods for preoperative localization of non-palpable, suspicious lesions, and it is reliable, secure, and popular.
Breast Biopsy Maintains Its Dominance in the Usage Segment
In 2023, the breast biopsy category accounted for a larger market share, of 65%, and the demand for breast biopsies is expected to increase during the projected time frame. This is because the metrics are valued in accordance with the volume of patients undergoing breast biopsies and the rising awareness of the benefits of a biopsy for early breast lesion diagnosis.
The lumpectomy category also holds a significant share as well in the market. This is due to the benefits of lumpectomy, such as patients' breasts' appearance and sensation can be preserved and it has a minimally invasive nature and quick recovery. Thus, it is usually preferred over other highly invasive procedures like mastectomy.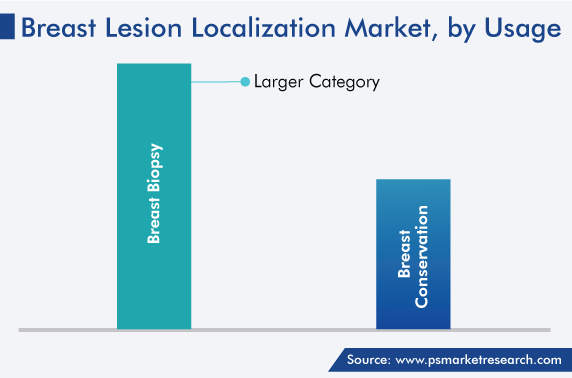 Core Needle Biopsy (CNB) Holds the Largest Share
Based on biopsy technique, the CNB category held the largest market share, of 35%, in 2023. This is majorly attributed to its accuracy in the diagnosis of benign lesions and its capacity to discriminate between in-situ lesions and invasive cancer. In addition, CNB is undoubtedly more reliable than fine needle aspiration since it obtains a larger tissue sample and provides some architectural information.
Whereas, the vacuum-assisted breast biopsy category is expected to show significant growth in the coming years. This can be because one could gather contiguous samples with just one needle insertion and with that higher amount of tissue can be extracted. As a result, most pathologists choose this method. It is considerably simpler to find the biopsied spot using this technique. Moreover, it helps prevent histological underestimation and, in the vast majority of cases, avoids open surgical treatments altogether, saving a lot of money.
North America Is the Market Leader
Globally, North America accounts for the largest market share. This is due to the existence of a well-established healthcare system, the presence of significant manufacturers, increased awareness of early detection of breast cancer, simple FDA approval processes, and high utilization of advanced devices in cancer treatment facilities, in the region. For instance, MOLLI Surgical Inc. received approval from the U.S. Food and Drug Administration in May 2021 for MOLLITM, a novel wire-free localization method for breast cancer surgery.
Additionally, high economic development, technological improvements, high prevalence of mammary cancer, extensive funding for the establishment of new R&D facilities, significant research and development activity in the pharmaceutical and biotechnology industries, the accessibility of established government programs for cancer screening, the presence of well-established reimbursement policies, and increased investments on medical equipment and breast lesion localization devices by governments are driving the regional market growth.
Whereas, the European market is expected to witness a high growth rate during the projected time frame, owing to the rising geriatric population. Several research studies have observed that older women are more prone to develop mammary cancers than younger women. In addition, major developments in medical infrastructure, the rising number of hospitals, the increasing government initiatives to improve healthcare facilities, and the surging awareness among people about breast cancer are significantly contributing to the regional market growth.
During the projection period, the French market is predicted to expand significantly. This can be ascribed to the expanding healthcare infrastructure, the presence of major industry participants, and the expansion of the pharmaceutical and medical device sectors in the country. In addition, since the public in the U.K. is more conscious of its health and cancer screening and diagnosis rates are high in the country, the market is expected to rise at a significant rate. Moreover, due to weakened immune systems and altering lifestyles, the U.K.'s huge elderly population is more prone to develop breast carcinoma than younger ones.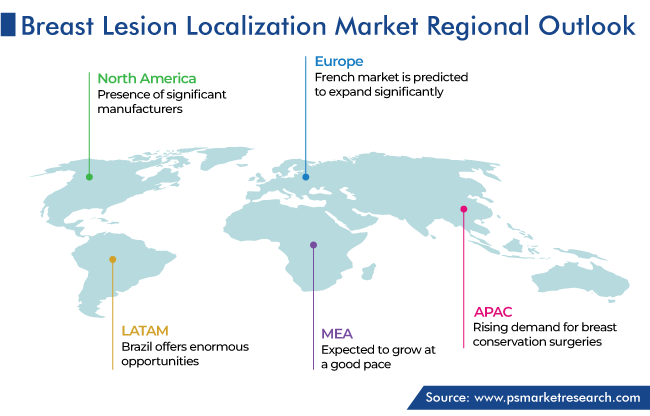 For top participants in the breast lesion localization market, emerging markets like India, China, Brazil, Turkey, Russia, and South Africa present excellent growth prospects. All medical and surgical gadgets have a high customer base thanks to the rapidly growing population, increasing disposable income, surging awareness, and improving healthcare facilities in these countries.
Top Providers of Breast Lesion Localization Are:
Hologic Inc.
Becton, Dickinson and Company
Merit Medical Systems
Argon Medical Devices
Laurane Medical LLC
Endomagnetics Ltd.
Intramedical Imaging LLC
IsoAid
Sirius Medical Systems B.V.
IZI Medical
Market Size Breakdown by Segment
This fully customizable report gives a detailed analysis of the breast lesion localization market from 2017 to 2030, based on all the relevant segments and geographies.
Based on Type
Wire Guided
Radioisotope

Radio guided occult-lesion localization (ROLL)
Radioactive-seed localization (RSL)
Others

Magnetic Tracer
Based on Usage
Breast Biopsy

Fine-Needle Aspiration Biopsy
Core-Needle Biopsy
Surgical Biopsy
Vacuum-Assisted Biopsy
Others

Breast Conservation (Lumpectomy)
Based on End User
Hospitals
Ambulatory Surgery Centers
Specialty Clinics
Geographical Analysis
North America
Europe

Germany
U.K.
France
Italy
Spain

Asia-Pacific

Japan
China
India
South Korea
Australia

Latin America
Middle East and Africa

Saudi Arabia
South Africa
U.A.E.