Market Overview
The global brain monitoring market generated USD 6,159 million revenue in 2022, and it is projected to witness a CAGR of 6.50% during 2022–2030. The increasing number of people with neurological disorders worldwide is adding to the sale of brain monitoring devices. According to the U.S. National Library of Medicine, there are more than 600 neurological diseases. In addition, the upgradation in the technology is expected to boost the market growth during the forecast period.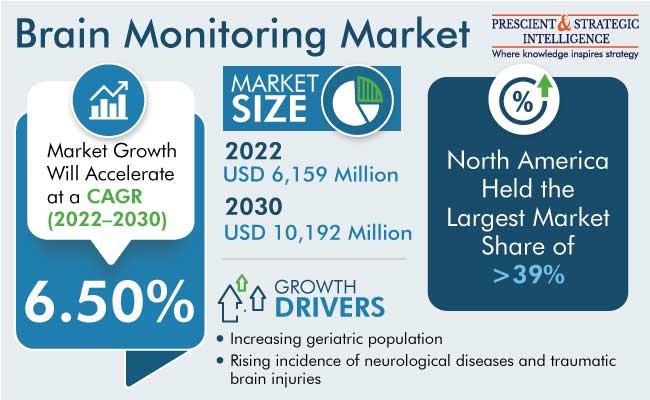 Moreover, the recent approvals for brain monitoring products would allow manufacturers to target a wider customer base. For instance, in November 2022, the Neurosteer single-channel EEG brain monitoring platform, developed by Neurosteer Inc., received the FDA clearance to be used in several clinical settings.
For instance, it can monitor the brain continuously in the ICU, to support critical interventions. Similarly, in a doctor's office, it can help detect pre-symptomatic cognitive decline, which is characteristic of Parkinson's, Alzheimer's, and dementia, early. Moreover, it can speed up drug trials and make them cost-effective by screening participants for neurodegenerative disorders.
Moreover, in November 2021, Cognixion raised USD 12 million in seed funding for the development of AI-equipped neural interfaces that help people with physical and communication disabilities operate smart home appliances using speech. The funding will allow Cognixion to create new adaptive interfaces that will make it easier for people to use the assisted reality technology.
EEG Was Major Revenue Contributor in 2022
Electroencephalography (EEG) was the major revenue contributor in 2022, and it is set to remain dominant during the forecast period, owing to the rise in the demand for advanced techniques and frequent product approvals. For instance, in August 2022, Brain Scientific Inc. announced that its NeuroCap has received the CE mark. This assures that Brain Scientific complies with the European Medical Device Directive and allows it to start commercializing this neurological device across countries that accept the CE mark. The NeuroCap is a pre-gelled, disposable EEG headset that has also received the FDA's 510(k) clearance for use in clinical settings.
Similarly, Epitel Inc. received the FDA clearance for a wearable and wireless EEG sensor and remote access software, known as REMI, to identify and track seizures in epileptic patients in emergency and critical care units, in 2021. Moreover, in February 2022, the company announced the closing of USD 12.5-million Series A financing for the initial pilot commercialization and future development of its proprietary platform.
This technology's advantage is that it enables experienced doctors to take EEG readings regardless of their physical location, which can increase testing accessibility for hospitals without in-house capabilities or specialists.
Moreover, companies are collaborating to enhance their products in terms of technology, accuracy, and the range of applications they are suited for. For instance, in May 2022, Beacon Biosignals Inc. announced a partnership with Stratus, an EEG service provider, to advance brain monitoring and machine-learning-enabled neurodiagnoses. Beacon and Stratus have joined forces to enable AI-driven at-home clinical trials powered by data from EEG machines.
Similarly, in August 2022, Interaxon Inc., a consumer neurotechnology company operating as Muse, announced that it has closed a USD 9.5-million Series C funding round through a non-brokered private placement.
The MRI category also holds a significant share in the market, and it is expected to grow at a CAGR of around 7% during 2022–2030. Moreover, among all the indications, the magnetic resonance imaging market is expected to witness the fastest growth in the brain, head, and neck imaging category, attributed to the growing incidence of traumatic brain and neck injuries globally.
Companies in the imaging sector are, thus, working with healthcare organizations and academic institutions to develop cutting-edge products. For instance, the Center for MRI Research, Zuckerman Mind Brain Behavior Institute (ZMMBBI), and PMX, a medical artificial intelligence company, signed a joint research agreement in February 2022 to boost brain diagnostics in the U.S.
The PET imaging device category is, similarly, growing, as PET can be used for the monitoring of a number of brain conditions, including trauma, epilepsy, Parkinson's disease, and Huntington's disease. According to the Center for Neurological Treatment & Research, 1 in 10,000–20,000 Caucasians have Huntington's disease. PET can also be used in small animal imaging and cancer treatment due to its high success rate. As per studies, PET is 97% effective in detecting recurrent tumors.
Sleep monitoring is another widely used approach to assess the condition of the brain. it involves tracking a person's sleep, mostly by measuring inactivity and movement. Devices that track people's sleep include trackers that clip on to a pillow, dedicated sleep trackers, fitness trackers, smartphones, and smartwatches.
In recent years, a number of wearable sleep monitors have been launched to offer patients convenience. For instance, in January 2023, LG Electronics Co. Ltd. introduced the Breeze smart sleep care solution. Breeze is a new model that was developed by SleepWave, an in-house venture of LG Electronics. This wireless earphone plays sleep sounds and detects the response of the brain to them. The earphone can further be synched to a mobile app that studies sleep data and helps enhance the sleep quality.
Moreover, electromyography (EMG) is a method used for the recording of the electrical impulses generated by muscle activity. EMG is also used to measure the various effects of stimulation of the primary motor cortex of the brain. As with other technologies, many companies have introduced advanced EMG systems in recent years. For instance, in December 2022, X-trodes Ltd., a company developing wireless monitoring solutions, launched a wireless, wearable facial electromyography solution for consumers, researchers, and clinicians, for detecting facial muscle activity.
Moreover, cerebral oximeters are non-invasive devices that can monitor the regional oxygen saturation of the frontal cortex. The recent approvals of the FDA for cerebral oximeters would drive the growth of this category in the market. For instance, in February 2022, Masimo Corporation announced that the FDA has cleared its SedLine brain function monitors for children, as well as the SedLine pediatric EEG sensor. Following the approval, both these products can be used for patients aged one or more in the U.S. SedLine displays both the Multitaper density spectral array (DSA) and EEG signals from either side of the brain, thus offering a comprehensive image of the brain.
Brain Monitoring Market Report Coverage

| | |
| --- | --- |
| Report Attribute | Details |
| Historical Years | 2017-2022 |
| Forecast Years | 2023-2030 |
| Market Size in 2022 | USD 6,159 Million |
| Revenue Forecast in 2030 | USD 10,192 Million |
| Growth Rate | 6.50% CAGR |
| Report Scope | Market Trends, Drivers, and Restraints; Revenue Estimation and Forecast; Segmentation Analysis; Impact of COVID-19; Companies' Strategic Developments; Market Share Analysis of Key Players; Company Profiling |
| Segments Covered | By Product; By Medical Condition; By End User; By Region |
Explore more about this report - Request free sample pages
Electrodes Held Largest Share in 2022
Electrodes held the largest share in the brain monitoring market in 2022, and sales revenue from them is expected to grow at a CAGR of 6.9% during 2022–2030. This is attributed to the extensive research being conducted to advance the technology, efficiency, and safety of electrode.
Another firm recently launched an enhanced electrode, the PRO-E5 EEG low-impedance needles, for an amplitude-integrated EEG in neonatal intensive care units. These electrodes are designed to monitor brain activity in the NICU over long periods. During traditional EEGs, which normally last for an hour, high-risk neonates might have no seizure, but they might have one or more within 8 to 24 hours. This makes longer-term brain monitoring in newborns rather valuable. Apart from monitoring neonatal seizures via an aEEG, PRO-E5 needles are used for monitoring the effects of various treatments in neonates on their brains.
Moreover, the recent advancements in sensor-based MRI have shown promising results. For instance, in December 2022, the Massachusetts Institute of Technology (MIT) concluded in a study that this kind of MRI can detect light deep within tissues, such as the brain. It is difficult to image light in deep tissue because the light that travels into the tissue either scatters or gets absorbed. MIT resolved this problem by designing a sensor that converts light into a magnetic signal that can be detected by the MRI.
Traumatic Brain Injury Accounted for Largest Share
By disease, the traumatic brain injury (TBI) category accounted for the largest brain monitoring market share, of 28%, in 2022, attributed to the increasing incidence of such mishaps across the globe. Approximately 70 million people sustain a TBI each year, globally.
In addition, the increasing government funding for TBI research is expected to aid the growth of this category. For instance, in December 2022, General Dynamics Information Technology (GDIT) received a USD 84-million contract to support its TBI research endeavors.
Similarly, governments are investing in artificial intelligence to diagnose and determine the best treatment for patients suffering from strokes. With such extensive public support, thousands of stroke patients in the U.K. are benefiting from quicker treatments and improved outcomes, as AI can reduce the time between the onset of the stroke and its treatment by more than 60 minutes.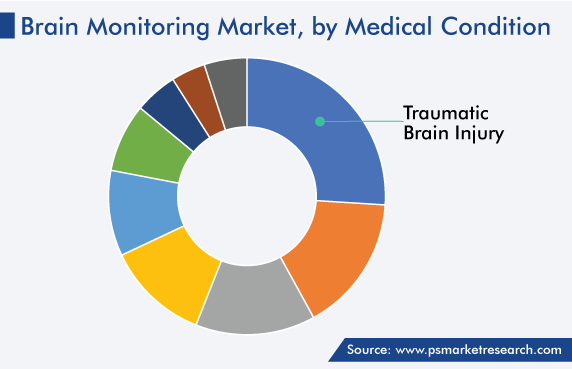 North America Accounted for Highest Revenue Contribution
North America accounts for the highest revenue contribution, attributed to the increase in the incidence of neurological diseases, adoption of advanced neurological diagnosis & monitoring technologies, and rise in the geriatric population. Furthermore, the rising awareness of the early detection of neurodegenerative diseases, such as Alzheimer's, Parkinson's, and Huntington's, is driving the industry growth in this region.
Europe also holds a significant share in the market, majorly due to the rising burden of brain diseases. For instance, over 20,000 people in Norway are diagnosed with an acute illness or injury that mandates brain monitoring each year. Brain monitoring is necessary at all ages, which is why the field of neurological radiology has evolved considerably in recent years. New methods for stroke treatment depend on more-advanced brain monitoring. Further, the developments in neuromonitoring, intensive care, clinical neurophysiology, and neurosonology radiology have improved brain monitoring technologies as well.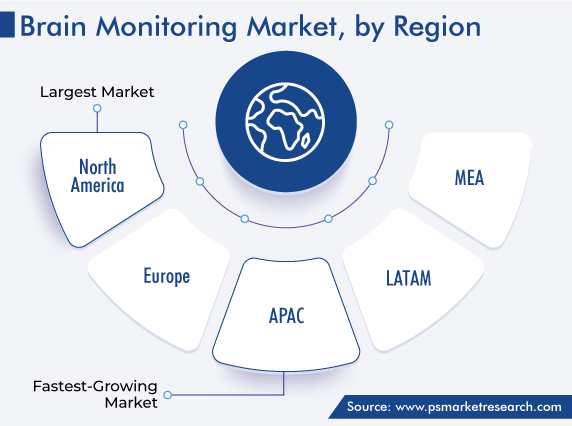 Biggest Companies Offering Brain Monitoring Solutions Are:
Natus Medical Inc.
Nihon Kohden Corporation
Koninklijke Philips N.V.
GE Healthcare
Siemens Healthcare GmbH
Edwards Lifesciences Corporation
Drägerwerk AG & Co. KGaA
Masimo Corporation
Cadwell Industries Inc.
Spiegelberg GmbH & Co. KG
Market Size Breakdown by Segment
The study uncovers the biggest trends and opportunities in the brain monitoring market, along with offering segmentation analysis at the granular level for the period 2017 to 2030.
Based on Product
Device

By modality

MRI
CT
EEG
PET
Sleep monitoring devices
Cerebral oximeters
EMG
ICP monitors
MEG
TCD

By procedure

Accessories

By type

Electrodes
Sensors
Pastes & gels
Caps
Cables
Batteries
Others

By usability
Based on Application
Traumatic Brain Injury
Stroke
Dementia
Sleep Disorders
Parkinson's Disease
Epilepsy
Huntington's Disease
Based on End User
Hospitals
Neurology Centers
Ambulatory Surgery Centers (ASCs) & Clinics
Diagnostic Centers
Geographical Analysis
North America
Europe

Germany
U.K.
France
Italy
Spain

Asia-Pacific

Japan
China
India
South Korea
Australia

Latin America
Middle East and Africa

Saudi Arabia
South Africa
U.A.E.