Market Overview
The bone densitometer market size stood at USD 316.6 million in 2023, and it is projected to grow at a CAGR of 4.7% during 2024–2030, to reach USD 441.3 million by 2030. This is primarily ascribed to the increasing prevalence of kidney diseases, the rising number of individuals having Vitamin D deficiency, the surging incidence of knee osteoarthritis, and the growing awareness about related issues and their treatment.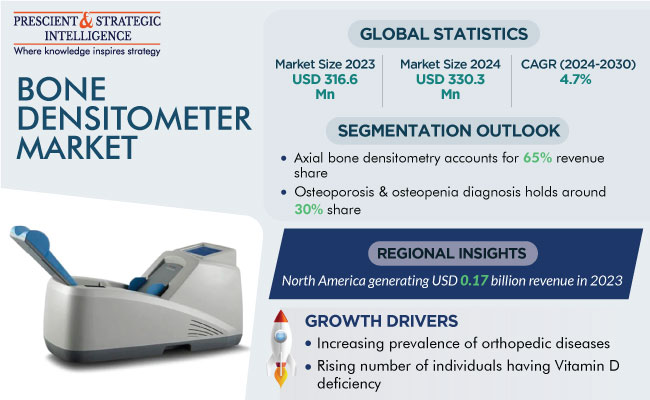 In December 2022, the FDA approved abaloparatide for osteoporosis in men. Tymlos drug is also helping women having osteoporosis after their menopause because they are at high risk of fracture. Now, it has been approved for treating men as well. In order to check the safety and efficacy of abaloparatide 80 micrograms in men with osteoporosis, it is checked in a randomized, placebo-controlled, double-blind, 12-month multicenter trial. Thus, the introduction of various drugs, which are used in the treatment of this disease, is expected to propel the growth of the market.
Moreover, the growing geriatric population is also fueling the demand for bone densitometers. This is because, after a certain age, the bone becomes weak due to lactose intolerance. People aged 65 years and above take more time in recovering and have low immunity levels, and thus they require more care. In addition, elderly people also have less regenerative abilities and are more susceptible to chronic diseases and disorders such as cancer, neurological disorders, and cardiovascular diseases, which lead to an increase in the demand for better diagnosis and therapies.
Furthermore, unhealthy dietary habits make the bone weak and cause several issues related to it. Unhealthy dietary habits include the high consumption of sugary foods, chewing tobacco, and consumption of alcohol, which can cause detrimental effects on the human body. Thus, the bone gets fractured easily at the time of any road accident.
The rapid decline in estrogen at menopause results in increased bone reabsorption without an equivalent rise in bone formation. This leads to loss of bone density and results in a decrease in bone strength. After menopause, the rate of bone loss in women rises, which further increases the threat of developing such diseases. In addition, around 3–5% of postmenopausal women experience these problems every year, which lasts for 5–7 years.
Hence, the rising prevalence of these kinds of issues is leading to peripheral and vertebral fractures, which would lead to a more socioeconomic burden, owing to the high costs of treatment and increased mortality. To improve the quality of life and ensure the safety of the geriatric population, the demand for better healthcare facilities and diagnosis is increasing.
Axial Bone Densitometer Holds the Largest Share
The axial bone densitometer category accounted for the largest revenue share, of 65%, in 2023. This is because it provides greater accuracy, the number of osteoporotic patients is rising, and central dual-energy X-ray absorptiometry is widely used due to its ease of use and is safe for both children and adults.
Moreover, the chances of error are less with this type of technology, it also aids in determining the composition of the body in a wide range of nutritional and metabolic disorders, and it is highly adopted for children because this is non-invasive. In addition, other factors such as its low radiation exposure, patient-friendly, and highly precise are expected to contribute to the growth of the market in this category.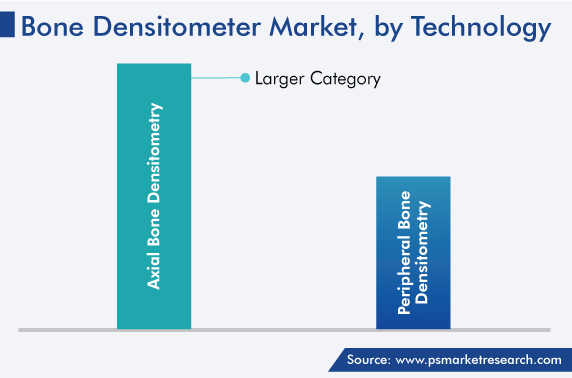 Osteoporosis & Osteopenia Diagnosis Dominates the Industry
Based on application, the osteoporosis & osteopenia diagnosis category accounts for the maximum share. This is attributed to the rising cases of bone-related issues and the increasing awareness of such issues. Due to the deficiency of Vitamin D and other mineral deficiencies, such as calcium and magnesium, people become weak and develop problems related to bones. In menopausal women, the risk of osteoporosis and osteopenia is growing, which leads to high demand for bone densitometers.
Whereas, the cystic fibrosis diagnosis category is expected to grow significantly in the forecast period, owing to the rising incidences of cystic fibrosis. For instance, in the U.S., approximately 40,000 adults and children are living with cystic fibrosis as per government reports. It has also been evaluated that around 105,000 people with this condition are diagnosed in around 94 countries.
The disease produces mucus, which is a thick and fluid-like substance, and it is usually caused by a defective gene. It builds up in the breathing passages of the pancreas and in the lungs, which affects such organs with the passage of time. For example, as a result, the lungs become damaged and may stop working. Due to this, it is necessary that it should be diagnosed on time, which, in turn, boosts the market growth in this category.
Hospitals and Diagnostic Clinics Are the Largest End Users
Hospitals and diagnostic clinics are the largest end users in this sector. This is due to various factors such as the increasing number of patients with bone-related diseases visiting hospitals, the rapid adoption of advanced and well-equipped healthcare systems, the surging healthcare expenditure, and the rising affordability and accessibility of treatment and diagnosis of different therapeutic conditions. Also, it has been predicted that governments across various regions are heavily investing in public health and contributing to the advancements of healthcare services. Moreover, a large patient pool, the availability of trained professionals, and the financial capabilities of hospitals lead them to generate high revenue in the market.
Bone Densitometer Market Report Coverage

| | |
| --- | --- |
| Report Attribute | Details |
| Market Size in 2023 | USD 316.6 Million |
| Market Size in 2024 | USD 330.3 Million |
| Revenue Forecast in 2030 | USD 441.3 Million |
| Growth Rate | 4.7% CAGR |
| Historical Years | 2017-2023 |
| Forecast Years | 2024-2030 |
| Report Scope | Market Trends, Drivers, and Restraints; Revenue Estimation and Forecast; Segmentation Analysis; Impact of COVID-19; Companies' Strategic Developments; Market Share Analysis of Key Players; Company Profiling |
| Segments Covered | By Technology; By Application; By End User; By Region |
Explore more about this report - Request free sample pages
Increasing Awareness of Osteoporosis Care Boosts the Sales
The increasing awareness among people about the effects of osteoporosis and its treatment is propelling the growth of the market. Several government and private associations are focused on the surging understanding of osteopenia through various campaigns and programs. For instance, the International Osteoporosis Foundation is an organization dedicated to health and knowledge related to it. The organization provides information regarding the risk factors, treatments, and prevention alternatives to create awareness about the disease among physicians and patients.
In the U.S., May is celebrated as National Osteoporosis Awareness and Prevention Month, which helps promote good bone health through the prevention, detection, and treatment of these problems. Across the month, the increasing risk of the disease has been taught among people and encouraged them to take preventive measures in order to have healthy bones. While in Canada, November is celebrated as an osteoporosis awareness month. In addition, in France, schools and the government are coordinating to increase the understanding and knowledge of the disease.
The main objective of this initiative is to boost awareness about the effects and complications of such problems through various conferences, seminars, and workshops. In addition, events are organized, and the local and national media, including newspapers and internet publications, are employed to spread awareness about the disease. Hence, the rising consciousness among people about bone health and its related problems is boosting the sales of bone densitometers.
North America Makes Largest Contribution to Global Revenue Generation
North America has the leading position in the bone densitometer market, and it will also hold the same position in the coming years, accounting for a value of USD 0.17 billion by 2023. This is attributed to the presence of key players, a large number of hospitals and clinics, and trained professionals in the region.
In North America, the U.S. market holds the leading position, and it will grow at a CAGR of 4.8%, during the forecast period. This can be attributed to the rise in cases of chronic diseases, robust medical infrastructure, improved healthcare system, and the growing aging population in the country.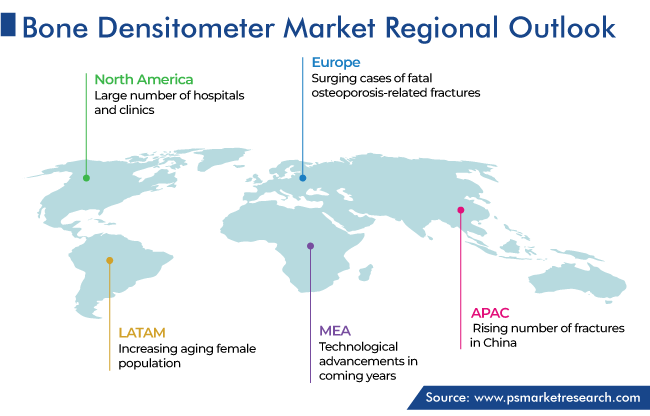 In the U.S., an estimated 10 million people aged 50 years and older have such issues. About 2 million of these people are men, with the majority of them being women, particularly menopausal women. More than 43 million people, including 16 million males, have poor bone mass, which increases the risk of developing osteoporosis, and in turn, will fuel the market growth.
Top Bone Densitometer Companies:
GE Healthcare Technologies Inc.
Hologic Inc.
Swissray International Inc.
DMS Imaging
Echolight S.p.a
BeamMed Ltd.
Market Size Breakdown by Segment
The report analyzes the impact of the major drivers and restraints on the bone densitometer market, to offer accurate market estimations for 2017–2030.
Based on Technology
Axial Bone Densitometry
Peripheral Bone Densitometry
Based on Application
Osteoporosis & Osteopenia Diagnosis
Cystic Fibrosis Diagnosis
Chronic Kidney Disease diagnosis
Body Composition Measurement
Rheumatoid Arthritis Diagnosis
Based on End User
Hospitals & Specialty Clinics
Diagnostic & Imaging Centers
Others
Geographical Analysis
North
Europe

Germany
U.K.
France
Italy
Spain

Asia-Pacific

Japan
China
India
South Korea
Australia

Latin America
Middle East and Africa

Saudi Arabia
South Africa
U.A.E.