Market Overview
The global biomaterials market size was valued at $112.7 billion in 2021, and it is expected to reach $349.1 billion by 2030, advancing at a growth rate of 13.4% during 2021–2030. The market growth has been spurred by technological advancements, the growing incidence of musculoskeletal and chronic skeletal medical conditions, and rising government supports including grants and funds to boost the production of novel biomaterials. Moreover, the surging urbanization and expanding number of fitness centers and health clubs boost the demand for biomaterials.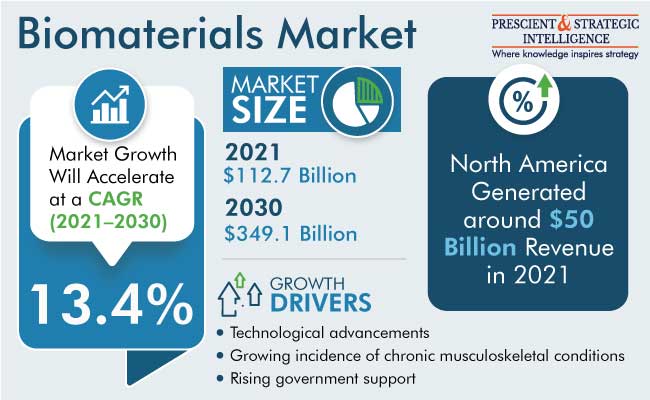 Growing Geriatric Population
The geriatric population requires extensive care as they are highly prone to illnesses, due to low immunity levels and high recovery time. Owing to the changes in tendons and ligaments with age, the flexibility of joints decreases, and their motion become more restricted. Elderly people are also more susceptible to chronic diseases especially cardiovascular diseases, thus leading to an increase in demand for implants and prosthetics.
Moreover, older people are at higher risk of orthopedic disorders, musculoskeletal injuries, ophthalmic disorders, and dental problems. This increases the need for implants such as hip joints, knee joints, pacemakers, intraocular lenses, and artificial heart valves. There are increased chances of organ or tissue failure in older people, which can be treated through biomaterials; therefore, increasing their demand across the globe.
Biomaterials have revolutionized the medical device industry. These materials are resilient, easy to fabricate, highly biocompatible inert, and extremely strong. Biomaterial advances in implants and regeneration have led to a high success rate of implants. They are used in many applications, such as joint replacements, bone plates, bone cement, artificial ligaments and tendons, dental implants for tooth fixation, blood vessel prostheses, heart valves, artificial tissue, contact lenses, and breast implants, which, in turn, bolster the market growth.
Plastic Surgeries Category To Witness Fastest Growth
The plastic surgeries category is expected to record the fastest growth, advancing at a CAGR of 15%, in the biomaterials market outlook during the forecast period. Biomaterials are being used for reconstructive as well as cosmetic purposes in plastic surgeries. The category is expected to grow as different vendors are investing huge capital to develop safe and reliable products for use in plastic surgeries. Breast implants are one of the major applications of biomaterials in these surgeries.
With the rapid increase of applications of plastic surgeries, several new and advanced products for these surgeries are available globally. Soft tissue fillers, acellular dermal matrices, biomaterials for craniofacial surgeries, and bioengineered skins are gaining immense popularity.
The orthopedic category is expected to have a decent share of the market. Biomaterials are required to have certain characteristics for usage in orthopedics such as mechanical and biological stability, appropriate design and manufacturability, corrosion resistant, high tensile strengths, and high wear resistance. Biomaterials are used for manufacturing implants for the stabilization and fixation of bones, joint replacements, non-conventional modular tumor implants, and spine implants. The orthopedics sector is growing significantly, due to the growing implantable device requirement and an increasing number of hip and knee replacements.
The dental category is expected to have modest growth. Biomaterials are used to restore damaged, decayed, or fractured teeth. The progress in the application is significant, due to the increasing awareness for oral care, rising disposable income, and high success rate of dental implants. Metals, ceramics, composites, and polymers are synthetic dental materials.
The increasing research and development activities are the key drivers for the growth of the market in this category. Current research subjects in dental biomaterials are fractography of brittle materials including restorative composites, metal-ceramics, and ceramics, resin wear composite wears polymerization shrinkage, effective light curing of polymerization of resin-based composite materials, and adhesion of resin-based composites to restorative dental materials.
The wound healing application category is also expected to have decent progress. Being a multi-factor physiological process, wound healing is a complex phenomenon prone to various abnormalities. Several self-healing biomaterials are being developed for wound healing. Gel materials, composites, films, and membranes are widely used for wound healing. Hydrogel dressings provide a barrier between the wound and the external environment, thereby protecting against infections. Biomaterials for internal wounds damage or repel microbes and other infectious agents. These materials are hydrophilic and porous, thus absorbing exuded liquids. These materials also help fill the void in damaged organs or tissues.
Biomaterials Market Report Coverage

| | |
| --- | --- |
| Report Attribute | Details |
| Historical Years | 2017-2021 |
| Forecast Years | 2022-2030 |
| Market Size in 2021 | $112.7 Billion |
| Revenue Forecast in 2030 | $349.1 Billion |
| Growth Rate | 13.4% CAGR |
| Report Scope | Market Trends, Drivers, and Restraints; Revenue Estimation and Forecast; Segmentation Analysis; Impact of COVID-19; Companies' Strategic Developments; Market Share Analysis of Key Players; Company Profiling |
| Segments Covered | By Type; By Application; By Region |
Explore more about this report - Request free sample pages
Metallic Materials Dominate the Market
The metallic materials category accounted for the largest market share, around 30%, in the biomaterials market demand in 2021 and is projected to maintain its dominance in the coming years. These materials have been used substantially in biomedical devices and components, such as hard tissue replacements, and cardiac and cardiovascular stents, owing to their desirable mechanical properties and biocompatibility. To improve the biological properties to meet the clinical requirements, chemical surface modification is regularly performed on metallic biomaterials.
Materials used for biomedical applications are 316L stainless steel, titanium-based alloys (Ti-6Al-4V), cobalt-chromium alloys (CoCrMo), and others (such as tantalum, gold, dental amalgams, and specialty metals). Titanium has become one of the most promising engineering materials and the interest in the application of titanium alloys to mechanical and tribological components is proliferating rapidly in the biomedical field.
The demand for polymer materials is projected to witness a significant rise during the forecast period, owing to their lightweight, higher flexibility, biochemical resistance property, availability in various compositions, and ease of manufacturing products with desired specifications.
A large number of polymer materials are used as biomaterials for medical implant systems. Some of these are polyesters, acrylics, polyethylene, polyamides, polyurethane, and polysiloxanes. Due to the several advantages of these polymers, they are increasingly being used in various applications such as artificial heart, liver, kidney, pancreas, bone cement, bladder, catheters, contact lenses, external and internal ear repairs, cornea and eye-lens replacements, cardiac assist devices, heart valves, joint replacements, implantable pumps, pacemaker, soft-tissue replacement, encapsulations, artificial skin, artificial blood vessels, and sutures.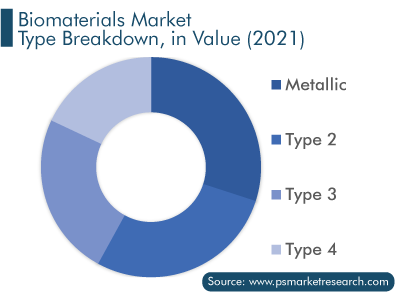 Surging Incidence of Cardiovascular Diseases Boosts Market Growth
The rising burden of cardiovascular diseases would result in higher death rates and additional economic costs. These diseases are the leading cause of premature death around the world. Biomaterials are utilized to manufacture several devices or implants for the treatment or diagnosis of this problem. Extracorporeal pump oxygenators, catheters, stents, heart-assist devices, prosthetic heart valves, and vascular grafts are made up of different types of biomaterials. The high prevalence of these diseases depicts the increased demand for these devices.
North America Is Principal Revenue Contributor
In 2021, North America accounted for the largest revenue, around $50 billion, in the biomaterials market. This is ascribed to booming healthcare expenditure, rising government support, and increasing awareness of implantable medical devices. Moreover, the presence of a large number of market players, the increasing need for implantable devices, and the surging number of knee and hip replacements are also fueling the demand for biomaterials in the U.S. Further, women are becoming more interested in plastic surgeries, including liposuction, facelifts, breast augmentation, tummy tucks, and breast lifts, drives the regional market.
For instance, more than 15 million cosmetic surgeries are conducted annually and more than 13 million of those are minimally invasive surgical procedures in the U.S. Thus, the escalating number of plastic surgery procedures drives the need and production of biomaterials. In addition to this, construction with bio-based materials reduces carbon emissions, as materials sequester CO2 emissions and help regenerate soils in between cultures and during the life of the buildings.
In addition, Europe recorded a significant share of the market in 2021. This is due to the constant product innovations and elevating demand from the medical industry. The most eminent end use of biomaterials is orthopedics, owing to the rising number of surgeries in the region. Germany has a substantial share in the regional market, due to the mushrooming need for minimally invasive surgeries, high patient awareness levels, and the presence of advanced healthcare infrastructure for joint replacement surgery in the country.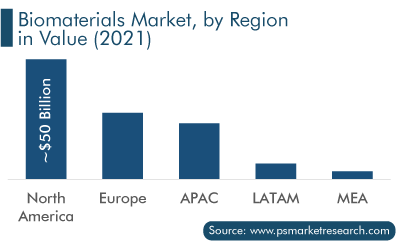 Key Players in the Biomaterials Market Are:
BASF SE
Covestro AG
Celanese Corporation
Carpenter Technology Corporation
Royal DSM
Corbion
Evonik Industries AG
Victrex plc
CeramTec GmbH
Global Biomaterials Market Size Breakdown by Segment
The study offers a comprehensive market segmentation analysis along with market estimation for the period 2017-2030.
Based on Type
Metallic

Stainless steel
Titanium & titanium alloys
Cobalt–chrome alloys
Gold
Silver
Magnesium

Polymeric

Polymethylmethacrylate
Polyethylene
Polyester
Silicone Rubber
Nylon
Polyetheretherketone

Ceramic

Calcium phosphate
Zirconia
Aluminum oxide
Calcium sulfate
Carbon
Glass

Natural

Hyaluronic acid
Collagen
Gelatin
Fibrin
Cellulose
Chitin
Alginates
Silk
Based on Application
Cardiovascular
Orthopedic
Ophthalmologic
Dental
Plastic Surgery
Wound Healing
Tissue Engineering
Neurological
Geographical Analysis
North America
Europe

France
Germany
Italy
Spain
U.K.

Asia-Pacific

China
India
Japan
South Korea
Australia

Latin America
Middle East and Africa

Saudi Arabia
U.A.E.
South Africa